Music at Mary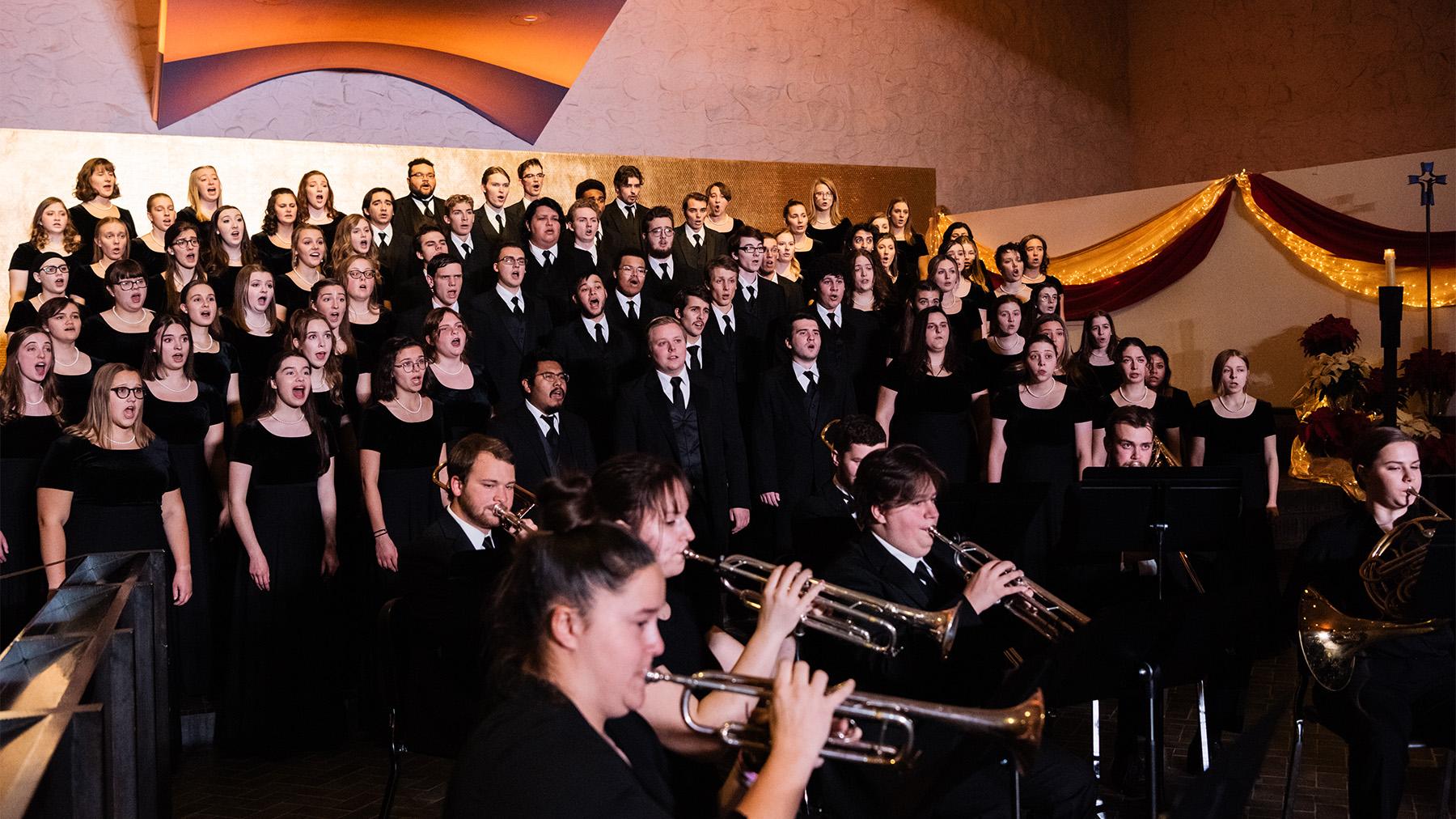 Do What You Love. Create With People Who Share Your Passion.
That is the essence of music at the University of Mary. Welcome.
We are a community of learners and teachers who engage the power of music to elevate our souls, to bring meaning to our lives, and to add joy and beauty to our world. 
Our programs prepare you for your career in music by providing a strong foundation in private study, ensembles, and academic courses under the mentorship of accomplished faculty. Our music lessons, classes, and ensembles — from Concert Choir and Steel Band to String Ensemble and Pep Band, and everything in between — are open to all students, regardless of major.
Degree Programs
Our degree options provide the academic foundation and musical formation you need to build the career of your choice: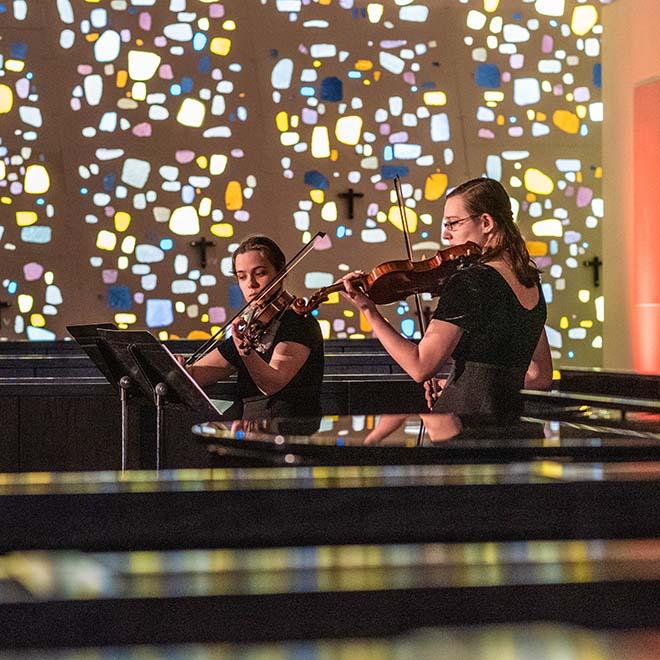 Our facilities, including Our Lady of the Annunciation Chapel designed by the world-renowned architect Marcel Breuer, provide a wide range of performance, studio, lab, practice, and ensemble  spaces.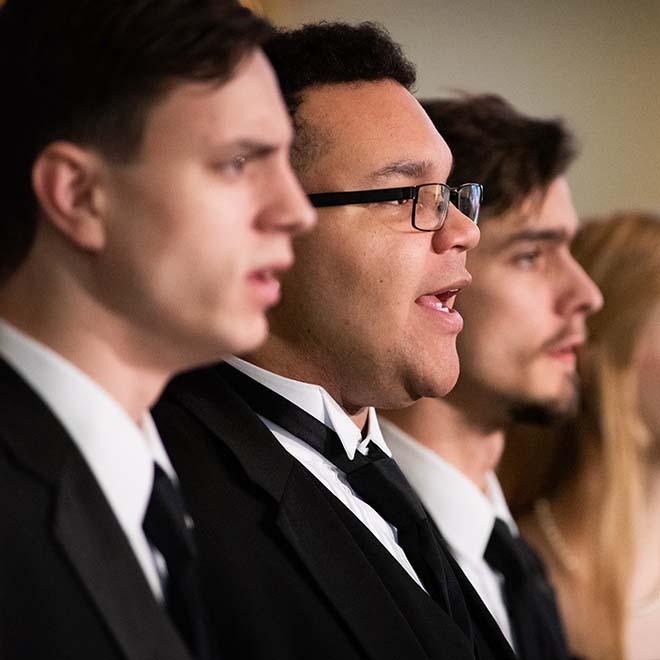 Scholarships are available to incoming freshman, transfer students, music majors, and ensemble participants – and they're often stackable with academic awards!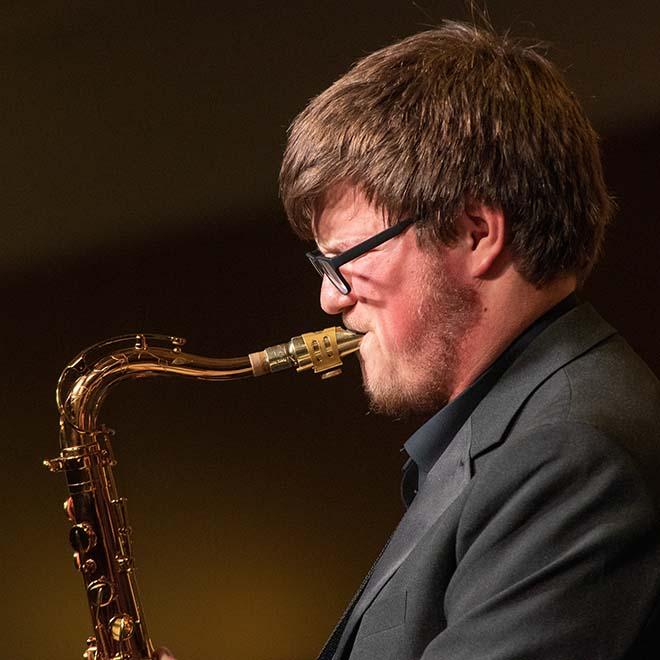 The annual Jazz Festival brings nationally recognized jazz artists to campus every January.
A Message From the Chair 
Picture yourself here, doing what you love, studying and performing in a stimulating and collaborative learning community surrounded by faculty members and students who share your passion for music. Welcome to the Music Department at the University of Mary!
Our faculty and students intentionally live the university's Benedictine values each day. We are a community of learners who support and encourage one another. At the same time we challenge one another to be the best we can be – as individual performers, members of ensembles, servants of liturgical song, and educators. We pursue beauty and artistry as we delve into the depths of our understanding and experience of music in our practice, rehearsals, and performances.
In addition to studying with renowned music faculty, you will have opportunities to take part in master classes and festival performances with guest artists and leading music professionals. Recent guests include the Real Group, Nestor Torres, Canadian Brass, Aimee Nolte, Greg Nelson, Helen Sung, New York Voices, Christine Jensen, Hannah Occeña and Emely Phelps, and Highline Vocal Jazz.
We invite you to check us out. Schedule "a day in the life of a music major" during your campus visit so you can meet our students and faculty, rehearse with our ensembles, and take a free lesson in your area of interest. If possible, schedule your visit during one of our signature events, Christmas at Mary or the Jazz Festival, or one of our many concerts and recitals throughout the year so you can experience us in action.
The University of Mary Music Department – creating Music for Life.
— Dr. Tom Porter, Chair
Develop Your Musical Gifts, Knowledge, and Skills
Have Questions?
We're here to help. Call the Music Department at 701-355-8301 or email us.