Auditions & Scholarships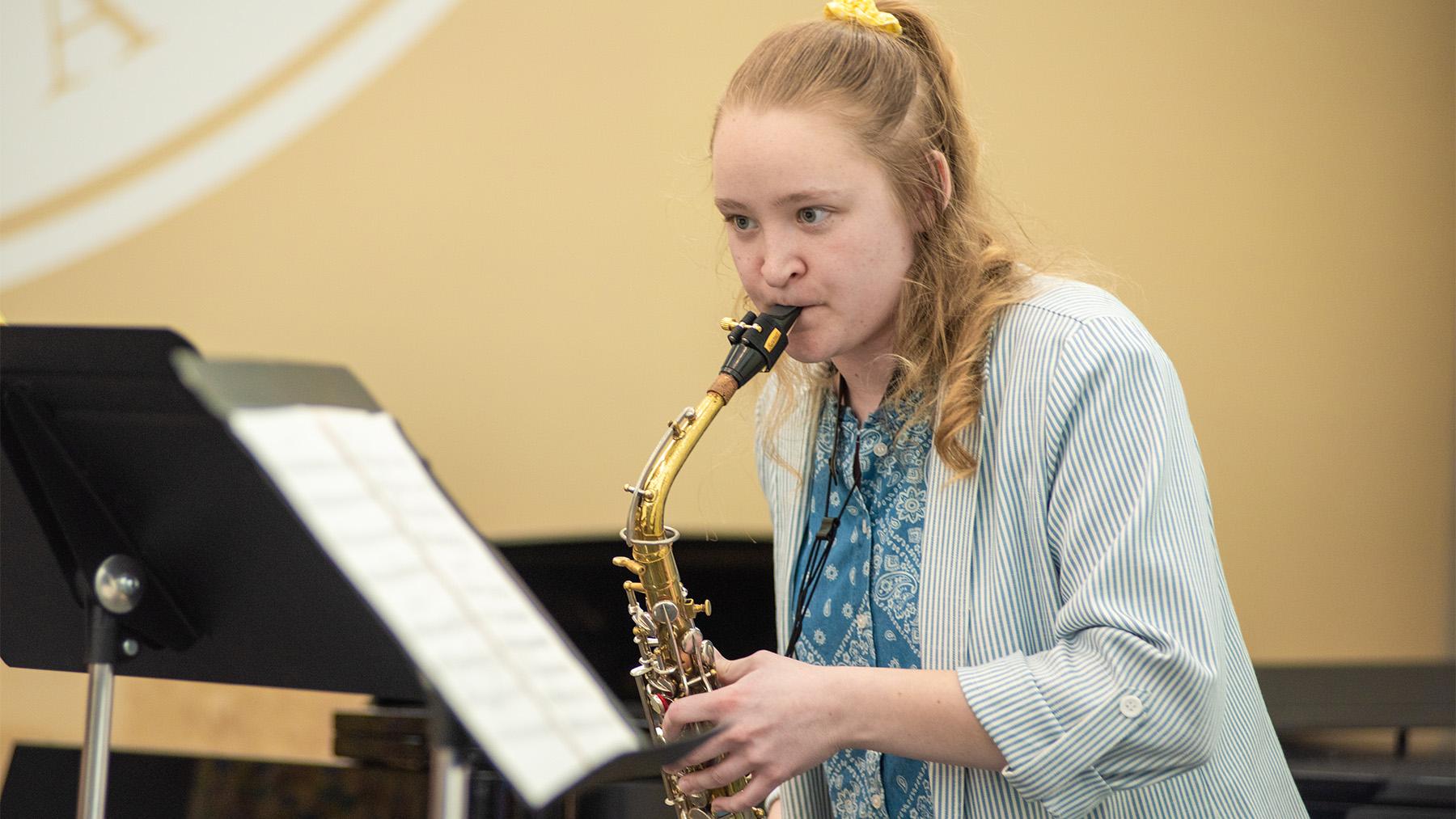 University of Mary Music Auditions and Scholarships
The University of Mary awards tens of thousands of dollars in music scholarships to incoming freshman and transfer students each year. Awards are based on musical talent and your potential contribution to the Music Department. Whether you are a music major or a music participant (majoring in another area but performing in band, choir, or string ensemble), your scholarship can be stacked with most academic awards and is renewable for up to four years. Typical amounts range from $800 to $3,500 per year.
Note: If you are a music major, you will complete assessment exams in music theory and keyboard skills prior to your first semester at the University of Mary to ensure correct placement and a successful academic experience. The assessment exams do not affect your scholarship awards.
Schedule Your Audition
We encourage you to schedule your audition in conjunction with a University of Mary event so you can see us in action, experience a rehearsal or performance, attend a music class, and take a free lesson with one of our faculty members.
Dates
Christmas at Mary, the first weekend of December

Jazz Festival, the last weekend in January

Presidents' Day
If you are not able to attend one of these events, contact us at music@umary.edu to schedule an audition at your convenience. The deadline for primary scholarship consideration is February 20.
If you live more than 250 miles from campus, you may submit a video audition (see instructions). 
You may submit a video audition if you are not able to schedule an in-person audition. To submit a video audition, combine all of your audition selections into one continuous video (they may be recorded separately and edited together), and upload the video to YouTube (you may use the "Unlisted" setting; do not use the "Private" setting).
Send the video link to music@umary.edu by February 20.
Audition Recommendations
Your music scholarship audition should demonstrate your performance range: two classical solo pieces in contrasting styles with the option of a third piece in jazz, popular, or Broadway-style. Demonstrate your technical and musical levels that show promise of successful college-level study, including tone quality, technique, and musicianship.
Prepare two-octave major scales and a full-range chromatic scale (string players do not need to perform chromatic scales). If you play more than one instrument, prepare two solo pieces on your primary instrument and one on your secondary instrument(s). Percussionists prepare an audition consisting of snare drum, mallets, and timpani; drumset and world percussion (congas, steel pan) are optional. An accompanist is not required for instrumental auditions.
Prepare two memorized songs from the standard classical vocal literature (one in English and one in a foreign language). A musical theater selection or repertoire in other non-classical styles may be included as a third selection. An accompanist will be provided or you may bring your own. Please bring original scores for the accompanist.
Have Questions?
We're here to help. Call the Music Department at 701-355-8301 or email us.