Faith & Service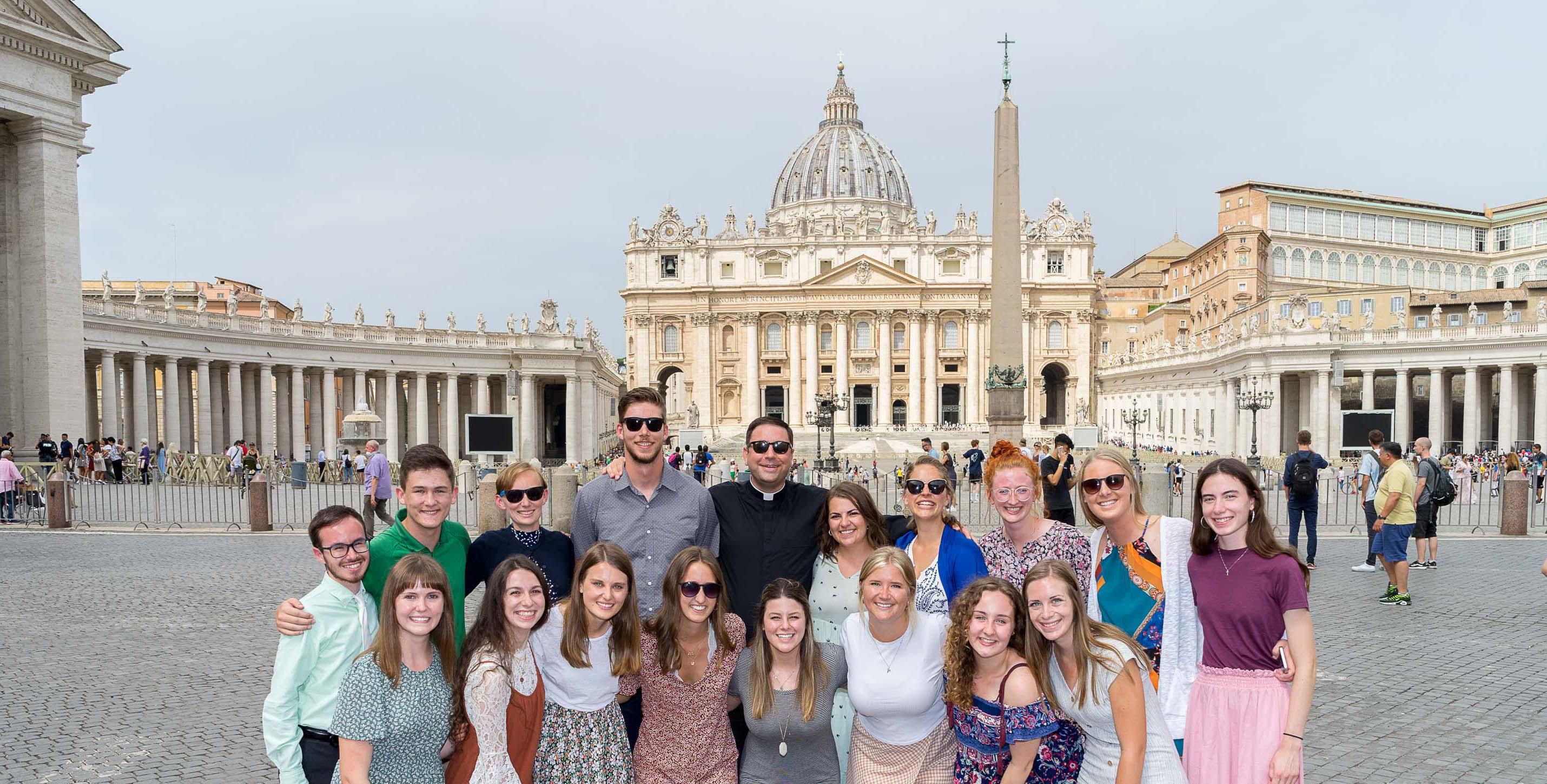 Faithfully Christian. Joyfully Catholic. Gratefully Benedictine.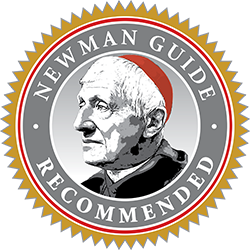 At the University of Mary, we welcome and serve students of many faiths; our campus community has always fostered a genuine spirit of Benedictine hospitality. As a Catholic university, we are deeply dedicated to providing rich opportunities for our students to explore and grow in their faith.
While we are proudly Catholic, we teach students not because they are Catholic, but because we are Catholic. And our faith compels us to imagine and contribute to a more socially just society.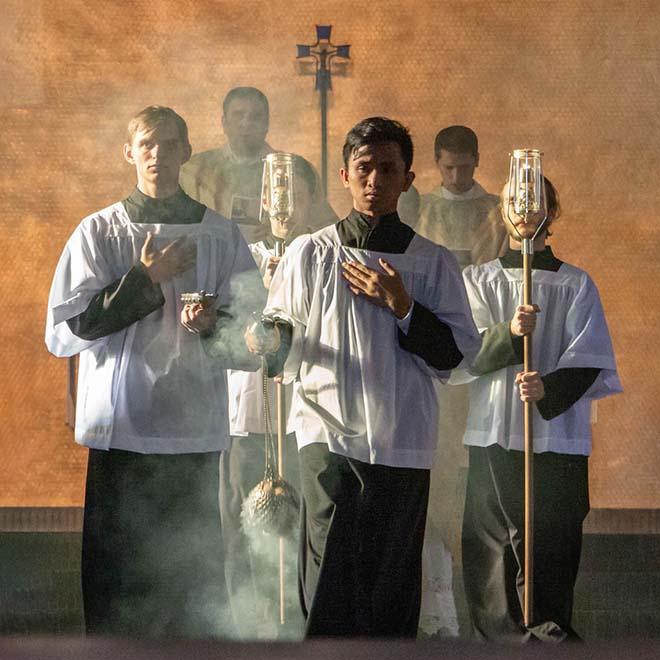 At Mary, career preparation is immersed in the Catholic intellectual tradition and our vibrant community is infused with a rich sacramental life.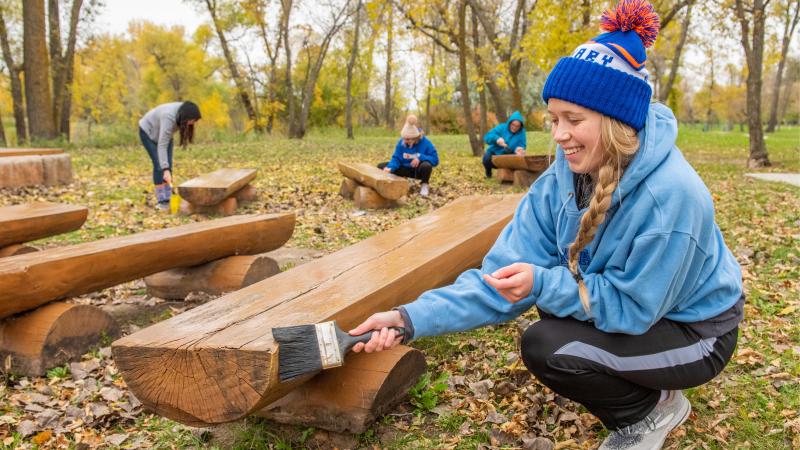 Discover how you can transform your life – and the lives of those around you – through service and common worship.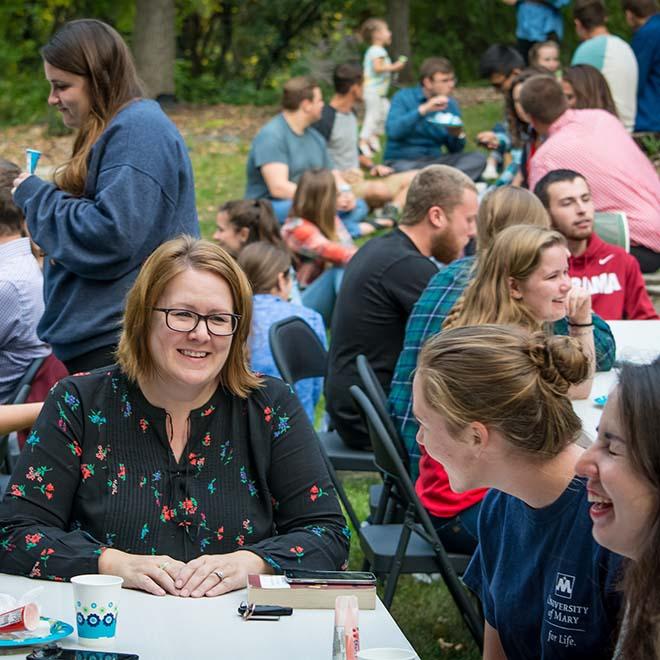 The Saint John Paul II Center for University Ministry serves the spiritual needs of the entire University of Mary community.
In 2017, over 600 University of Mary students, faculty, and President Monsignor James Shea led the national March for Life in Washington D.C., and they attend this national event every year to show their support for the sanctity of life and provide a voice for the unborn.
The Christian community at Mary gathers for the weekly prayer service, Monday Morning Mission, hosted by University Ministry in the Starion Financial Living Room on the lower level of the Lumen Vitae University Center.
Every year, over 1,000 University of Mary students spread out across the Bismarck-Mandan community for the Day of Service where they give their time, talents, and service to help people and organizations, and it is regarded as the largest, single-day volunteer event in the state of North Dakota.
With St. Peter's Basilica in the background, President Monsignor James Shea on a rooftop describes the Eternal City to University of Mary Rome campus students who live and study at the Heart of the Church every semester.
---
A Community of Faith
Committed to the values of respect for persons, hospitality, and service to others, Mary offers you a unique setting for exploring life's most important questions. And unlike many other places, differences are not ignored but discussed – with passion and civility – in the pursuit of Truth.
The result is a vibrant and supportive campus that welcomes students of all faiths; one where worship and prayer are as integral as study and fun. So whether it's our Catholic studies program, vocation-based residence halls, campuses in Rome and Arizona, our active University Ministry program, or our unique partnership with FOCUS, Mary prepares you to be a leader in the service of Truth
Through fruitful community and the rich sacramental life on campus, I have grown to love Christ more and become more fully the person I ought to be. My time at the university has not only been conducive in forming the mind in knowledge but also in forming the soul to be conformed to Christ.
As a Lutheran I had some reservations about attending a Catholic university. At Mary I discovered a community that is not only serious about faith, but one that enabled me to grow within my own tradition. Because of Mary I have a greater sense of who I am and God's direction for me.
Come to Mary!
Imagine yourself at the nation's most affordable, serious Catholic university.