Facilities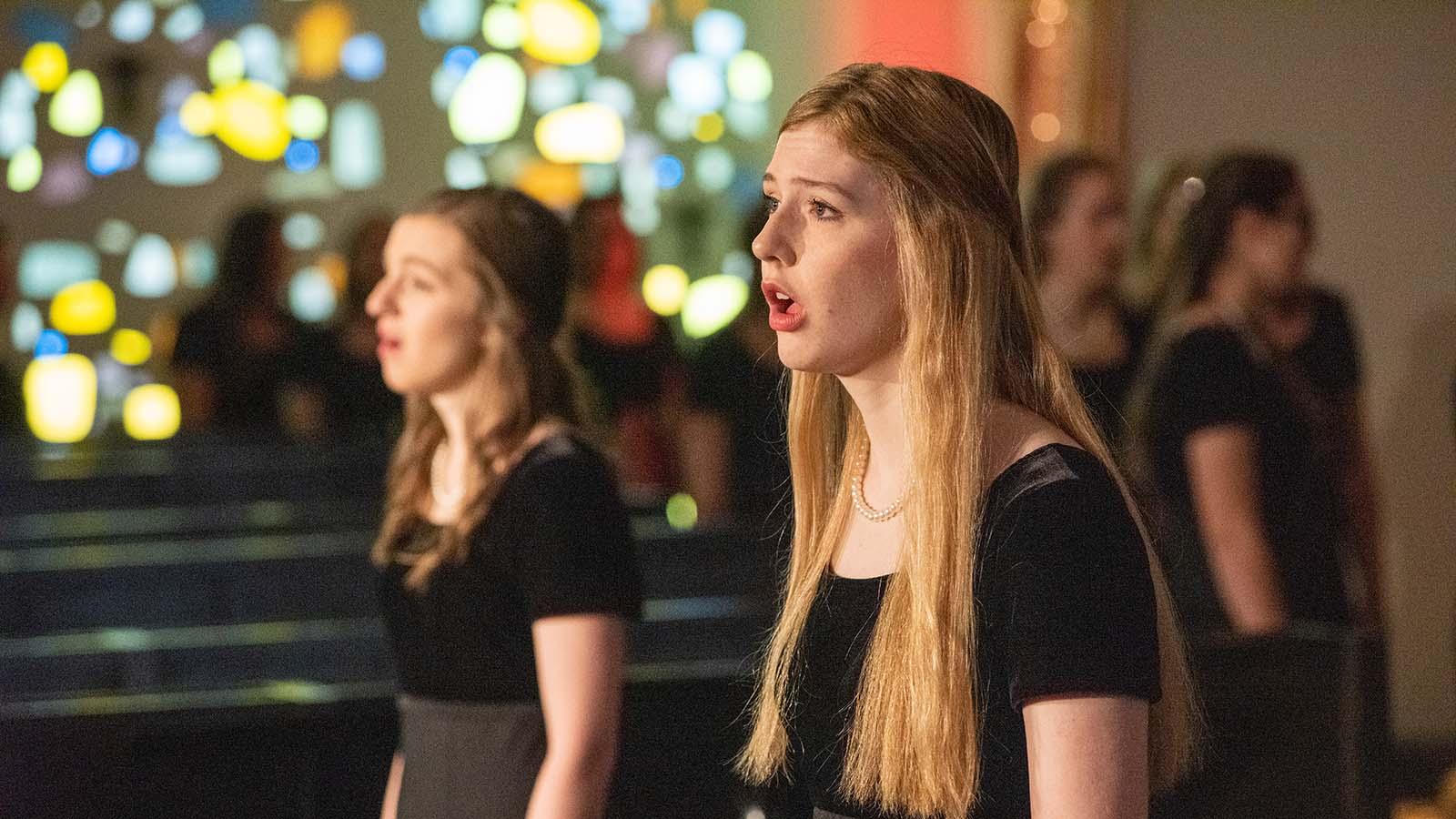 Perform in Spaces that Inspire and Elevate
Whether you are a performer or an audience member, a music major or a non-major participating in a campus ensemble, you'll enjoy our performance and rehearsal facilities. These range from a chapel designed by a world-renowned architect to practice rooms where aspiring musicians hone their craft. Stroll through our campus buildings, and chances are you'll hear music.
Clairmont Center for Performing Arts
The Clairmont Center is the primary building for the Music Department.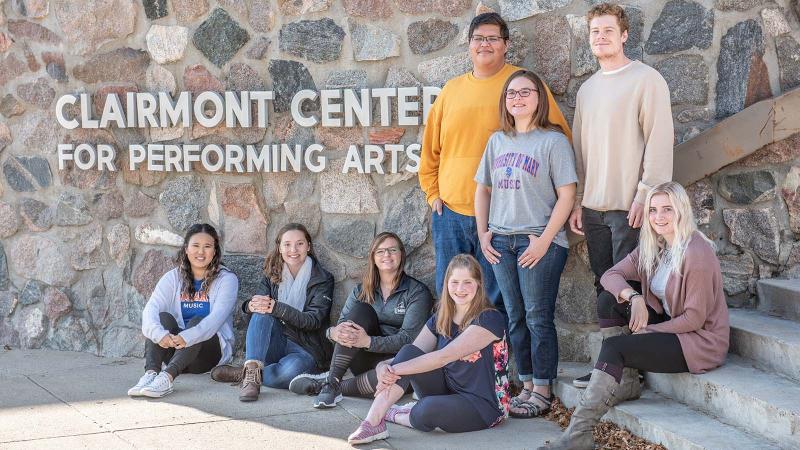 Located near the heart of campus and connected to the Miller Center, Arno Gustin Hall, and Lumen Vitae, the Clairmont Center houses performance halls, rehearsal spaces, practice rooms, music lab, faculty offices and studios, and classrooms.
Performance and Rehearsal Halls:
R.M. Heskett Hall, a 150-seat venue for student and faculty recitals, department meetings, performance labs, clinics, and guest artist performances.
Mandan Rehearsal Hall, the primary ensemble rehearsal space for everything from Jazz Ensemble to Concert Choir, named after generous donors from Mandan, ND.
 Classrooms and Studios: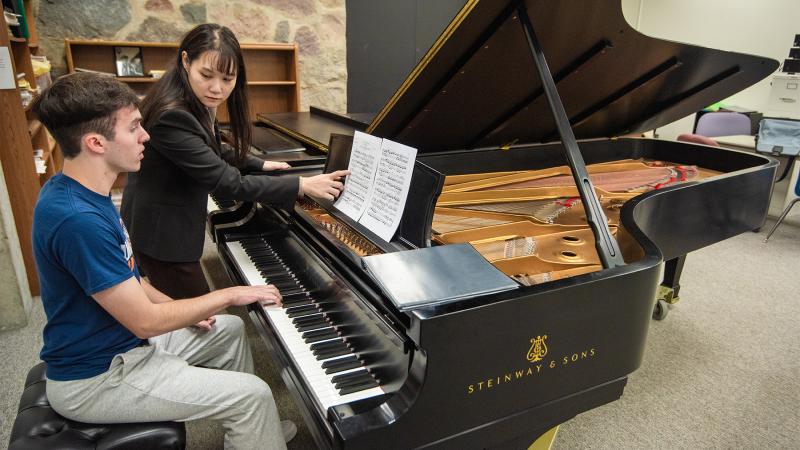 A music technology lab where students practice keyboard skills, compose music using Finale™, edit audio tracks, employ music education software, improve music theory and auditory skills, and access recording studio equipment and software
Three music classrooms
Five Wenger practice modules
Three percussion rooms
Two piano studios with concert grands
Faculty teaching studios
Benet Chapel, dedicated to the memory of former University of Mary Chaplain, Fr. Blaine Cook
All rehearsal facilities are open daily for student practice and music classes such as theory, aural skills, music appreciation, history, methods courses, conducting, technology, and sacred music.
Welder Library
Welder Library houses music texts, periodicals, and recordings. Built in 1998, Welder is named in honor of Sister Thomas Welder, OSB, fifth president of the University of Mary.
Arno Gustin Hall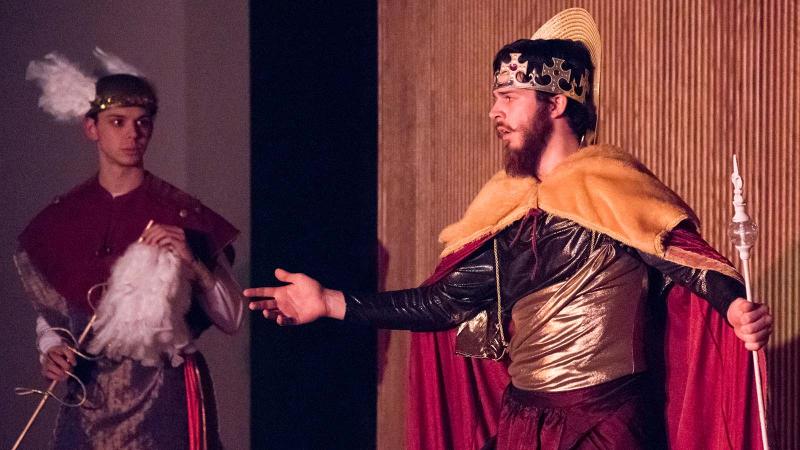 Located in the Harold J. Miller Center, Arno Gustin Hall is a 350-seat lecture, rehearsal, and performance space. Arno Gustin is used for concerts, plays, musicals, guest artist performances, and the University of Mary Jazz Festival. 
Fr. Arno Gustin, OSB, was the second president of the University of Mary.
Our Lady of the Annunciation Chapel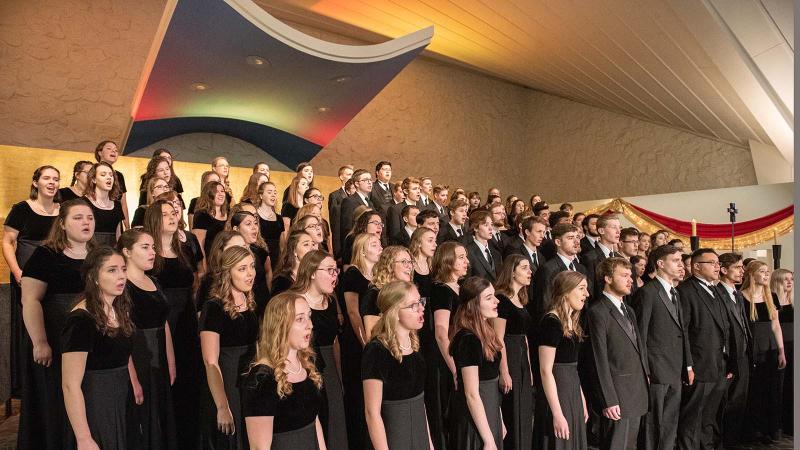 Our Lady of the Annunciation Chapel, located in the Benedictine Center for Servant Leadership, boasts resonant acoustics and beautiful stained glass panels.
With seating for over 400 people, Our Lady of the Annunciation Chapel, originally the daily chapel for the Sisters of Annunciation Monastery, was designed by world-renowned architect Marcel Breuer. 
The chapel is used for large ensemble performances such as Christmas at Mary and organ recitals. The original Reuter organ was renovated and expanded in 2017.
Founders Hall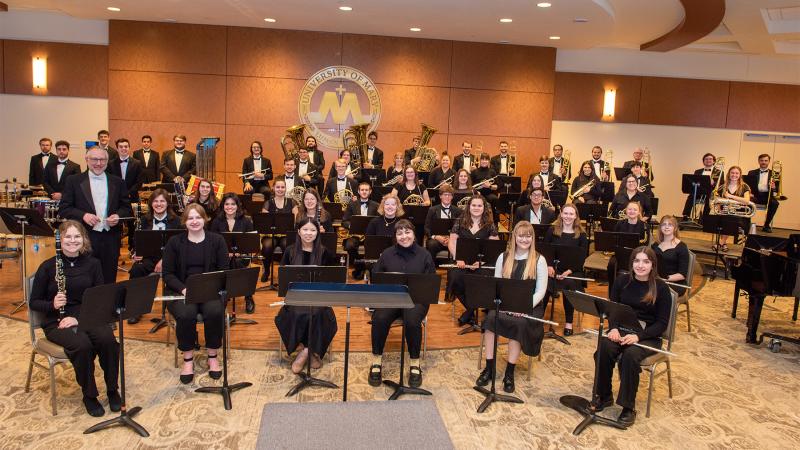 Founders Hall is home to our band concerts, Big Band Dance, and the annual Jazz Festival. Located in the Lumen Vitae University Center, its sophisticated yet modest design is a tribute to the selfless women of the Benedictine Sisters of Annunciation Monastery and complements the architectural style of the other buildings on campus.
Bismarck Event Center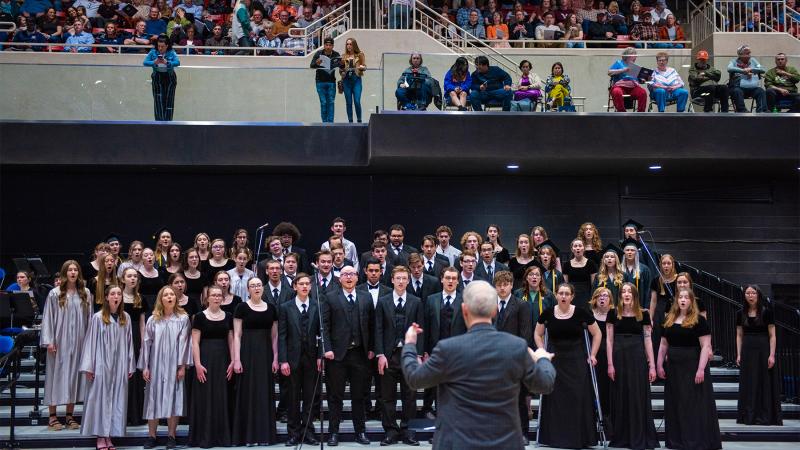 The Bismarck Event Center is home to our commencement ceremonies. The facility also hosts the annual ND Music Educators Association conference and the All-State Music Festival.
Belle Mehus Auditorium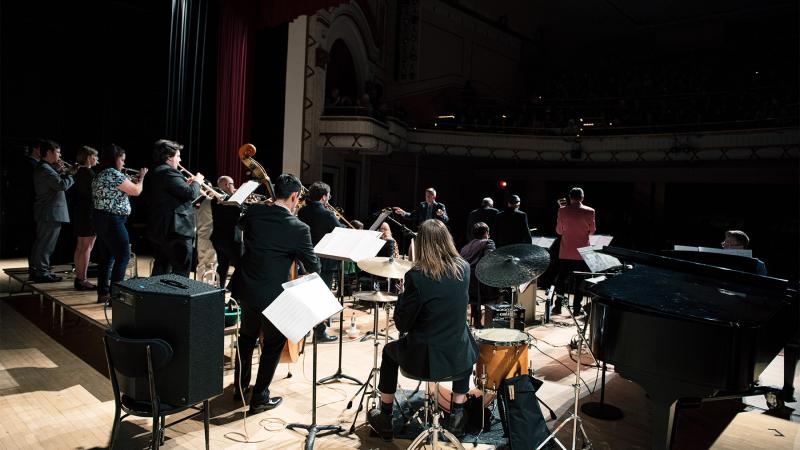 The Belle Mehus Auditorium is home to Mary's stage productions and Broadway musicals. The 800-seat auditorium in the heart of Bismarck's downtown opened its doors in 1914 with the opera "Robin Hood."  After undergoing a major renovation in the 1990s, the auditorium is home to many community concerts and events.
Have Questions?
We're here to help. Call the Music Department at 701-355-8301 or email us.