Academic Buildings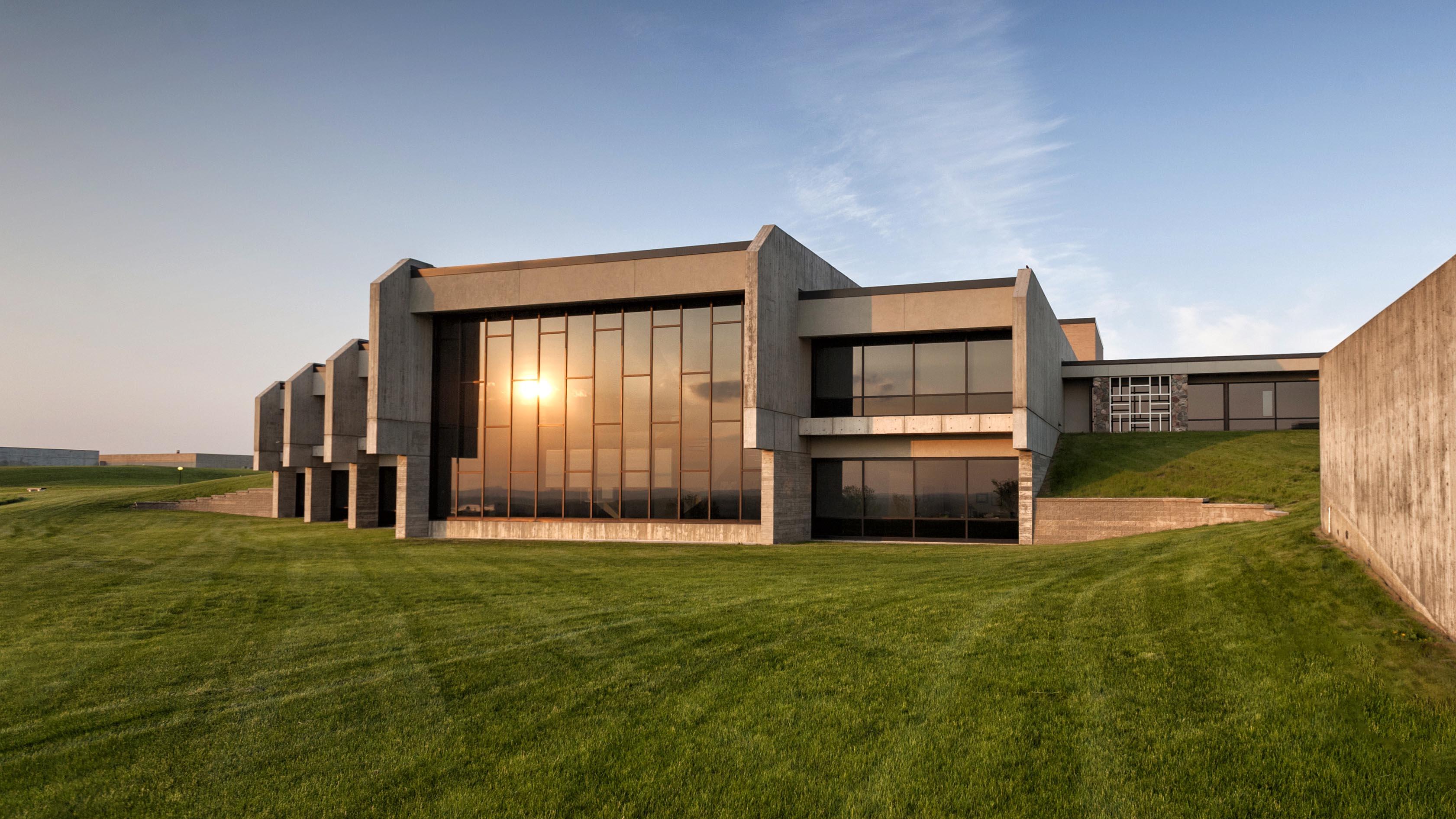 Find Your Way Around Campus
When the Benedictine Sisters of the Annunciation planned for the first campus buildings for Mary College, they asked renowned architect Marcel Breuer if he would create the architectural designs. To their delight, he accepted and conceived expansive structures of native prairie stone and exquisite concrete shapes, notable for their interplay of light and shadow.
As our campus has grown and expanded through the years, we have tried to preserve the spirit of Breuer's modernist prairie architecture in new structures. Each year, we receive many groups of visitors from all over the world, who come to our campus to admire the work which Breuer christened his "jewel on the prairie."
Father Arno Gustin, OSB was the third president of the University of Mary from 1965-1970. Arno Gustin Hall was dedicated in 1970 and serves as a lecture hall and theatre.
Originally built in 1959 to house the monastery and girls' high school, the Benedictine Center for Servant Leadership is one of five buildings on campus designed by Marcel Breuer. Today, the Benedictine Center Leadership operates as the southern hub of campus, housing the Liffrig Family School of Education and Behavioral Sciences, Marauders Cove, meeting spaces, and administrative offices.
The Casey Center for Nursing Education is home to the nursing program within the Saint Gianna School of Health Sciences. Named for Meredith and T. Clem Casey, the building was dedicated in 1997.
A gift from Pat and Bill Clairmont, the Clairmont Center for the Performing Arts was dedicated in 1992 and is home to our music and performing arts departments. Benet Chapel is also located in the Clairmont Center.
The Gary Tharaldson School of Business (GTSB) is named for North Dakota's first billionaire, Gary Tharaldson, and his wife, Connie. Dedicated in 2008, GTSB is home to all of our business courses and the Lanterman Financial Center.
In honor of Carole and Harold J. Miller, the fourth president of the University of Mary, the Harold J. Miller Center contains the Saint Gianna School of Health Sciences and was dedicated in 2005.
The Richard A. Tschider Center for Health Science is housed within the McDowell Activity Center and was dedicated in 2006. Classrooms for athletic training and exercise science can be found in this building.
Formerly the university dining center, the Hamm School of Engineering opened in 2020 and is a state-of-the-art facility that encourages collaboration and hands-on learning.
Constructed in 1998, Welder Library is dedicated to the Benedictine Sisters of Annunciation Monastery and bears the name of the late Sister Thomas Welder, OSB, president emerita of the University of Mary. Welder Library has nearly 75,000 visitors each year, seats 204 students, and has 30 computer workstations. Welder Library is also home to several classrooms and offices for the School of Arts and Sciences.