Residence Halls & Apartments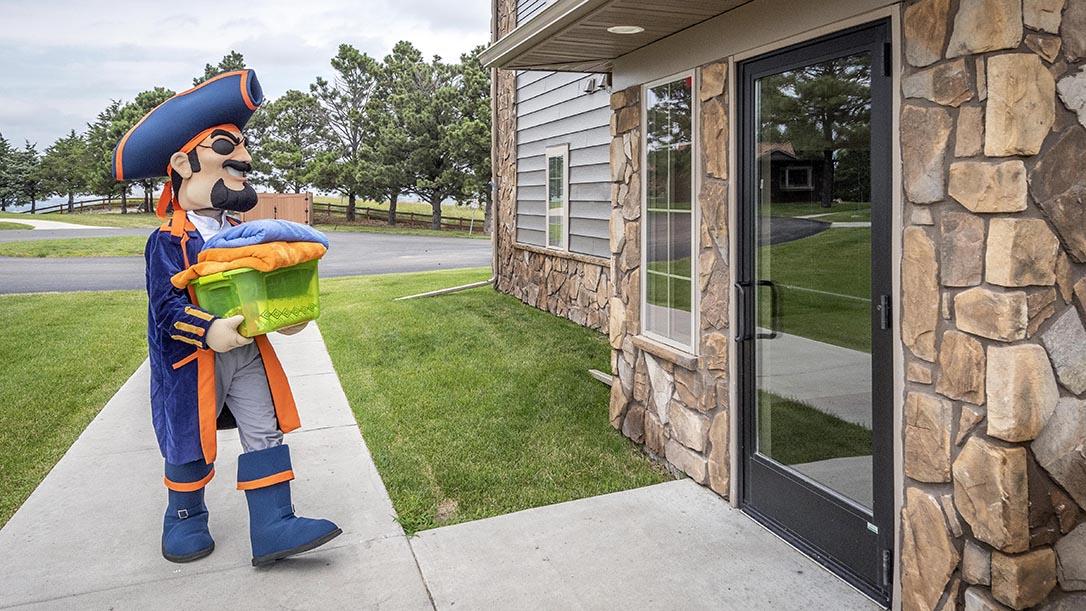 On-Campus Living
The university offers students a variety of residence hall options including traditional residence and suite-style halls in addition to apartment-style facilities.
Traditional Residence Halls & Suite-Style Halls
Most of our freshmen will start their on-campus living experience in our traditional residence halls or suite-style halls. These halls include North Hall, Roers Hall, Boniface East Hall, Boniface West Hall, Greg Butler Hall, and Hillside Hall. Living in this close-knit community provides our students opportunities to build strong bonds with each other.
Each hall has its own community life with activities and events held in the lounges. Inside the residence halls, our students have access to lounges, a computer lab with printing capabilities, and free laundry services. Each lounge comes fully furnished with couches, a TV, and other amenities that students are encouraged to use. Our students bond with their suitemates and hall buddies, who they see every day as they pass through the halls and lounges on their way to classes, meetings, and other activities.
The Apartments
Some of our students want more independent living arrangements. For these students, we have apartment halls: Boyle and Deichert, and The Cloisters – Subiaco and Monte Cassino – on the north side of campus. Our apartment halls have a three-bedroom layout with a bath, an open kitchen, and living room area. By being a member of the apartment community, you will also receive a Chesterton's membership to the campus pub located by The Cloisters. 
Chesterton's is the primary community space for students living at our campus apartments. Here students can study, socialize, play a round of pool, or get food and drinks at the bar. Our apartment-style housing provides students a place to have a little more space and independence as they get ready for life after college, while still allowing them to participate and take advantage of Mary's community life.
When a whole campus strives to live out the Benedictine values in the classroom, in residence life, and in day-to-day activities, the effect is profound.
Housing Details
Housing Requirements
The University of Mary Residency Requirement requires traditional undergraduate students to live on campus for a minimum of five semesters or until the semester after the student turns 21 years old. Please see the On-Campus Residency Requirement page for more information.
Roommates
As a university focused on community, we want you to have a good roommate experience. Therefore, we encourage you to attend a SOAR event to meet other University of Mary students; it is an excellent place to find a good roommate. You can choose your roommate and hall when you fill out your housing forms, and you will receive your residence life assignment either when you attend a SOAR session or during the summer.
To request a particular roommate, make sure both of you request the other on your individual forms. Apply early to increase your chances of getting your preferred hall and room type.
If you do not select a roommate on your form, we will base your placement on the information submitted on your Roommate Finder form. To ensure a good match, please fill out your form honestly and as thoroughly as possible.
Mailbox
Mail and packages should be sent directly to your assigned campus box. You'll receive your campus box number when you receive your room assignment. Your address will take the form shown below:
Your Name
Box ####
7500 University Drive
Bismarck, ND 58504
#### = assigned box number
Room Key
Upon your arrival on campus, you will receive a room key. Though our campus is very safe, the university recommends that each student lock their room door when they are not present in the room. If you get locked out of your room, you can contact your Resident Assistant or the Residence Director on duty to gain access to your room.
Losing your room key is a serious concern for our community. Losing a room key jeopardizes the safety of your roommate, your belongings, and other residents of the building. Therefore, we encourage all students to exercise ultimate caution with their keys. If you do lose your room key, you must report it immediately to Student Development so we can request a new key for you. There will be a charge for the keys, as we will need to re-core your door for security reasons.
Staff
Each hall has a Residence Director (RD) living in the building. The RDs are professionally educated and trained to work in a residence hall that supports college students. In addition to offering problem-solving and guidance for students experiencing problems, they also guide and supervise the Resident Assistants.
Resident Assistants are current students who are selected to be mentors and resources in the halls. They serve as "the first line of defense" in some ways. They will be the first to respond to concerns in the hall, serve as mentors to the residents, plan events and programs, and help students adjust to college life and classes.
Have Questions?
We're here to help. Call Student Development at 701-355-8217 or email us.