Housing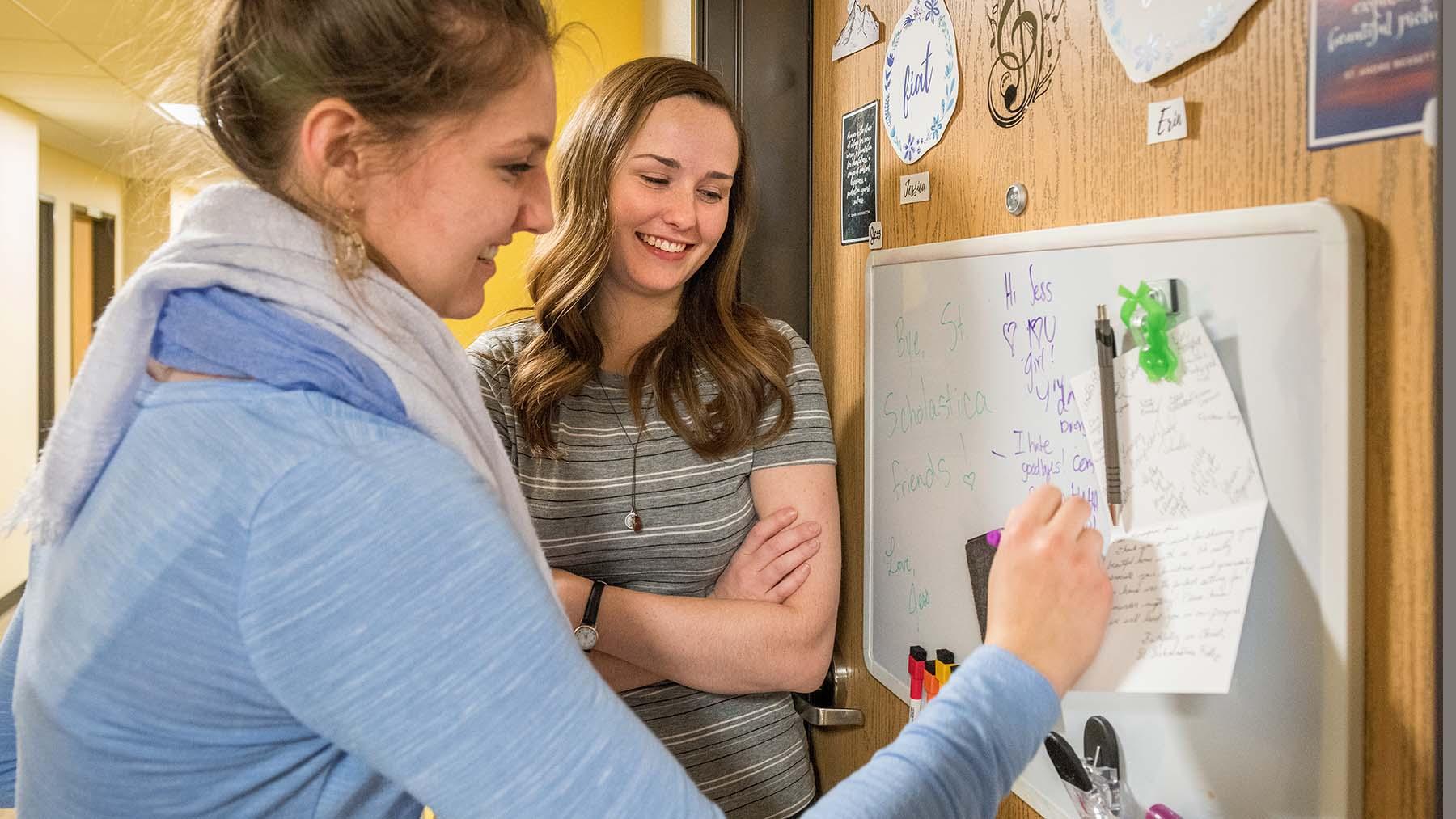 Residence Life at the University of Mary
Located atop a bluff overlooking the Missouri River and the City of Bismarck, our main campus is an inspiring place to learn and live, with a wealth of opportunities for intellectual, spiritual, and cultural enrichment—rooted in Christian, Catholic, Benedictine values. Even more inspiring than the boundless opportunities and spectacular views, our community of students and educators who support each other and seek to lead in the service of truth will impress you. 
The Residence Life program at the University of Mary strives to create a balance that translates into a fantastic college experience for all students. This balance includes fun, academics, involvement, leadership, support, challenge, and outreach. Living on campus can improve your grades, help you make friends, and improve your overall quality of life while in college.
Convenience
When you live on campus, there is no need to spend time grocery shopping, cooking, or driving back and forth to campus. While off-campus students are getting up early to scrape the frost off their car windows for the long, cold drive to campus and looking for a place to park, you will be sleeping in a bit longer because your classes are just a short walk away.
Great Value
Living on campus is of great value when you consider that on-campus students get high-speed Internet service, lounge areas, heat, electricity, water, computer labs, and free use of laundry facilities. It is also important to add that you will save in not having to commute – buying gas, buying groceries, and eating out (on average, commuter students eat fast food meals six to eight times a week).
Student Success
In comparison to students who live off campus, students who live on campus are much more likely to:
Get better grades.

Meet more friends!

Participate in campus life and extracurricular activities, such as dances, intramurals, religious activities, student athletics, student organizations, music, drama, student leadership positions, volunteer activities, and informal study groups.

Develop leadership skills through leadership positions in campus activities, student organizations, and service projects.

Graduate – and do so in four years.
Events and Fun!
Our alumni and current students tell us frequently that living on campus was a big part of the fun they had as a student. They often say that by living on campus, they met more people and made many lifelong friends through participating in events on campus and in the residence halls. Studies confirm that students who live on campus report they enjoy college more than commuter students.
Going to any university, let alone Mary, would not be the same without living on campus. I have made many friends that are very near to my heart and hope to have for a very long time. This campus has shown me a new side of friendship that I believe I would never get anywhere else.
Living On Campus vs. Off Campus
Prospective and current students alike will frequently ask us, "Is it cheaper to live off campus?" 
| Description | Monthly cost on campus | Monthly cost off-campus (estimated) |
| --- | --- | --- |
| Rent | $290 (dbl. room average) | $375 (dbl. occupancy split w/ roommate) |
| Electricity / Heat | $0 | $80 |
| Gasoline for commute | $0 | $125 |
| Water | $0 | $50 |
| Food | $320 (14 meals per week +/-) | $400 |
| Laundry | $0 | $25 |
| Internet | $0 | $20 |
| Total Estimated | $610 on campus | $1130 off-campus |
Have Questions?
We're here to help. Call Student Development at 701-355-8217 or email us.