Academic FAQs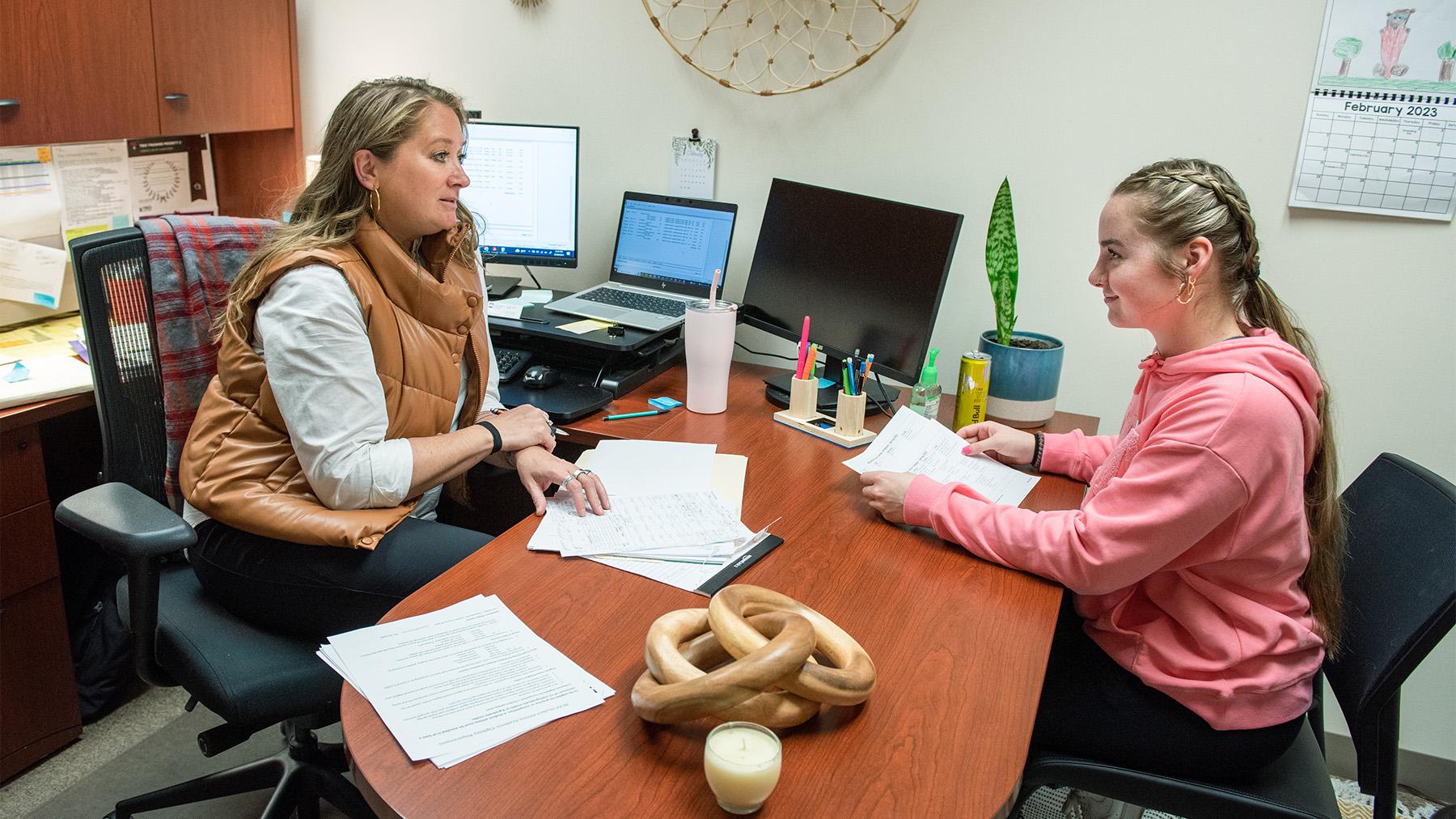 Frequently Asked Questions
Advising
Freshmen students who are placed in HUM 122 Freshmen Seminar will be assigned a professional academic advisor from the University of Mary Student Success Center for their first semester on campus. During the spring semester, HUM 122 students are transitioned to a faculty advisor from the department in which their major is located.
Freshmen students who are placed in ELA 110 Emerging Leaders Academy will be assigned a faculty advisor from the department in which their major is located.
Upperclassmen (sophomores, juniors and seniors) will be assigned a faculty advisor from the department in which their major is located.
To locate your advisor, take the following steps (BONUS: View your Unofficial Transcript or Official Course Schedule at the same time!):
Log-in to my.umary.edu > click on My Academics tab > In the left toolbar, click Academic Records & Advising. Your advisor will be listed under My Academic Information. 
If you have recently changed majors, but have not yet been assigned a new faculty advisor, please contact the department in which your new major is located, and they will work with you to assign a new faculty advisor.
You should meet with your advisor if you have any questions or concerns about your academics. First semester freshman students are required to meet with their advisor. All other students are not required to see an advisor, but it is recommended that you meet with them before registering for any courses to make sure you are on track with your degree requirements.
Yes you may request a change of advisor. You will need to see an advisor to get a Request to Change Major/Minor/Advisor form. You will then fill out all the information and then be sure to check the box that says "Request change of ADVISOR IN CURRENT MAJOR."
Once you have filled out your information this form needs to be given to the dean/chairperson of the appropriate school and they will then assign you a new advisor. The form may be turned in to the registrar by the department, or they may have you turn it in as well.
The best thing you can do is to send your advisor a message via email or voicemail. If the issue is urgent, set up a meeting with an advisor in the Student Success Center or utilize the walk-in hours of the center that run 8 am – 4 pm Monday – Friday.
If you are stressed out and unsure how to handle it would be best to set up a meeting with a student success advisor to receive tips on how to reduce stress.
Student Support Services/TRIO is a program funded through the U.S. Department of Education and is designed to help eligible students remain in college and graduate. Students must meet at least one or more of the following criteria to be eligible to apply:
Lower Income

First Generation College Student (neither parent has obtained a Bachelor's degree)

Documented Physical or Learning Disability
Students must also be a citizen or national of the United States and have a need for academic support.
Please visit the TRIO Student Support Services webpage to learn more about the services provided through the Student Support Services/TRIO program and to see if you qualify for this limited enrollment program.
If you are an incoming freshman you will register with an academic advisor or faculty member at a SOAR registration event, or via email, or phone call.
If you are a freshman student in Freshmen Seminar, you will learn how to register and will have assistance with registration from an Academic Advisor in the Student Success Center. This is only in the fall semester when registering for spring classes, but the Student Success Center is always available to assist.
Students mainly register for their classes online at my.umary.edu. 
If you are having trouble or are unable to register online you can fill out a registration form with your faculty advisor, or a member of the Student Success Center.
To be considered a full-time student you must be enrolled in a minimum of 12 credits, while to be considered a half-time student you must be enrolled in a minimum of 6 credits.
If you are a student-athlete you are required to be enrolled in at least 12 credits at all times to be considered eligible. Student-athletes must also pass 24 total credits between the Fall and Spring semesters and can only use 6 credit hours from summer classes to achieve the total of 24 credits. You must also pass a minimum of 9 credits each semester and maintain a 2.0 GPA to remain eligible. There are also other requirements student-athletes must meet in order to continue to be eligible.
The typical University of Mary student enrolls in 14-16 credits in the fall and spring semesters. If you are a new college student, we recommend you stay within this range. The first semester can be a learning experience, with a lot to learn inside and out of the classroom. Enrolling in 14-16 credits will allow you to figure out how things work and get you on the path to graduate in a timely manner. Some students opt to take more credits (17-18) or less (12-14), depending on their circumstances.
Short answer, yes! Long answer, now that's a little more complicated. Full-time students can register for 12-18 credits, and anything more than that is considered "overload". You will be additionally charged for every credit over the 18 credit limit. However, freshmen seminar courses, Emerging Leaders Academy courses, music ensemble courses, and athletic credits do not count as overload. If in doubt, see your advisor!
The University of Mary offers seated and online course options over the summer, and you have the option of attending part-time or full-time.
Students who are interested in attending full-time in the summer are encouraged to sign-up for Year-Round Campus. Year-Round Campus is a one-of-a-kind college career option that allows you to achieve your bachelor's degree and master's degree in less time and with less cost. This can allow you to begin working, earning and saving sooner!
A "hold" is a notice that you have an issue that needs to be resolved, and can impact transcript requests, course registration, or other University services. To remove a hold, please contact the department that placed the hold on your account to make arrangements.
When a student is "dropping" from a class they are exiting the course during the add/drop period. During this period students may add/drop classes as they feel fit without affecting their GPA or transcripts. The add/drop period usually runs the first week and a half to two weeks of classes.
After the add/drop date has passed a student must "withdraw" from a class to officially exit the class. The student must see an advisor in the Student Success Center and fill out an add/drop form. After the form is filled out the student needs to obtain an instructor signature and then turn the form into the registrar.
A withdrawal from a class will show on your transcript as a "W" and will also affect your completion rate. Your completion rate must be 67% or higher to maintain good academic standing at the university.
If you are struggling in a class we would suggest that you set up a meeting with your instructor to see if they can assist you. If you need additional assistance, there are tutoring services available through the Student Success Center.
If students are considering withdrawing from a course, it is suggested that they meet with their instructor or an academic advisor to talk about the options available. They can withdraw from a course within the first three quarters of the semester. This will however impact their completion rate and will be reflected on their transcript.
Getting to know your professors is an essential piece to succeeding as a college student. Building a positive working relationship with your professors will make your life much easier. Professors are here to teach and assist students in achieving their goals. If you do not get to know them and build a relationship, you are leaving a valuable source of information untapped.
Office hours are in place for students to stop by their professor's hours and ask questions or receive extra assistance on issues related to class, assignments, or other questions related to academics. Office hours are also a great time to ask a professor about writing a letter of recommendation or possible job leads they may know about. It is also a good time to get to know each other outside of the classroom.
The Freshmen Seminar courses at the University of Mary have been framed as skill-based courses in which students develop and apply academic and personal skills necessary for a successful college experience. As part of the seminar, students are introduced to concepts of the Benedictine tradition, liberal education, and servant leadership through engagement in activities involving academic, public, and professional communities.
The Emerging Leaders Academy (ELA) academic programs are intended to prepare students to be leaders in the service of truth, exemplary professionals in their chosen field. Students interested in the ELA program must have a 21 ACT and a 3.25 High School GPA.
Academic WARNING is the status assigned to a student who fails to make satisfactory academic progress (below GPA and completion rate requirements). The student may continue to receive financial aid for one payment period (one semester). No appeal is required for this status. Students will be notified by letter and will be required to meet with an academic advisor in the Student Success Center throughout the semester.
Academic PROBATION is a status assigned to a student who fails to make satisfactory academic progress and is suspended, BUT has successfully appealed AND who has received official notification that aid eligibility has been reinstated. Students who are placed in probation status may receive financial aid for one payment period (one semester). Students will be notified by letter and will be required to meet with an academic advisor in the Student Success Center throughout the semester.
Courses may be retaken, but it is important to check how many retakes your major/program allows. Some programs on campus only allow a certain amount of retakes, so understanding what that amount is in your own major/program is crucial if you are considering retaking a class. When you retake a class the better of the grades will be taken into account for your overall GPA, however both grades will still show on your transcript.
It is also important to know what the requirements are for you to pass, as well as your major/program requirements for that class. Some majors require a minimum of C (sometimes higher, sometimes lower) in a class to pass. Some majors/programs also have cumulative GPA requirements; an example would be that Education majors are required to have a 3.0 cumulative GPA. Remediation classes also have grade requirements you must meet before moving out of the remediation level class/classes. These are classes such as MAT 102 and ENG 111.
If you are not sure what the requirements are or how this process works it is important to contact an advisor who can help you better understand the process.
Students are responsible for contacting their respective instructors for all absences. If a student is absent for an extended period of time (over one week) due to illness, family emergency, etc., please contact the Student Success Center (SSC) and they will help inform your instructors of your continued absence or help you to determine your best course of action. It is the student's responsibility to make arrangements with each of your instructors for make-up assignments and exams.
The University of Mary offers programs in various professions leading to a degree. To meet graduation requirements for a bachelor's degree, a student will complete the following:
A minimum of 124 semester credits of which at least 44 semester credits are on the 300-400 level with a minimum cumulative grade point average of C (2.0) or the minimum grade point average as required by a major.

At least 62 semester credits in a four-year college of which 32 semester credits must be at the University of Mary, 16 of these in the student's major area, and eight of these in the student's minor area (if applicable). 

A minimum of 52 semester credits in liberal arts and sciences, which include required core classes. As core requirements can change, students should refer to the course catalog year under which they entered the University of Mary for their specific core requirements. 
University and departmental requirements to graduate default to the catalog under which a student initially enrolls with the University of Mary. If the student returns to the university after a break in enrollment, the student will follow the requirements of the catalog in which the student re-enrolls.
Yes! Students can take advantage of Year-Round Campus (YRC), which enables them to graduate in less time, with less cost and less debt. Year-Round Campus is a one-of-a-kind college career option that lets students achieve their Bachelor's Degree in less time. YRC provides students a new and radical degree path that allows them to earn a bachelor's and master's degree in less time and with less cost, so they can begin working, earning and saving sooner.
A bachelor of arts degree provides students with a broader education, requiring fewer credits that are directly linked to a particular major. Rather, students earn credits in a variety of liberal arts subjects. Bachelor of arts degrees are commonly offered in fields like English, art, music, communications and theology. Programs resulting in a bachelor of science degree are generally more strictly focused on their subject matter, requiring more credits that are directly linked to the major. Bachelor of science degrees are usually offered in scientific areas such as science, nursing, mathematics, and engineering.
The University of Mary curriculum and core requirements have undergone a few revisions over the years. Therefore, a friend or relative's experience will probably not apply to you. In addition, policies and requirements can also change from year to year. Please consult your academic or faculty advisor for course registration and for any questions related to policies or requirements.
We understand that in today's world there are a lot of things that can impact a student's time-to-degree: money, transferring, deployment, changing majors, work, and more. While eight semesters is the traditional route, the University of Mary is here to support you whatever your path may be.
For those students who would like to shorten their time-to-degree, the University of Mary Year-Round Campus program is an exciting option! Through this program, the university has taken the traditional 8-semester bachelor's degree and applied it to a yearly calendar. The program is not an accelerated program, as students take the same course load they would in a traditional format. By doing so, students can achieve a bachelor's degree in under three years and go on to achieve a master's degree in four.
Transitioning from high school to the college environment can be challenging for many students. College is a learning environment in which you take responsibility for thinking through and applying what you have learned. Oftentimes, in high school, students are given time at the end of their classes to complete a great deal of their homework. In college, students are required to do many hours of work outside the class each week. Course load recommendations are that for every 1 credit hour in which you enroll, you will spend approximately two to three hours outside of class studying. The University of Mary offers many resources that students can take advantage of such as Tutoring, Learning Skills Workshops and the Writing Center.
Most majors at the University of Mary suggest that students take liberal arts core requirements during the first semester, or even the first year. In fact, your first year is a great time to begin exploring different majors!
Still Have Questions?
We're here to help. Call the Student Success Center at 701-355-8124, email us, or schedule a meeting.