Retreats & Events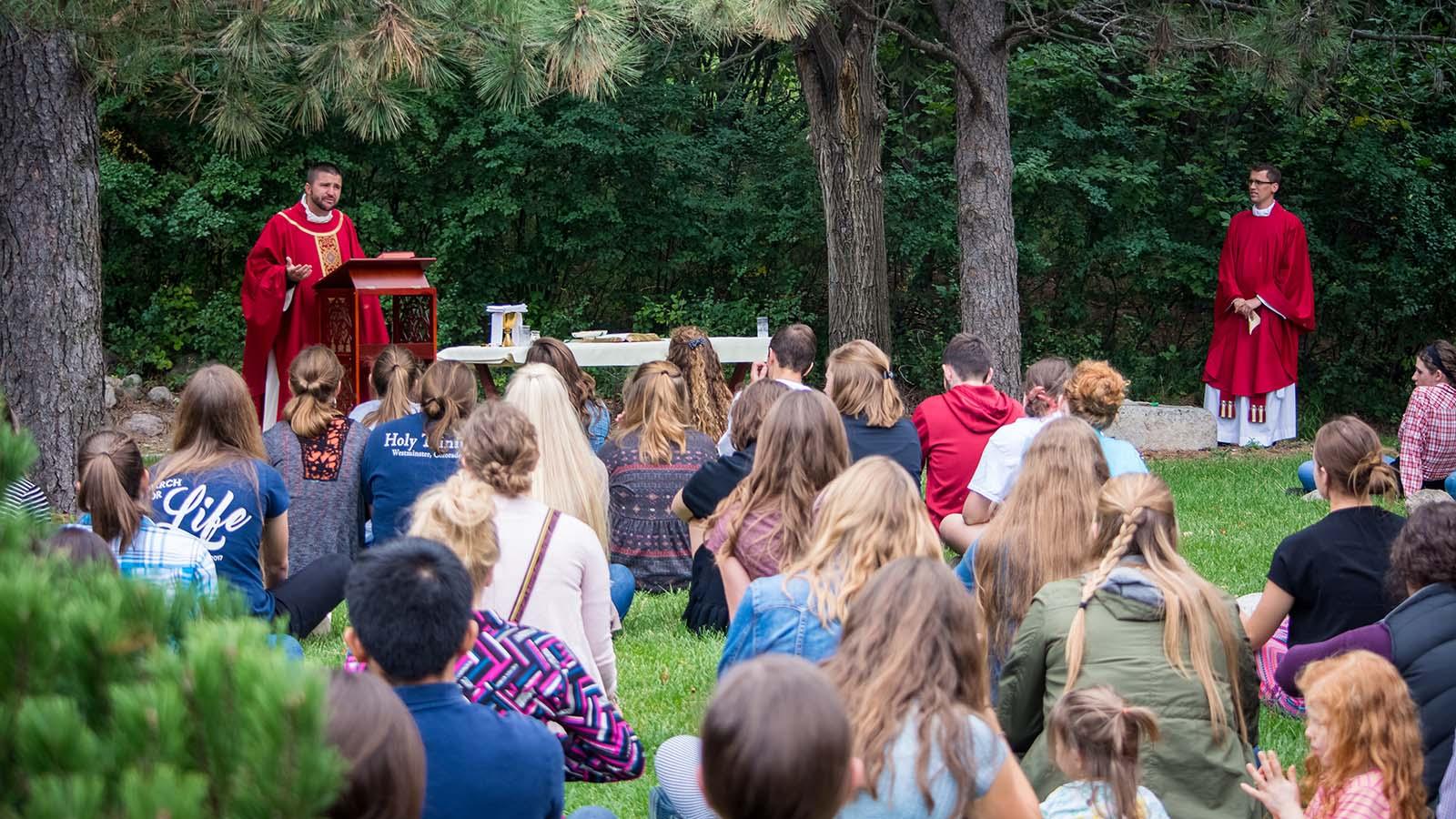 Grow in Your Faith
University Ministry at the University of Mary hosts various retreats and events throughout the year to help students grow in faith and community.
Events
All Christians are welcome every Monday morning at 10 am in the Lower Living Room of the Lumen Vitae University Center for a time to worship God, grow in fellowship, and engage with our local community in service! This is an event for all of us to stand shoulder-to-shoulder in solidarity praising God and supporting the underserved, the forgotten, and the marginalized with our time, talent, and treasure.
Each Wednesday evening from 8-9 pm, we offer an opportunity for praise and worship before the Blessed Sacrament in adoration with confessions available from 7-9 pm.
Join the Knights of Columbus for a daily rosary in the Grotto at 4 pm.
Join us on Thursday evenings for a Late-Night-style show with our chaplain, Father Dominic Bouck, and many featured guests from around the country. Topics include: faith, mental health, vocation, prayer, and much more!
Prayer Day is an opportunity for us to pause and reflect as a community and includes a presentation from a prominent speaker on a topic of faith and is organized by the Saint John Paul II Center for University Ministry.
The University of Mary sends students to the March for Life each year as witnesses to the sanctity of human life.
Ask questions, schedule personal meetings with vocations representatives, and learn more about opportunities to serve God and the community at our annual Vocations Jamboree that is free and open to the public.
The Grotto was dedicated on September 8, 2017 – the Feast of the Nativity of the Blessed Virgin Mary. In celebration of the anniversary of the dedication of the Grotto and of Mary's birthday, University Ministry hosts a candlelight rosary in the Grotto followed by a birthday party in the Shire!
Once a month, following the 4:30 pm Sung Vespers and Mass, the University of Mary community processes to the Grotto in gratitude for our patroness' tender care for us.
Dates for the 2022-23 academic year:
Monday, September 12
Monday, October 17
Monday, November 14
Monday, December 12
Tuesday, January 10
Monday, February 6
Monday, March 6
Monday, April 3
Have Questions?
We're here for you. Call University Ministry at 701-355-3704 or email us.