Campus Safety & Security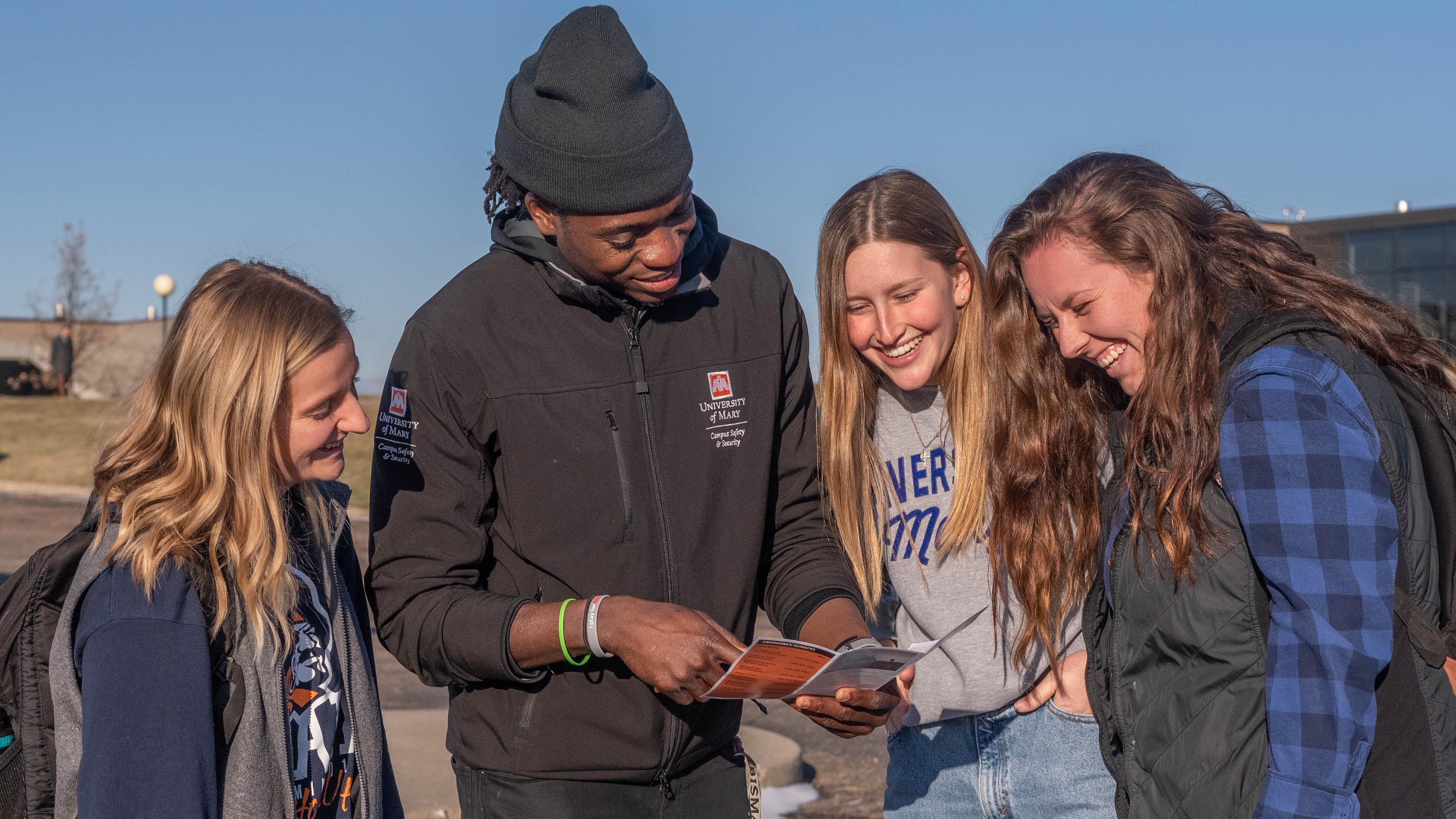 University of Mary: Safe and Secure

This box represents the University of Mary's current "Risk/Action Level" in response to COVID-19. Students, faculty, and staff are to adhere to the designated guidelines and protocols for this level.
The University of Mary is committed to maintaining a safe and secure campus environment for students, faculty, staff, and visitors. Here are some of the ways you can help ensure the safety of our campus:
Dial 8000 or 911
To contact Campus Safety and Security you can call 701-355-8000 from any hardline or cell phone. In addition, you can call 8000 from any campus phone. For any emergency where a police officer, the fire department, or an ambulance is needed, call 911.
Review the Emergency Response Guide
We've developed an emergency response guide that outlines the appropriate contacts and plans of action for potential emergency situations that may arise on campus.
Sign up for Mary's Emergency Notification System
The University of Mary utilizes a notification network that is capable of sending instant emergency notifications to all registered mobile phones, smartphones, landline phones, and e-mail addresses. You may sign up or edit your current notification preferences using the link below. 
Monthly Test of Our Emergency Notifications
In collaboration with the Burleigh County Emergency Management (BCEM), the University of Mary conducts a monthly test of its Emergency Notification System (ENS) on the last Friday of each month at 9:30 AM. During the monthly test, all individuals who have signed up to receive emergency notifications will receive the following message: This is a test of the Emergency Notification System. Please go to 8000.umary.edu for further information.
At the request of the BCEM, the university's test is scheduled to coincide with their emergency sirens. The purpose of the university's test is three-fold:
The monthly test message provides verification to students, faculty, and staff that are registered on the emergency notification system. Users who receive the test can be confident they will receive messages in the event of an emergency.
It provides an opportunity for university personnel responsible to send emergency messages to practice sending messages in the event of an actual emergency.
It provides the university and BCEM an opportunity to verify that our systems are operating correctly and communicating with one another.
If you have friends who did not receive a text message, please remind them to sign up for the university's Emergency Notification System.
The University of Mary publishes annual security reports for the main campus and its satellite operations. The reports are freely available for downloading from this page and follow guidelines outlined in the Jeanne Clery Disclosure of Campus Security Policy and Campus Crime Statistics Act (Clery Act) and the Higher Education Opportunity Act (HEOA).
These reports contain useful information including:
A description of the university's security and safety policies.
A three-year history of all Clery Act campus crimes reported to university officials or law enforcement officials.
Information about sexual assault including what to do if you are sexually assaulted, how to report a sexual assault, and how the university will respond to a report of a sexual assault.
Information about where to find information about sex offenders in Bismarck-Mandan and in North Dakota.
Recommendations for personal safety and protecting your personal property.
The University of Mary also collects daily campus fire and crime reports which are available for review by the general public. 
Contact Safety and Security Coordinator Carla Reinbold at 701-355-8351 or campussafetyandsecurity@umary.edu for more information on how to review the files or acquire copies of the reports.
Have Questions?
We're here to help. Call Campus Safety and Security at 701-355-8000 or email us.