Health Clinic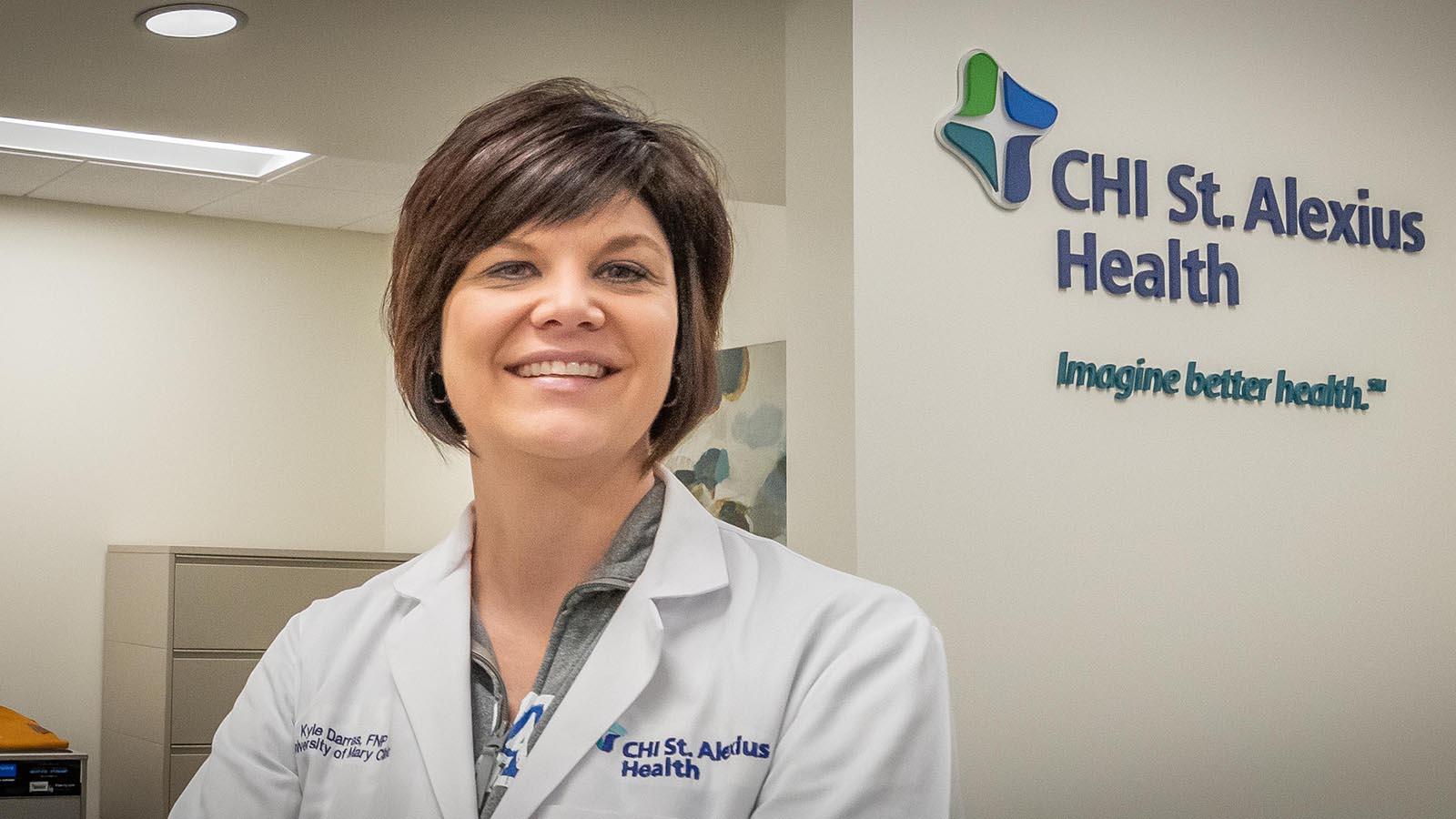 University of Mary Health Clinic for Students, Faculty, and Staff
To provide University of Mary students with convenient, campus access to high-quality medical services, the university has an arrangement with CHI St. Alexius Health to operate an on-campus clinic. A full range of services are available on-campus including medical exams and physicals, common laboratory services, prescriptions, vaccinations, and wellness education. The arrangement also provides students with easy access to other services, specialists and resources of CHI St. Alexius Health. 
A Catholic Health Care Facility
Congruent with the Christian, Catholic, and Benedictine mission and identity of the University of Mary, the University of Mary Clinic exists as a healing ministry to serve the health needs of our students and as a teaching ministry to help our students achieve the highest level of health possible. Our goal is to care for the whole person and encourage each student to practice the Benedictine value of moderation as part of an intentional commitment to wellness that seeks balance between mind, body, and spirit. By agreement with CHI St. Alexius Health, the University of Mary Clinic provides services consistent with the Ethical and Religious Directives for Catholic Health Care Services established by the United States Conference of Catholic Bishops. All students are served at the University of Mary Clinic, regardless of their ability to pay.
Schedule an Appointment
Appointments are recommended and can be scheduled by phone, 701-530-3670, or online through the University of Mary portal. Walk-ins are welcome and are served in the order they arrive with preference to patients with a scheduled appointment.
The clinic is open during the fall and spring semesters. 
Monday – Thursday: 9 am to 4 pm
Friday: 8:30 am to 12 pm
The University of Mary Clinic is equipped to provide treatment for a wide range of health concerns and has exams available as indicated below:
Alcohol Education

Allergies

Anxiety

Asthma

Bladder Problems

Breast Exams

Cough

Depression

Diabetes

Ear, Nose, and Throat Problems

Eating Problems

Eye Problems

Headaches

Men's Health Issues

Muscle and Joint Problems

PAP Exams

Physicals (Sport and Work)

Sexually Transmitted Illnesses

Skin Rashes and Other Skin Problems

Sore Throat

Stomach Problems

Testicular Exams

Weight Management

Women's Health Issues
The University of Mary Clinic has an on-site lab to process the following:
Blood Sugar Testing

Influenza

Mono

Strep

Urine
All other tests can be collected on-site and sent to a referring lab as needed.
As CHI St. Alexius Health employees, the University of Mary Clinic staff can easily make referrals and assist students with scheduling appointments with other CHI St. Alexius Health doctors and specialists.
The medical provider of the University of Mary Clinic, Kyle Darras, is a certified family nurse practitioner (FNP-C), which qualifies her to provide medical care, exams, and prescribe medications. The University of Mary Clinic maintains a supply of commonly prescribed and over-the-counter medications. In addition, courier service from the main clinic pharmacy makes it possible for students to pick up prescriptions, other medications, and medical supplies at the University of Mary Clinic located on campus.
The following vaccinations are available at the University of Mary Health Clinic:
Hepatitis A & B

Influenza

Tetanus (Tdap)

Tuberculosis
And screening for the following:
HPV (Human Papilloma Virus)

Measles, Mumps, and Rubella (MMR)

Meningitis
We also are here "just to talk" to students about any issue impacting their health and wellbeing. Additionally, we can assist students with timely referrals to CHI St. Alexius Health specialists and other campus or community medical/mental health programs or services.
Alcohol and Substance Abuse

Anxiety and Depression

Physical Abuse

Sexual Assault

Sexuality
Have Questions?
We're here to help. Call the University of Mary Health Clinic at 701-530-3670.