Investment Club
University of Mary Investment Club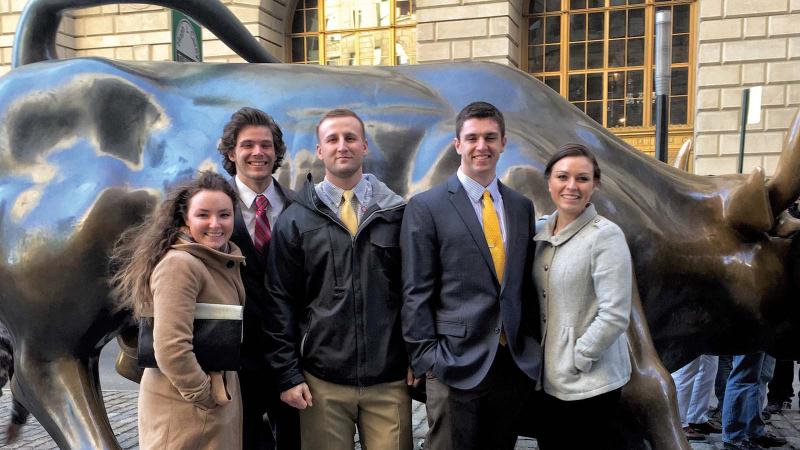 Formed in 2009, the University of Mary Investment Club (UMIC) is comprised of students who want to gain an understanding of stock trading and the economic and business performance factors in portfolio management. Thanks to the vision, guidance, and generosity of A. Kirk Lanterman, founder, and CEO of Kirlan Venture Capital, UMIC students have the opportunity to develop and practice financial analysis by managing a live, $500,000 portfolio in a state-of-the-art center dedicated to hands-on financial education.
Gain Experience
Our UMIC students gain valuable insight and experience in:
Researching stocks

Making stock and market pitches

The nature of financial markets and institutions

Organizational leadership
Become a Leader
Leadership is an essential element of UMIC. All members, by virtue of being part of the club, are leaders whose work and efforts benefit the organization and its members.
UMIC officers provide added leadership by managing the organization's day-to-day business.  Officer positions include:
President

Vice-President

Treasurer

Secretary

Public Relations officer
Why Join?
Be part of a great team

Manage a live and growing investment portfolio

Learn in an interactive, fun-filled environment

Access to the A. Kirk Lanterman Financial Center

Earn a certificate in fund management

Visit key financial centers such as the New York Stock Exchange, the Chicago Board of Trade, and the Federal Reserve

Participate in the Quinnipiac G.A.M.E. (Global Asset Management Game) Forum

Explore career possibilities

Network with industry and alumni leaders in the world of finance
Interested in the University of Mary Investment Club?