New Speech Language Pathology Program at Mary Earns Initial Accreditation to Help Fulfill Need Across Country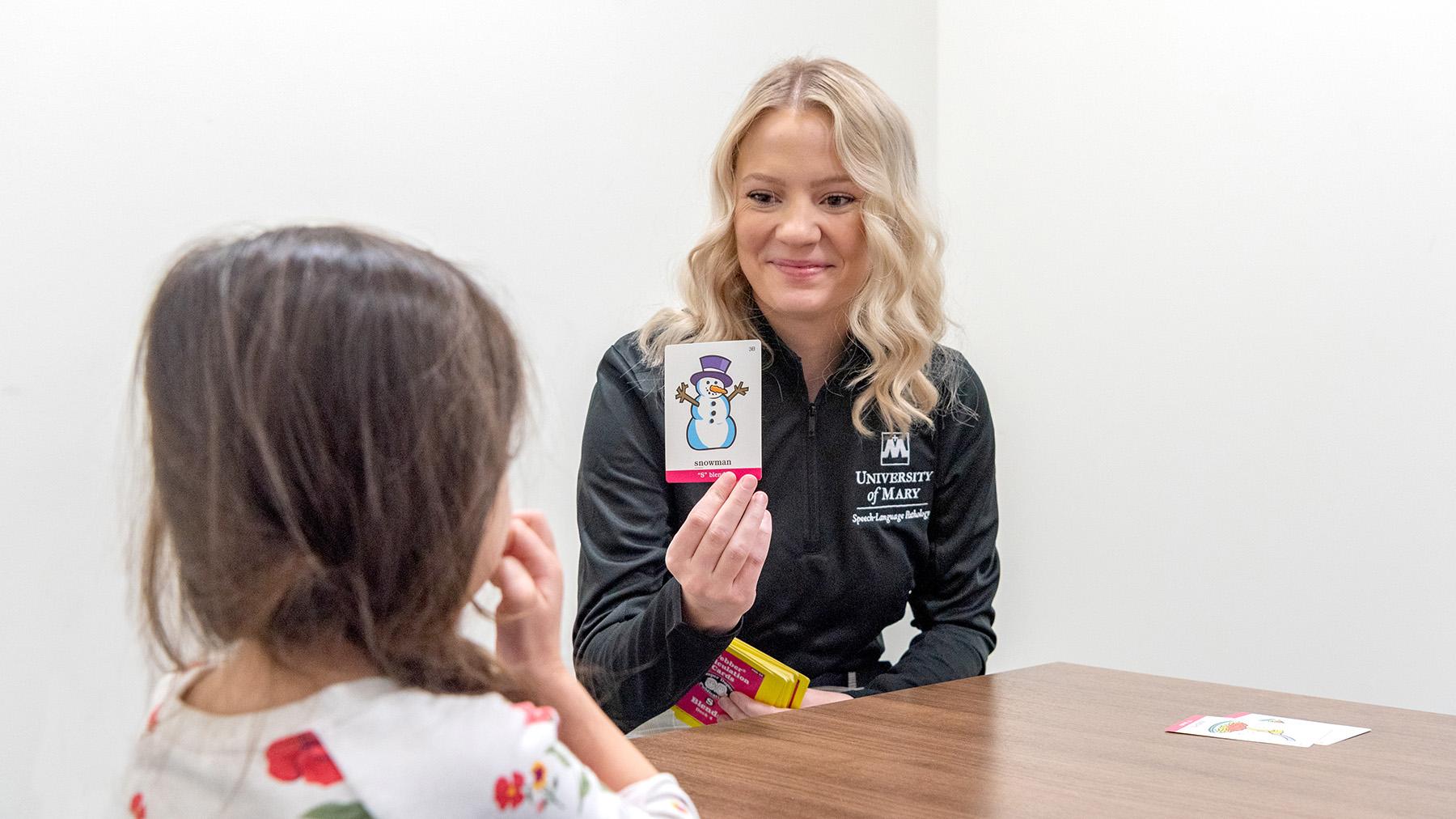 One of North Dakota's most in-demand occupations has a strong graduate pool to draw from and fulfills the need in schools and health care
BISMARCK, ND — After being awarded accreditation candidacy for master's in speech-language pathology (SLP) only four years ago (2018), the University of Mary has already earned the highest seal of approval from its accreditors. The Master of Science (M.S.) education program in speech-language pathology (residential) at the University of Mary is accredited by the Council on Academic Accreditation in Audiology and Speech-Language Pathology of the American Speech-Language-Hearing Association, 2200 Research Boulevard, #310, Rockville, MD 20850, 800-498-2071 or 301-296-5700.
"I am pleased to inform you that during its meeting on February 16-19, 2022, the Council on Academic Accreditation in audiology and Speech-Language Pathology (CAA) voted to award initial accreditation for the graduate education program in speech-language pathology at the University of Mary for a period of five years beginning February 1, 2022, through January 31, 2027," stated the decision-letter the University of Mary received from the CAA. "CAA publishes notice of its accreditation actions, including the basis for the decisions, for all final accreditation decisions resulting from a comprehensive review (applications for candidacy, initial accreditation, or re-accreditation) or that affect an accreditation status (e.g., accredited to accredited-on probation). Recent decisions can be accessed online at http://caa.asha.org/programs/accreditation-decisions/."
According to the CCA, University of Mary's program, with five full-time faculty, complied with all standards and met CAA's expectations and thresholds for student outcomes. Most notably, Mary graduates have experienced a two-year-average 96 percent pass rate on the national Praxis examination and are rewarded with a 100 percent employment rate and on-time degree completion over the course of its four years of existence. Perhaps one of the most popular, rewarding, hands-on experiences for SLP students is the program's pro-bono on-campus clinic, staffed by its SLP grad student clinicians and supervised by certified SLPs. The clinic provides critical services by helping and caring for individuals for free who are uninsured or underinsured. The clinic serves individuals of all ages and disorders and received the prestigious SPEAK OUT!® & LOUD Crowd® Grant in both 2019 and 2020.
 "The SLP program started in 2018 as an answer to a significant need identified in the region from local healthcare facilities and school districts," said Jessica Smith, chair, and assistant professor for the Department of Speech-Language Pathology at the University of Mary. "The program started with 13 students and has now grown to 33 students. Students in the program are well qualified after challenging coursework and 400 clinical hours both in the on-campus clinic and in the community. Additionally, students can engage in interprofessional learning with other St. Gianna School of Health Sciences students in programs such as nursing, athletic training, exercise science, physical therapy, and occupational therapy. Since 2018, the program has graduated 28 students with 100 percent job placement. Students are extremely well-prepared as evidenced by the 96% success on the national licensing examination. Achievement of accreditation requires proof of successful outcomes and adherence to strict guidelines. University of Mary's SLP program is one of only three accredited programs in North Dakota and is the only Cardinal Newman Society-recommended college or university to be accredited and offer both graduate and undergraduate SLP programs — the latter named communication sciences disorders (CSD)."  
The CSD undergrad program in the St. Gianna School of Health Sciences is a four-year pre-professional study for students interested in preparing for a career in SLP. The undergraduate curriculum provides knowledge in normal and disordered speech, language, swallowing, and hearing processes. Assessment and intervention learning experiences are supported by current research and evidence-based practice. Christian, Catholic, Benedictine and professional speech-language values are embedded in the program to establish ethical, respectful, caring and service-oriented students. Graduate study is required for the professional practice as a Speech-Language Pathologist or Audiologist.
Graduate student Emily Quello, a Bemidji, MN, native, witnessed first-hand the Christian, Catholic, and Benedictine values emphasized in University of Mary's curriculum and practiced daily by faculty, students, and staff.
"I was worried coming into a Catholic college and not being Catholic myself, I would not be welcomed, but my experience has been totally opposite of that — I've been welcomed with open arms," added Quello, who plans to make Bismarck-Mandan her permanent home and work in a pediatric setting or private practice after graduating. "The university is dedicated to forming servant leaders with moral courage, global understanding, and commitment to the common good. I have enjoyed the classes provided on campus, learning from professors that come from a multitude of backgrounds, which in turn provides us with a diverse range of experiences and examples. The pro-bono clinic on campus gives us real-life experience with clients and immediate feedback from professors and supervisors."
Smith says the popularity of both University of Mary's SLP graduate program and its CSD undergraduate program is indictive of its early successes and the huge local and national shortage in the career field of speech-language pathology — especially in K-12 schools and health care settings. According to the U.S. Bureau of Labor Statistics, the employment of SLPs is projected to grow 29 percent from 2020 to 2030, "much faster average than the average of all occupations." Projections Central specifically calls out North Dakota with a projected 27.7 percent increase in need with 40 job openings on an annual basis from 2018-2028. SLP is ranked No. 8 on U.S. News and World Report's 100 Best Jobs list for 2020. The BLS outlook also predicts about 15,200 job openings each year, on average, over the decade, with a 2020 median annual wage for speech-language pathologist at $80,480.  
For more information about enrolling, accreditation and a comprehensive description of SLP requirements, visit Mary's website at www.umary.edu/speechlanguagepathology. The program still accepting applications for the Fall 2022 start. Please apply at https://csdcas.liaisoncas.com/applicant-ux/#/login
About the University of Mary 
True to its motto "lumen vitae" — The Light of Life — the University of Mary offers education for the whole of life through cutting-edge professional programs and graduate programs animated by moral courage and leadership in chosen professions and service to the community. A private, co-educational Catholic institution, the University of Mary welcomes students of all faiths and backgrounds.
A Christian, Catholic, Benedictine institution founded in 1959 by the Benedictine Sisters of Annunciation Monastery, Mary offers nearly 60 bachelor's, 15 master's, and five doctoral programs — in business administration, education, nursing practice, occupational therapy, and physical therapy. The 19-sport Athletic Department adheres to its Greatness Through Virtue mission under the governance of the National Collegiate Athletic Association (NCAA) and American Collegiate Hockey Association (ACHA) conferences. With more than 3,800 students, Mary has locations in North Dakota, Montana, Arizona, and Rome, Italy, as well as vibrant online offerings.
Explore Topics