Fargo, ND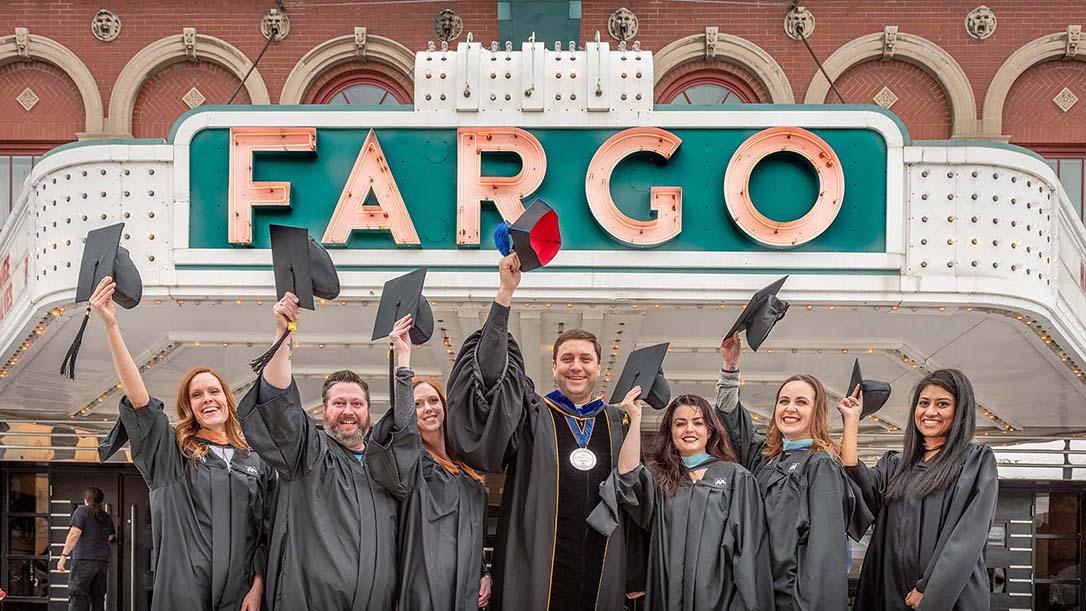 A Distinct University of Mary Experience. Right Here in Fargo.
When will you find the time to earn your degree? With so few schools offering any kind of flexibility, it's easy to get discouraged. At the University of Mary, we offer online programs as well as evening options — all of which support the values you hold dear.
Whether you're considering your first or next degree, you can pursue an affordable, private, Catholic, university education that understands the challenges you face and helps you meet them head-on.
Highlighted Degrees in Fargo:
Our Fargo location houses a full range of undergraduate and graduate degrees offered through a mix of online and evening classes. Not seeing your degree path below? Explore our full listing of online degrees at University of Mary Online.
An Established Location in Fargo
For more than 20 years, the University of Mary has served students in the Fargo, North Dakota area. The result is our institution's largest location, aside from our main campus in Bismarck, offering a robust selection of undergraduate and graduate degrees designed for working adults. Our admissions representatives and student success advisors are readily available to help you enroll and guide you through your degree experience.
This location also employs full-time faculty for the Doctorate in Occupational Therapy program — which is the first of its kind in North Dakota. In this program, occupational therapy students get hands-on experience through activities and lab classes completed in a fully functional lab space. No matter which degree you pursue, or how you choose to pursue it, you'll get the very best of the Mary experience.
Class Schedules in Fargo
Course schedules will vary depending on your degree path. In general, University of Mary students meet in a classroom setting one evening per week, often from 6-10 pm, for the duration of the degree program. Online and in-person courses run between five and 10 weeks, depending on specific course configuration. Students can receive a degree in as few as 16 months. 
Where to Find Us in Fargo
The Fargo Butler Center building is in the Westgate neighborhood, not far from downtown Fargo, and used to serve as the corporate office building for Butler Machinery. We honor the legacy and generosity of Francis and Doris Butler, founders of Butler Machinery, in naming our Fargo location after them. We are located close to the intersection of Interstate 29 and 13th Avenue South. Students can easily find parking and conveniently access the 13th Avenue commercial district. Get Directions.
Take the Next Step Toward Career Advancement

When you enroll at the University of Mary, you'll work with a dedicated advisor who will help you through your degree experience. We'll make sure you get the support you need as you work toward your goals.