Military & Veteran Aid
We Support Our Women and Men in Uniform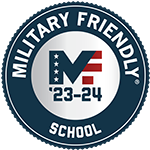 The University of Mary recognizes and appreciates the sacrifices that our veterans, current military, and their families make to our democracy's safety and security. 
Our Military Student Services Office includes a dedicated team who are experienced in helping students maximize their military and Veterans Affairs (VA) benefits, with services that include:
Understanding VA education and training programs

Accessing spouse and dependent benefits 

Assisting with service-connected disabilities and vocational rehabilitation

Researching monthly housing allowance amounts

Accessing University of Mary military scholarships.
The University of Mary has been designated a Military Friendly Organization for our commitment, effort and success in creating sustainable and meaningful opportunities for the military community.
We're Here to Help
Call the Military Student Services Office at 701-355-8169 or email us.