World-Renowned Artists and Music Alumni Celebrate 50th Jazz Festival at Mary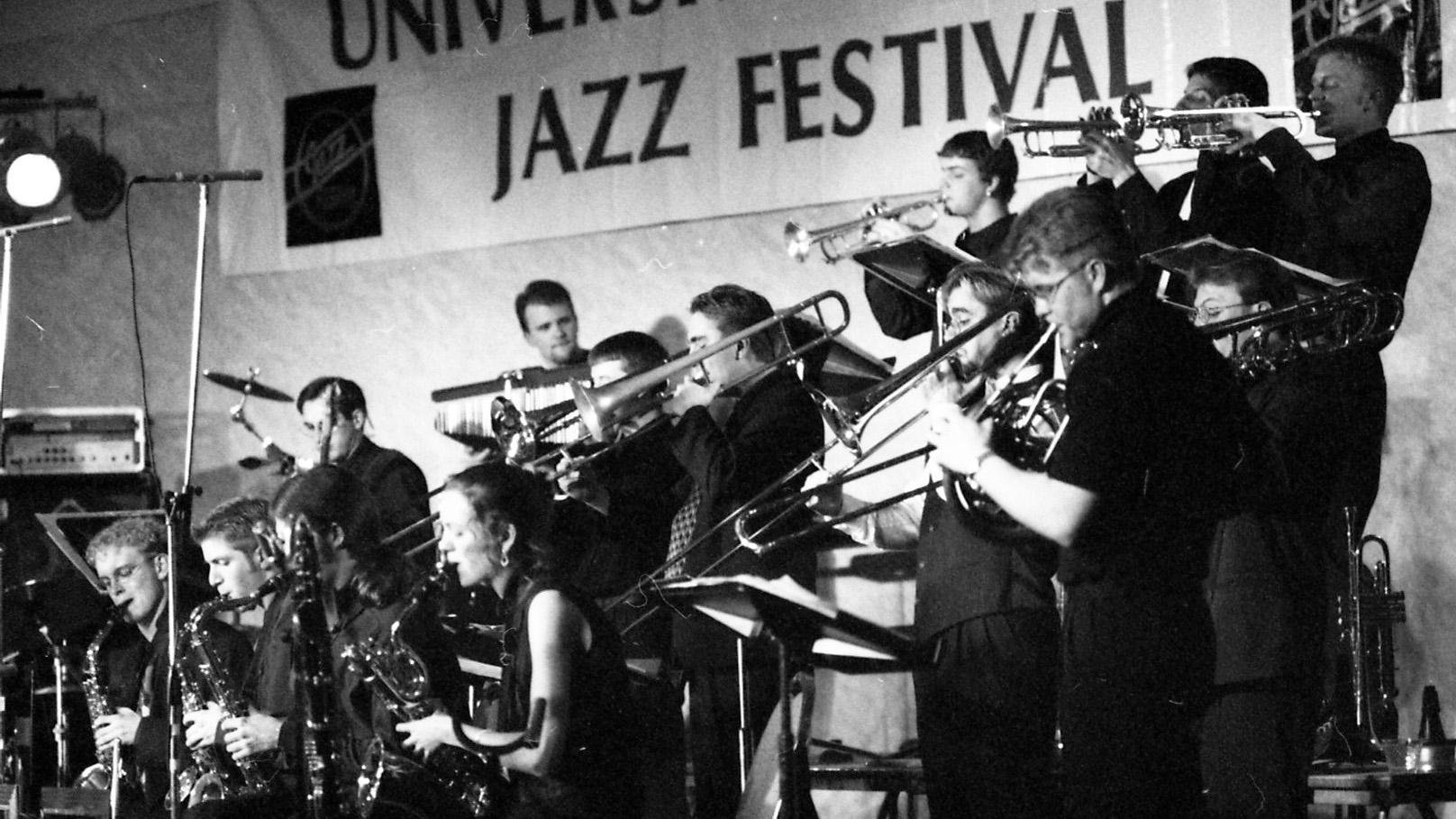 Public invited to concert Saturday, January 28, tickets available online or in person at Eckroth Music
BISMARCK, ND — In the 50-years of existence, the annual University of Mary Jazz Festival has built a name for itself as one of the premier music events in the country. Its rise to acclaim not only comes from the allure of numerous internationally renowned guest artists performing and adjudicating every year, but also the world-class music faculty who've instructed award-winning students at the highest level to go on to lead successful and fulfilling lives in the music industry and teaching profession.
Ernie Borr ushered in the first era of jazz on campus in 1974, while Scott Prebys became the longest tenured director from 1978 until 2009, and now University of Mary alum Brian Lydeen ('94) continues the long tradition of excellence as the eighth director of Jazz Studies in charge of the festival. 
"My love affair with the University of Mary Jazz Festival started back in the mid 1980's as a junior high school student from Mandan, ND," recalled Lydeen. "I have experienced the festival as a participant, college student at Mary performing and working the festival, an alumnus, adjudicator, and now as the festival manager. Coming full circle with my involvement allows me a unique perspective on this event. One of the highlights has been getting to hear and perform alongside some of the finest jazz musicians in the world. But, in addition to that, it's always been about the friendships and relationships with the people. It's the special sense of community and bond it brings to the music department, university, and the Bismarck-Mandan area that lasts long after the music has silenced."
Lydeen and the University of Mary invite the public to the two-hour jazz concert Saturday, January 28 at 7:30 p.m., from the Belle Mehus Auditorium in Bismarck. Tickets are $20 for adults and $15 for students and senior citizens and can be purchased online or in person at the Belle or Eckroth Music in Bismarck.
During the Jazz Festival's 50 years, University of Mary ensembles and Vocal Jazz have shared the stage with dozens of world-class artists, including Tom "Bones" Malone and Bob Kase, who will both make their third appearance, along with over 20 former University of Mary graduates from decades past that make up the Alumni Jazz Ensemble. Malone is best known for his work with the Blues Brothers, David Letterman Show, and Saturday Night Live. While Kase has performed with international recording stars Sonny and Cher, Frank Sinatra, Sammy Davis Jr., and many more including accompanying the University of Mary Jazz Ensemble to Montreux, Switzerland, in the 90s to perform at its famous jazz festival. For a full list of featured guest artists and short bios, visit the 2023 Jazz Festival website.    
"The jazz festival is a large part of why so many of us alums of have taken our experiences from the University of Mary and passed them on to our students in music education and as performers across the region and around the country," added Lydeen. "Current students who get to see their teachers performing together is inspirational and a testament to the impact this festival has had on all of us over the past 50 years. And, the Alumni Band getting the opportunity to relive some 'glory' of the festival and perform alongside the guest artists is a special aspect of this concert. The value of the musical education benefits and camaraderie this event provides are immeasurable. It speaks volumes of the university's commitment to support this special event for a half century." 
The University of Mary Jazz Festival is a two-day event and one of the largest in the region that also includes nearly 50 high school instrumental and vocal jazz groups participating in music adjudication on Mary's campus. Approximately 800 high school students from Bismarck-Mandan and across North Dakota vie for awards and scholarships as they are judged on their individual and ensemble performances and receive 30-minute master classes by these world-renowned guest artists.
Anyone who wishes to learn more about any undergraduate or graduate programs can do so at www.umary.edu, or www.online.umary.edu, respectively, or by contacting an admissions representative at enroll@umary.edu, or by calling (701) 355-8030. The University of Mary is one of only 15 Recommended Cardinal Newman Society Residential Colleges and Universities in the US.
About the University of Mary: True to its motto "lumen vitae"—The Light of Life—the University of Mary offers education for the whole of life through cutting-edge professional programs and graduate programs animated by moral courage and leadership in chosen professions and service to the community. A private, co-educational Catholic institution, the University of Mary welcomes students of all faiths and backgrounds.
A Christian, Catholic, Benedictine institution founded in 1959 by the Benedictine Sisters of Annunciation Monastery, Mary offers nearly 60 bachelor's, 15 master's, and five doctoral programs—in Business Administration, Education, Nursing Practice, Occupational Therapy and Physical Therapy. The 19-sport Athletic Department adheres to its Greatness Through Virtue mission under the governance of the National Collegiate Athletic Association (NCAA) and American Collegiate Hockey Association (ACHA) conferences. With more than 3,800 students, Mary has locations in North Dakota, Montana, Arizona, Rome, Italy, as well as vibrant online offerings. For more information, visit www.umary.edu.
Patrick Litton                Bismarck, ND
Calista Rennich              Bismarck, ND
Hattie Muellenbach      Corona, SD
Mya Tena                       Bismarck, ND
Meghan Schneider         Billings, MT
Lillian Effertz                  Velva, ND
Kennedy Cowart              Houston, TX
Brady Saylor                     Bismarck, ND
Kira DeMaris                    Sleepy Eye, MN
Stephen Talbot                Carol Stream, IL
Adam Anderson              Nashville, IL
Lucas Schloesser            Mandan, ND
Harrison Walker             Missoula, MT
Logan Quin                      Wilton, ND
Luke Lichtenberg           Buffalo, MN
Deante Kerr                      Bismarck, ND
Matthew Mendiola        Dassel, MN
Aidan Koop                     Ham Lake, MN
Aidan Kittilstved            Spokane, WA                    
Nick Amoranto               Oceanside, CA
Edmund Peliska            Bismarck ND
Mary Vocal Jazz
Emma Nagel                  Bismarck, ND
Madison Marcus             Bismarck, ND
Sarah Pankratz               Billings, MT
Gabriella Schafer            Independence, MN
Alexis Maher                 Mandan, ND
DeAnte Kehr                  Bismarck, ND
Brady Saylor                  Bismarck, ND
Zachary Turner               Bismarck, ND
Noah Fettig                   Bismarck, ND
Alumni:
Brian Lydeen ('94), director
Bismarck, ND
Danielle Abler ('14), Administrative Assistant
Bismarck, ND
Saxes
Terry Peffer ('94), alto 1       New Brighton, MN
Ben Lee ('21), alto 2       Wing, ND          
John Krueger ('10), tenor 1      Bismarck, ND
Brenden Jacobsen ('18), tenor 2   Rochester, NY
Chris Dasovick ('03), bari              Bismarck, ND
Marnie Kraft ('90), flute              Bismarck, ND
Trumpets
Shawn Boehm ('91)                   Mandan, ND
Jim McMahon ('02)                   Bismarck, ND
Jordan Boehm ('14)                   Minot, ND
Taylor Abler ('13)                   Bismarck, ND
Michael Hebert ('18)                   Bismarck, ND
Brian Hebert ('93)                   Bismarck, ND
Bones
Jon Baumann ('95)                   Mandan, ND
Tom Mortensen ('18)                   Bismarck, ND
Gary Lauinger ('95)                   Hutchinson, MN
Nick Mortensen ('21), bass                   Edgeley, ND
Guitar 
Fr. Nick Schneider ('03)                   Mandan, ND
Dave Augustadt ('03)                   Bismarck, ND
Piano  
Mike Langer ('07)                   Bismarck, ND
Eric Redding ('93)                   Anchorage, AK
Danny Plunkett ('20)                   Clarkston, MI
Bass  
Adam Roberts ('99)                    Bismarck, ND
Drums & Percussion
Brad Stockert ('91)                   Bismarck, ND
Mark Herold ('02)                   Bismarck, ND
John Heinrich ('08)                   Bismarck, ND
Josh Christiansen ('93)            Minneapolis, MN
Rob Peske ('05)                      Bismarck, ND
Explore Topics