University of Mary's Cappella Commissions Music for Eucharistic Revival Project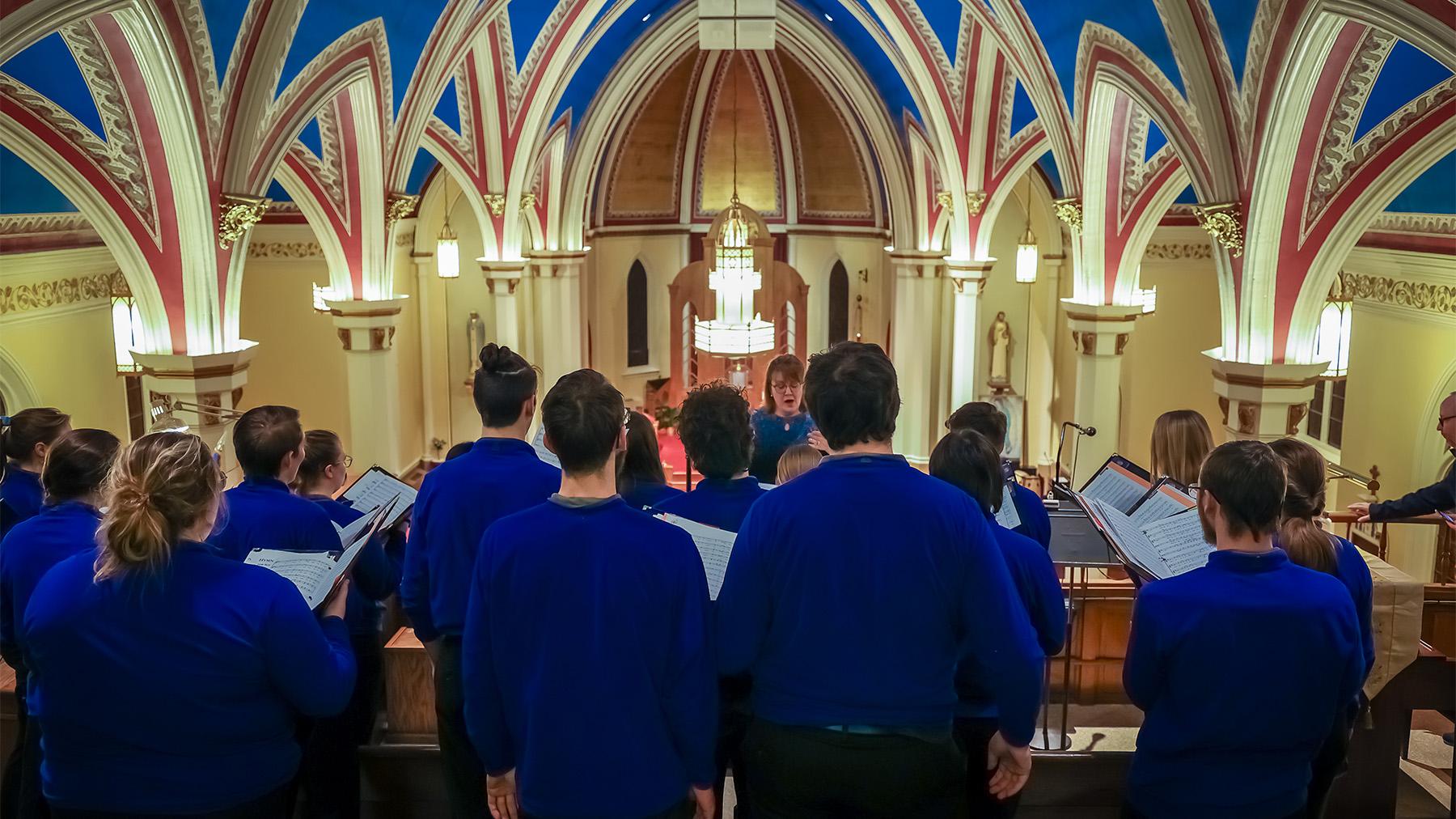 One of America's premier university choral ensembles to tour Catholic sites in France and Spain this May singing Eucharistic music.
BISMARCK, ND — The world can sometimes feel divisive and out of control, chaotic, anxious, and in constant turmoil. Today, people are searching for something powerful that unites and heals — not just Catholics — but the world. People need to be awakened and reminded during it all — Jesus is present through the Real Presence. 
"Jesus desires to heal, renew, and unify the Church and the world by uniting us once again around the source and summit of our faith — the Holy Eucharist," states the National Eucharistic Revival web page. 
The National Eucharistic Revival, a three-year initiative launched last June on the Solemnity of the Most Holy Body and Blood of Christ, or Corpus Christi, "is a movement to restore understanding and devotion to this great mystery here in the United States by helping us renew our worship of Jesus Christ in the Eucharist," their website states.   
The University of Mary's new chapel choir, Cappella, is contributing to the revival by featuring Eucharistic music:  polyphony, hymns, chant and more, in their rehearsals, performances, and recording projects. The recording compilation will consist of live performances from the University of Mary, as well as at famous sites of their May 2023 tour with the Music Department through Spain and France, including sites of Eucharistic miracles in Montserrat and Zaragoza, Spain. They'll also include Eucharistic fervorinos from Chaplain, Father Bouck, and University of Mary President Monsignor James Shea — one of the National Eucharistic Revival speakers and a steering committee member of the Cardinal Newman Society's Task Force for Eucharistic Education.
Cappella has commissioned "Ave Verum Corpus" from world-renowned composer Michael John Trotta. The choir has just begun learning the work and will be singing the world premiere during the annual Vocations Jamboree on campus. Cappella is also in the process of commissioning a setting of "O Sacrum Convivium," with more details announced soon.
"We are very happy to be commissioning works of art and beauty for the Church — what better occasion than to focus our attention and reverence on the Eucharist?" said Raber, who is also a selected member of the Cardinal Newman Society Task Force on Eucharistic Education. "When I heard about the Eucharistic Revival, I knew I wanted to do something from the perspective of music. Music has the capacity to help us understand more fully and gratefully, the mystery and truth of our faith. Cappella shines in a project like this. Each day, Cappella students use their musical gifts and the devotion within their hearts to create beauty in our community. This is Cappella's particular mission and ministry, deep in the heart of our Catholic liturgy. We are inspired by our University Ministry patron, St. John Paul II, who, in his Letter to Artists, urged us to craft our music, beauty—as a gift to the world. We are concentrating our time and resources to contribute to this important initiative through music so that others may be drawn more fully into the beauty of the Eucharist. Singing this music in our own university community is certainly a blessing; however, sharing this music outside our community is something that we are particularly called to do. We are eager to go out to all the world and share our love for sacred music and the Eucharist."
Trotta believes beauty is important to the composition process consisting of the three elements — integritas, consonantia, and claritas — Saint Thomas Aquinas wrote in Summa Theologica, that which is beautiful has wholeness, proportion, and radiance.
"There are so many things that I love about this text," commented Trotta. "Of the many that we considered for this special project, this text stood out from all the others. The history of the hymn is that it was commonly sung at the elevation of the Eucharist during the consecration at Mass. Mozart and William Byrd have perhaps the most well-known settings of this text, but the hymn itself goes back at least to the 13th century."
Cappella is a new, one-of-a-kind chapel choir formed in 2021 made up of approximately 30 gifted sacred music singers from across the United States and Canada. Like a university sports team, each student is recruited and auditioned — and if chosen to join Cappella, they receive generous scholarships to sing sacred music at the University of Mary.
"Cappella is unique," added Raber. "Students audition from all over the country to be part of this ensemble, full of skilled musicians with a special devotion to sacred music. The students are like the beautiful stained-glass panels in our chapel…they become luminous when God's light shines brightly through them."
"As members of Cappella, we have a unique opportunity to order our labor directly towards the glorification of God and the inspiration of the Church, through our participation in the Sacrifice of the Mass," said Dominic Plummer, a sophomore business administration major from Marietta, GA. "The Eucharist is at the heart of this opportunity and is the foundation of our mission. In our newest project, we feel eager and responsible to cultivate a revived atmosphere of adoration around the Eucharist in our own community and through the Church."
"Sacred music is an integral part of our Catholic faith," reflected Curstin Larson, a sophomore sacred music major from Foley, MN. "It has an ability to touch the human soul and move it to comprehend the great truths of the Church in a way that nothing else can. Cappella has a unique ability to educate through beauty and to inspire devotion through its music."
Cappella is doing its part to fulfill JPII's wishes and spread God's glory, and what better way than on a world stage as part of the three-year Eucharistic Revival. Once the collection of recordings is produced after their return from Europe, people will be able to access it through the Cappella website, which also has a page devoted to the Eucharistic Revival Project. Follow Cappella's social media to get updates and advanced recordings of the Eucharistic Revival Project @cappellaumary (Instagram, Facebook, and YouTube).
—UMary—
Anyone who wishes to learn more about any undergraduate or graduate programs can do so at www.umary.edu, or www.online.umary.edu, respectively, or by contacting an admissions representative at enroll@umary.edu, or by calling (701) 355-8030. The University of Mary is one of only 15 Recommended Cardinal Newman Society Residential Colleges and Universities in the US. 
About the University of Mary: True to its motto "lumen vitae"—The Light of Life—the University of Mary offers education for the whole of life through cutting-edge professional programs and graduate programs animated by moral courage and leadership in chosen professions and service to the community. A private, co-educational Catholic institution, the University of Mary welcomes students of all faiths and backgrounds.
A Christian, Catholic, Benedictine institution founded in 1959 by the Benedictine Sisters of Annunciation Monastery, Mary offers nearly 60 bachelor's, 15 master's, and five doctoral programs—in Business Administration, Education, Nursing Practice, Occupational Therapy and Physical Therapy. The 19-sport Athletic Department adheres to its Greatness Through Virtue mission under the governance of the National Collegiate Athletic Association (NCAA) and American Collegiate Hockey Association (ACHA) conferences. With more than 3,800 students, Mary has locations in North Dakota, Montana, Arizona, Rome, Italy, as well as vibrant online offerings. For more information, visit www.umary.edu.
2022-2023 University of Mary Cappella Choir
Cappella Director, Dr. Rebecca Raber 
Soprano: 
Sophia Ahlquist (Bloomington, MN) 
Cecelia Brennan (Saint Paul, MN) 
Curstin Larson (Foley, MN) 
Kamryn Morrison (Minot, ND) 
Emily Storick (Bismarck, ND) 
Mary Storick (Bismarck, ND) 
Tatiana Van Tiem (Stevens Point, WI)
Alto: 
Kendall Alexander (Eau Claire, WI) 
Emma DeVries (Des Moines, IA) 
Maggie Havlicek (Elko, MN) 
Mary Kracht (West Saint Paul, MN) 
Maleeka Kramlich (Jamestown, ND) 
Rebecca Rell (Merrill, WI) 
Sebella Sorenson (New England, ND)
Tenor: 
Landon Ahlquist (Bloomington, MN)
Kalen Hill (Minot, ND) 
Marshall Milless (Andover, MN) 
Dominic Miniatt (Cadott, WI) 
William Oakes (Stillwater, MN) 
Dominic Plummer (Marietta, GA)
Bass: 
Simon Bowden (Fargo, ND) 
Jacob Ganzer (Maple Grove, MN) 
Nicholas Lynch (Holcombe, WI) 
Isaiah Maertens (Center, ND) 
Caleb Raes (Deloraine, Manitoba) 
Joseph Shakal (Bloomer, WI)
Organist: 
Elizabeth Dust (Peoria, IL)
Explore Topics