University of Mary Graduate Student Gets Call to the Big Leagues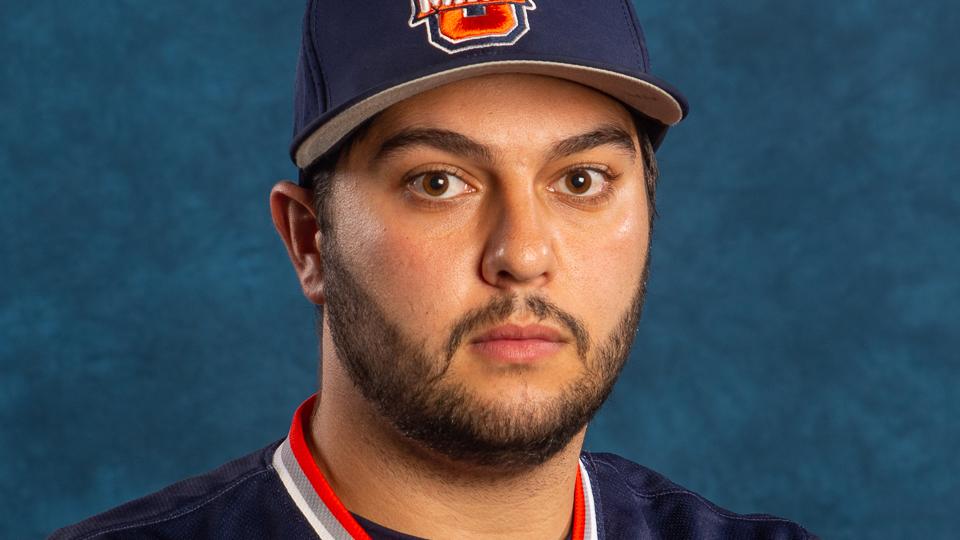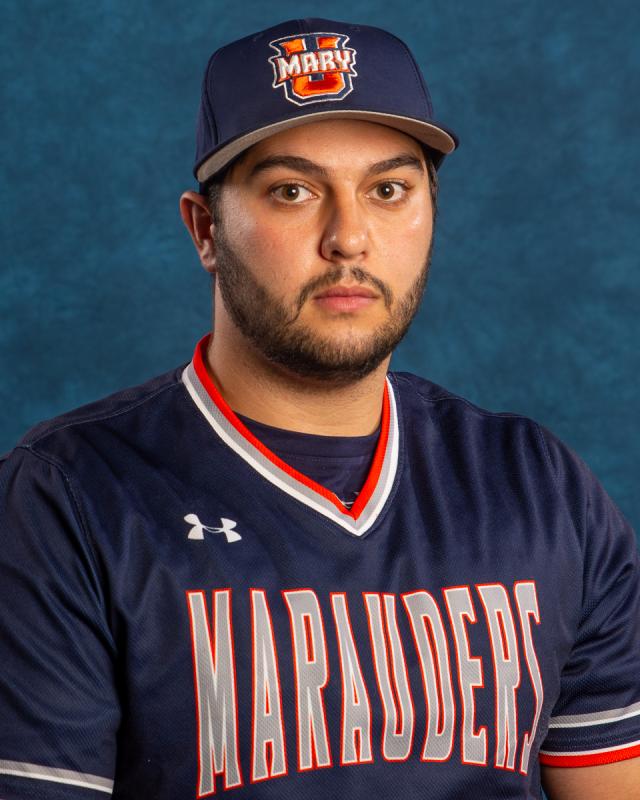 BISMARCK, ND — It's a little surprising, and somewhat shocking, to hear a Canadian talk passionately about his favorite sport — and it's not hockey. Nate Kolb of Cloverdale, British Columbia, Canada, traded in his hockey sticks for baseball bats at a very young age and has never looked back. As a kid, Kolb often took advantage of his proximity to Seattle by attending many Mariners Major League Baseball (MLB) games. When it gets cold in Canada, spring break for the Kolb's meant many trips to the desert sun in Arizona to watch spring training.  
His love for the game as a fan spilled over onto the field as a young athlete. His baseball success brought him to compete at the Canadian Youth National Tournament in Toronto in 2013, while there he watched a Toronto Blue Jays game in person and cheered for some of his favorite players on the team, like Roy Halladay. Kolb extended his baseball career with success in the junior college ranks and then as a recruit for the University of Mary Marauders as a pitcher.
"I pitched a total of one inning here at Mary," said Kolb of his entire two-year baseball career at Mary. "My baseball career here was a bit of a failure which led to the [Marauders] coaching role. The highest I ever hit on the radar gun was 87 mph. Upon transferring here to Mary, I lost my velocity on my fastball which is why my career went downhill. That's what really propelled my interest in player development and kinesiology."
Once his collegiate career ended last year Kolb knew there would be no Major League Baseball (MLB) teams drafting him to play. But he offered an interesting and unique perspective as an injured athlete wanting to help other athletes and prevent them from possibly suffering the same fate as him while competing. Like a true athlete, Kolb took his injury shortcomings, painful as they may be for him to dredge up, and made those experiences a winning combination with the University of Mary graduate kinesiology program.
"When I first went to school I was originally interested in nutrition and was studying to become a sports dietician," added Kolb. "Upon transferring to Mary from my junior college I had to switch to exercise science. I quickly fell in love with exercise science. From there the natural progression was to continue my studies at Mary with their graduate kinesiology program. The degree allows me to conduct research and continue the pursuit of knowledge in the study of human movement."
Kolb's first-hand experience as an undergraduate student in Mary's exercise science department helped him advance into the field of strength and conditioning. That led to graduate kinesiology study at Mary where he worked with University of Mary's Biomechanics and Kinesiology Coordinator and Assistant Professor, Janelle Olson, to develop a testing battery for Mary's baseball team using the kinesiology department's resources, like the force plate.
"The ability to have the resources and support from the department and faculty enabled me to dive into projects with confidence for hands-on experience — which helped me progress exponentially to where I am now," he added.
"The Kinesiology program develops leaders in all areas and assists in enhancing their knowledge of human movement to advance them to the next level," said Dr. Rachel Johnson Krug, chair of athletic training and kinesiology at Mary. "Our degree can help the student excel in the career of their choice. We are here to help them advance whether it is a job in the fitness industry, school setting, or professional setting, we can help them achieve their dreams. This year, Nate Kolb's dreams became reality."
Shortly after the new year Kolb received an offer from the Arizona Diamondbacks.  
"My reaction was shock and immense excitement," added Kolb. "I will be one of the strength coaches for the Arizona League rookie ball team with the Diamondbacks, which is part of their minor league system. My duties will include everything and anything weight room and movement related."
In baseball, sometimes the ball needs to bounce the right way to get the baserunner out at home plate, or for a rare triple play, or catching a runner trying to steal a base. Kolb would be the first to admit, this opportunity took a fortuitous bounce when he met Diamondbacks assistant minor league baseball strength and conditioning coordinator and fellow Mary alum, Derek Somerville, at a conference.
"We connected about Mary's baseball program," added Kolb. "He was interested in what we were doing and asked if he could come talk shop with our coaching staff and see what we were doing. After that I applied for a job with a different organization and called Derek looking for advice on how to prepare for those interviews. Two days after Christmas, Derek called me and told me that a position had just opened up with the Diamondbacks and that he thought I would be a good fit for it and if I'd be willing to interview for it, I said yes, and the rest is history."
When baseball players first get called up for a very brief stint with the major league ball club, it is referred to as a "cup of coffee," because that's how quick the stay is. Kolb isn't having any of that, especially after his very short playing career with the Marauders.
"I hope to be with the Diamondbacks for as long as I can be."    
Kolb departs for Arizona this Friday, February 25, as his career with the Diamondbacks begins next week before the start of Spring Training. "
"I spent many spring breaks growing up watching spring training games in Arizona on family trips and now I get to be a part of spring training in a more personal, professional, and exciting way with the Diamondbacks team. This opportunity is unbelievable, and a dream come true."
Anyone who wishes to learn more about the program should visit the kinesiology website, or contact Dr. Rachel Johnson Krug; (701) 355-8206; or by contacting an admissions representative at enroll@umary.edu, or by calling (701) 355-8030.
About the University of Mary
True to its motto "lumen vitae" — The Light of Life — the University of Mary offers education for the whole of life through cutting-edge professional programs and graduate programs animated by moral courage and leadership in chosen professions and service to the community. A private, co-educational Catholic institution, the University of Mary welcomes students of all faiths and backgrounds.
 A Christian, Catholic, Benedictine institution founded in 1959 by the Benedictine Sisters of Annunciation Monastery, Mary offers nearly 60 bachelor's, 19 master's, and five doctoral programs—in business, education, nursing practice, occupational therapy, and physical therapy. The 19-sport Athletic Department adheres to its Greatness Through Virtue mission under the governance of the National Collegiate Athletic Association (NCAA) and American Collegiate Hockey Association (ACHA) conferences. With more than 3,800 students, Mary has locations in North Dakota, Montana, Arizona, Rome, Italy, as well as vibrant online offerings.
Explore Topics