University of Mary Announces New 'Greatness Through Virtue' Strategic Plan for Marauders Athletics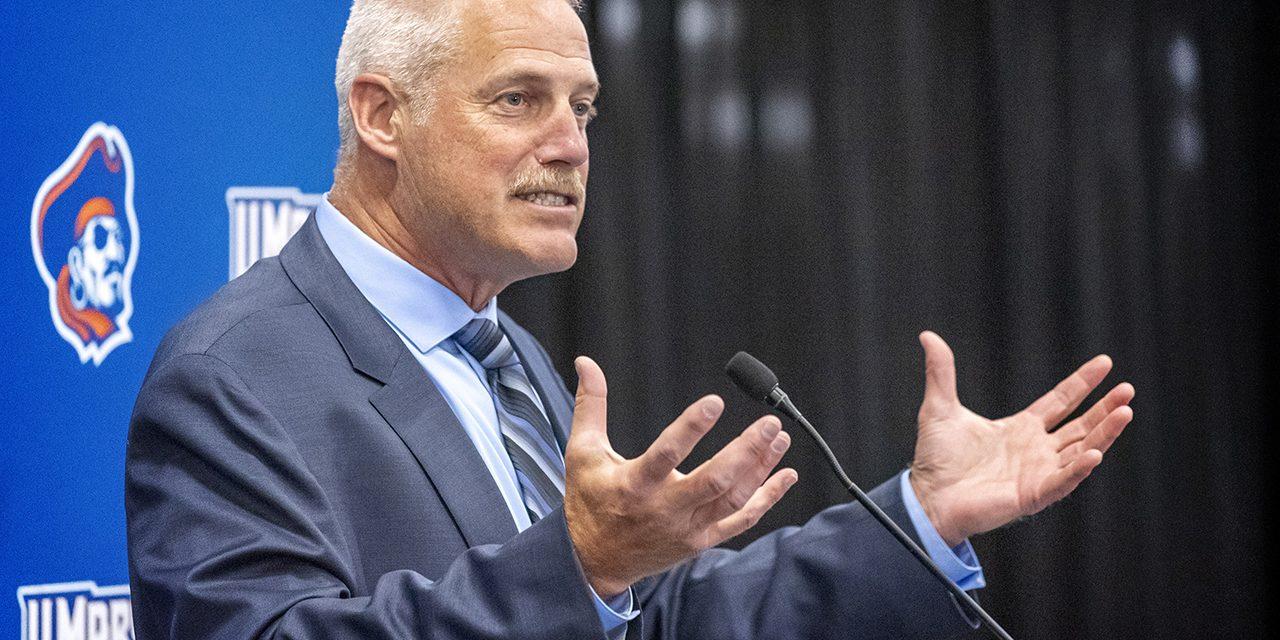 BISMARCK, ND—University of Mary aspires to remake the college athletic experience. Today, North Dakota's only Catholic university launched its new, comprehensive Greatness Through Virtue Strategic Plan. The strategy details how Marauders athletics expects to reach greatness by challenging contemporary intercollegiate sports culture through virtuous leadership and whole person development, academic and athletic excellence, new sports facilities, and a renewed commitment to health, safety and personal well-being for all its scholar-athletes. Greatness Through Virtue—a component of the Vision 2030 Capital Campaign—returns the traditional collegiate sports experience back to its original focus—formation of character.
The initial groundwork for this strategic planning process began in 2017 during a formation seminar between University of Mary President Monsignor James Shea and the entire athletic department.
"The University of Mary is on the move, offering an education for the whole of life, and our growing campus reflects the vibrancy of our Vision 2030 Strategic Plan in action," said Shea. "The Vision 2030 plan articulated that the University of Mary has an opportunity in contemporary culture to bear authentic witness to the true purpose of sports: the cultivation of solid friendships and individual virtue. While the bold, aspirational nature of this vision was clear, the specific tactics to execute the vision were yet to be formulated. As we advanced in other initiatives of Vision 2030, we recognized the need to consider further how to carry out our aspirations. Greatness Through Virtue details how we can empower our student athletes to compete well and with virtue, both in athletics and in life. The objective of any sport is to win. But while the objective of the game is to win, the purpose of the game is to become what we are created to be."
The need for such a transformation in college athletics grew even stronger during the implementation of Vision 2030. The commissioner of the Northern Sun Intercollegiate Conference (NSIC)—to which the University of Mary belongs—challenged the presidents of conference institutions to draft an athletic strategic plan intimately linked to their respective university's strategic plan. Mary's answer to that challenge is the Greatness Through Virtue Strategic Plan—one that sets itself apart from colleges and universities at all levels across the United States by demanding more, providing the necessary tools, and creating a plan to achieve more than was thought possible through virtuous leadership.
"When Mary College began intercollegiate athletics in 1970, it was done knowing that athletics at a Christian, Catholic and Benedictine place of learning would be substantively different than other athletic programs," stated Jerome Richter, Vice President for Mission Advancement. "Student-athletes and coaches can so easily find themselves chasing idols such as glory, attention, and achievement, and our work was to demonstrate a better way. In today's culture, the University of Mary can do even more, to build upon our past efforts and to witness even more fully to the glory of sport and what is possible when athletics is done well. We hope to answer a need, to shine a light of hope brightly from upon this hilltop."
The goal of the Greatness Through VirtueStrategic Plan is not simply to keep pace or surpass its competitors, nor is it to simply develop a wish list of facilities and resources. Rather, the goal is to consider deeply how athletics at the University of Mary might make a unique contribution, through distinction, service and relationships, to the community and to the whole of intercollegiate athletics.
Pope Saint John Paul II, regarded as the "sportsman pope," compiled a vast collection of reflections on sport and its service to—and potential to harm—the human person. He identified that sport, ordered rightly, is a "training ground of virtue, a school of inner balance and outer control, an introduction to more true and lasting conquests." And yet he recognized the danger of sport when pursued for the wrong motives, or as "an end in itself."
Therefore, the new mission of athletics at the University of Mary is to create a department-wide culture committed to individual and collective greatness through virtuous leadership—for life. At Mary, when done rightly—sports both develop and reveal character.
"In sport, athletes discover within themselves strengths they never suspected they had; they learn that they can dig deeper, grow stronger," said Dale Lennon, University of Mary Director of Athletics. "I am excited to lead the department in becoming the best athletic department that we can be; to dig deeper, and grow stronger as athletes, coaches and teams. We want to lead and we want to win. At the University of Mary, we are determined to build, not just athletic facilities and programs of the highest caliber, or athletes of extreme ability, but young adults devoted to the highest ethical standards of virtue."
To fulfill this new, intentional mission-first, virtue-first endeavor, requires core strategies in all facets: a refined best-practice process for scholar-athlete and coaching staff recruitment; increased academic services and support that maximizes classroom success; a new and enhanced virtue-based programming and environment; optimal strength, conditioning and rehabilitation program with state-of-the-art training resources; a comprehensive marketing and promotions strategy; an Institute for Virtue-Based Athletics, a new facilities master plan with endowment, and much more.
"The facilities envisioned in this plan serve not merely the winning of championships, but also the formation of character and the building of community," added Shea. "And hosting our competitions on campus makes athletics even more a place for the student body and alumni and the local community to rally around our athletics program and experience true Benedictine hospitality."
University of Mary Marauders athletics continues its overall accelerated ascent in the Northern Sun Intercollegiate Conference (NSIC) All-Sports Standings. The Marauders finished 6thin the 16-team conference for 2018-2019. The NSIC is regarded as one of the top conferences in all NCAA Division II sports, and with the new Greatness Through Virtue Strategic Plan the University of Mary has even higher expectations for its Marauders athletics program.
"That's our goal this coming year, to be in the top five in the Northern Sun," said Lennon in an interview with the Bismarck Tribune on June 7. "And I don't think it'll be too long hopefully before we're in the top three. We have pretty ambitious goals, but I really think they're attainable for us."
Marauders Athletics will immediately begin to enact its core strategies within the Strategic Plan. The new facilities master plan will be fully revealed when Phase 2 of the Vision 2030 Capital Campaign is launched. And, any new facilities will hinge upon the money raised toward these goals.
University of Mary President Monsignor James Shea introduces new Marauders Athletics Strategic Plan "Greatness Through Virtue."
University of Mary Vice President for Mission Advancement, Jerome Richter, left, discusses the new Athletics Strategic Plan with Northern Sun Intercollegiate Conference (NSIC) Commissioner Erin Lind at today's press conference with media and over 500 guests in attendance.
University of Mary Athletic Director, Dale Lennon, describes the new virtuous leadership concept for Marauders athletics to over 500 guests at today's press conference.
University of Mary Vice President for Mission Advancement, Jerome Richter, discusses the meaning of virtue.
Explore Topics