University of Mary Adds New Shotgun Sports Team Starting Fall Semester 2023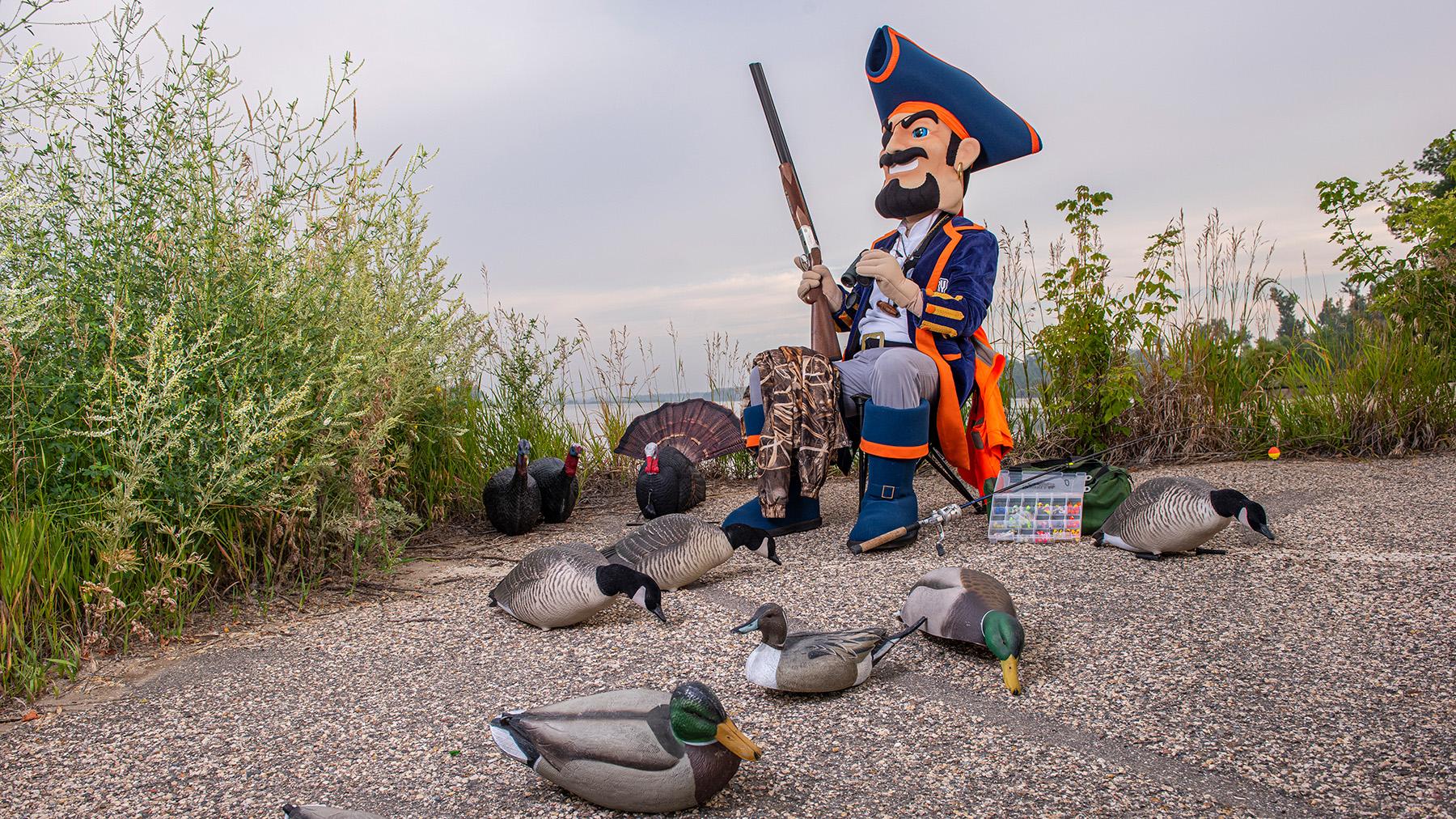 BISMARCK, ND — Today the University of Mary announced shotgun sports as its new, 20th Marauders sports program that both men and women can compete in starting this fall, 2023. The co-ed sport allows scholar-athletes to compete in a sport that is growing regionally and nationally among higher education institutions. The sport already includes intercollegiate programs throughout North Dakota and the Upper Midwest. 
This is the first sport initiative launched by the University of Mary's new Executive Director of Intercollegiate Athletics Cooper Jones after only a few weeks at the helm of Marauders Athletics. Jones believes this new sport is a perfect fit for the athletic program's 'Greatness through Virtue' mission and identity and will enhance the student-life experience.  
"While some higher education institutions are cutting athletic programs, we are excited and proud to announce we are adding shotgun sports to our plethora of offerings for our scholar-athletes," commented Jones. "This will provide a great opportunity for prospective and current students to gain a quality education and be able to compete within the region and nation. We are at a unique inflection point in the history of this institution, and we've had several along the way. We are able to use athletics to ensure this university's stability and growth for the next 100 years. People in this area love the outdoors, they hunt, they shoot, and they understand firearms. So, for Marauders Athletics, shotgun sports is exciting and it plays to our strengths."  
The Marauders will be coached by longtime marksman and Capital City Sporting Clays owner, Mark Sandness, and will compete as part of the USA College Clay Target League. Not only is Capital City Sporting Clays a premier sporting clays, skeet, and shotgun facility offering the finest five-stand ranges in the region, but it will be home to the new Marauders shotgun sports team where they will be challenged to the highest degree in marksmanship.  
Sandness' love for shooting started over 30 years ago. This passion for shooting and education inspired him to begin teaching the sport, while also having fun and, most importantly, being safe.
 "I try to adjust my teaching method to meet the needs of each student," explained Sandness. "I like to explain the 'why' to athletes. I started teaching over 20 years ago, and I have learned over this time that each athlete is unique. This is especially true in shotgun sports. The way I see a target is very different from the next person, and I love the challenge of helping that student succeed. I consider it an honor to teach these athletes the art of shooting and I am humbled by the opportunity to be their coach."  
One of the athletes Sandness will be coaching is University of Mary scholar-athlete Janine Warne, a freshman varsity softball player from Brookings, SD. She brought up the idea of adding a shotgun sports team at Mary to the Sportsmen's Club on campus. Interest and excitement grew, so Warne and fellow sophomore classmate, Matthew Sammons, of Bismarck, got the university's administration involved and the rest is history.
"I feel so much joy and excitement being a founding member of this sport at Mary," added Warne, a biology major and Catholic studies minor who wants to pursue a career in wildlife biology. "I believe there is a competitive number of skilled shooters present here at Mary. It is important to take into fact that this is Bismarck, North Dakota, where I see pheasants flying around just on the edges of campus and on warm days can hear the ring of the gunfire from the range just down the hill. Not only is this opportunity of having a shotgun sports team going to thrive with this culture but it also brings into the mix a level playing field. One of my favorite things about this sport has been the equal opportunity of competition. No matter who is shooting next to me, male or female, I know that I have the same opportunity for mastery as they do."
Warne believes her transitioning from shotgun sports in the fall to softball in the spring will be as routine as tracking down fly balls in the outfield.
"Softball and shooting clay targets, take a good amount of hand-eye coordination," she added. "Other things that I have personally found similar in them is the mental focus before an at bat and shooting. Both require me to focus in and visualize the action I am going to take. In this case the timing in which I am either going to watch the ball from the pitcher or the clay target thrown from the trap house. One final similarity which is an obvious one for both is being able to grow in greatness through virtue. The competitiveness that both demands, allows for great opportunity to grow in the habits of virtue." 
Warne should know, she grew up in 'Pheasant Capital of the World' in South Dakota, where hunting is part of the family bond and community culture. 
"Growing up I went on countless hunting trips with my dad and loved learning how to shoot safely and with precision," reminisced Warne. "When I became old enough, I joined my high school's clay target team in which I got to shoot competitively while having fun. I believe this is going to be a popular sport at Mary because of the wide range of athletes that can compete and the culture that it brings with it. Physical differences from person to person have little to no affect with this sport. There is such a diverse opportunity for scholar-athletes with this Marauders shotgun sports team."
The goal is to have a roster of 20 shotgun sports athletes by the start of the season in September and then continue to grow the team from that foundation.  
Current students, like Warne and Sammons, who are interested in being part of the new shotgun sports team at Mary this fall should contact Mark Sandness at (701) 220-1003 or ccsclays@gmail.com. Those prospective students interested in enrolling at Mary so they can try out for the team should contact an admissions representative at enroll@umary.edu, or by calling (701) 355-8030.  
The University of Mary is one of only 15 Recommended Cardinal Newman Society Residential Colleges and Universities in the US. 
—UMARY—
About the University of Mary: True to its motto "lumen vitae"—The Light of Life—the University of Mary offers education for the whole of life through cutting-edge professional programs and graduate programs animated by moral courage and leadership in chosen professions and service to the community. A private, co-educational Catholic institution, the University of Mary welcomes students of all faiths and backgrounds.
A Christian, Catholic, Benedictine institution founded in 1959 by the Benedictine Sisters of Annunciation Monastery, Mary offers nearly 60 bachelor's, 15 master's, and five doctoral programs—in Business Administration, Education, Nursing Practice, Occupational Therapy and Physical Therapy. The 19-sport Athletic Department adheres to its Greatness Through Virtue mission under the governance of the National Collegiate Athletic Association (NCAA) and American Collegiate Hockey Association (ACHA) conferences. With more than 3,800 students, Mary has locations in North Dakota, Montana, Arizona, Rome, Italy, as well as vibrant online offerings. For more information, visit www.umary.edu.
Explore Topics