UMary Earns Nation's Top Community Service Award in ACHA Division II Hockey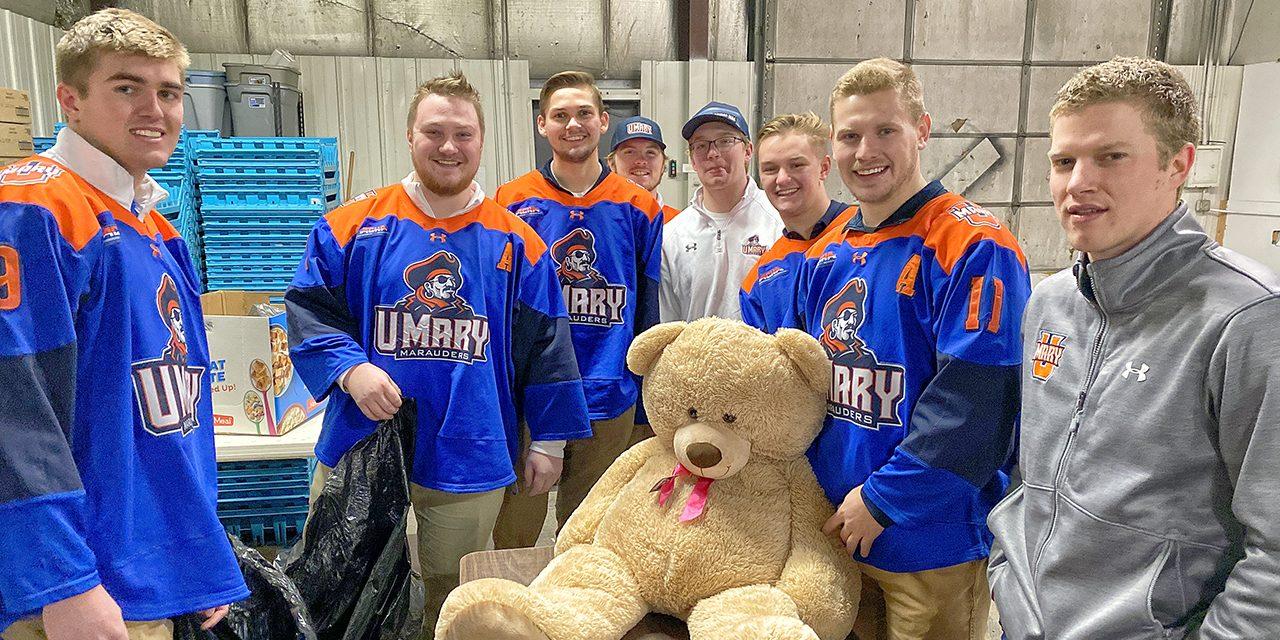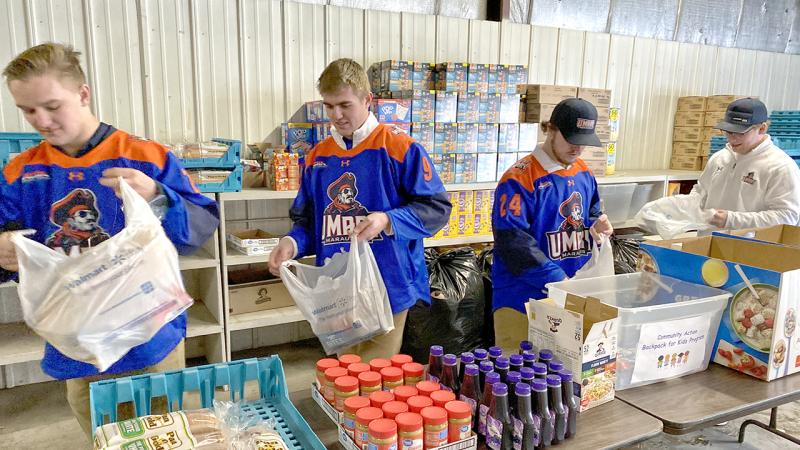 BISMARCK, ND — The accolades for the 2019-2020 University of Mary hockey team continue to pile up. The American Collegiate Hockey Association (ACHA) awarded the Marauders hockey team the Men's Division II Community Service Award for their service to others in the Bismarck-Mandan community and surrounding areas.
This annual award recognizes outstanding contributions to local communities and or charitable organizations and representation of the ACHA during the 2019-2020 season. Some of the servant-leadership projects the 25-member team took part in over the course of the season — cut short by the COVID-19 pandemic — include: involvement with Freshmen Move-In Day; North Dakota Special Olympics State Bowling Championship; physical education efforts with New Salem ISD elementary school children; The Green Bandana Project in support of Mental Health Awareness; packing backpacks for local area students deemed in need of meals for the weekend, supporting over 1500 kids in the area each week; a Teddy Bear Toss game with over 500 bears; and a Military Appreciation Night which paired with a local Military Appreciation Classic Car show raising funds for local veterans and their families.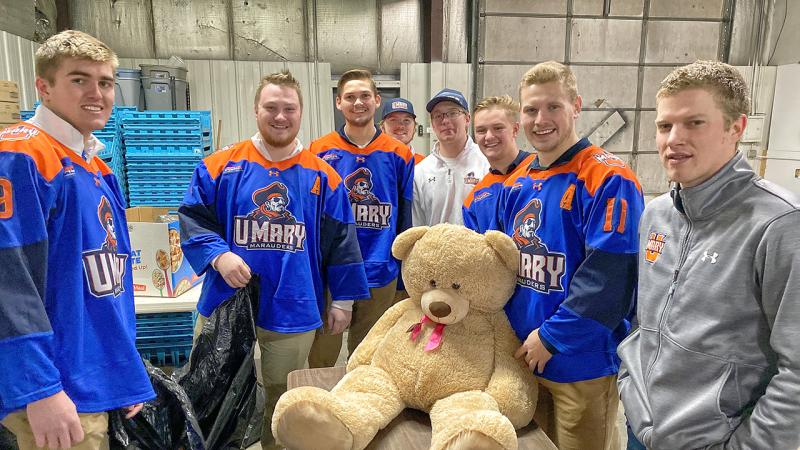 Marauders Head Hockey Coach Dan Huntley says this award exemplifies the mission of University of Mary Athletics — Greatness through Virtue— a new comprehensive strategic plan announced in 2019 that aspires to remake the college athletic experience by challenging contemporary intercollegiate sports culture through virtuous leadership and whole person development, academic and athletic excellence, new sports facilities, and a renewed commitment to health, safety and personal well-being for all its scholar-athletes. Greatness through Virtue returns the traditional collegiate sports experience back to its original focus—the formation of character.
"It has been an amazing year for our program," said Huntley. "Being it is only our second year in existence to have had the success on the ice and in the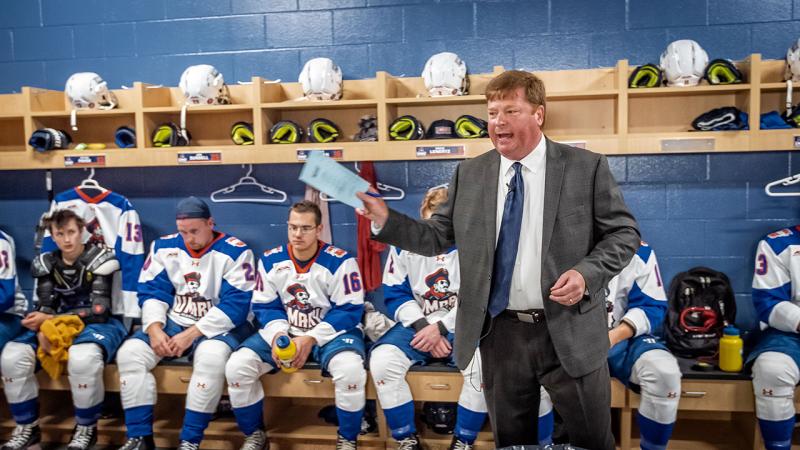 classroom and now receiving national recognition for our off-ice contributions brings our program full circle. I am proud of our guys and blessed to be part of a university that stands for Greatness through Virtue. It is a way we do things here at UMary and our guys have embraced their role. Each scholar-athlete is impacted in their own way, but in the end the time provided to help others and our communities is a way for them at a young age to learn to be selfless, better teammates and community members and build trust in each other through the relationships they've built with one another. Thank you to the ACHA for recognizing student athletes and their servant leadership."
Despite having the ACHA Championship Tournament cancelled due to the pandemic, the University of Mary hockey team accomplished so much on and off the ice in only their second year in existence. In 2019-2020, Marauders hockey finished atop the Mountain West Collegiate Hockey League regular season standings; posted 39 victories — equaling the win totals of their inaugural season the year before — and earning an automatic berth in the national championship tournament; the ACHA named Huntley Coach of the Year; were ranked No.1 in the nation five of 11 polls and ranked No. 2 overall at the end of the season; earned a team GPA of 3.12; and five players garnered Academic All-American honors and two 2ndTeam members were named.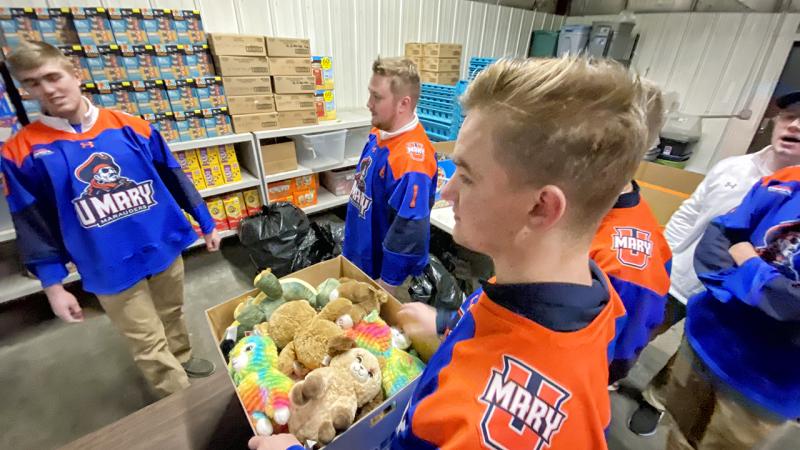 In just two years, Marauders hockey has become a national powerhouse on the ice and off. The University of Mary earlier this month announced plans for students and scholar athletes to return to campus for the fall semester beginning on September 8, 2020. The school will have procedures, provisions and protocols in place in accordance with the Centers for Disease Control (CDC) and the North Dakota Department of Health (NDDOH).
About the University of Mary
True to its motto "lumen vitae"—The Light of Life—the University of Mary offers education for the whole of life through cutting-edge professional programs and graduate programs animated by moral courage and leadership in chosen professions and service to the community. A private, co-educational Catholic institution, the University of Mary welcomes students of all faiths and backgrounds.
A Christian, Catholic, Benedictine institution founded in 1959 by the Benedictine Sisters of Annunciation Monastery, Mary offers nearly 60 bachelor's, 15 master's, and four doctoral programs—in Education, Nursing Practice, Occupational Therapy and Physical Therapy. The 19-sport Athletic Department adheres to its Greatness Through Virtue mission under the governance of the National Collegiate Athletic Association (NCAA) and American Collegiate Hockey Association (ACHA) conferences. With more than 3,800 students, Mary has locations in North Dakota, Montana, Kansas, Arizona, Rome, Italy, as well as vibrant online offerings. For more information, visit www.umary.edu.
About American Collegiate Hockey Association
The American Collegiate Hockey Association (ACHA) is a recognized 501(c)3 organization of nearly 500 college and university-affiliated programs which provides structure, regulates operations, and promotes the quality of collegiate ice hockey throughout the United States.  Headquartered in Troy, Michigan, the ACHA's primary mission is to support the growth and development of college hockey programs nationwide.  The ACHA identifies standards which serve to unite and regulate teams at the collegiate level and entered its 29th season in September 2019.
Explore Topics