Public Welcome to Attend Annual Jazz Festival Concert at the University of Mary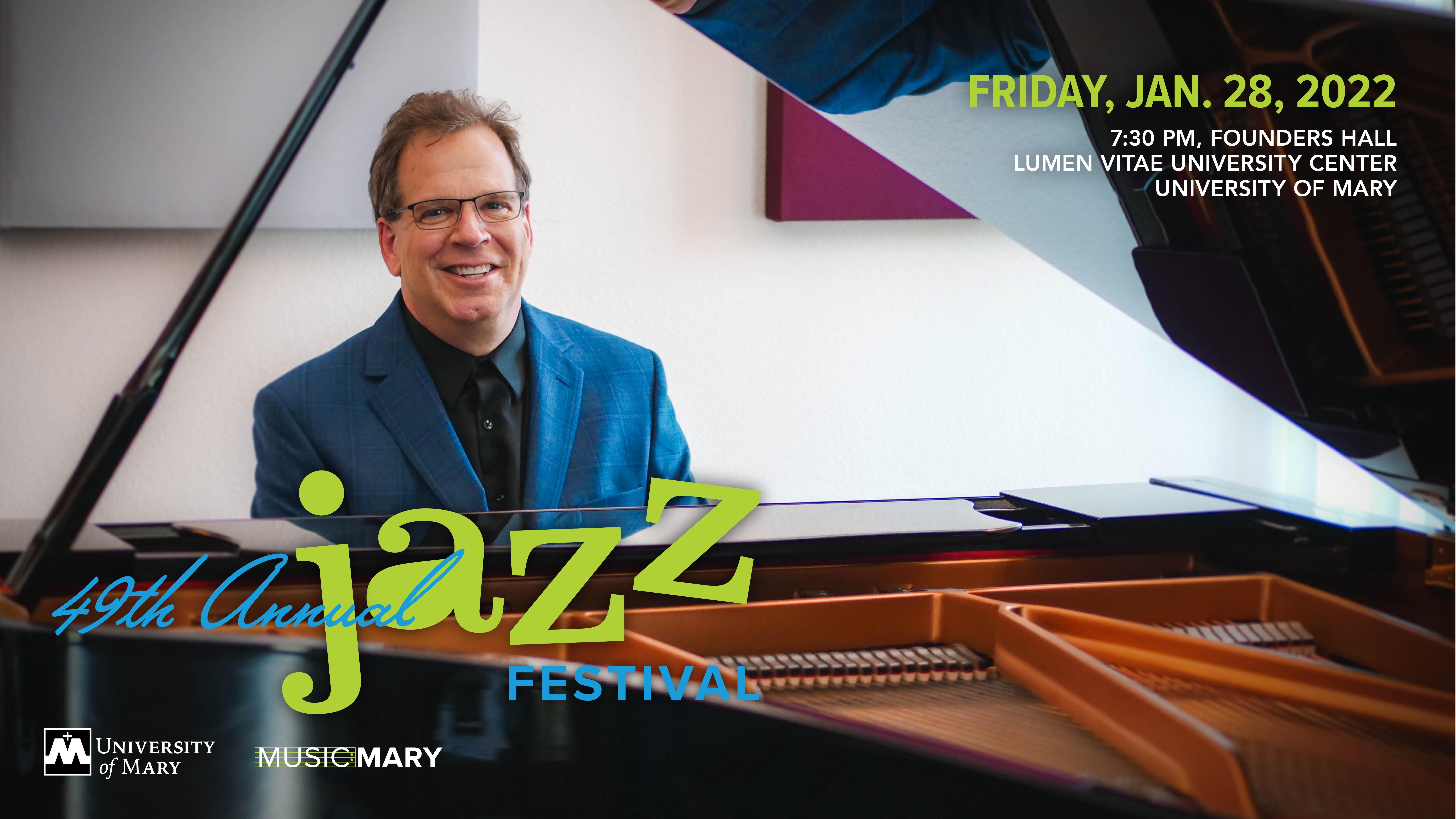 BISMARCK, ND — After months of a pandemic, it's time to bring back the music. And many in the industry would say, a good dose of jazz music is a good remedy for what ails the soul of America. 
There's no better way than inviting the public to the University of Mary's 49th Annual Jazz Festival. The two-day event features a free public concert Friday, January 28 at 7:30 p.m. inside the Lumen Vitae University Center's (LVUC) Founders Hall on campus. The concert showcases University of Mary jazz ensembles playing alongside world-renowned jazz musicians. It's first come first serve, so get there early before the doors open at 7 p.m. 
"After last year's virtual jazz festival, students and directors are excited to be in-person and making music together," said Dr. Brian Lydeen, associate professor of music and director of Woodwind and Jazz Studies at the University of Mary. "Jazz is about interaction and improvisation and there is nothing like the energy generated by live jazz performances — it's infectious. The University of Mary Jazz Festival is the premier jazz event in the region, and the community has embraced it for almost a half century. Here's to the next 50 years!" 
Every jazz musician has their own sound and style, and this year's guest artists are no different. Returning festival alumni are trumpeter Joey Tartell from Indiana University, and featured headliner pianist and composer Matt Harris, who toured and recorded with the great Maynard Ferguson in the 1980s. Other artists include Los Angeles-based vocalist Michele Weir, and bassist Karyn Quinn and drummer Rich MacDonald from the Lacrosse, WI area. Other guest artists and adjudicators include saxophonist Tracy Heavner from the University of Southern Alabama and Brennan Baglio of the vocal group Groove for Thought and is the director of choirs at Northwest College in Wyoming.
The University of Mary's 49th Annual Jazz Festival wouldn't be complete without the two days of music adjudication on Friday, January 28 and Saturday January 29. High school students vie for awards as they are judged by these guest artists on their individual and ensemble performances.
"There are nearly 50 school instrumental and vocal jazz groups participating in this year's festival," Lydeen added. "This is the largest festival in the region, and groups come from all over the state ranging from Williston to Fargo and into South Dakota."
Visit the 49th Annual University of Mary Jazz Festival website for more information. 
To learn more about academic offerings and other events at the University of Mary visit www.umary.edu or email enroll@umary.edu. 
About the University of Mary 
True to its motto "lumen vitae" — The Light of Life — the University of Mary offers education for the whole of life through cutting-edge professional programs and graduate programs animated by moral courage and leadership in chosen professions and service to the community. A private, co-educational Catholic institution, the University of Mary welcomes students of all faiths and backgrounds.
 A Christian, Catholic, Benedictine institution founded in 1959 by the Benedictine Sisters of Annunciation Monastery, Mary offers nearly 60 bachelor's, 19 master's, and five doctoral programs—in business, education, nursing practice, occupational therapy, and physical therapy. The 19-sport Athletic Department adheres to its Greatness Through Virtue mission under the governance of the National Collegiate Athletic Association (NCAA) and American Collegiate Hockey Association (ACHA) conferences. With more than 3,800 students, Mary has locations in North Dakota, Montana, Arizona, Rome, Italy, as well as vibrant online offerings.
Jazz Ensemble
Patrick Litton, Bismarck, ND
Rachel Rusch, Bismarck, ND
Eric Reed, Harlowton, MT
Lilly Effertz, Velva, ND
Lucas Schloesser, Mandan, ND
Reid Halvorsen, Bismarck, ND
Logan Quinn, Washburn, ND
Deante Kerr, Bismarck, ND
Kennedy Cowart, Houston, TX
Brady Saylor, Bismarck, ND
John Mendiola, Howard Lake, MN
Kira DeMaris, Sleepy Eye, MN
Nick Amoranto, Circle Oceanside, CA
Edmund Peliska, Bismarck, ND
Vocal Jazz
Ben Archuleta, Bismarck, ND
Madison Bartholomay, Sheldon, ND
Noah Fettig, Bismarck, ND
Hunter Fox, Bismarck, ND
Jane Gowen, Bismarck, ND
DeAnte Kehr, Lincoln, ND
Cooper McDonald, New Market, MN
Sarah Pankratz, Billings, MT
Alyssa Rud, Bismarck, ND
Rachel Rusch, Bismarck, ND
Brady Saylor, Bismarck, ND
Explore Topics