The Public is Invited to Help Celebrate 50 Years of the University of Mary Concert Band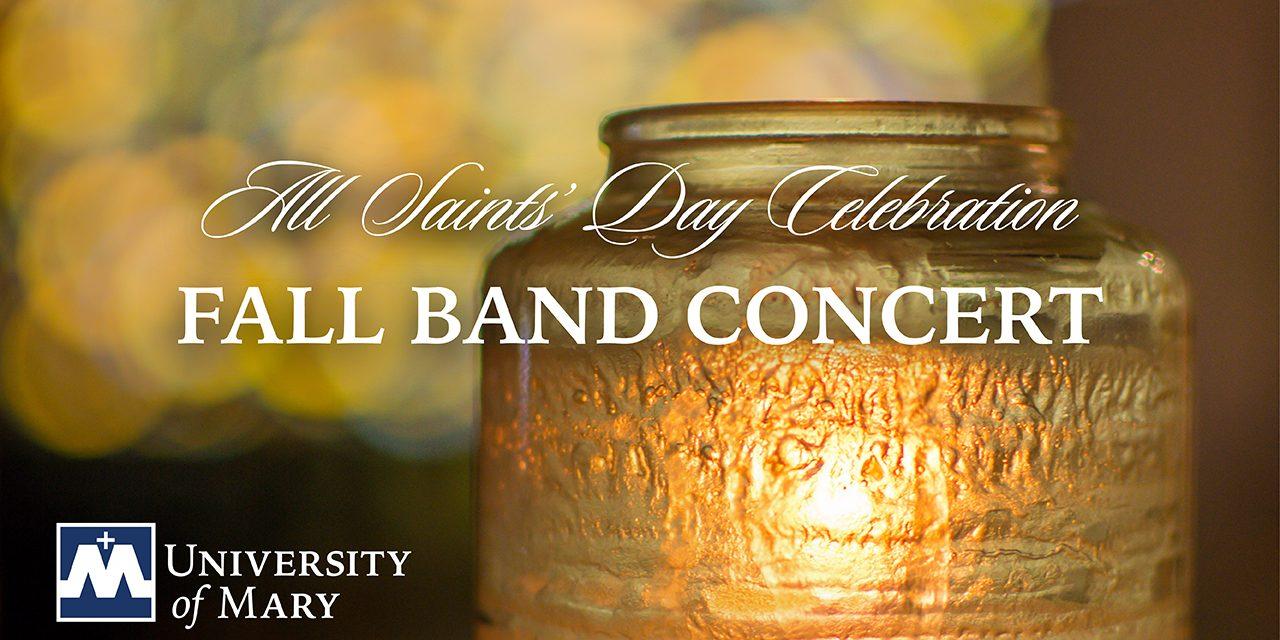 BISMARCK, ND — What time is it when Halloween and All Saints Day are fast approaching? It must be time for the University of Mary annual Fall Band Concert. And while last year's fall performance was held outside on the bluffs overlooking the Missouri River valley in the midst of the COVID-19 pandemic, the 2021 Fall Band Concert will take place at 3 p.m. on Sunday, Oct. 31, in Founders Hall of the Lumen Vitae University Center (LVUC).
This is a very special performance by the ensemble, as they celebrate the 50th anniversary of the university Concert Band. From the first performance on Nov. 30, 1972, the Mary band has strived, as Ernie Borr remarked to the audience in the fall of '72, "…to bring together young people from divergent backgrounds and schools to make possible the dream that Mary College should have a band."
The musical selections this fall celebrate the arrival of All Saints Day, and will feature sacred selections from various denominations. "We're looking forward to performing works based on "Amazing Grace," "All is Well with my Soul," "Simple Gifts," and "Down in the River to Pray," among others," says Dennis Gowen, professor of music and director of bands and high brass at the University of Mary.
Also scheduled for the performance is Homage to Léonin (from Medieval Suite) by Ron Nelson. "Léonin was a 12th century French composer at Notre Dame," says Gowen, "and was extremely integral to the development of polyphonic writing in Western music." Nelson, who will turn 92 in December, was a 1994 Guest Composer/Conductor in Residence with the Mary Concert Band. He recently corresponded with Gowen, saying "Homage to Léonin is all about creating a 'mood' that reminds the listener of medieval chant."
Also scheduled on the performance is the beautiful work entitled "Reflective Mood" by the late Sammy Nestico. This lush trombone solo with band accompaniment will feature Dr. Daniel Hinman, director of low brass at Mary.
The concert is free and open to the public. Feel free to check umary.edu/covid for any recent protocol updates.
Concert Band Personnel
Fall 2021 
PICCOLO
Greta Anderson, Bismarck ND
Meghan Schneider, Billings MT
FLUTE
Meghan Schneider, Billings, MT
Greta Anderson, Bismarck, ND
Rachelle Klein, Hazen, ND
Rachel Rusch, Bismarck, ND
Myra Arvig, Grey Eagle, MN
OBOE
Emily Cicha, Mandan, ND
Emily Sahl, Wahpeton, ND
CLARINET
Kailee Klein, Wahpeton, ND
Isaiah Blickenstaff, Perham, MN
Raquel Bata, Langdon, ND
AnnaMarie Ingalls, Bancroft, IA
Theresa Karrmann, Fond du Lac, WI
Eve Heupel, Dickinson, ND
BASS CLARINET
Joseph Zimmerman, West Bend, WI
Hannah Wutzke, Elbow Lake, MN
CONTRA ALTO CLARINET
Sarah Puyleart, Forest Lake, MN
ALTO SAXOPHONE
Kat Lawson, Bismarck, ND
Patrick Litton, Bismarck, ND
Riley Cronin, Larimore, ND
BARITONE SAXOPHONE
Lillian Effertz, Velva, ND
TRUMPET
Kennedy Cowart, Houston, TX
Brooke Mueller, Bismarck, ND
Brady Saylor, Bismarck, ND
John Mendiola, Dassel, MN
Stephen Talbot, Carol Stream, IL
HORN
Gina Nelson, Bismarck, ND
Judy Parker, Bismarck, ND
Amanda Rocha, Tigard, OR
TROMBONE
Lucas Schlosser, Mandan, ND https://www.dropbox.com/sh/du6novkjpfdvd7w/AACUAl_ZAwOq5yIAFSeXNaPma?dl=0
Reese Lausen, Billings, MT
Collin Prom, Swanville, MN
Kendall Tibor, Bismarck, ND
Zachary King, Glendale Heights, IL
Cole Kitzenberg, Billings, MT
Logan Quinn, Wilton, ND
EUPHONIUM
Lucas Schlosser, Mandan, ND
TUBA
Keenan Athman, Hamilton, MT
Nathan Heenan, Larsen, WI
Thatcher Solem, Beulah, ND
Sarah Pankratz, Billings, MT
PERCUSSION
Zach Marquette, Buffalo, MN
Edmund Peliska, Bismarck, ND
Ethan Emineth, Bismarck, ND
Graydon Williams, Bismarck, ND
Jack Luhman, Cokato, MN
Nicholas Amoranto, Circle Oceanside, CA
STAGE MANAGER
Amanda Rocha, Tigard, OR
LIBRARIAN
Theresa Karrmann, Fond du Lac, WI
Explore Topics