Mary Adds New Engineering Program to Help Meet High Demand in ND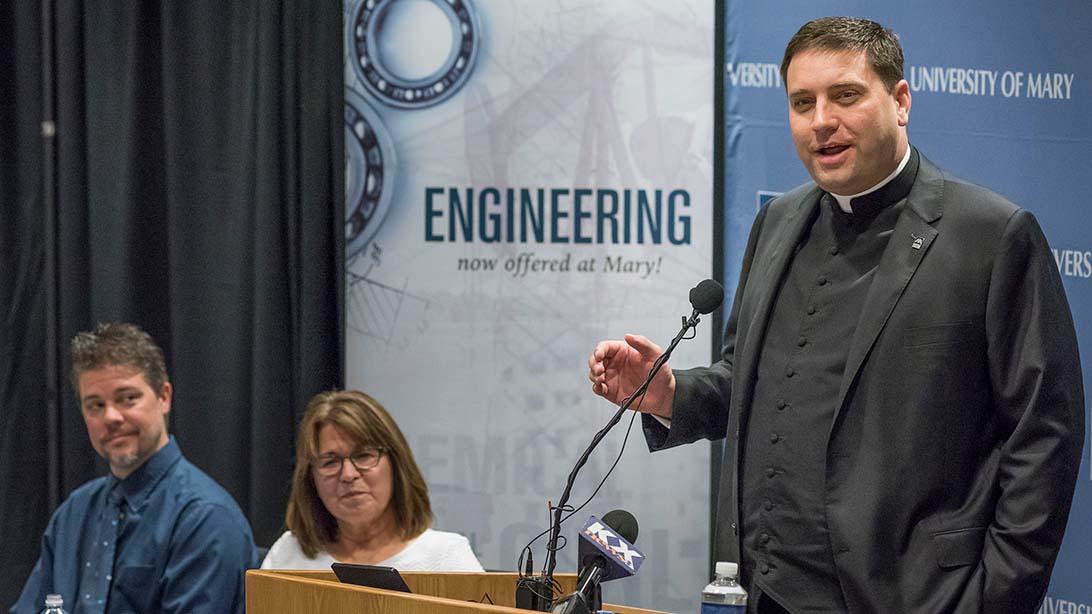 BISMARCK, ND — The need for qualified engineers has reached a crisis situation at firms across North Dakota. The state's recent energy boom and subsequent economic prosperity have firms in dire need of educated and skilled engineers to meet the extremely high demand for work.
Being true to its mission of serving the people of this region and beyond, the University of Mary and its founders, the Benedictine Sister's of Annunciation Monastery, are once again answering the call from employers. Starting fall semester 2016, students will be able receive a concurrent accredited engineering science degree on-site from Mary and a second ABET accredited degree online from the University of North Dakota in a specialized discipline of either chemical, civil, mechanical, electrical or petroleum engineering. The only travel commitment will be for shortened summer labs in Grand Forks.
"Students who attend our Mary campus in Bismarck for an engineering degree can do so without having to relocate," commented Monsignor James Shea, president of the University of Mary. "This benefit cannot go understated because this provides our students an enormous opportunity to work closely with local and regional engineering firms from start to finish. They receive continuous hands-on learning experience, internships and also network with companies along the way that could potentially hire them into the job market."
Despite current oil prices, the demand for engineers in western and central North Dakota is staggering. National companies have set up offices in Bismarck making the capital city an engineering hub for work in the oil fields. According to an online job search, there are currently just over 400 engineering jobs available in North Dakota and nearly half are in the five fields of study that will be offered jointly from Mary and UND.
Highly reputable engineering companies like KLJ, headquartered in Bismarck, are trying to recruit employees locally and regionally on a regular basis. They say competition for these employees is fierce and that this new program will provide a much-needed pool of engineering graduates that are well rounded and highly trained.
"This effort by the University of Mary is a significant step forward in helping fill the engineering gap," said Niles Hushka, president and chief executive officer at KLJ. "The program will benefit the retention of our young professionals in the state and provide those individuals opportunity to establish a long-term career with growth opportunity in the region. With KLJ's corporate headquarters in Bismarck, we are always seeking additional talent and look forward to the candidates graduating from this program."
Inquiries for engineering at the University of Mary are climbing dramatically. For this current academic year of 2015, Enrollment Services reports close to 700 students expressed interest in engineering at Mary. And, although recruitment is in the early stages for the upcoming academic year starting fall 2016, already close to 500 students are asking about engineering at Mary.
"This is really a dream come true for me," said Henri Kieffer a senior at Fargo Shanley High School. "The new University of Mary engineering program allows me to fulfill not only my academic needs with engineering, but the college also offers a community spirit filled with faith, friendly competition, extracurricular activities, and all sorts of opportunities for me."
The 2012 U.S. Bureau of Labor Statistics projects employment growth in all five fields and lists the median annual wage for civil engineers at over $79,000 with an estimated employment growth of 20 percent from now until 2022. Median salaries for petroleum engineers are over $130,000 with projected employment growth at 26 percent during that same time frame — a factor dependent on oil prices.
As one of the most affordable private universities in the nation, 99 percent of the University of Mary main campus undergraduate students receive a scholarship.
Those interested in learning more about the new engineering degree program at Mary can go to www.umary.edu/engineering.
Explore Topics