Marauders Hockey Team Helps Bring Joy to Children Across Bismarck and Surrounding Area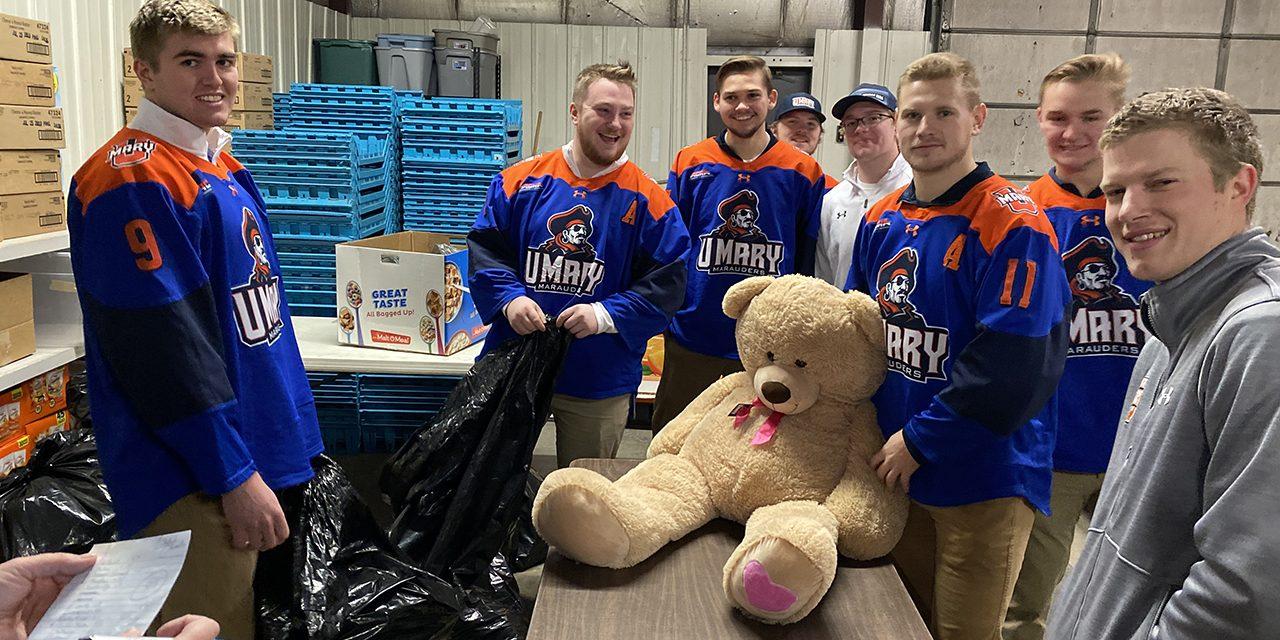 BISMARCK, ND — No student or scholar-athlete at the University of Mary wants to see any child go hungry, or be without a gift on Christmas. That's why Marauders hockey players teamed up with the Community Action Program (CAP) this year to bring happiness to children in elementary schools in and around the Bismarck area.
In their two seasons of existence at the University of Mary, the No. 1 ranked American Collegiate Hockey Association (ACHA) Division II hockey program has started a very popular tradition called the Teddy Bear Toss for Kids. The team picks one game during the season where fans bring teddy bears and toss them onto the ice after the Marauders score their first goal.
This year's Teddy Bear Toss raised nearly 400 stuffed animals that were then donated to CAP who delivers them to schools in their 10-county jurisdiction. This week, members of the Marauders hockey program volunteered their time to fill grocery bags with food and deliver teddy bears in person to 44 children in need at Grimsrud Elementary School. Not only are the Marauders scoring goals and winning games, but they're also a big hit with fans and kids across the area.
While this is only the hockey team's second year collecting teddy bears, CAP has been a hub for freewill donations of food, clothing, furniture and much more since 2006. CAP is a private, non-profit corporation whose mission is to provide a range of services designed to alleviate poverty and empower low-income people the opportunity to achieve self-sufficiency. Bismarck region CAP Self-Reliance Coordinator Christy Smith says in 13 years they have gone from serving 50 school children in need every two weeks to over 15-hundred today.
Those school children in this 10-county area get free breakfast and lunch during the week at school, but can often go hungry over the weekend. That's where CAP and the United Way come in to help fill their backpacks with food to bring home and eat on Saturday's and Sunday's. Now, not only will they have food, but also stuffed animals thanks to the University of Mary Marauders hockey program.
"It's awesome, it really is, especially since I'm going into the education field, I love it. It's a joy just to see the expressions on their faces, and to pick them up, help them out. They love it and the smiles make it all worth it," UMary senior and forward Logan Kraft told KXMB TV during an interview.
"Every day we work hard, but it's also good to give back and just realize that it's a lot bigger than hockey," added Assistant Hockey Coach Aaron Nelson.
The University of Mary's new Greatness through Virtue strategic planannounced earlier this year, which calls for athletic department expansion, also allows for the whole character development of the scholar-athlete at the school.
Explore Topics