John Garvey Showcases University of Mary's 2023 Vocations Jamboree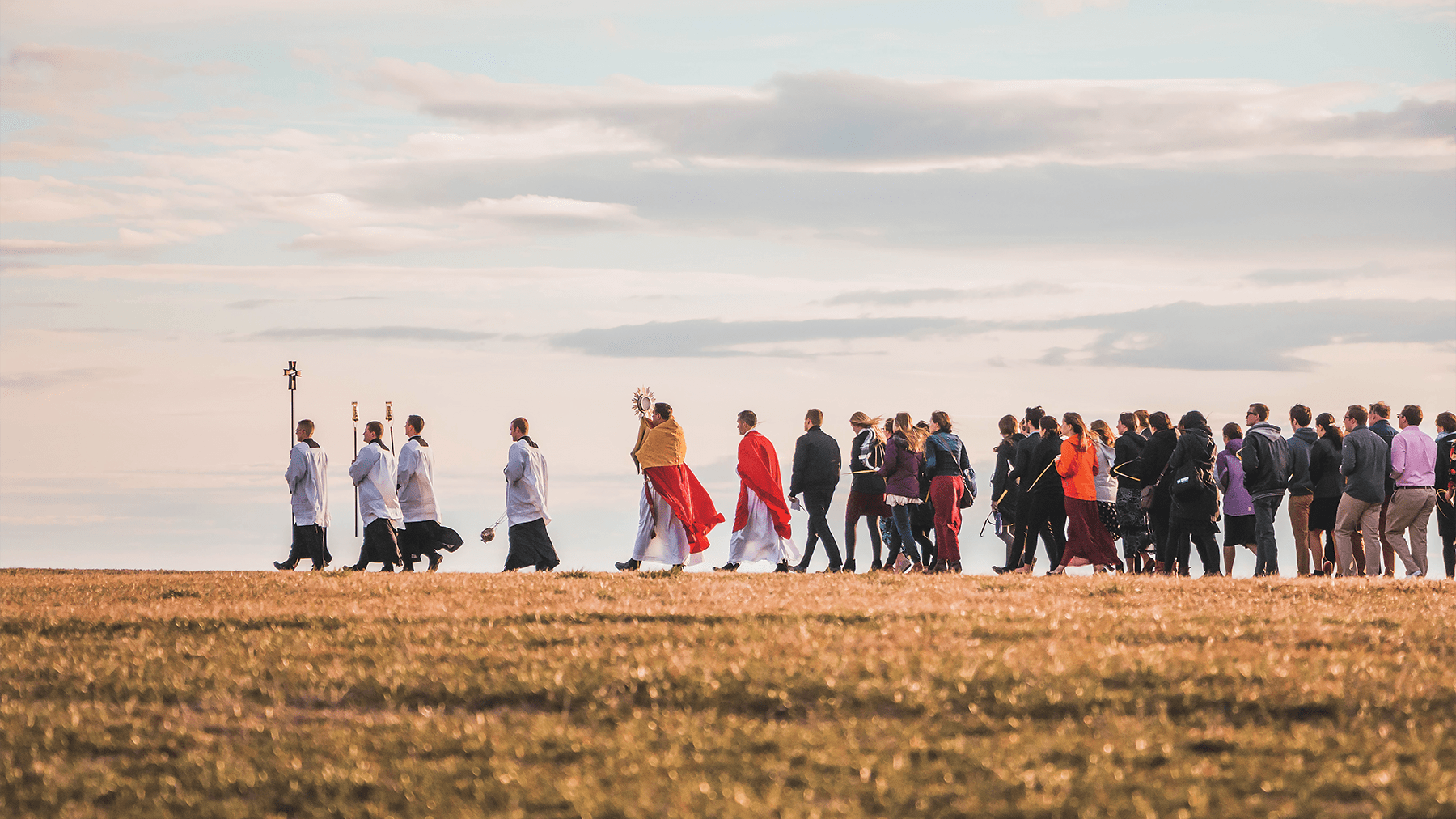 March 14-16 expo is free and open to the public.
BISMARCK, ND — The University of Mary, in partnership with the Diocese of Bismarck, Annunciation Monastery, and Assumption Abbey, is hosting the 8th annual Vocations Jamboree and Expo March 14-16.
The event, which is free and open to the public, begins Tuesday, March 14 with Vespers and Mass at 4:30 p.m., followed at 7 p.m. by Mission Minutes in Founders Hall. Mass kicks off events on Wednesday, March 15 at 10 a.m. in Our Lady of Annunciation Chapel, followed by the expo from 11 a.m. until 4:30 p.m. in the Lumen Vitae University Center (LVUC). At 7 p.m., former president of The Catholic University of America (CUA), John Garvey, will be awarded University of Mary's highest honor — the Lumen Vitae Medal — followed by his keynote address.
Garvey recently served as the president of CUA (2010-2022) where he led great transformation and launched the Busch School of Business to integrate rigorous business education with Catholic social teaching. Garvey, who earned an Artium Baccalaureus (AB) degree as a summa cum laude honors student at the University of Notre Dame and later graduated from Harvard Law School (1974), became a nationally acclaimed expert on constitutional law, religious liberty, and the first amendment. He eventually began teaching law first at the University of Kentucky and then as a visiting professor at the University of Michigan, before eventually winding back to teach at his alma mater, Notre Dame (1994-1999). He then spent 11 years as dean of the Boston College Law School. He argued several prominent cases before the United States Supreme Court and regularly testified before the United States House of Representatives on issues like antisemitism (2013), and religious liberty (2012). He's been published in the Wall Street Journal, Washington Post, Boston Globe, New York Times, the Chronicle of Higher Education and many more. Not only has Garvey authored and coauthored many books, including "What are Freedoms For," "Religion and the Constitution," which won the Alpha Sigma Nu Jesuit book award, and "Sexuality and the U.S. Catholic Church," that won the Catholic Press Association Award, but he's also a regular contributor to several Catholic news outlets and publications including EWTN, Vatican Radio, Catholic News Agency, First Things, National Catholic Register, and many more.
"The intellectual life, like the acquisition of virtue, is a communal (not a solitary) undertaking," stated Garvey. "We learn from each other. The intellectual culture we create is the product of our collective effort. A Catholic intellectual culture will be something both distinctive and wonderful if we bring the right people into the conversation and if we work really hard at it."
The prestigious Lumen Vitae Medal, (Latin for "The Light of Life") is given to those who are champions of Catholic education and who bring others closer to Christ and His Church.
The expo features over 40 vocations directors and teams representing a broad range of religious orders and service communities from across the country gathering on campus to pray together and witness the joy and beauty of life consecrated to God's call. Exhibits and display booths will showcase the distinctive charism, history, and mission of each group.
University of Mary students and young people from the region will have the opportunity to meet with representatives for the visiting communities to learn more about the rich variety of religious life in the Church today.
Catholic and Christian service and missionary organizations will also participate in the Vocations Jamboree.
To register online, or learn more, go to umary.edu/VocJam.
—UMary—
Anyone who wishes to learn more about any undergraduate or graduate programs can do so at www.umary.edu, or www.online.umary.edu, respectively, or by contacting an admissions representative at enroll@umary.edu, or by calling (701) 355-8030. The University of Mary is one of only 15 Recommended Cardinal Newman Society Residential Colleges and Universities in the US. 
About the University of Mary: True to its motto "lumen vitae"—The Light of Life—the University of Mary offers education for the whole of life through cutting-edge professional programs and graduate programs animated by moral courage and leadership in chosen professions and service to the community. A private, co-educational Catholic institution, the University of Mary welcomes students of all faiths and backgrounds.
A Christian, Catholic, Benedictine institution founded in 1959 by the Benedictine Sisters of Annunciation Monastery, Mary offers nearly 60 bachelor's, 15 master's, and five doctoral programs—in Business Administration, Education, Nursing Practice, Occupational Therapy and Physical Therapy. The 19-sport Athletic Department adheres to its Greatness Through Virtue mission under the governance of the National Collegiate Athletic Association (NCAA) and American Collegiate Hockey Association (ACHA) conferences. With more than 3,800 students, Mary has locations in North Dakota, Montana, Arizona, Rome, Italy, as well as vibrant online offerings. For more information, visit www.umary.edu.
Explore Topics