Honorary Degrees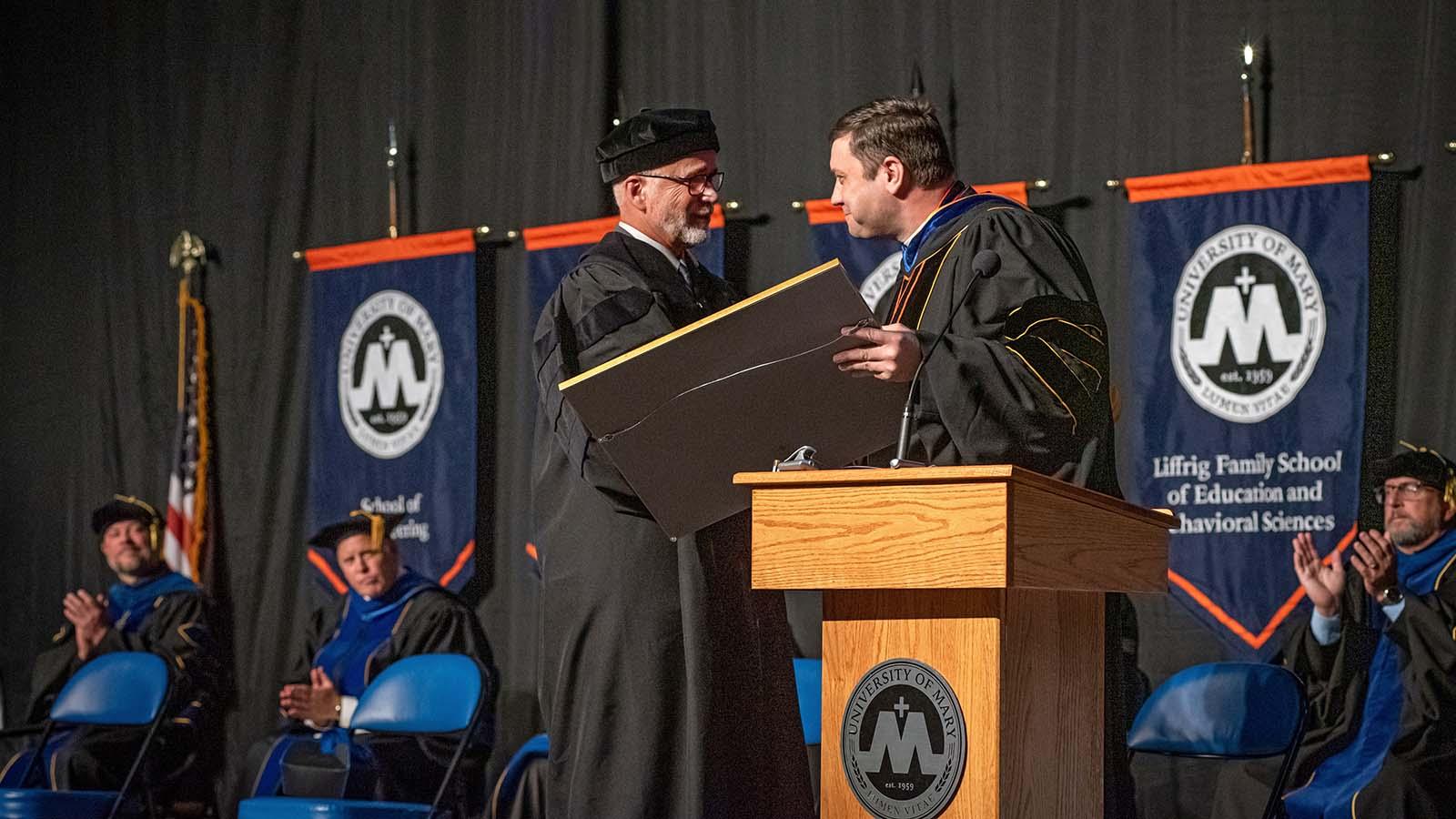 History of Honorary Degrees
On several occasions, the University of Mary has awarded honorary degrees to individuals who, through their service to the university and community, have exemplified Mary's Christian, Catholic, Benedictine mission and identity.
In this way, we honor such leaders and proudly embrace them within the University of Mary community.
Doctor of Leadership and Philanthropy, honoris causa
2023 – Harold Hamm
2022 – Steve Scheel, Eileen Scheel
2018 – Gary Tharaldson 
2017 – William C. Marcil
2015 – Ronald D. Offutt
2012 – Al Wolf
2011 – Martin White
2007 – Governor Arthur A. Link, Grace Johnson Link
2005 – A. Kirk Lanterman
2004 – John D. Decker, Frank G. Larson
2003 – Myron H. Atkinson, Jr.
2001 – Ralph E. Tarnasky (posthumously), Michael J. Hofer
2000 – William E. Clairmont, Matthew D. Butler
1999 – Harold Schafer
Doctor of the University, honoris causa
2012 – Sister Mary Elizabeth Mason (posthumously)
2010 – Sister Thomas Welder
1999 – David M. Heskett
Doctor of Leadership, honoris causa
2021 – Vern Dosch, Dr. Janice Bury
2017 – George F. Ehlis 
2016 – Gerald W. VandeWalle
2014 – Dr. Don J. Briel
2013 – Congressman Kevin Cramer
2013 – His Eminence, Timothy Cardinal Dolan
2012 – Dewey Tietz (posthumously)
2010 – Dr. Riffat Morgan, Dr. Margaret Morgan
2009 – Sister Nancy Bauer OSB, Sister Joanne Graham, Abbot John Klassen OSB
2008 – Bishop Robert D. Lynne, Bishop Paul A. Zipfel
2006 – Douglas J. Burgum, John M. Michels
2005 – Mary Louise Defender Wilson, Harold J. Miller
2003 – Reverend William C. Sherman
2002 – Thomas J. Clifford, Nancy Jones Schafer