Clubs & Associations
Student Involvement Center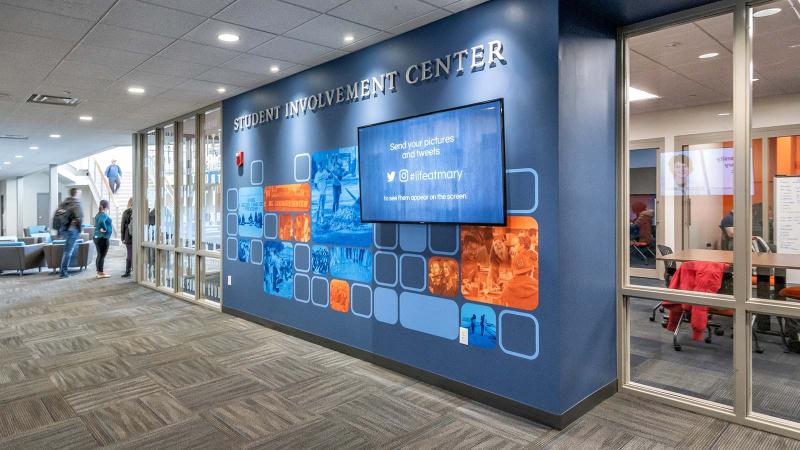 Decked out in orange and blue, the Student Involvement Center (SIC) serves a dual purpose: a meeting place for various student organizations and a nice environment for focused study. There are three main areas of the SIC: two smaller study rooms, a big conference room, and the Student Government (Stu Gov) office. The smaller study rooms each have a mounted flat screen TV that can be easily connected to one's laptop. In addition, these study rooms have soundproof doors so that students inside and outside of these rooms are not disturbed. The conference room is a larger space meant for a maximum of 30 people. It is a perfect place for club meetings. The Student Government office is a place for students to bring their questions and concerns. Each senator of Stu Gov sets aside one hour each week to spend in the office, so you can share your ideas as soon as they come up. To top it all off, there is a surround sound system throughout the SIC. The entire SIC can accommodate up to 75 people. 
Mary has over 40 active student organizations
Student organizations are where like-minded peers and faculty come together to learn, serve the community, and create countless memories. They are a great way to make new friends and spend time with old ones. At Mary, there is a wide variety of student organizations. Whether you are interested in a professional group or something more extracurricular, Mary has plenty of options. But if you don't see anything that interests you, start your own!
Student Organizations
Computer Information Services (CIS) Club
Communications Club
Creative Writing Club
DECA (Marauders on Business)
Engineering Club
Exercise Physiology Club
History Society
Marauders on Media
Marauders on Politics
Math Club
Math Science Association (MSA)
Music Student Organization (MSO)
Musical Theater Troupe
National Student Speech Language Hearing Association (NSSLHA)
Nursing Student Organization
Occupational Therapy Club
Physical Therapy Club
Pre-Dental Club
Pre-Law Club
Psychology, Addiction Counseling, Criminal Justice, and Social Work Association (PACS)
Respiratory Therapy Club
Science and Pre-Professional Association (SPA)
Spanish Club
Student ND Education Association (SNDEA)
Student Occupational Therapy Association (SOTA)
Student Physical Therapy Association (SPTA)
University of Mary Athletic Training Student Association (UMATSA)
University of Mary Investment Club
University of Mary Disability Advocacy Club
Visual Art Club
Outdoor Adventure Club

Performance Dance Troupe

Running Club

Social Dance Club

University of Mary Tae Kwon Do Club

University of Mary Sportsmen Club 
Marauders for Christ

Marauders Maniacs
Environmental Coalition of Students (ECOS)

Lions Club

Phi Beta Lambda (FBLA)

Service, Patriotism, Understanding, Responsibility, and Sacrifice (SPURS)

Students North Dakota United (SNDU)

TEDxUMary
Anime and Manga Club

Black Student Union

International Student Organization

World Youth Alliance
Catholic Medical Association – Student Section (CMA-SS)

Collegians for Life

Fellowship of Christian Athletes (FCA)

Interfaith Student Council

Knights of Columbus

Knights of Virtue

University Christian Fellowship (UCF)

Vera Forma
Beta Pi Theta Epsilon (PTE honors for Occupational Therapy Students)

Omicron Delta Kappa

Phi Alpha Honor Society

Pi Theta Epsilon
Interested in Starting a New Club or Have Questions?
We're here to help. Call the Student Development office at 701-355-8265 or email us.