Saint Teresa of Calcutta Community for Mothers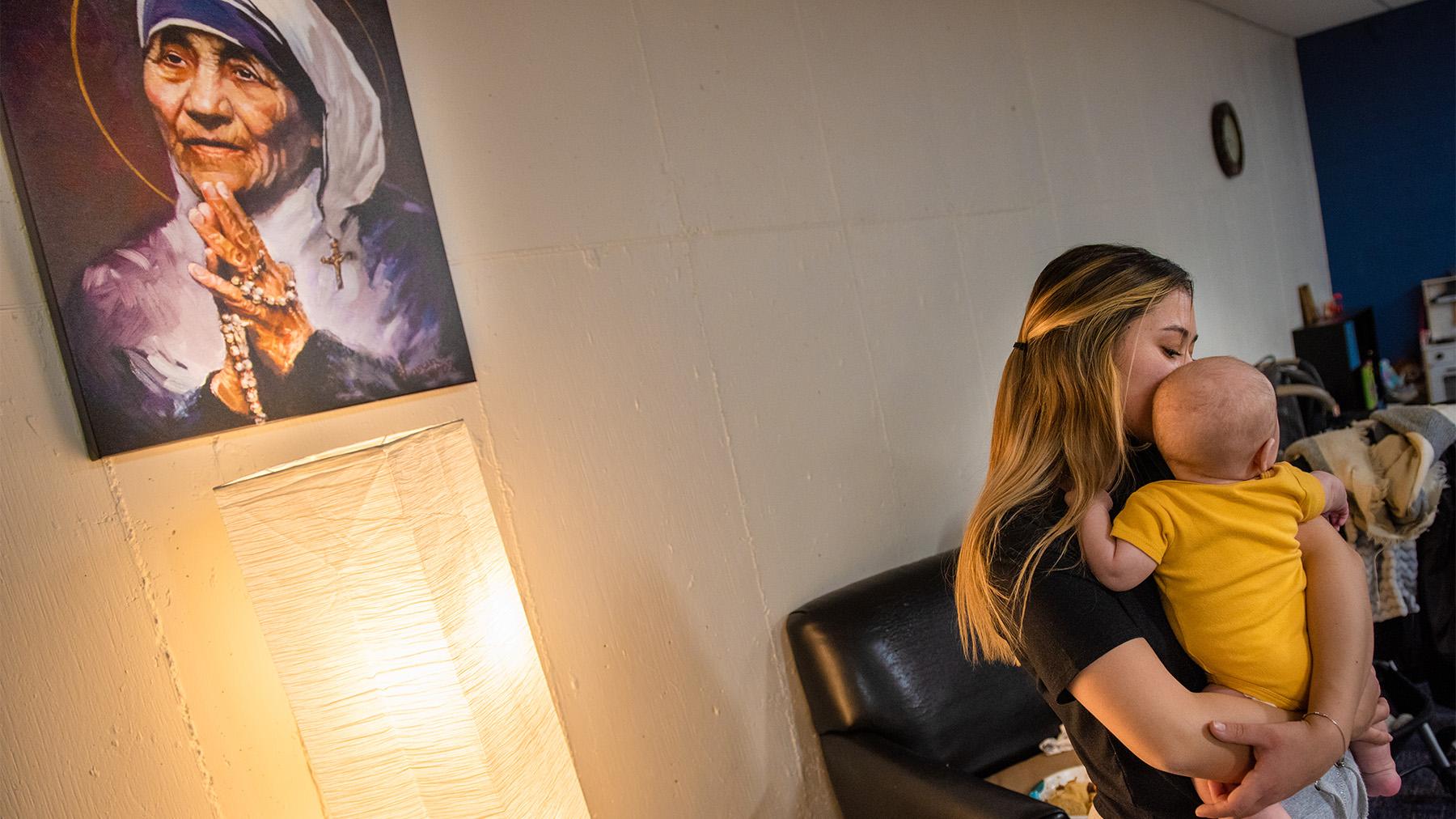 Supporting Student Mothers
In collaboration with generous local and regional donors, we've established an on-campus community for single mothers seeking to pursue or complete a bachelor's degree in their chosen field. The University of Mary's Saint Teresa of Calcutta Community for Mothers exists to support young women who are either facing a crisis pregnancy or needing additional help navigating the contending pressures of college life and new motherhood.
Program Highlights
Gracious financial gifts have enabled us to supply eligible student mothers and their children (newborn - age 4) with free room, board, and childcare year-round—a value of $15,000 per calendar year.
Stable Housing

We'll guarantee you on-campus stable housing from admission to graduation, free of charge. 

Reliable Childcare

Qualified childcare providers will be on hand to care for your little one while you're in class.

Whole-Life Formation

Beyond these necessities, we'll also provide you with vital parenting resources and life skills development programming rooted in transformative encounters with truth, beauty, and goodness.

Efficient Degree Timeline

Through our one-of-a-kind Year-Round Campus (YRC) program, you can earn your undergraduate degree and start your career in as little as 2.6 years.
Donate
If you feel called to support the Saint Teresa of Calcutta Community for Mothers, please contact Paul Keeney at 701-355-8329.
Frequently Asked Questions
First, submit your application for undergraduate admission to the University of Mary. Once you've been accepted, we'll help you through the community's application process so you can move into your new home as soon as possible.
We've set aside a block of suites in Boniface East Hall—complete with a dedicated community room and nursery—for our student mothers and their children.
Yes! Our Mission for Life office recruits qualified volunteer providers from our core on-campus service organizations, among them Collegians for Life, Knights of Columbus Council #16402, and Marauders for Christ. Residence Life staff and student volunteers from our early childhood education and child development programs offer additional assistance as needed.
As a member of the Saint Teresa of Calcutta Community for Mothers and a YRC student, you'll take classes full-time throughout the calendar year. That means you'll have access to everything the Community has to offer all year round—even during the summer!
Throughout your term of study, we'll work closely with you to help you secure additional scholarship funding, grants, and other forms of financial aid. If you're committed to coming to Mary, we're committed to making it possible.
Interested in Learning More?
Reach out to Rebecca Hoopes.