University of Mary's Speech-Language Pathology Graduate Program Earns National Grant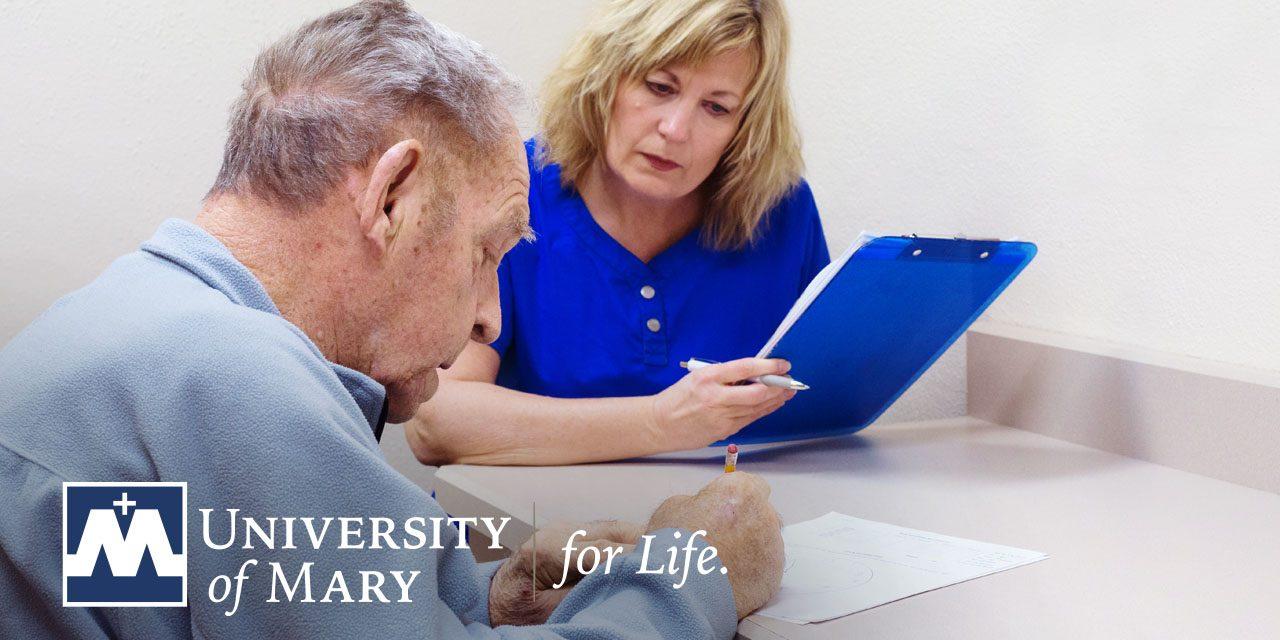 BISMARCK, ND — One of University of Mary's newest and most popular programs is receiving a national grant that will benefit both area patients in need and the students caring for them. Parkinson Voice Project, a 501(c)(3) nonprofit organization, has awarded the University of Mary's Speech-Language Pathology (SLP) pro-bono clinic its 2020 SPEAK OUT!® & LOUD Crowd® Grant. Also, through the grant program, the Parkinson Voice Project provides faculty and student training, therapy materials, and ongoing support/funding. Faculty will attend training this summer, with student training planned for the fall.
"The University of Mary Speech-Language Department is grateful for being chosen as a grant recipient for SPEAK OUT!® & LOUD Crowd®," said Brittany Hernandez clinic coordinator and supervisor of the Speech-Language Pathology pro-bono clinic on campus. "Our clinic will now be able to provide therapy that will improve the communication skills and overall quality of life of individuals with Parkinson's Disease in our community and surrounding area. Not only will this fulfill a need in our community, but will also provide the students in our program an opportunity to implement speech and voice therapy to individuals in need. While our on-campus clinic has grown, we have been looking for ways to increase our adult clientele in order to provide our students with more adult experiences. SPEAK OUT!® & LOUD Crowd® will allow us to provide therapy for more adult clients. We also look forward to pairing with local entities to help support individuals with Parkinson's."
Because it's a pro-bono clinic staffed by its SLP grad student clinicians and supervised by certified SLPs, they are able to provide critical services by helping and caring for individuals for free who are uninsured or underinsured. The clinic serves individuals of all ages and disorders. Typically, there are 17 students enrolled in the program and serving clients in the clinic, but that number is expected to increase according to Hernandez.
"We plan to have 22 students in the incoming grad cohort," added Hernandez. "Clients or their families learn about our clinic from local speech-language pathologists, clinics, and word of mouth. We receive a call from clients or their family expressing interest in our clinic. We then send out case history information for the them to complete and return. Upon receipt, we schedule a speech-language evaluation. After the evaluation, we determine if services are necessary. If so, we try to get them on the schedule to begin therapy. We typically serve approximately 20 to 30 clients each semester and are usually seen one time a week for 50 minute therapy sessions. We also complete speech-language evaluations. Students keep data during each session and complete reports at the end of the semester to monitor progress."
Hernandez hopes to increase the number of clients they serve on campus. In addition, the Parkinson Voice Project grant will expand the types of services provided to include Parkinson's disease and its related conditions.
Parkinson's disease is a chronic, progressive neurological disease. North Dakota has the third highest per capita incidence of Parkinson's disease in the United States. Individuals with Parkinson's disease experience a myriad of symptoms, including speech and voice difficulties such as reduced loudness and hoarseness. These deficits impact daily functioning as individuals may have trouble being heard and understood when communicating. Other symptoms of Parkinson's disease include tremors, slowness and rigidity of movements, swallowing difficulties, and cognitive impairment.
"Up to 90% of people with Parkinson's are at high risk of losing their ability to speak, and aspiration pneumonia caused by swallowing issues accounts for 70 percent of the mortality rate in this patient population. Awarding these grants substantially increases access to quality speech treatment to those living with Parkinson's," said Parkinson Voice Project's Founder and CEO Samantha Elandary.
This grant program honors Daniel R. Boone, PhD, CCC-SLP a world-renowned speech-language pathologist and voice expert who recognized in the late 1950s that individuals with Parkinson's could improve their communication if they spoke with "intent." Parkinson Voice Project's highly effective speech therapy program is based on Boone's teachings and combines individual therapy (SPEAK OUT!®) with ongoing group therapy (The LOUD Crowd®) to convert speech from an automatic function to an intentional act.
The Speech-Language Pathology Department at the University of Mary offers a Bachelor's degree in Communication Sciences and Disorders (CSD) and a Master's degree in Speech-Language Pathology (SLP). The department graduated its first class in April 2020. These graduates have obtained employment both locally and nationally. The profession of Speech-Language Pathology continues to experience rapid growth with increased need for professionals. Speech-Language Pathologists serve individuals across the life span, targeting communication and swallowing abilities including speech, language, voice, stuttering, feeding and swallowing, social language, and cognition. SLPs work in many different settings such as public schools, hospitals, skilled nursing facilities, and private practice.
For more information about the on-campus clinic and the SLP and CSD programs, please contact Brittany Hernandez, MS, CCC-SLP, Clinic Coordinator, at bmhernandez@umary.edu or 701.355.8288.
Explore Topics