University of Mary's Clinical Exercise Physiology Program Earns Continued 10-year Accreditation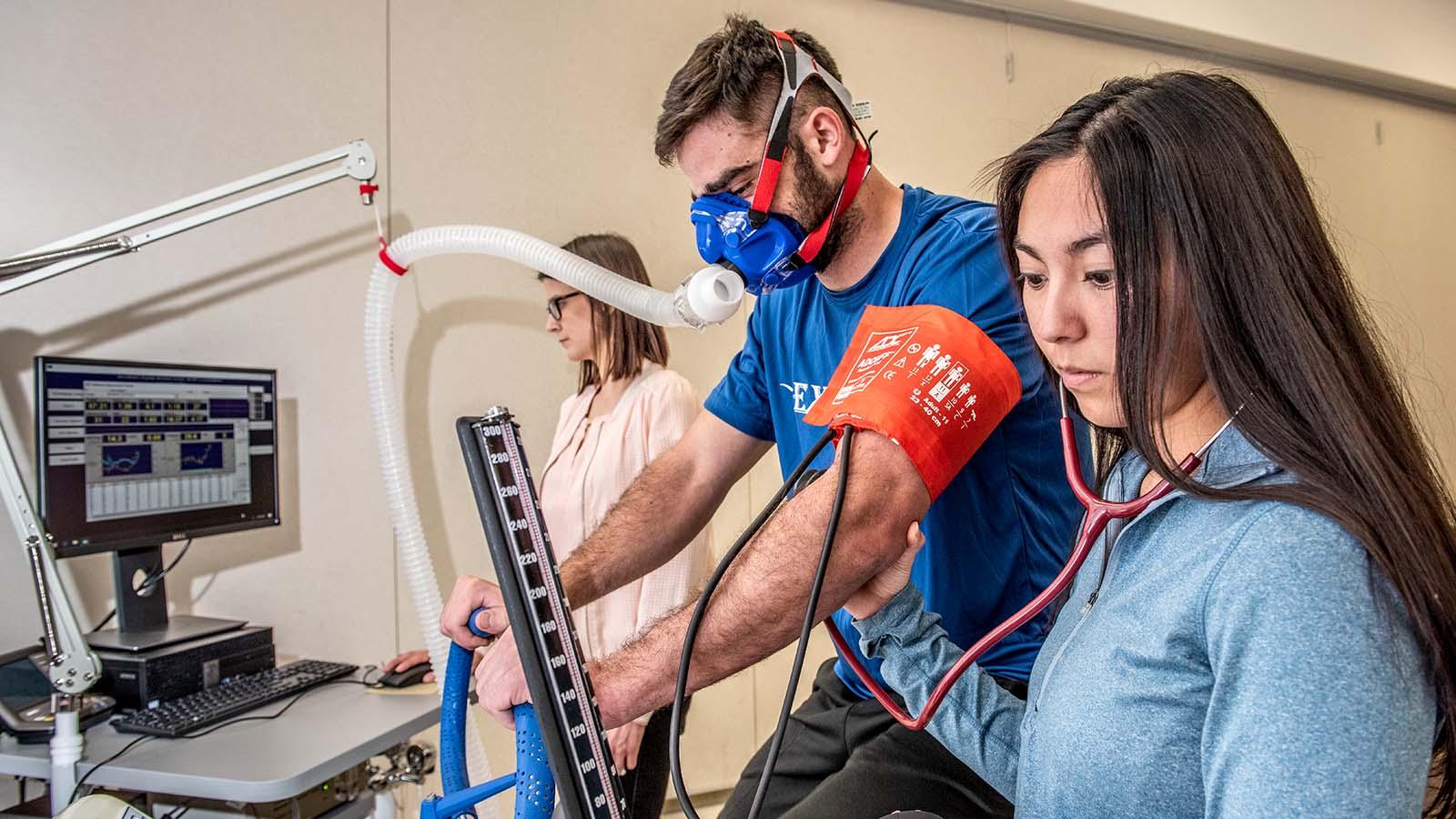 Mary is one of only 11 accredited CEP programs in the US
BISMARCK, ND — The Commission on Accreditation of Allied Health Education Programs (CAAHEP), has awarded continuing accreditation to University of Mary's Clinical Exercise Physiology (CEP) master's program. The recent peer review conducted by the Committee on Accreditation for the Exercise Sciences (CoAES) and CAAHEP's Board of Directors recognizes the program's compliance with the nationally established accreditation standards.
"The commission commends you and your colleagues for your commitment to continuous quality improvement in education, as demonstrated by your participation in program accreditation," stated CAAHEP President Dr. Donald Balasa, in a congratulatory letter to University of Mary. "The accreditation standards are established by CAAHEP, CoAES, American College of Sports Medicine, American Council on Exercise, American Kinesiotherapy Association, American Red Cross, National Academy of Sports Medicine, and National Council on Strength and Fitness."
The CEP program at the University of Mary is one of only 11 accredited in the entire US and is under the popular Saint Gianna School of Health Sciences. The master of science program is a two-year program taught with a blended format, combining online instruction with five on-site hands-on lab weeks and clinical internships, to students who are making a difference in peoples' lives everyday through many exciting careers associated with this degree, such as: cardiac rehabilitation; pulmonary rehabilitation; directing and coordinating supervised exercise programs for people with chronic conditions and disease like cancer, Parkinson's Disease, diabetes, arthritis, obesity, high blood pressure, osteoporosis, multiple sclerosis, etc., for whom exercise is part of the treatment and management; clinical research coordinators, researchers; diagnostic stress test technicians; strength and conditioning practitioners; higher education instructors; and directors and coordinators of primary prevention exercise programs.
"These are some of America's heroes on the frontlines of healthcare," said Dr. Jill Nustad, professor and chair of the Exercise Physiology Department in the Saint Gianna School of Health Sciences. "We've had 100 percent job placement rate with our graduates in the field for the last four years, and we embrace Saint Gianna Beretta Molla's model of wisdom, intelligence, and courage within our service-learning emphasis. University of Mary's Department of Exercise Physiology houses a master's program in CEP and bachelor's in exercise science (EXS). Both programs have earned accreditation from CAAHEP. CEP is considered a rehab science and is a growing professional field, responding to the exercise needs and demands for persons with chronic disease and conditions. Cardiac and pulmonary rehabilitation facilities employ the majority of CEPs. Mary's CEP program was the first program delivered via a blended hybrid model — online and in-person — to be accredited, and I believe still holds that recognition."
According to the US Bureau of Labor Statistics (BLS), there is an expected 13 percent job growth in this career field. 
CAAHEP says the next comprehensive evaluation of the program, including a site review, is scheduled to occur no later than 2032.
Anyone who wishes to learn more about clinical exercise physiology and other health sciences, can do so at www.online.umary.edu, by contacting an admissions representative at enroll@umary.edu, or by calling (701) 355-8030. The University of Mary is one of only 15 Recommended Cardinal Newman Society Residential Colleges and Universities in the US.
About the University of Mary: True to its motto "lumen vitae" — The Light of Life — the University of Mary offers education for the whole of life through cutting-edge professional programs and graduate programs animated by moral courage and leadership in chosen professions and service to the community. A private, co-educational Catholic institution, the University of Mary welcomes students of all faiths and backgrounds.
A Christian, Catholic, Benedictine institution founded in 1959 by the Benedictine Sisters of Annunciation Monastery, Mary offers nearly 60 bachelor's, 15 master's, and five doctoral programs — in business administration, education, nursing practice, occupational therapy, and physical therapy. The 19-sport Athletic Department adheres to its Greatness Through Virtue mission under the governance of the National Collegiate Athletic Association (NCAA) and American Collegiate Hockey Association (ACHA) conferences. With more than 3,800 students, Mary has locations in North Dakota, Montana, Arizona, and Rome, Italy, as well as vibrant online offerings.
Explore Topics