University of Mary Welcomes Father John Riccardo for Annual 2023 Prayer Day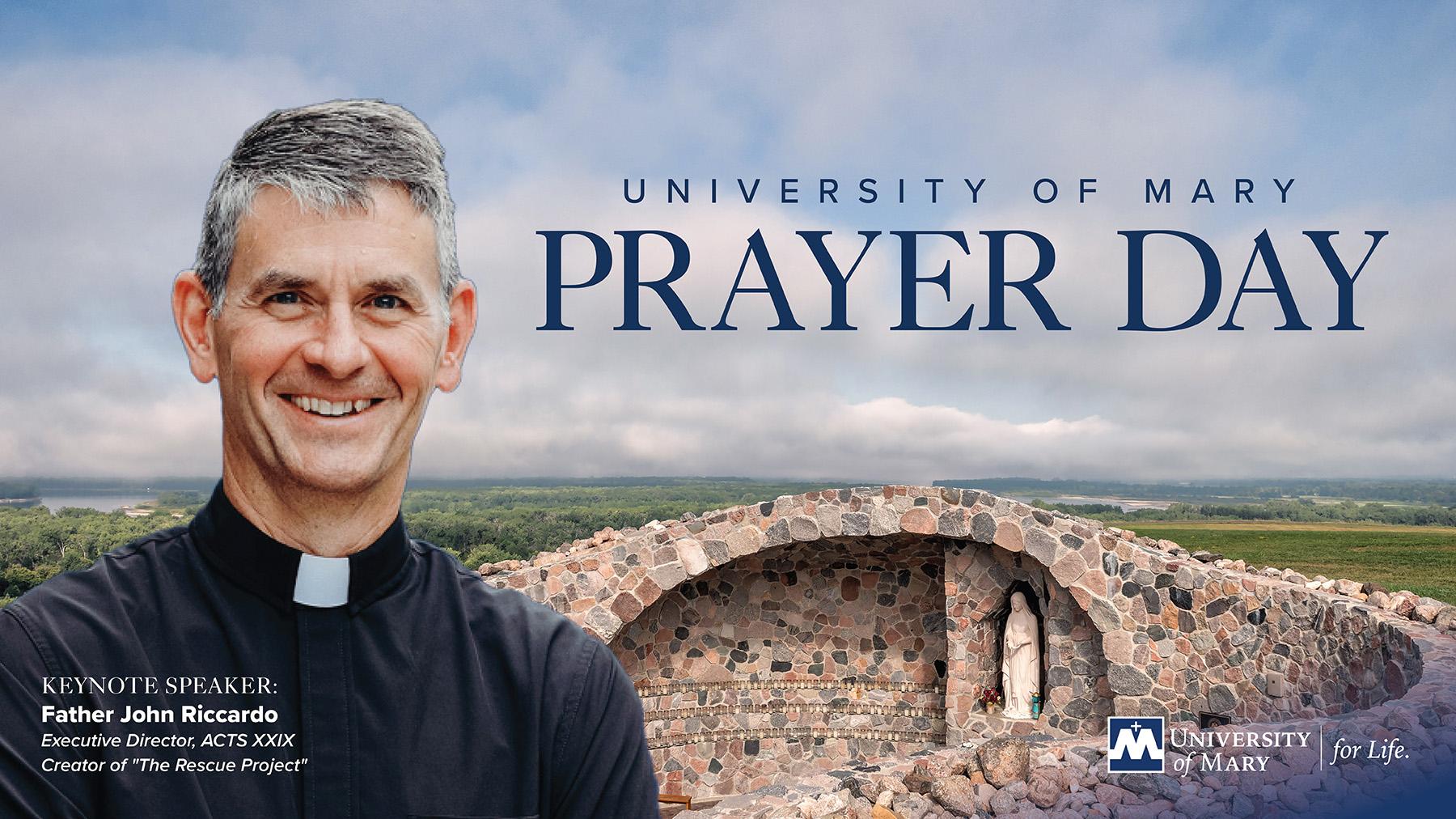 Event is free and open to the public on Wednesday, Nov. 15, 3 p.m., meal tickets available for purchase.
BISMARCK, ND — God calls men and women to do great things for their fellow man. Sometimes that calling or signal from the Holy Spirit can be very subtle and only become more obvious over a span of time. Or, that epiphany comes as a more direct encounter and interaction with God that would make any Christian jealous with amazement. 
Father John Riccardo can checkmark both categories for his calling to the priesthood. His first encounter with Jesus happened in his car on the way home in Michigan to tell his father that he accepted a job to be a bread maker — so, he thought. 
"I thought my dad would be disappointed," recalled Riccardo, in an article he wrote for the online religious publication, Aleteia. "Instead, he told me he would be thrilled with whatever I chose to do in life even if I wanted to be a priest. I assured him that would never happen." 
At the age of 25, while reading the Bible, Riccardo came across the passage in Matthew: "Some are incapable of marriage because they were born so; some, because they were so by others; some, because they have renounced marriage for the sake of the kingdom of heaven. Whoever can accept this ought to accept it."
And then for a second time a clear voice spoke to him: "'John, I'm inviting you to live single and to do it as a priest.' Although the voice would not have been audible to another, it was certainly not my own voice — I had never even considered the priesthood. I responded, 'Lord, if that's what you want me to do, then you better give me a desire for it, because I don't have it.' By the fifth day, I longed to know more about the priesthood." 
Ordained a priest in 1996, Riccardo now shepherds his flock at Our Lady of Good Counsel in the Archdiocese of Detroit. He currently serves as the executive director of ACTS XXIX, a new non-profit apostolate that exists for the purpose of priestly and Church renewal and is the creator of "The Rescue Project," an eight-week crash course designed to light a fire under Catholics about the gospel, move them to surrender, and mobilize them for the mission. Riccardo brings his message of "Getting Clarity on Mission" to the prestigious University of Mary Prayer Day as the keynote speaker at 3 p.m., Wednesday, November 15 in Founders Hall at the Lumen Vitae University Center (LVUC) on campus. Solemn Vespers and Mass along with a Prayer and Healing Service follow at 4:30 and 7 p.m. respectively, in Our Lady of Annunciation Chapel. The event is free and open to the public, while meal tickets are available for purchase. 
Riccardo is also the host of a new podcast, "You Were Born for This with Fr. Riccardo," and a popular radio program "Christ is the Answer."  
—UMARY—
Anyone who wishes to learn more about the University of Mary can do so at www.umary.edu or by contacting an admissions representative at enroll@umary.edu, or by calling (701) 355-8030. The University of Mary is one of only 15 Recommended Cardinal Newman Society Residential Colleges and Universities in the US. 
About the University of Mary: True to its motto "lumen vitae"—The Light of Life—the University of Mary offers education for the whole of life through cutting-edge professional programs and graduate programs animated by moral courage and leadership in chosen professions and service to the community. A private, co-educational Catholic institution, the University of Mary welcomes students of all faiths and backgrounds.
A Christian, Catholic, Benedictine institution founded in 1959 by the Benedictine Sisters of Annunciation Monastery, Mary offers nearly 60 bachelor's, 18 master's, and five doctoral programs—in Business Administration, Education, Nursing Practice, Occupational Therapy and Physical Therapy. The 20-sport Athletic Department adheres to its Greatness Through Virtue mission under the governance of the National Collegiate Athletic Association (NCAA), American Collegiate Hockey Association (ACHA), and the USA College Clay Target League. With more than 3,800 students, Mary has locations in North Dakota, Montana, Arizona, Rome, Italy, as well as vibrant online offerings. 
Explore Topics