University of Mary Students' Project Provides Solutions to Bismarck-Mandan Populations Who Need It Most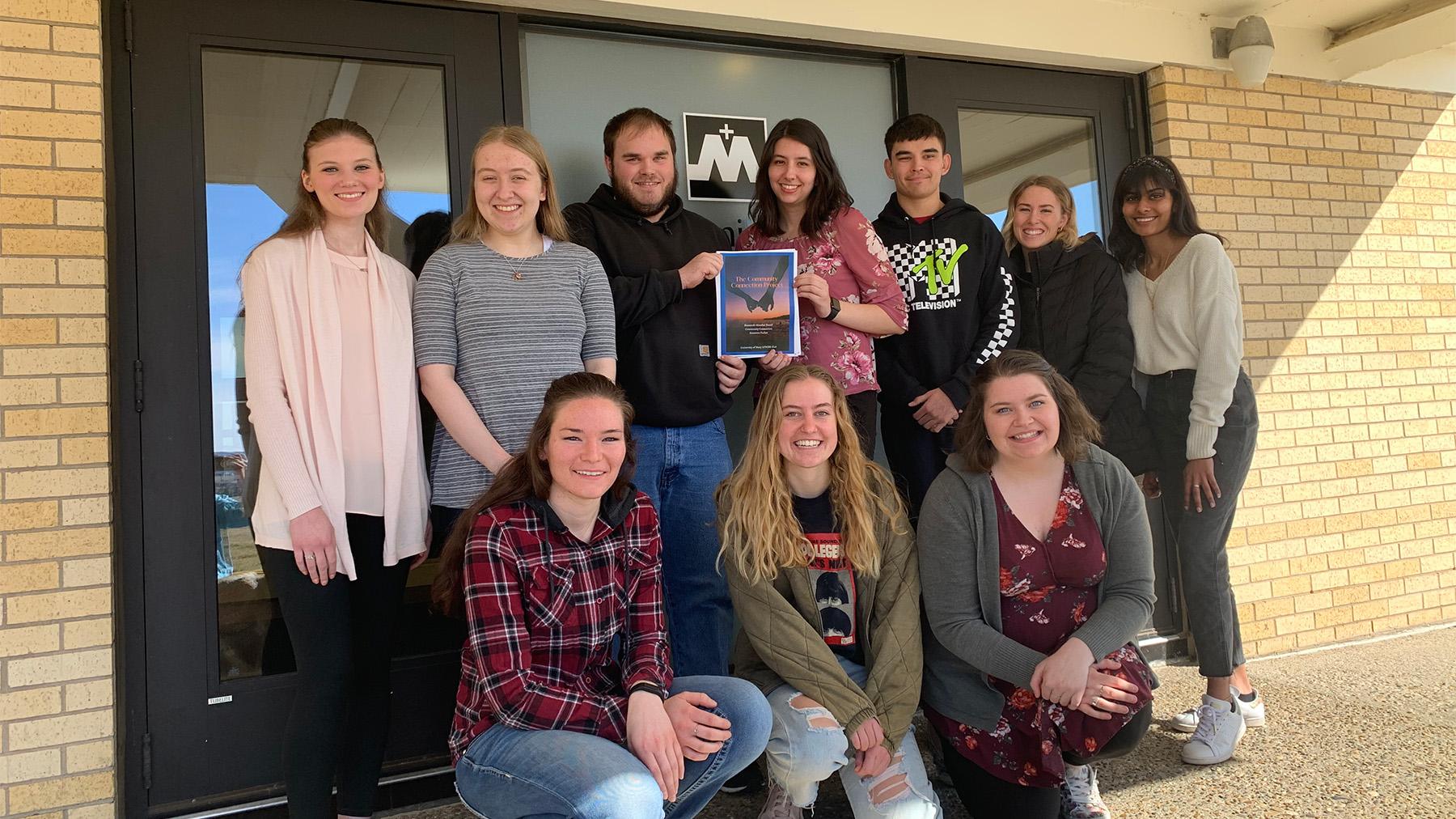 BISMARCK, ND — In 2019, when Kaitlin McLaughlin came as a freshman honor student to the University of Mary, she wanted to do something impactful as part of the Harold Schafer Emerging Leaders Academy (ELA) that would benefit or serve the North Dakota Department of Corrections and Rehabilitation (DOCR). But like many things, COVID delayed her idea until her junior year in 2021. That pause led to something much bigger with greater purpose and need that could benefit far more underserved populations — a comprehensive resource guide called — The Community Connection Project Resource Packet. Mclaughlin proposed the new idea to her ELA classmates.
"It is no secret that when driving around Bismarck-Mandan there is an obvious homeless population," said Mclaughlin, a native of Moorhead, MN. "I have a mentor who works with trafficking survivors, and I have visited the prison where I hear about the transition process after release. Overall, there were many instances in which I noticed that certain populations struggle when it comes to reintegration into society and our community. There was no specific 'big event' that provided me with the urge to complete a project such as this, just small little moments where I noticed something could be done. Once I had presented the idea to my ELA team, they concluded that they had noticed similar things. So, we brainstormed this resource guide as a solution to these issues."
"You don't know what you don't know," is a simple, popular phrase, but often profound. It holds true for the many populations in Bismarck-Mandan who are new to town, transitioning from prison or correctional facilities, the homeless, people caught up in human trafficking, or anyone who may be struggling to fulfill their everyday needs in society. This 24-page guide has everything from A to Z on who and how to contact, ranging from: renting, housing, and shelters; clothing and hygiene places; how to dress for a job and keep a job; businesses to consider applying to; money management tips; public bus transportation; medical and mental health care facilities; support groups; legal assistance; language, vision, and hearing accessibility; hotlines; some things people didn't know they needed, and even — quick and easy ingredient recipes, all in one convenient booklet or digital PDF.
The feedback for this all-encompassing guide has been immensely positive and life-changing for many, according to Rick Gardner, director of Rough Rider Industries (RRI), a self-funded division of the DOCR that instills job skills training to incarcerated individuals to produce quality goods and services. The initial distribution list for The Community Connection Project Resource Packet included RRI, along with DOCR, Ministry on the Margins, 31:8 Project, Free Through Recovery, and other entities.
"This guide is a very thorough and well thought out document," added Gardner. "I am truly thankful for Kaitlin and her ELA team for thinking and including RRI as a resource guide recipient, and for creating this guide to help aide the less fortunate, and those who have not made the best life choices."
Gardner can give many examples of how the resource guide has helped those who have been released from prison. But the one instance that stands out is from a former inmate who spent 10 years incarcerated and is now the first ex-offender hired to a full-time state position at RRI. Gardner says he gave him The Community Connection Project Resource Packet and he's been paying it forward ever since.
"This person has a passion to give back and help others releasing from prison and feels very fortunate to have been given the opportunity that he was," added Gardner. "He specifically used this guide to help three people whom he served time with and now were being released from prison and in need of housing. All three were able to find a place to live from the list provided in the resource guide. He also gave this document to a lady and her children who had lost the apartment they were staying in and she was able to find assistance for rent and a place to stay for at least six months due to this document. He has given copies of this packet to offenders being released from incarceration, placed copies of this packet in locations frequented by people in need of help, and given it out to people he finds in distress in different locations. He has heard nothing but glowing reports from people who use this information and the most common question he is asked is, will there be another one done to keep the information up to date?" 
The answer is, yes. The Community Connection Project Resource Packet is being updated now and will be every spring semester by students in the Social Welfare Policy II class.
McLaughlin credits her mentors, faculty, and fellow classmates (Andrea Peter, Kuala Lumpur, Malaysia; Olivia German, Bismarck, ND; Kaitlyn Hafenbredl, Littleton, CO; Jacob Morgan, Billings, MT; Joshua Dachel, Wisconsin Rapids, WI; Emily Freas, Saint Anthony, MN; Mary Gutenkauf, Aberdeen, SD; Hailey Nolte, Beltrami, MN; and Karissa St. Onge, Hillman, MN) in the ELA program for helping get the resource guide to completion.
"Our goal was to give people who are homeless, formerly incarcerated, trafficked, and struggling people an instilled sense of hope, stability, and tangible resources to ensure a smoother connection to the community," added McLaughlin. "This project took both the fall 2021 and spring 2022 semesters, and we spent a great deal of time researching, sorting through resources, and formatting this guide throughout these semesters. A lot of time was spent outside of class working, as ELA only meets once a week as an honors program."
McLaughlin came to the University of Mary thanks in large part to her grandfather who spoke highly of the school when she was 13 years old. Later in life, after eventually visiting the school, "I fell in love with the environment and how welcoming the students and staff were," she recalls. When she arrived, McLaughlin majored in psychology and then picked up criminal justice as a double major, and this past December fulfilled those credit requirements and will receive her diploma at University of Mary's commencement ceremonies in April. McLaughlin will now pursue her Doctor of Clinical Psychology degree starting this fall before striving for her career goal of being a victim advocate for some branch of federal law enforcement. 
—UMary—
Anyone who wishes to learn more about any undergraduate or graduate programs can do so at www.umary.edu, or www.online.umary.edu, respectively, or by contacting an admissions representative at enroll@umary.edu, or by calling (701) 355-8030. The University of Mary is one of only 15 Recommended Cardinal Newman Society Residential Colleges and Universities in the US. 
About the University of Mary: True to its motto "lumen vitae"—The Light of Life—the University of Mary offers education for the whole of life through cutting-edge professional programs and graduate programs animated by moral courage and leadership in chosen professions and service to the community. A private, co-educational Catholic institution, the University of Mary welcomes students of all faiths and backgrounds.
A Christian, Catholic, Benedictine institution founded in 1959 by the Benedictine Sisters of Annunciation Monastery, Mary offers nearly 60 bachelor's, 15 master's, and five doctoral programs—in Business Administration, Education, Nursing Practice, Occupational Therapy and Physical Therapy. The 19-sport Athletic Department adheres to its Greatness Through Virtue mission under the governance of the National Collegiate Athletic Association (NCAA) and American Collegiate Hockey Association (ACHA) conferences. With more than 3,800 students, Mary has locations in North Dakota, Montana, Arizona, Rome, Italy, as well as vibrant online offerings. For more information, visit www.umary.edu.
Explore Topics