University of Mary Students, Faculty, and Bismarck Priest Provide Humanitarian Services to Underserved Peruvians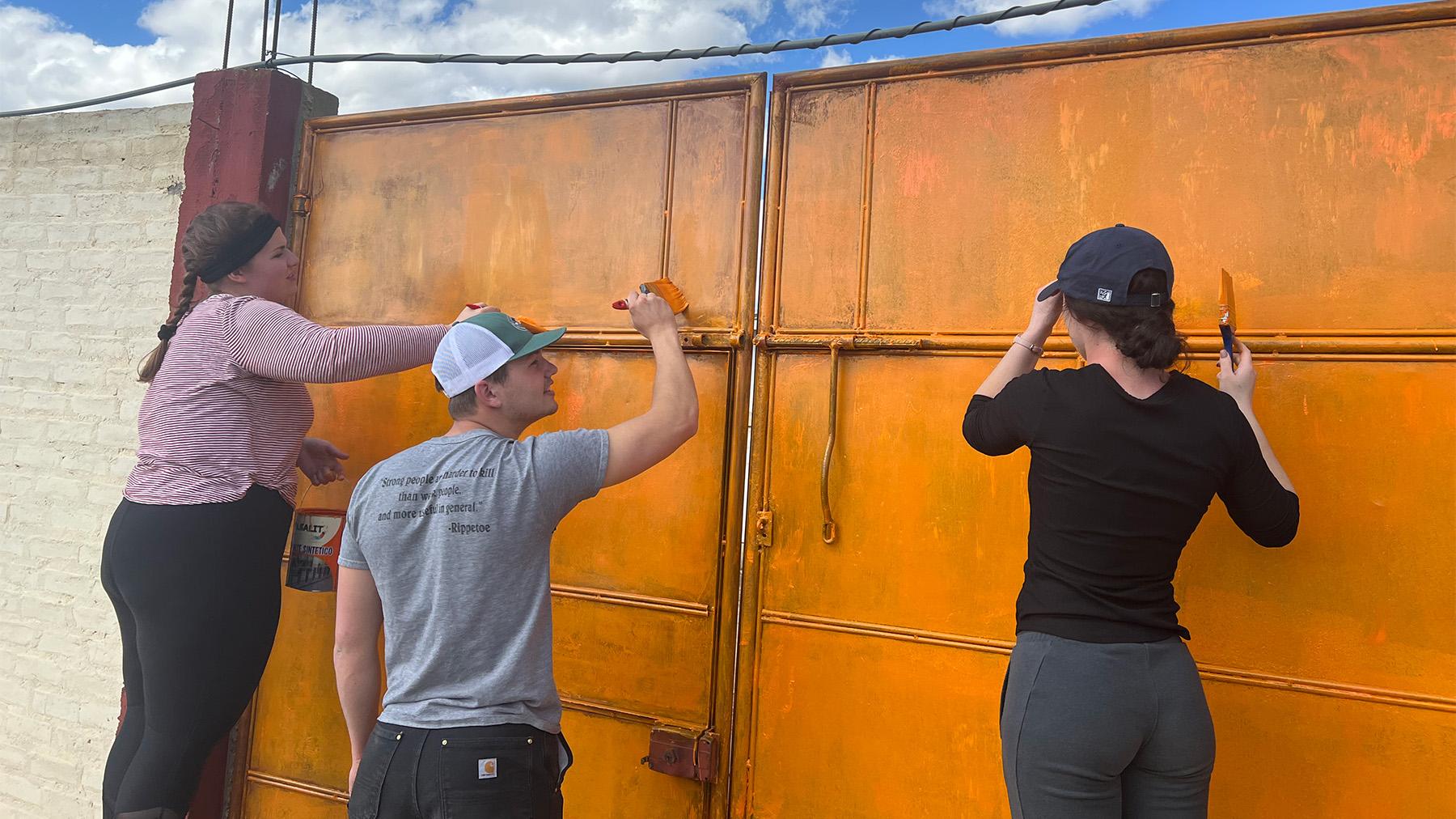 "My one word for this trip is 'breathtaking' in both the beauty and the hardships seen in this country."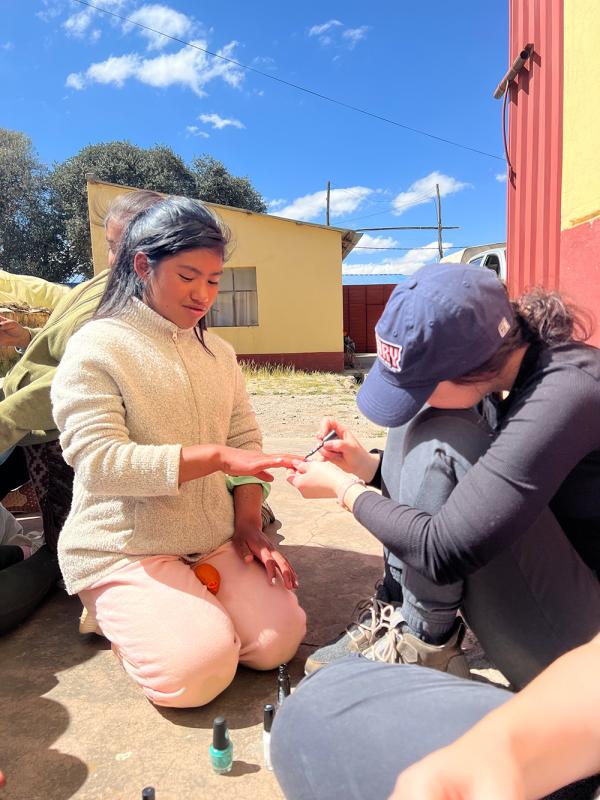 BISMARCK, ND — Over two years elapsed with limited access to basic healthcare in Ayaviri, Peru, a small town of approximately 23,000 people in the southern region of the country and high up in the Andes Mountains. In early 2020, the COVID pandemic and subsequent lockdowns brought tremendous hardship to those in need of medical services in Peru. In August of 2021, University of Mary was asked by the Catholic Territorial Prelature (diocese) of Ayaviri if they could return to the town in May of 2022 to help reopen their rehab clinic. That's when Dr. Paula Kitzenberg, University of Mary's Department of Occupational Therapy program director at the Billings, MT, campus, accepted the challenge and began putting a plan in place for an 11-day mission trip.  
The Peru Service Mission Trip included 28 students, five faculty, and a priest (Father Mark Aune) — who is also a licensed physical therapist — providing interdisciplinary and pastoral care to approximately 100 area residents.  
"I believe we were one of the first mission groups back in the country, and the largest University of Mary group ever to go to Peru," explained Kitzenberg, who had been on three previous mission trips to Peru while at Mary. "Most of the patients spoke Quechua which is a native language of that region. We had brought with us Spanish translators. So, we had individuals who translated Quechua to Spanish and our translators translated Spanish to English. It could get confusing. We eventually got good at gestures. Overall, the rehab clinic was a beautiful example of interdisciplinary care and teamwork." 
The missionaries consisted of University of Mary faculty representatives and students in various fields of study: occupational therapy (OT), nursing, physical therapy (PT), respiratory therapy (RT) and pre-med, exercise science, social work, pre-occupational therapy, and engineering. They were divided into three teams to take care of patients and provide specific skill sets for various needs.  
"I was afraid that we would be seeing more medically fragile patients who were acutely ill," added Kitzenberg. "This wasn't the case. We only had to refer two or three patients to the local hospital. What we did see, however, was patients with multiple medical complexities. They hadn't been seen by a provider for over two years, so they had several medical complaints: back pain, skin infection, poor mobility, etc. Each patient required more time and a more diverse healthcare team to address all their needs. The clinic was organized so that each patient was seen by the doctor and or nurses to do medical triage. After that, the rehab teams provided a basic musculoskeletal evaluation, functional assessment, and or developmental assessment depending on the needs or age of patient. The rehab team was composed of occupational and/or physical therapy students who were supervised by faculty. They utilized their skills at the clinic and during a dozen or more home visits. Prior to the trip, 18 different handouts were developed and translated by the clinic so that home programs could be provided to the patients and to the Prelature. This facilitated the patient's ability to return to the rehab clinic throughout the year to continue their rehab exercise program." 
This was the first time OT and engineering students joined the mission trip to Peru. Their skills proved to be both needed and beneficial. As a result, passionate, caring, skilled students and faculty accomplished a lot in a short amount of time.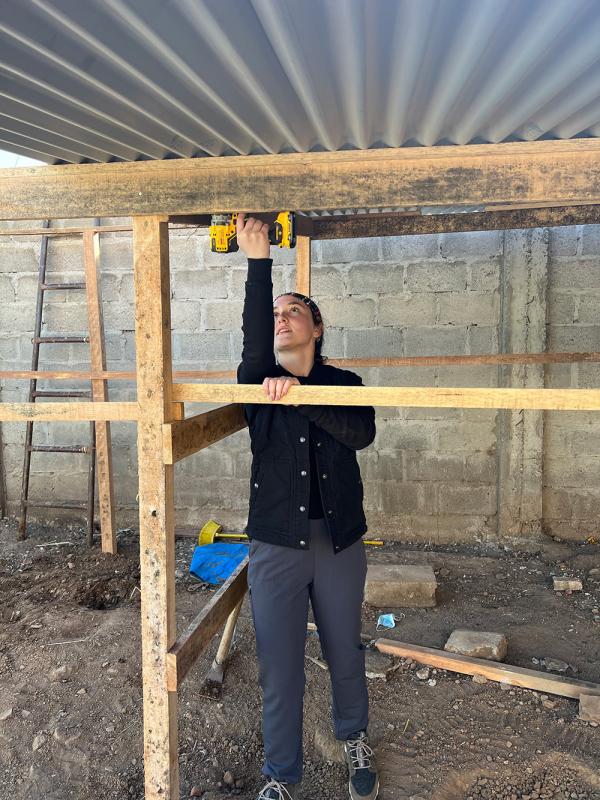 "The engineering and service activities were coordinated with the Salesian Sisters at the girls' school, i.e. Casa Hogar Maria Auxiliadora. At the Sisters' request, the engineers built a chicken coop structure that would offer weather protection to their chickens. They built this structure using supplies from Ayaviri, some primitive carpentry tools, and the few tools they brought with them. They also used pickaxes to repair huge ruts in the roads outside of the Sisters' school. One of the engineering students also helped at the rehab clinic by repairing some of the exercise equipment and providing other support to the rehab team such as building and adapting canes and crutches. The team's pediatrician also completed yearly health physicals for the girls at the school. The Sisters bless us by allowing many of the female members of the Mary team to stay at their school and use their space. This year, the Sisters also cooked all of our meals while in Ayaviri." 
For all the student missionaries, this was a life-changing trip. Kitzenberg says at the end of it all, "there were lots of tears," as one of the hardest parts was having to say goodbye after providing care and witnessing so much and knowing there is so much more help needed in the area.  
"My one word for this trip is 'breathtaking' in both the beauty and the hardships seen in this country. Machu Picchu was beautiful. It was also beautiful to see the joy on these people's faces. In the same sense, it was incredibly difficult to go into their homes, schools, or places of business and not see the hardships and struggles these people have to survive, which was also breathtaking. It was an incredible experience," said Jana Hutzenbiler, an undergraduate social work major from Bismarck. 
Kaelie Schumacher, a graduate student from Bismarck getting her doctorate in PT, added, "I loved this trip. It was so much fun, I learned a lot about the country, world, and myself, and I made some great lifelong friends." 
"This trip was an amazing opportunity to grow personally, academically, and professionally. I would highly recommend this trip to anyone that asks. I appreciate the time and effort that faculty put into planning this trip," said Betsy Kanz, a nursing faculty from Bismarck. 
Dr. Payton Walling, a recent doctorate of OT graduate from the Billings campus, added, "This service trip was the perfect culmination to my education at the University of Mary. I was able to use my education to serve a community of people and spread the love of God at the same time. This trip was one of the hardest things I have ever done emotionally, spiritually, and professionally, but I will forever be a stronger occupational therapist and man of faith because of this amazing trip."  
During Kitzenberg's planning for this trip, she and the students received assistance from private citizens and various organizations in Billings in the form of monetary donations, medicines, supplies, and even clothing that filled three extra suitcases. The missionaries utilized everything.    
"During our last dinner together as a group, I shared with the students a few of my sentiments about the trip," continued Kitzenberg. "I said, let this trip change you. Go home and be more grateful for the life that you lead. Be grateful for the big things, like the opportunity to receive an education, and the small things, like a warm shower.  Also, go home a more patient person. Be okay with the pauses that happen in life and throughout the day. And lastly, go home a more joyful person. The people in Peru are truly joyful, even though they have so little. By American terms, they have very little to be joyful about, but they are. Let their joy be contagious and take it home with you to share with your corner of the world."   
There is no doubt in Kitzenberg's mind that the Peru Service Mission Trip was a huge success and will continue for years to come so University of Mary students and faculty can provide more interdisciplinary care and humanitarian support to Peruvians while receiving hands on skills, transformative experiences, and memories that last a lifetime.  
Anyone who wishes to learn more about mission trips, global studies, health sciences, and engineering can do so at www.umary.edu, by contacting an admissions representative at enroll@umary.edu, or by calling (701) 355-8030. The University of Mary is one of only 15 Recommended Cardinal Newman Society Residential Colleges and Universities in the US. 
About the University of Mary: True to its motto "lumen vitae" — The Light of Life — the University of Mary offers education for the whole of life through cutting-edge professional programs and graduate programs animated by moral courage and leadership in chosen professions and service to the community. A private, co-educational Catholic institution, the University of Mary welcomes students of all faiths and backgrounds. 
A Christian, Catholic, Benedictine institution founded in 1959 by the Benedictine Sisters of Annunciation Monastery, Mary offers nearly 60 bachelor's, 15 master's, and five doctoral programs — in business administration, education, nursing practice, occupational therapy, and physical therapy. The 19-sport Athletic Department adheres to its Greatness Through Virtue mission under the governance of the National Collegiate Athletic Association (NCAA) and American Collegiate Hockey Association (ACHA) conferences. With more than 3,800 students, Mary has locations in North Dakota, Montana, Arizona, and Rome, Italy, as well as vibrant online offerings. 
Explore Topics