University of Mary Receives National Endorsement for Business, Education, Nursing, Catholic, and Military Support Programs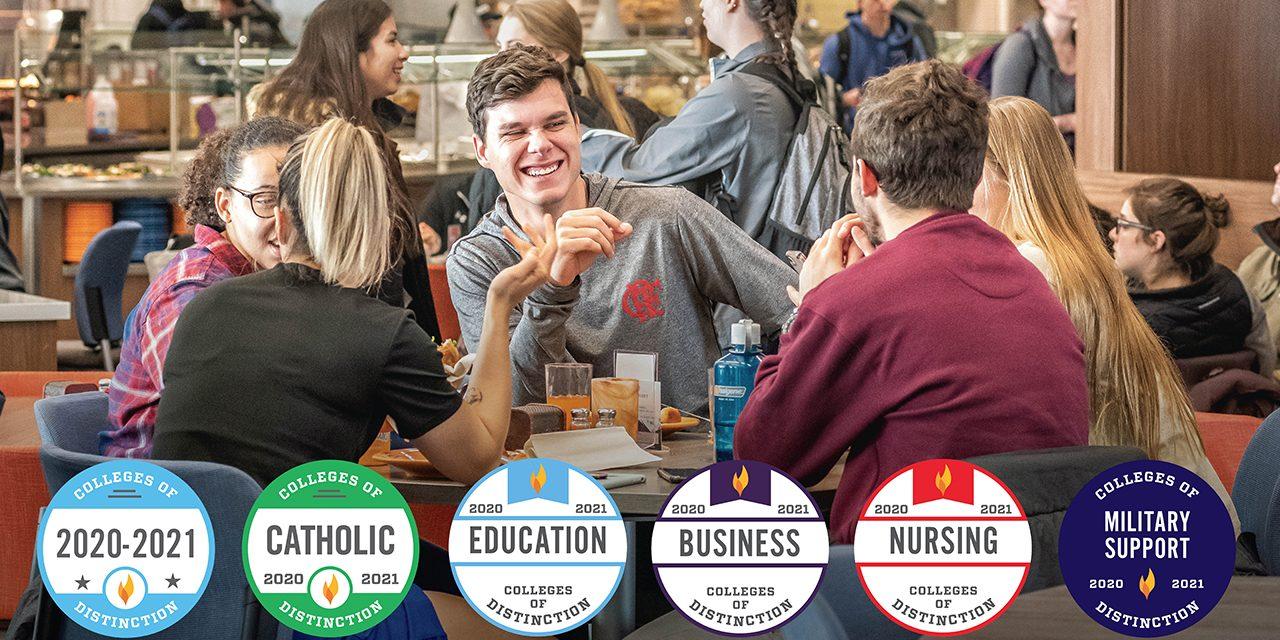 BISMARCK, ND — The University of Mary has earned the prestigious national honor as a College of Distinction. For the fifth straight year, the University of Mary is the only college in North Dakota, and one of only a select handful in the region, to be recognized as one of the nation's top places of higher learning.
College of Distinction advocates for schools whose undergraduate experiences are grounded in a philosophy of well-rounded, individualized engagement. University of Mary has excelled at having students graduate and enter the workforce with solid, well-developed critical thinking skills as well as the ability to adapt in an ever-changing society.
Now more than ever, it's important for those entering the job market to have the kind of experiential education offered in the Business, Education, Nursing, Catholic, and Military Support programs at University of Mary.
"We complete a thorough review of the programs before granting the honors," said Tyson Schritter, Chief Operating Officer for Colleges of Distinction. "We're looking for qualities such as accreditation, breadth of program, advising and mentoring, integration of career services, and successful outcomes for students. It's wonderful to see how University of Mary really exemplifies these qualities."
Already honored as a College of Distinction for its high-impact approach to education, University of Mary has received specialized recognition in Business, Education, Nursing, Catholic, and Military Support. These additional accolades were borne out of a need for college curricula that are comprehensive not only in course material, but also in practical- and soft-skills development. University of Mary has met these needs with a blend of liberal arts education, program-specific training, and abundant opportunities for real-world application.
"We take great pride in the rigors of all our academic programs, the world-class faculty who serve our students and provide personal and professional development, and our administrators and counselors who care for them and guide them through the whole process of their education — this national recognition honors those people and brings our programs to the forefront," said University of Mary Vice President for Academic Affairs Dr. Diane Fladeland. "We have launched some of the most innovative learning initiatives across the U.S.—from our Rome campus, to our Year-Round Campus where students have the option of earning their bachelor's degree in 2.6 years and their master's in four—students come to Mary from around the world experiencing a dynamic and comprehensive learning environment at one of the nation's most affordable universities. Not only are we extremely honored by this recognition, but also very proud to be the only College of Distinction in North Dakota and one of only a handful awarded universities in the region."
Education
University of Mary's future educators are bolstered by an enriching liberal arts perspective, allowing them to be empathetic, creative, and efficient mentors for their students. University of Mary's education programs include biology education, business education, early childhood education, English education, health education, history education, mathematics education, music education, physical education, social studies education, special education, speech education, elementary education, master's in education, human support services, and doctorate of education.
Nursing 
The National Council of State Boards of Nursing exam results, along with nursing's national benchmarking service, Mountain Measurements, ranked the University of Mary's nursing program as #1 in our region and #1 of 2,061 nursing programs nationwide in 2019. Their well-rounded perspective allows them to think on their feet and care deeply for their patients. Nursing programs include LPN to BSN, RN to BSN, accelerated 2nd degree BSN, bachelor of science in nursing, master of science in nursing (MSN – nurse educator), MSN/MBA (dual degree), and doctorate of nursing practice (DNP). And, academically eligible students also receive their senior year free through the generous CHI St. Alexius Medical Center Scholarship.
Business
The fast-paced, modern world of business requires effective communication and innovative strategies. University of Mary programs in accounting, computer information systems, financial services and banking, information technology management, master of business administration (MBA), master of science in  business (MSB), master of project management (MPM), business administration, sports and leisure management, marketing, and business management keep their future leaders ahead of the curve and ready to grow alongside the industry.
Military
As the number of veterans pursuing higher education increases, so too does the demand for their personal and academic support. Veterans can be some of the most dedicated, hard-working, and capable students on a college campus, but the unique challenges they face can impede their success. That is why University of Mary has been selected as a stand-out institution dedicated to helping veterans overcome their obstacles and achieve success.
The Military Support Colleges of Distinction care primarily about the individual student rather than the size of their GI Bill package. Schools like University of Mary, who continually earn the Military Friendly® schools designation, ensure that military students are supported through comprehensive education benefits, a committed military and veterans affairs team, flexible options, trained faculty, and dedicated campus activities and community support.
To view University of Mary's profile or to find more information about the innovative learning experiences it offers, visit https://collegesofdistinction.com/school/university-of-mary/.
—30—
About Colleges of Distinction: Now in its 20th year, Colleges of Distinction is committed to honoring schools throughout the U.S. for true excellence in higher education. The member schools within the Colleges of Distinction consortium distinguish themselves through their dedicated focus on the undergraduate experience. For more information, visit CollegesofDistinction.com.
Explore Topics