University of Mary Prepares for Two In-Person Graduations in One Day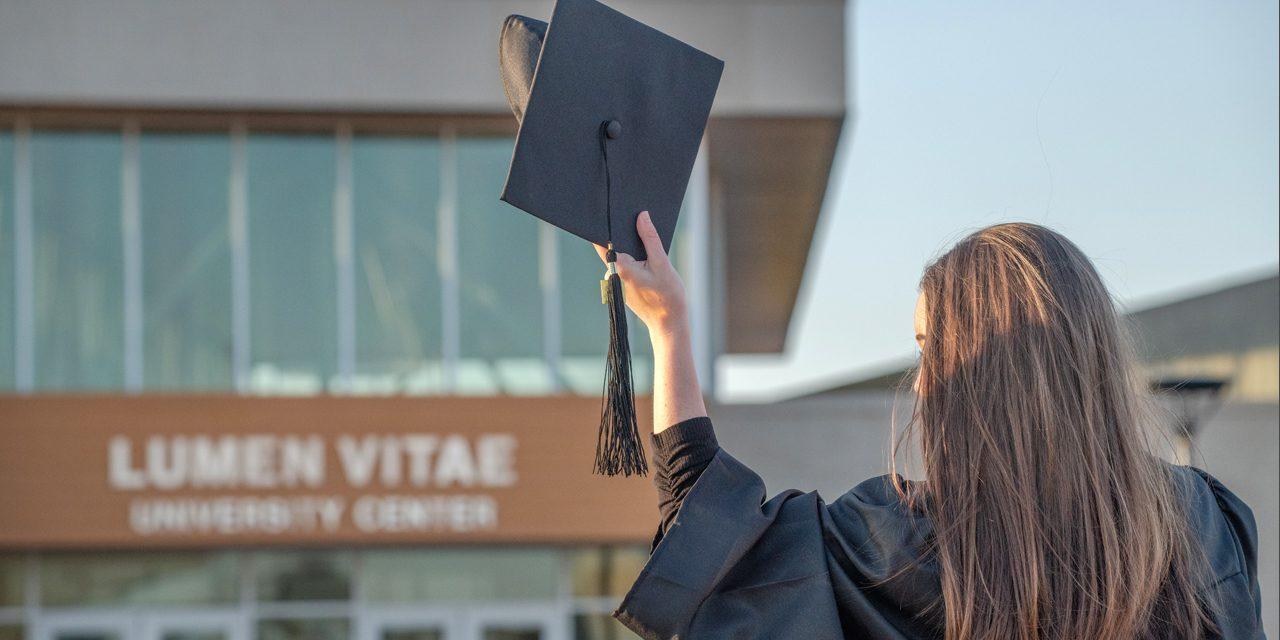 BISMARCK, ND — Just like 2020 became a first for many things, 2021 is the year for the first dual graduation ceremony at the University of Mary. COVID-19 caused the university to cancel graduation ceremonies for the Class of 2020. In doing so, Mary decided to combine the 2020 ceremony with the 2021 ceremony this April.
University of Mary regards commencement as one of the most important days in the life of an adult. Because of the day's significance the university determined that these 2020 graduates should receive the proper celebration with their faculty, classmates and family. The class of 2020 will also receive a special-edition honor cord to wear with their cap and gown.
Details are still being finalized, but Commencement 2021 is Saturday, April 24 at the Bismarck Event Center. The first ceremony is at 11:30 a.m. for undergraduates, followed by the graduate ceremony at 3 p.m. The Baccalaureate Mass kicks off the daylong celebration at 9 a.m., from the Cathedral of the Holy Spirit in Bismarck. Both the Class of 2020 and Class of 2021 are invited to participate in these festivities.
Students from last year can respond to the RSVP that was sent to them via email, or they can click the RSVP button found at www.umary.edu/graduation. Students from the Class of 2021 have already RSVP'd by submitting their diploma application online. Complete commencement details can be found at www.umary.edu/graduation.
Also, part of the end-of-the-year ceremonies, the Outstanding Senior Award recipient will be announced and recognized at the annual University of Mary Awards Banquet on Thursday, April 8. This year's nominees are Snaedis Danielsdottir, Reykholahreppur, Iceland, Peter Collart, Covington, GA, Jacie Kohler, Williston, ND, Erin Claussen, Sioux Falls, SD, Zoe Krauskopf, Louisville, KY, Thomas Rumpza, Saint Paul, MN, Emma Davies, Bismarck, ND, Jamie Stoppler, Bismarck, ND, Annie Roufs, Bismarck, ND, Clare Dalton, Littleton, CO, Luisa Garcia Michel, Tlalnepantla, Mexico, Sydney Murphy, Bismarck, ND, Leonardo Vecchi, Bergamo, Italy, and Katie Hauser, Yankton, SD.
Explore Topics