University of Mary Nursing Program Removes Entrance Exam Requirement for Early Assurance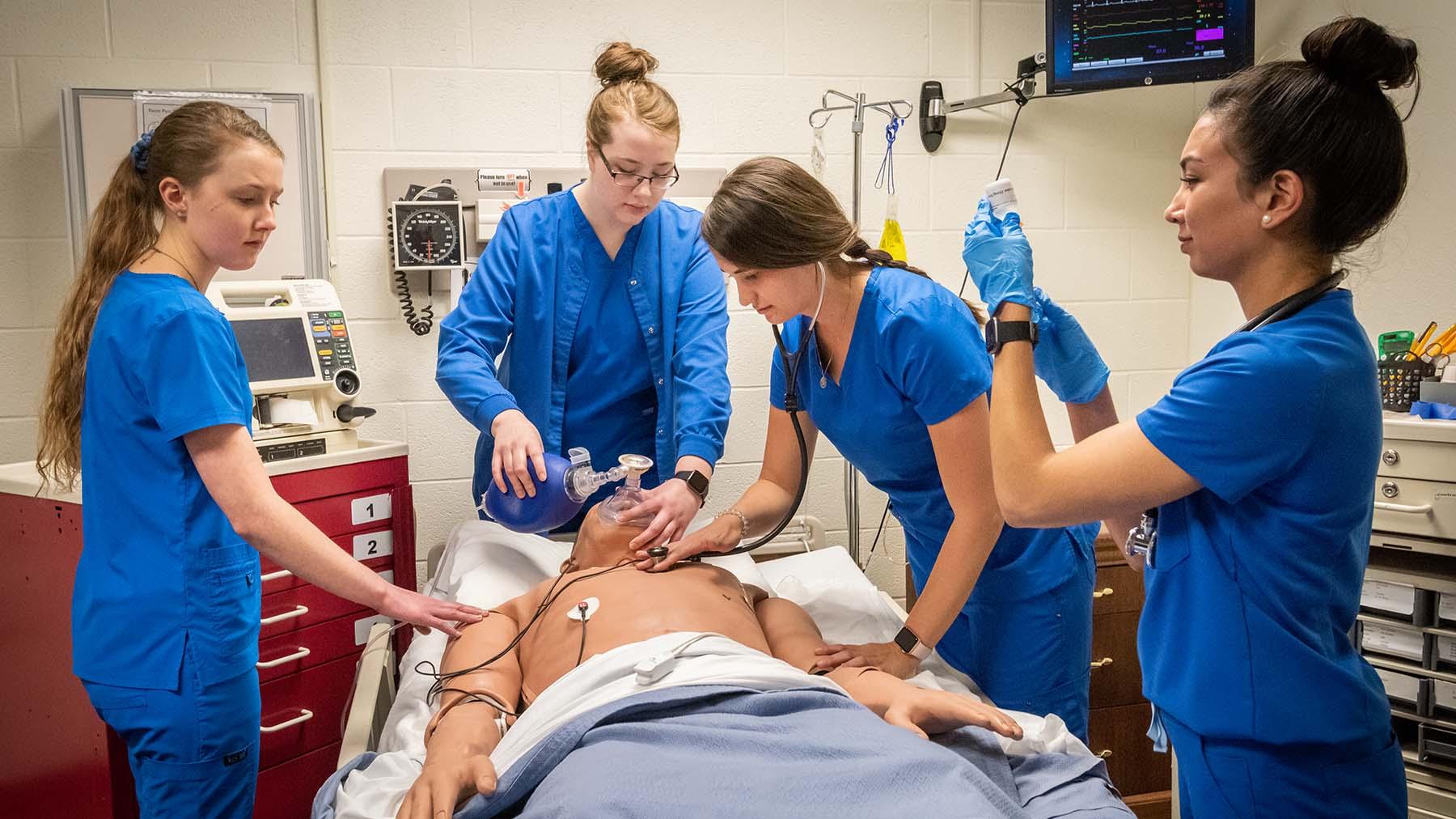 BISMARCK, ND — The University of Mary in Bismarck announced today that it is no longer requiring incoming freshmen students to submit ACT (American College Test) or SAT (Scholastic Aptitude Test) scores for Early Assurance into their nursing program — ranked No. 1 by nursing's national benchmarking service, Mountain Measurement. Students wanting to attend Mary's prestigious program now, or for the 2022-2023 academic year, will need a minimum GPA of 3.50 on a 4.00 scale or an ACT score of 24 to secure a seat in this high demand program.
 "At the University of Mary we accept students to our BSN (Bachelor of Science in Nursing) program two times per year and have multiple timelines for degree completion that students can choose between, including 2.6, 3.5, and 4 year plans of study," stated Associate Dean of Nursing Dr. Billie Madler. "Those with a high school GPA of 3.50 are awarded Early Assurance, which guarantees them a seat in the nursing program as long as they maintain set expectations in their pre-nursing coursework. If a high school student doesn't meet the GPA requirement, but scores a 24 or higher on an ACT or 1200 or greater on an SAT, then they will still meet the Early Assurance requirement with the entrance exam. It's now an either-or option."
This decision to not require ACT or SAT scores for entrance into nursing now makes all University of Mary programs, including those in the Saint Gianna School of Health Sciences, "test optional." This is currently the second academic year Mary has not required an entrance exam for general admissions, and the four-year private university will not require them for the next academic year either.
"Since November is a time when entrance exams start to become available to students, we want to remind juniors and seniors in high school and their parents that the University of Mary remains test optional," said Brenda Nagel, vice president for public affairs at Mary. "Students across the United States and around the world may find it more challenging to take the ACT and SAT during the ongoing pandemic, and thus the University of Mary continues to suspend the requirement of those entrance exams. At the moment, just about every state has different COVID-19 restrictions that make it harder, if not impossible, for some high school juniors and seniors to take the exams. We want to give anyone who aspires to attend the University of Mary every opportunity to do so, without the added burden of requiring an entrance exam."  
Over 60 percent of University of Mary's student population is from out of state. Currently, 43 states, six Canadian provinces, and 19 countries make up the student body.
 "Most incoming freshmen last year did not have the opportunity to take the ACT or other typical standardized test," added Madler. "What did we learn? The ACT score may only serve as a barrier to young people who desire admittance to a university with a goal to advance their education and broaden their opportunities. In nursing at Mary, we are working to break down any barriers that may stand in the way of those interested in becoming a nurse. We're grateful our campus offers a robust university experience, and small class sizes ensure individual attention. Faculty are committed to student success, contributing to our tremendous NCLEX (National Council Licensure Examination) pass rates for nurses. Better yet, nursing students are eligible to earn their senior year free. Now more than ever we need nurses to meet the health care needs of our country and we are eager to help aspiring nurses reach their goals." 
The University of Mary offers nearly 60 bachelor's degrees, many of which are in high demand according to Nagel, especially  the popular Saint Gianna School of Health Sciences programs that provide Early Assurance opportunities. Now, more than ever, many of the career fields that graduates of the University of Mary go into are experiencing labor shortages, like business, health care, teaching, the behavioral sciences, engineering, and more.
While high school students are no longer required to submit ACT or SAT scores to the University of Mary, Nagel still urges high school students to take the exams if they are safely able to. She adds, taking a standardized test still provides the most options, and can impact whether a student is eligible for various scholarships offered by the federal government, individual states, or funding organizations.
The deadline for applying for Early Assurance programs at Mary is July 1. Anyone who wishes to learn more about the University of Mary, can do so at www.umary.edu, by contacting an admissions representative at enroll@umary.edu, or calling (701) 355-8030.
About the University of Mary
True to its motto "lumen vitae" — The Light of Life — the University of Mary offers education for the whole of life through cutting-edge professional programs and graduate programs animated by moral courage and leadership in chosen professions and service to the community. A private, co-educational Catholic institution, the University of Mary welcomes students of all faiths and backgrounds.
 A Christian, Catholic, Benedictine institution founded in 1959 by the Benedictine Sisters of Annunciation Monastery, Mary offers nearly 60 bachelor's, 19 master's, and five doctoral programs—in business, education, nursing practice, occupational therapy, and physical therapy. The 19-sport Athletic Department adheres to its Greatness Through Virtue mission under the governance of the National Collegiate Athletic Association (NCAA) and American Collegiate Hockey Association (ACHA) conferences. With more than 3,800 students, Mary has locations in North Dakota, Montana, Arizona, Rome, Italy, as well as vibrant online offerings.
Explore Topics