University of Mary Launches New Montessori Degree to Keep up with Skyrocketing Demand for Teachers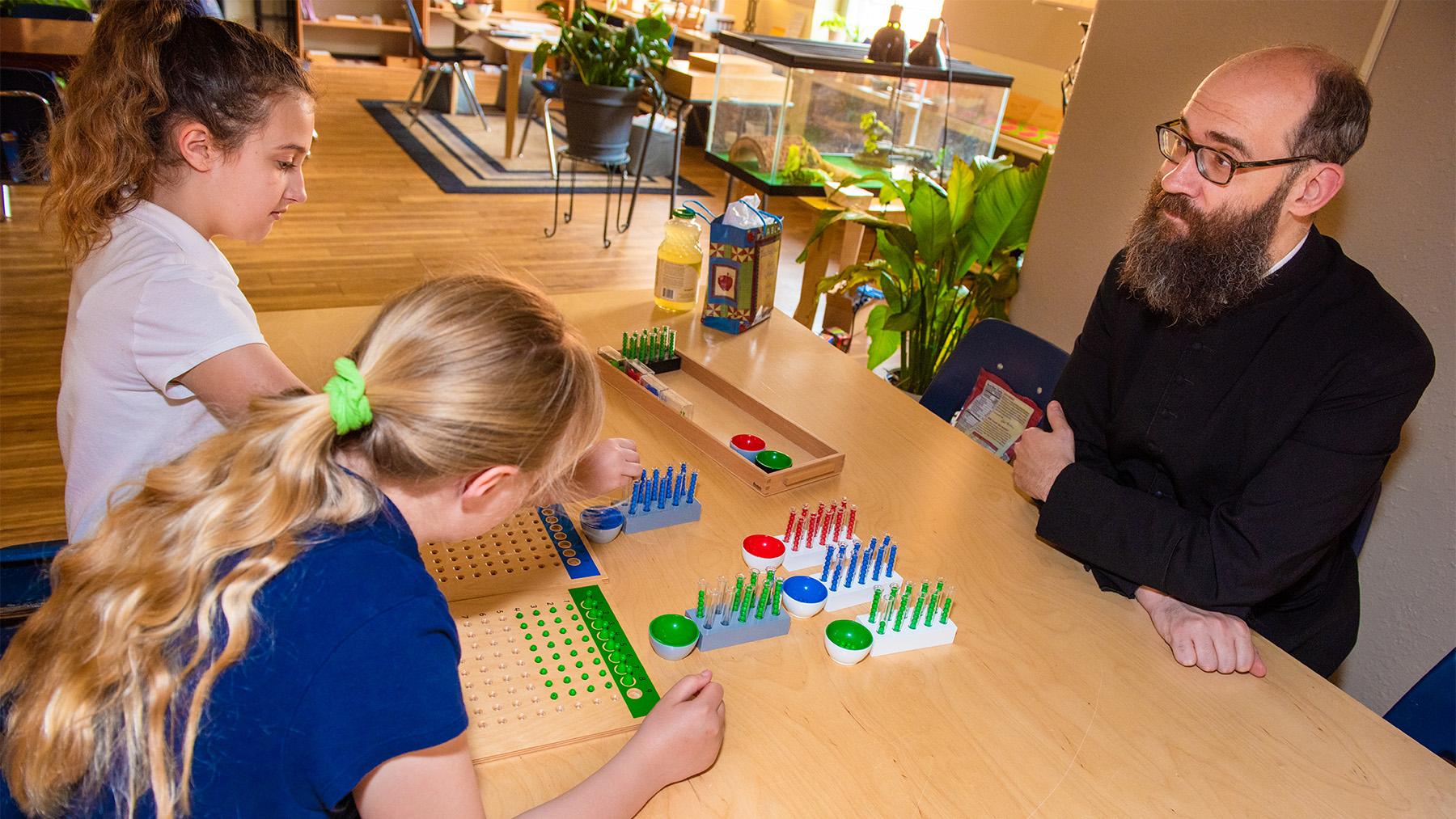 The Catholic Montessori master's degree begins this fall for current teachers and those with a bachelor's degree, while offering scholarships and accepting prior-learning credit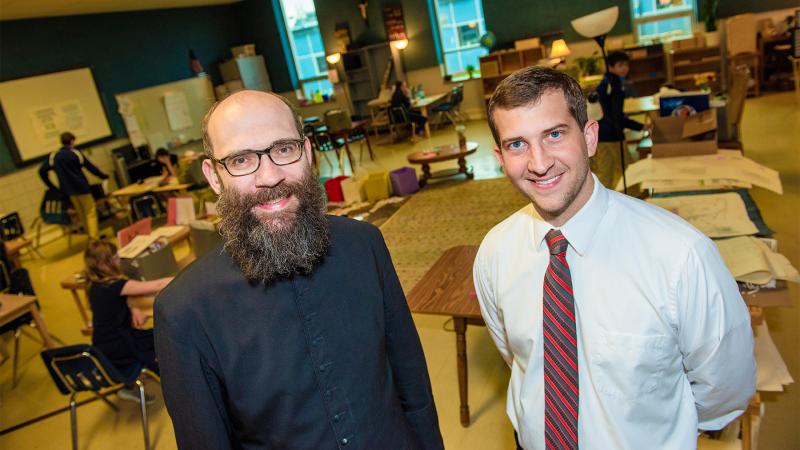 BISMARCK, ND — In 2015, enrollment at Christ the King Catholic grade school in Mandan, ND, dipped below 70 total students — and trending downward annually at an alarming rate that made the everyday running of a private school and paying its teachers unsustainable. A parish that supports a parochial school typically subsidizes the school with a small portion of the weekly Mass collections. The year before Father Nick Schneider became pastor of Christ the King church, the subsidy from the parish to the school was more than 100% of the annual collections. Which meant the parish was borrowing from its savings before it even began paying for church necessities and payroll. 
"We were seriously considering the need to close," recalled Schneider. "I was filled with anxiety at the prospect of closing a school. My spiritual director recommended that I pray a novena of Masses asking for clarity and the Lord's will to be done regarding the school. At the completion of the Novena, a number of providential events suggested that I consider looking at Montessori education as a possible solution to our problem. After observing at Way of the Shepherd School in Minneapolis, I was convicted that we needed to try Montessori education. The dignity with which the children treated each other, the high level of activity, the integration of the Catholic faith into every element of the experience — it was deeply moving."
Moving enough to convince Schneider and Christ the King school to make the transition from conventional teaching to a Montessori model of education. This form of teaching is over a century old and named after Maria Montessori, an Italian Catholic physician who developed the method. It fosters rigorous, self-motivated growth for children and adolescents in all areas of their development — cognitive, emotional, social, physical, and spiritual. Children work independently with their hands and in groups, often with specially designed learning materials; deeply engaged in their work; and respectful of themselves and their surroundings.
Now the "new" Christ the King Catholic Montessori serves 200 children, from infants to 12-years-old, with parents now lining up to get their children enrolled in the school as soon as possible.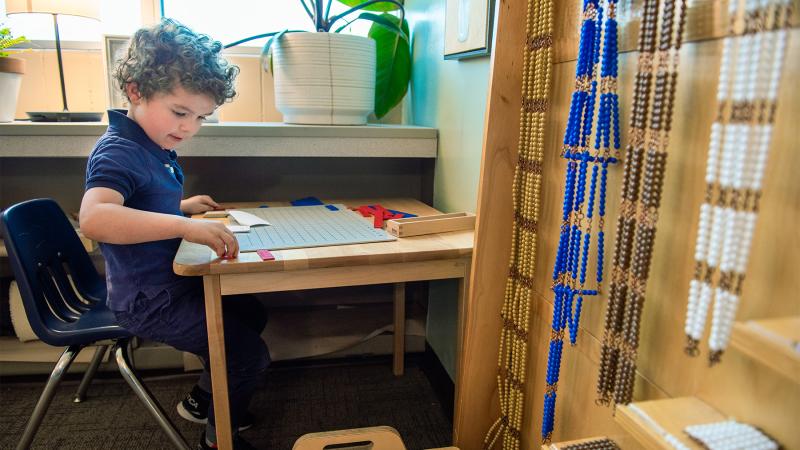 "The school does have a waiting list that can stretch to 100 per year, and extends out several years in the future," exclaimed Schneider. "From being a solution to the problem of a failing school, the Montessori method has become a mission for our school. We see children in our school as independent, creative, confident, and excellent problem-solvers. We certainly are proud of our school, and love to share our success story and the beauty of this method of education."
Schneider says the initial transition to the Montessori method took three years to complete. But he admits, eight years later, they are still in a gradual conversion process as they grow and try to keep up with demand for the Montessori method. Christ the King Catholic Montessori is not alone, according to the American Montessori Society, there are currently an estimated 22,000 Montessori programs in 110 countries, and nearly 4,000 of them are in the US. That means that over 18% of all Montessori programs globally are in the US. Although most of these programs are private, public Montessori programs have doubled over the last 15 years to account for roughly 450 programs.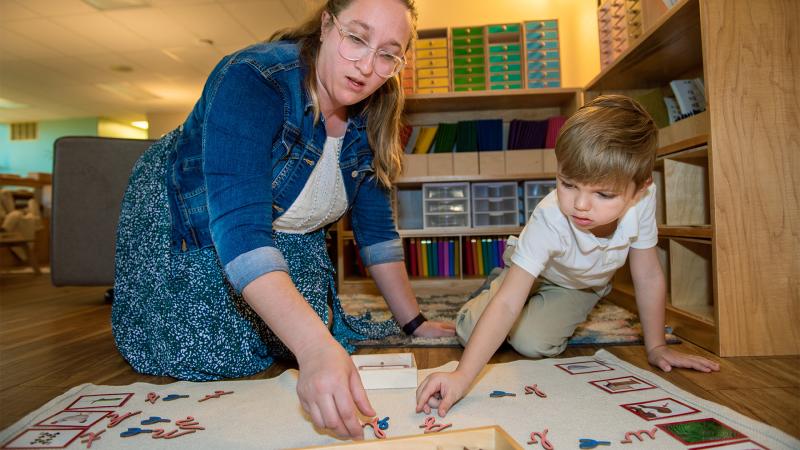 With a waiting list that is now annually one-third more than Christ the King's total enrollment of students back in 2015, and a similar popularity boom happening across the US, comes a critical demand for teachers specialized in the Montessori method. The University of Mary in Bismarck, ND, is answering that need by offering a new online master's degree in Catholic Montessori education starting this fall semester. The program is totally online, with an option to take a one-to-two-week John Henry Newman course in-person, on campus over the summer. Current Catholic school teachers who wish to enroll qualify for University of Mary's Catholic Educator's Scholarship. Also, teachers who have already earned the rigorous national Montessori certification can apply those 16 prior-learning credits to this program, dramatically reducing their cost and time-to-completion in half to three semesters and only 16 credits needed to fulfill the degree. 
"I don't know of anyone else in the US who is offering this degree while also accepting the prior-learning credits from students who've already earned national Montessori certification, like we are," said Professor Brenda Tufte, associate dean of the Liffrig Family School of Education and Behavioral Sciences at the University of Mary. "Those teachers or anyone with an education degree choosing to enroll in the University of Mary Montessori program without the NMC can get that credential from us in partnership with the Association Montessori International (AMI), American Montessori Society (AMS), or Montessori Accreditation Council for Teacher Education (MACTE). I think part of the Montessori teacher shortage is because it's very specialized training that is not generally part of most teacher-prep programs. To become a licensed teacher, they're not likely to have that type of training. I think we are seeing the resurgence of the Montessori teaching environment simply because parents see the benefits of what students at those young ages can learn and it's not just academic, it's very holistic: they're learning relationships, they're learning independence, they're learning to think independently and critically, and allowed to go at a pace that their readiness allows. That multi-age learning environment allows them to work at a pace that matches their developmental readiness and their curiosity — and really, I think, take them farther than they might go if we were to try to fit them into a prescribed level that's expected for that age in a conventional classroom. So, we're extremely excited about this master's degree in Catholic Montessori and I think that educators are eager to develop teaching strategies that center on the formation of the whole child — mind, body, and soul."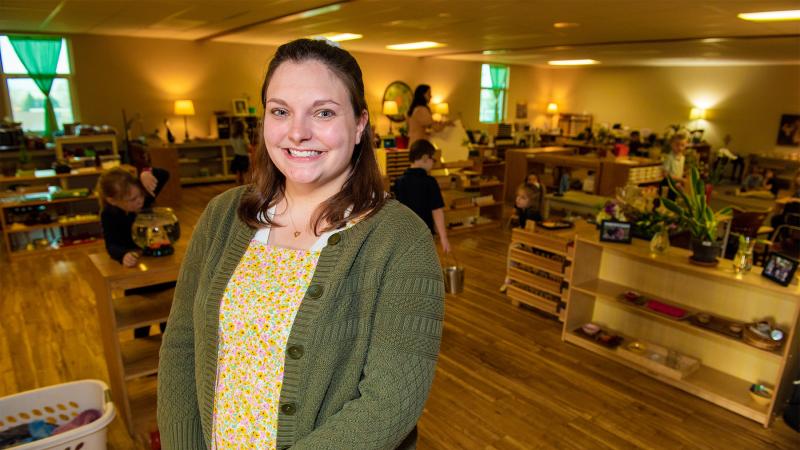 Cassandra Baker is the first student enrolled in University of Mary's upcoming Catholic Montessori graduate degree program. As a Bismarck native, she already has her Bachelor of Arts degree from Mary in both early childhood learning and elementary education, with minors in theology and Catholic studies.
"Montessori teaching interests me on so many levels," explained Baker, who is already nationally certified. "I love the depth that there is to the method. I love that Montessori appreciates the development of each individual child, and that the materials the children work with are hands-on. Through this degree I hope to help educate our community about the beauty of Montessori within Catholic Education. I would also love to help families incorporate the method into their lives at home and to help parents more fully understand their children. A really big dream would eventually be to have a Catholic Montessori training center here in North Dakota — perhaps at the University of Mary. Wouldn't that be amazing?"
She currently oversees 26 children, ages three to six, at Christ the King. If she were in a traditional setting she'd be referred to as a teacher in a classroom, but in the Montessori method Baker is referred to as a guide, facilitating learning in an environment, or children's-house — one of three children's houses in the school.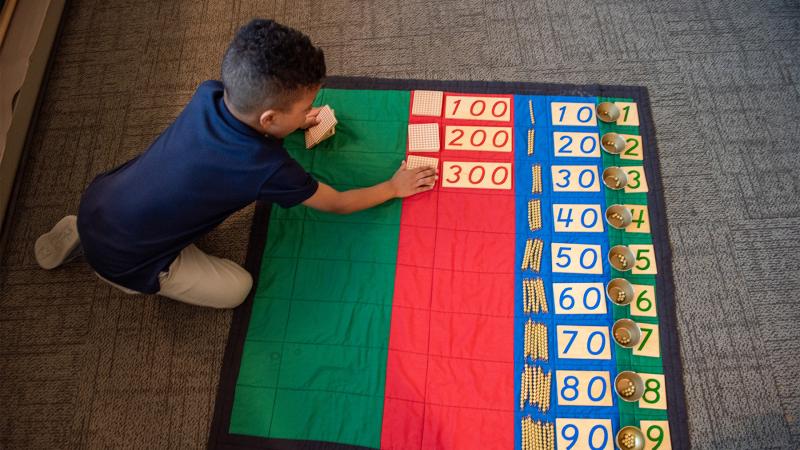 "I believe people just think, they're just 3-years-old, they just have temper tantrums, they can't do much and we have to do everything for them," remarked Baker from inside her children's-house. "But that's not the case. These children can do so much. They clean up after themselves, they make food for themselves and clean the dishes. And that speaks to their developmental need. They desire that. They are also very respectful. We have shelves set up in the room. Part of the Montessori method is having a prepared environment, so all the shelves are set to the child's level. Everything is accessible to them. The goal is independence, coordination, concentration, and order. Everything in the room has a purpose, and every single item on the shelf has a specific purpose as well. Even how we set up the shelf, it's all connected. When I show them a lesson, I show them how to restore it. That's why there isn't stuff everywhere in the room. They learn how to restore it and they can only have one 'work' out at a time, so they restore their work before they get something else out. So, at the beginning of the year, with my brand-new students, it's teaching all those grace and courtesy skills. And then, what's beautiful, I have students who were here since they were three but now, they are five, they know the routine, they help the younger ones. Sometimes my 3-year-olds are leaders to my 5-year-olds. That happens too. But it's really beautiful."
There are garden rows outside Christ the King ready to be planted so the school can grow its own produce. Children or "friends," as they are called by the guides, are very orderly and dress in uniform-like clothing to not get distracted from street clothes. In one children's-house children embroidered. In another, children helped make cookies for their graduation celebration that evening. In a hallway, birds are seen hopping from one branch to the other and chirping inside an aviary cleverly made from a hollowed-out hutch.
To help accommodate the need for space, a cafeteria has been converted into a large elementary classroom. Food is now carted into each room at lunch time where children have prepared mats, plates, and glass cups at the tables so they can eat family style.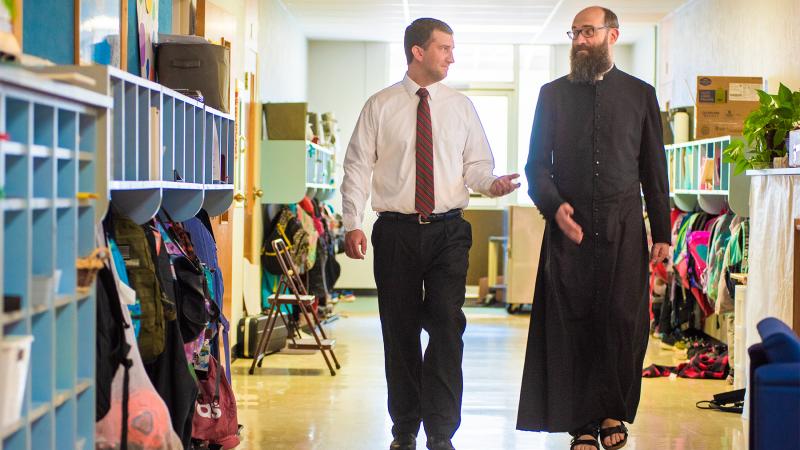 "We don't use the cafeteria for eating anymore," said Christ the King Principal Derrick Nagel, as he provided a tour. "It's not the typical lunchroom where it is loud and chaotic. Sometimes a teacher may read aloud to them while they are eating. Maybe encourage certain conversations. Part of the curriculum is just practical life, everyday things. So, the teacher may suggest certain topics to talk about while they're eating at a table. Those kinds of skills. Lunch is much calmer and more peaceful."
Rounding out the three levels of instruction beyond the children's-houses at Christ the King are three lower elementary rooms for 1st through 3rd grade. Then there are two upper elementary rooms which are 4th through 6th grade, where Fr. Schneider is a lead teacher. Schnneider is grateful for receiving assistance and guidance from the new religious order — the Servants of the Children of Light — a religious community in Mandan dedicated to Montessori education. He sees the need for many more educators like the ones already at Christ the King, not just for his school, but to keep up with the demand for Montessori Catholic educators throughout the country. That's why he believes the University of Mary can be a leader in Catholic Montessori education with its unique new master's program.
"There are three main needs that the new Montessori master's program meets," added Schneider. "First, it meets a need for educators for continuing education and professional development. This will be a unique offering both in the structure and the value of the program, as well as the Catholic identity it provides. Second, it can begin to create a 'home' for Catholic Montessorians nationwide — a meeting ground, and forum to continue to develop this work. Finally, it can introduce the Montessori community to the vibrant work of the University of Mary." 
Anyone who wishes to learn more about Mary can do so at www.umary.edu or  online.umary.edu, or by contacting an admissions representative at enroll@umary.edu, or by calling (701) 355-8030. The University of Mary is one of only 15 Recommended Cardinal Newman Society Residential Colleges and Universities in the US. 
About the University of Mary: True to its motto "lumen vitae"—The Light of Life—the University of Mary offers education for the whole of life through cutting-edge professional programs and graduate programs animated by moral courage and leadership in chosen professions and service to the community. A private, co-educational Catholic institution, the University of Mary welcomes students of all faiths and backgrounds.
A Christian, Catholic, Benedictine institution founded in 1959 by the Benedictine Sisters of Annunciation Monastery, Mary offers nearly 60 bachelor's, 15 master's, and five doctoral programs—in Business Administration, Education, Nursing Practice, Occupational Therapy and Physical Therapy. The 19-sport Athletic Department adheres to its Greatness Through Virtue mission under the governance of the National Collegiate Athletic Association (NCAA) and American Collegiate Hockey Association (ACHA) conferences. With more than 3,800 students, Mary has locations in North Dakota, Montana, Arizona, Rome, Italy, as well as vibrant online offerings. 
Explore Topics