University of Mary Hosts National Catholic Bioethics Center's Annual Seminar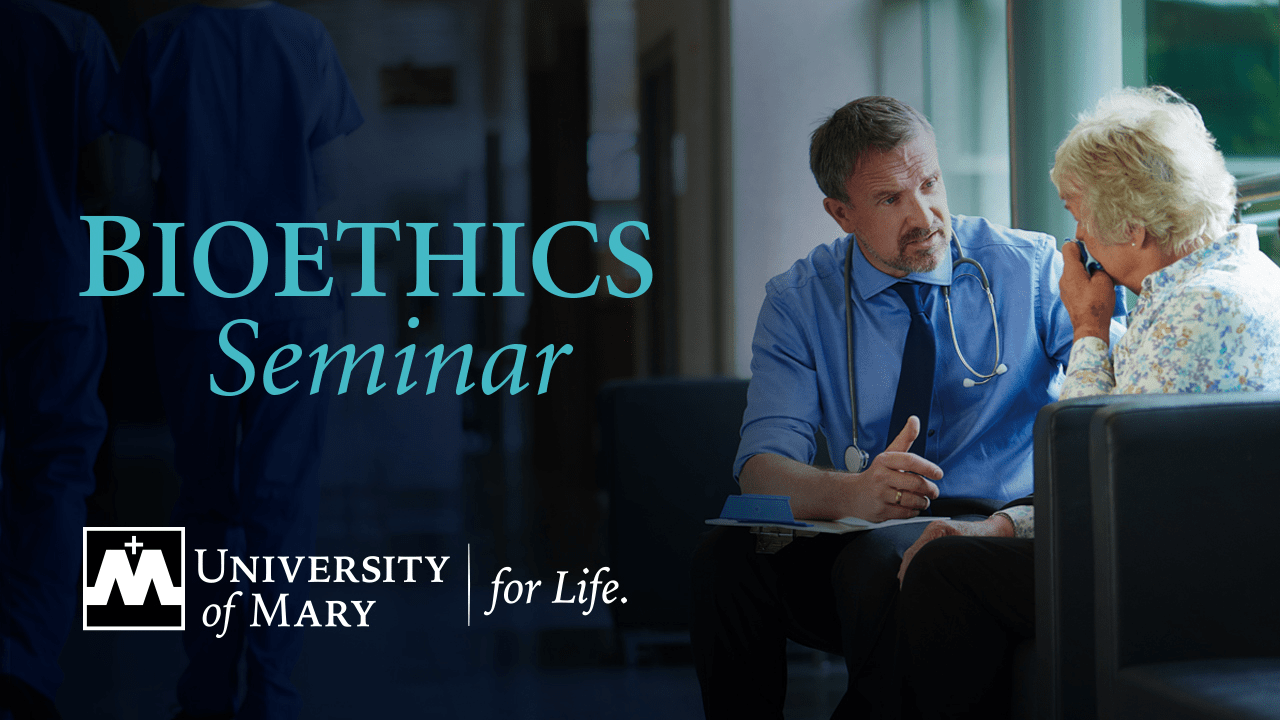 Public is invited to register for the two-day, August 12 and 13 event by visiting www.umary.edu/NCBC
BISMARCK, ND — The National Catholic Bioethics Center (NCBC), the leader in providing education, guidance, and resources to the Church and society to uphold the dignity of the human person in health care and biomedical research, is holding its annual seminar at the University of Mary campus in Bismarck, ND.
The two-day national event titled, "A Tradition of Compassion and Care for the Human Person," in the Simmons Center at the Casey Center for Nursing on campus, is open to the public and features Father Tad Pacholczyk, a world-renowned ethicist and director of education for NCBC. He oversees the National Catholic Certification Program in Health Care Ethics that serves as the entry point into the University of Mary bioethics graduate program. Pacholczyk is joined by four other bioethics experts, including, Dr. Joseph Meaney, NCBC president, Dr. DiAnn Ecret, adjunct lecturer and nurse planner for NCBC, Dr. John Brehany, executive vice president and leader of NCBC's Catholic Identity and Ethics Review (CIER) program, and Dr. John Camillo, an NCBC ethicist and personal consultations director providing moral analyses of Catholic health care affiliations and of Catholic health insurance plans and claims.
Some topics included in the seminar are: Ethical Approaches to Complications Before and After Birth; From Stem Cells to Genetically Modified Humans; Physician Assisted Suicide and Euthanasia; Small Group Case Studies; and much more.
The public is invited to register for the two-day, August 12 and 13 event by visiting www.umary.edu/NCBC. The seminar is intended to benefit health care workers, clergy, those involved in research in the life sciences, members of ethics committees, and others who provide spiritual support and counsel to patients and their families. Those interested in understanding and advancing the Church's moral tradition in health care will also find them accessible, educational, and informative.
People wanting to learn more about the University of Mary bioethics program should contact the Director of Bioethics, Megan Schneider, at mlschneider@umary.edu or (701) 355-8340. The University of Mary is one of only 15 Recommended Cardinal Newman Society Residential Colleges and Universities in the US.
About the University of Mary: True to its motto "lumen vitae" — The Light of Life — the University of Mary offers education for the whole of life through cutting-edge professional programs and graduate programs animated by moral courage and leadership in chosen professions and service to the community. A private, co-educational Catholic institution, the University of Mary welcomes students of all faiths and backgrounds.
A Christian, Catholic, Benedictine institution founded in 1959 by the Benedictine Sisters of Annunciation Monastery, Mary offers nearly 60 bachelor's, 15 master's, and five doctoral programs — in business administration, education, nursing practice, occupational therapy, and physical therapy. The 19-sport Athletic Department adheres to its Greatness Through Virtue mission under the governance of the National Collegiate Athletic Association (NCAA) and American Collegiate Hockey Association (ACHA) conferences. With more than 3,800 students, Mary has locations in North Dakota, Montana, Arizona, and Rome, Italy, as well as vibrant online offerings.
Explore Topics