University of Mary Honors Distinguished Alumni at 2022 Homecoming Festivities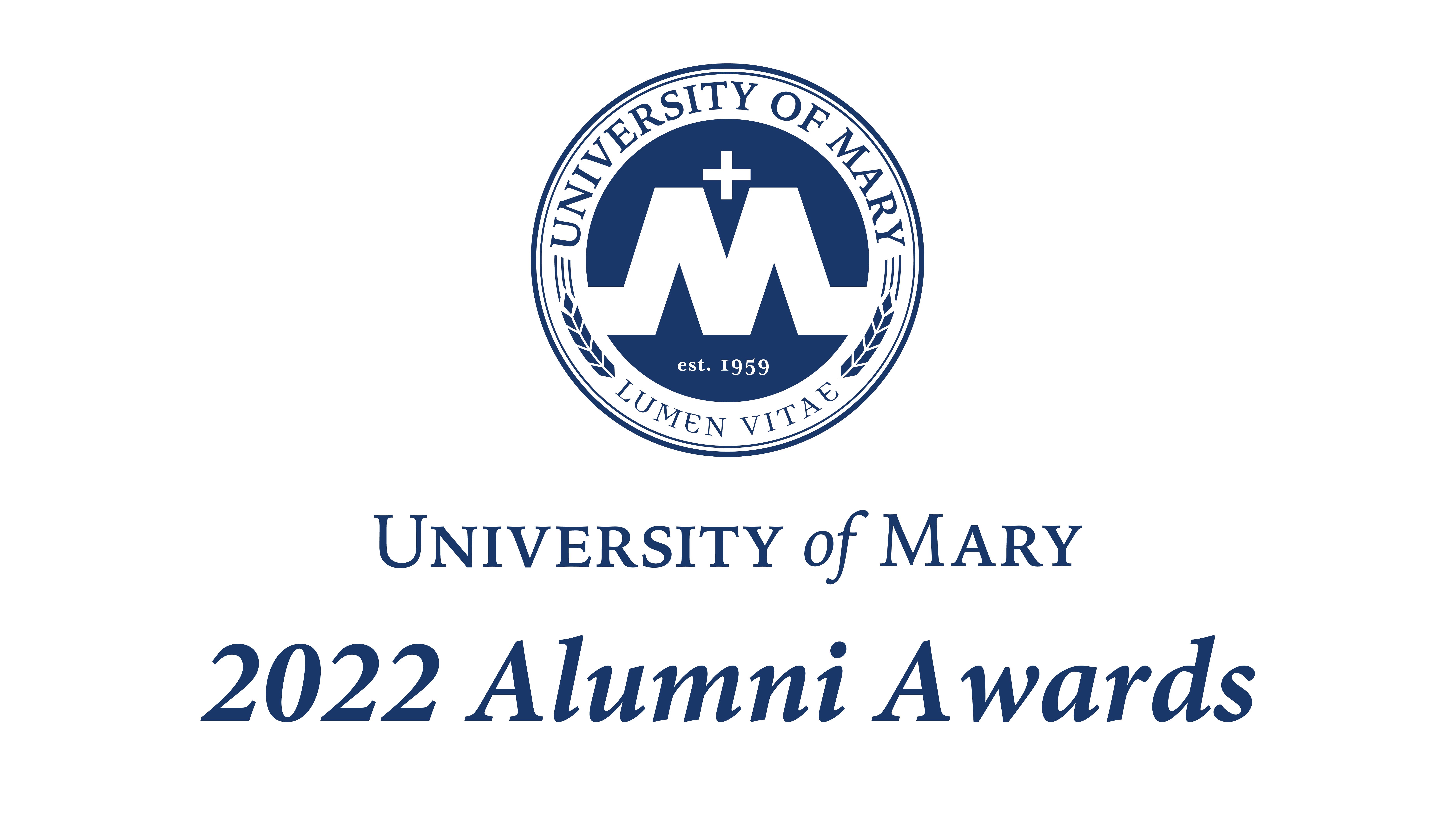 BISMARCK, ND — The 2022 class of Alumni Recognition Award recipients has been announced at the University of Mary. These alumni are coming home to Mary's annual Alumni Recognition and Hall of Fame Induction Celebration Friday, October 21, at 5:30 p.m., in the Lumen Vitae University Center's (LVUC) Founders Hall.
"We graciously welcome home alumni who honor us all with their "lumen vitae" — The Light of Life, by their selfless everyday actions and honorable deeds," said University of Mary President Monsignor James Shea. "You give us hope and joy as the University of Mary intends to do nothing less than to help transform the world by the transformation of lives, as our students continue to demonstrate that they too, were made for more. Mother Teresa once said, 'Not all of us can do great things. But we can do small things with great love.' Each alum represents that calling, that mission of the University of Mary and our pioneering founders, the Benedictine Sisters of Annunciation Monastery."
Award winners include an "older-than-average" Mary graduate who spent the last years of his nursing career helping establish the first fixed-wing air ambulance in northern Tanzania, a therapist who cares for the everyday health and well-being of professional athletes in Major League Baseball (MLB), a former English teacher whose passion and responsibility is to see that school administrators "do what's best for kids" in their educational journey, and a self-acknowledged "teacher" who's climbing the coaching ladder of the National Football League (NFL).
The University of Mary Presidential Leadership Award
This award is conferred on individual alumni for distinguished achievements as servant leaders regionally, nationally, or internationally.
"Because of the University of Mary, Arusha Lutheran Medical Centre School of Nursing came into existence, and there are now over 100 new nurses in Tanzania" — Robert (Kent) Thompson
Robert "Kent" Thompson ('14) is a 75-year-old adrenalin seeker. What really gets his blood pumping is helping others. His service to others began as an Emergency Medical Technician (EMT) and paramedic for 30 years. Somewhere in there, he also found time to be a bank executive, or his "day job," as he calls it. During that time, over a six-year period, he began making trips to the African country of Tanzania with an orthopedic surgeon assisting in hundreds of surgical procedures that were life-changing for him and the patients. They worked with children inflicted with skeletal fluorosis, which causes severe deformities of the lower limbs. Months after the surgeries, those children were able to walk and run, which, prior to surgery, they were unable to do. They performed the first joint replacement surgeries in Tanzania.
Perhaps that wasn't enough of a rush for him. After completing a degree in psychology, he applied to a physician assistant program, and to his surprise — rejected both times. After consulting with his medical mentor, he pursued and earned a nursing degree in 2006. The more work he did in Tanzanian hospitals, the more God began calling him to teach nursing so many more people in that country could benefit from the fruits of his labor. An online search brought him to information about the University of Mary, and later a visit to Bismarck's campus.
While most students are going to college so they can start their careers, Thompson earned his master's degree in Nurse Education from the University of Mary in 2014 at the age of 68, so he could put a capstone to his career. He happily took classes online (2009-2014) from halfway around the world in Africa so he could instantly put what he learned in the classroom into practice in Arusha, Tanzania, by helping create the Arusha Lutheran Medical Centre School of Nursing (ALMCSN). Thompson and his wife, Sally, attended the grand opening of the facility after he became instrumental in hiring the headmistress, completed a needs assessment and governmental forms, and assisted in formulating the curriculum for the new school.
"Because of the University of Mary, Arusha Lutheran Medical Centre School of Nursing came into existence, and there are now over 100 new nurses in Tanzania," commented Thompson. "That might not seem like much here, but in a country in which there are only 35,000 nurses in a country of 65 million people, 100 nurses is huge. I didn't know it at the time, but all the Benedictine values played a part in my decision to attend the University of Mary. The instant I arrived on Mary's campus and was greeted so warmly; I knew I was academically 'home.'"
Away from home, in 2015, Thompson then helped a friend in Tanzania equip a Piper Navajo twin-engine aircraft with the necessary equipment and supplies to begin Arusha Medivac — the first fixed-wing air ambulance in northeastern Tanzania.
What gets his adrenalin pumping now that he's "retired?" To fulfill his passion for old cars, he enjoys spending hours rebuilding engines, bodywork and painting, and volunteers with Habitat for Humanity and the Veterans Administration (VA).   
The University of Mary Bell Banner Award
In recognition of the ideals of the University's sponsors, the Benedictine Sisters of Annunciation Monastery, the Bell Banner Award honors alumni for modeling the values of respect, hospitality, moderation, service, community, and prayer.
Every day, I am able to witness the work and determination our guys put in and the mental toughness it takes to perform at such a high level" — Brett Walker
Brett Walker ('03, '04, '13) never played professional baseball. But if you would ask players who do, they'd most likely say he's had a significant influence on them getting back on the field healthy and being part of their success hitting home runs, stealing bases, getting on base, turning double plays, throwing 100-mile-an-hour fastballs, and even having something to do with pitching a rare no-hitter.  
Walker spends most of his days and nights with professional athletes as the director of rehabilitation with the Chicago White Sox of Major League Baseball (MLB). The Chicago White Sox players and those in their minor leagues across the United States are Walker's patients, always on call for them 24-7. Walker prepares players for the day's game, monitors injured athletes throughout the organization, plans their daily routines and long-term programs, communicates with coaches, front office staff, and minor league medical staff about players' rehab plans and their gameday readiness and when they will get back on the field to compete.
Walker's season begins with the start of spring training in February in Arizona, where he and his wife Nichole (Seaver), also a graduate of Mary ('05) and Marauders Hall of Fame inductee, and their two children live. Once the regular season begins, it's off to Chicago where he lives for six months or longer with no weekends off. His children have t-shirts as a reminder that read: "162 games in 185 days."
An "average" workday for a home game begins around 11 a.m. and ends around midnight — which means he devotes the mornings to his family. When he is on the road with the team, he allocates the morning to himself by working out in the weight room, meditating, or catching up on reading: he's set a personal goal of reading 30 books a year and is on his second read of the Bible.
Like the natural career progression of a professional baseball player, Walker too, has made his way up the ranks to the big leagues through hard work, experience, determination, leadership, and a values-based education from the University of Mary where he obtained not one, not two, but three degrees. After earning his first bachelor's degree in 2003, he subsequently obtained a master's degree in physical therapy in 2004, and a bachelor's degree in athletic training in 2013, all from the University of Mary. Brett, the only boy in the Richard and Patty Walker household in Culbertson, MT, always admired his three sisters. His oldest sibling, Karmen, who earned her master's degree in physical therapy (PT) in 1999 from the University of Mary, steered him to the Bismarck campus.
In 2013, before graduating from Mary for the third time, he completed an internship with the Minnesota Twins. Walker previously held PT positions with medical facilities in Washington, Idaho, and Montana before volunteering as a PT and athletic trainer with the White Sox rookie league team in Great Falls, MT. That experience later landed Walker as the first PT on staff hired by the White Sox — now there are four within the organization. In 2018, the White Sox were awarded MLB's Athletic Training Staff of the Year.
"Every day, I am able to witness the work and determination our guys put in and the mental toughness it takes to perform at such a high level," added Walker. "They have put in years of time and effort to become the best in the world and continue to push the envelope. As a performance staff, we get to be a small part of this by helping both healthy and injured athletes optimize their strength, speed, and power. Transitioning into the workforce was easier as I had a strong foundation rooted in the Bible. Professionally, the Benedictine values help me gain a better perspective of other peoples' values and the importance of respecting everyone's differences. Former President Sister Thomas Welder and the Sisters of Annunciation Monastery always showed humility in serving the students and those around them. Their example inspired me to lead and serve from a position outside the spotlight."
The University of Mary Harold Schafer Alumni Leadership Award
This award recognizes graduates who have attained distinction as leaders in their professions while exemplifying the values cherished by the University of Mary.
I have a mission to help as many people as possible achieve abundance and prosperity in life" — Aimee Copas
Aimee Copas ('99) is the executive director of the North Dakota Council of Educational Leaders (NDCEL), the professional organization for school administrators in the state. Copas and the many superintendents, principals, and special education, athletic, and career and technical education directors she represents are guided by the organization's unofficial but simple motto of, "do what is best for kids." That guiding compass is led by Copas, whose passion is providing educational leaders with what they need to give students the best educational journey.
"I have a mission to help as many people as possible achieve abundance and prosperity in life," states Copas' LinkedIn page. "My experiences have afforded me the opportunity to learn and translate the motivational gap to teams and how to take that skill, apply it, and literally change people's lives. I love education and work hard to keep my focus on the importance of what it takes to drive overall student success. Success is more than just what is on a report card. It is developing engaged and empowered young citizens to take our country into the next era. My experience has led me down the walk of education, management, administration, drama, performance, singing, presenting in front of large groups, sales, product development and promotion, and coaching. The culmination of experiences is leading to new and exciting areas in which I can impact the lives of others."
After receiving her undergraduate English education degree from the University of Mary in 1999, Copas began teaching high school and middle school English and, within a six-year span, added head girls' basketball coach and principal to her duties. Copas dabbled in sales as a senior sales professional for four years before earning master's and doctorate degrees, then she began reentering the education field in more leadership roles, such as dean of faculty, and associate vice chancellor for academic affairs at the North Dakota University System (NDUS). By the summer of 2013, Copas assumed her current position at NDCEL while also teaching graduate education courses as an adjunct professor at both the University of Mary and NDSU. In 2008, Copas founded the THRIVE charitable softball team — a Run Home for Hunger Program that delivers meals to children in need with every run scored. That endeavor also facilitated her own business called Thrive Educational Consulting — providing professional development in schools, educational agencies from pre-K to graduate studies, and businesses.
Her peers characterize Copas as a visionary who upholds the highest professional and ethical standards for herself and her field:
"Dr. Copas is a devout Christian and virtuous leader who models a strong work ethic, humility, competence, empathy, and integrity."
Copas, her husband Shannon, and their two daughters live in Bismarck.
"Being able to show gratitude and appreciation to those that have helped me along the way (players and coaches) has been important to my coaching philosophy" — Marquice Williams
Marquice Williams ('08) is in his second year as special teams coordinator for the Atlanta Falcons of the National Football League (NFL) — one of only 32 positions in the entire world. He defines his role as someone who develops, leads, and teaches professional athletes techniques and plays in the kicking portion of the game.
The University of Mary recruited Williams from his hometown of Fresno, CA, where he had played for two years with Fresno City College. He closed out his successful collegiate football career as a defensive back for the Marauders on a two-year football scholarship while his brother, Michael, also played wide receiver for Mary. Williams' rise up the coaching ranks began shortly after graduating from Mary in 2008; first as a graduate assistant at Winona State University and later University of Central Oklahoma, before landing a full-time coaching position with the University of South Dakota. During his last three of four years at USD, Williams participated in the NFL's Bill Walsh Minority Coaching Fellowship program designed to create a diverse pipeline for college and NFL coaches, while gaining experience. Williams did two internships with the Chicago Bears (summer of 2013, spring of 2014) and one with the Detroit Lions (summer of 2015).
Those opportunities led Williams to his first NFL job in 2016 as assistant special teams and defensive coach with the San Diego Chargers. The Detroit Lions hired him as their assistant special teams coach, and later became their interim special teams coordinator. In 2021, Williams began his current position with the Falcons and is also in charge of the team's fellowship program.
"I believe the Benedictine values helped me in many ways," added Williams. "Having a healthy community to grow as a student-athlete, really allowed me to grow as a servant-leader in the profession that I am in. It has been a hard journey, but I firmly believe that God will never put us in a position that we can't handle. Being able to show gratitude and appreciation to those that have helped me along the way (players and coaches) has been important to my coaching philosophy. I understand that I would not be here if it wasn't for God and He gave me a great platform to serve in His name. I am just very grateful, thankful, and appreciative of receiving this award from my alma mater. The University of Mary means so much to me and was such a pivotal time in my life. I was able to meet my wife (Elizabeth), play football with my brother (Michael), and obtain a college degree. I wouldn't be where I am now if it wasn't for the University of Mary."
Williams' wife, Elizabeth (Keller), also a 2008 graduate, played four years of soccer for the Marauders and helped lead the team to two Northern Sun Intercollegiate Conference (NSIC) Championships and in 2007, became the first UMary team to earn an NCAA tournament berth. Marquice and Elizabeth Williams have four children.
Explore Topics