University of Mary Campaign Will Reshape Campus and Enrich our Students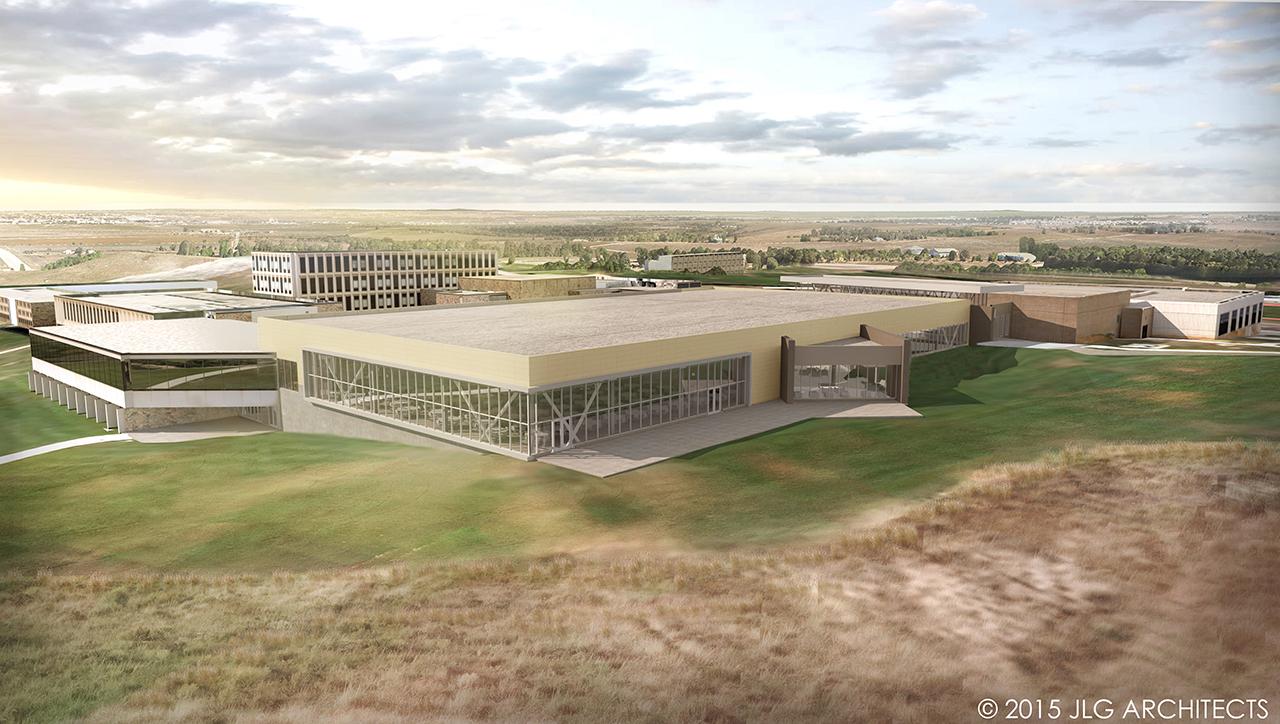 Vision 2030 Capital Campaign to raise $272 million for New Programs and Facilities
BISMARCK, ND — As students began their walk to early morning class and the sun's rays filtered through the fog casting an orange hue over campus from the eastern horizon on Tuesday, Oct. 6, 2015, a thunderous pounding by a backhoe could be heard, putting an exclamation mark on the start of what will be a $272 million capital campaign at the University of Mary.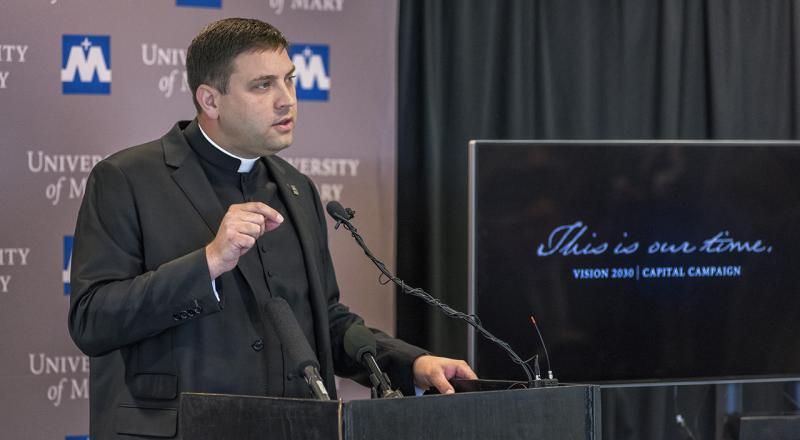 Mary President Monsignor James Shea publicly announced the new and historic strategic plan at a press conference today, Monday, October 19, 2015. He stated the new Vision 2030 Campaign, the largest in the school's history, spans the next 15 years over three phases and will not only markedly transform the look of campus, but just as importantly bring "distinction, service and relationships to our students and graduates, so they can live fully and live well with the insights necessary to be leaders in their workplace and community."
Shea added that as Bismarck-Mandan and the surrounding areas in North Dakota continue to grow, so does the University of Mary as it welcomes more and more students from the region and around the world.
"After two years of consulting and engaging our founding Sisters, alumni, faculty, administration, community members, students, parents, donors and trustees, we feel this is a collective vision for our future that is robust. Our plan and the energies we invest in this effort will uniquely shape graduates to be exceptionally prepared for life, work and leadership; advance the highest quality educational curricula and degree programs; and more deeply activate our guiding Christian values to benefit the citizens of North Dakota, the region and beyond.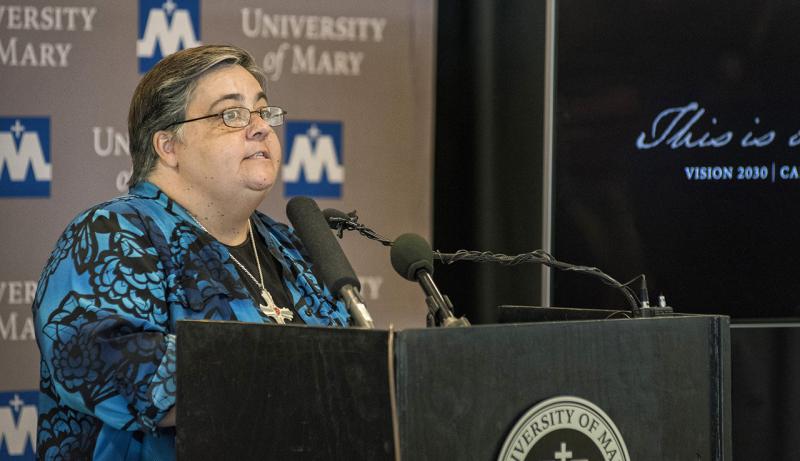 "Just as our pioneering founders, the Benedictine Sisters of Annunciation Monastery, believed nearly 60 years ago when they answered the call to found a college on these prairies, we too are confident this plan will not only carry on their legacy, but build upon our historic and existing strengths and ensure that a University of Mary education is an education for the whole of life. We are ready for this challenge. This is our time."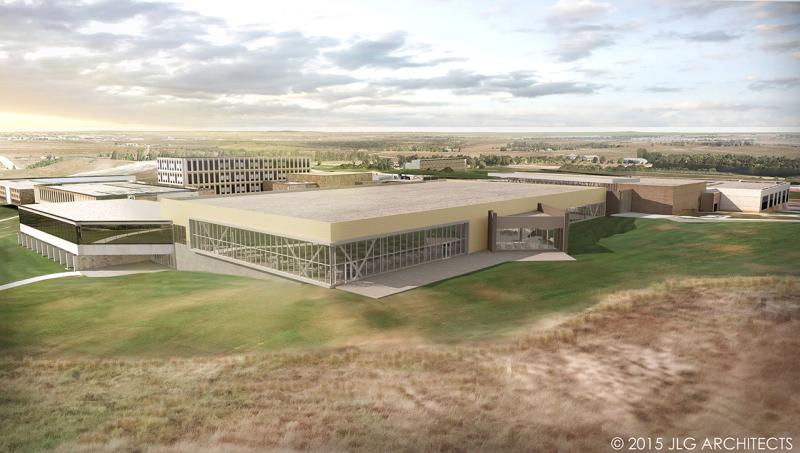 This exciting new initiative includes, in part: new on-campus housing, new athletic facilities, a new campus center, updates to infrastructure and IT, updated lab schools, renovation of current athletic facilities, remodeling the Benedictine Center, a School of Engineering, renovation of the Harold Miller Center, expansion of the Arizona campus, building of a Graduate School of Health Sciences, renovating the Clairmont Center, building a fine arts auditorium, developing graduate housing, additional faculty and the possible pursuit of a medical school.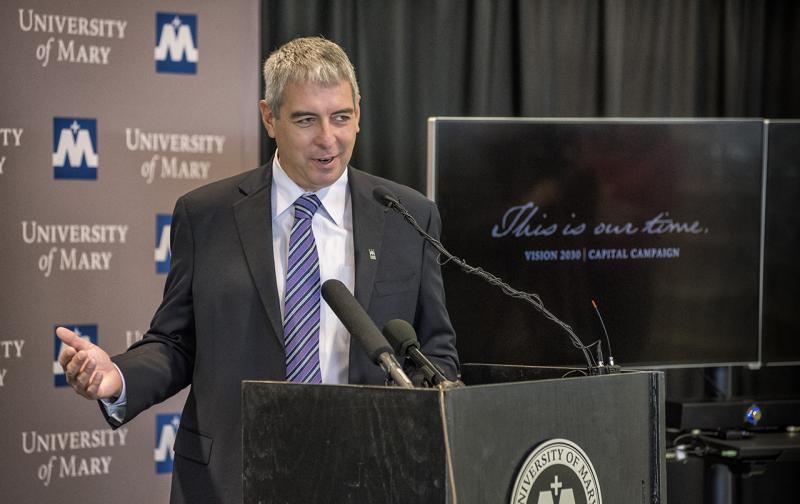 In the silent phase of the campaign, alumni and friends of the University of Mary have already made a significant financial contribution of nearly $38 million. The generosity has drawn praise and appreciation from the two Vision 2030 Campaign co-chairs, Congressman Kevin Cramer and Heather Butler, and triggered the launch of Phase One worth $96 million.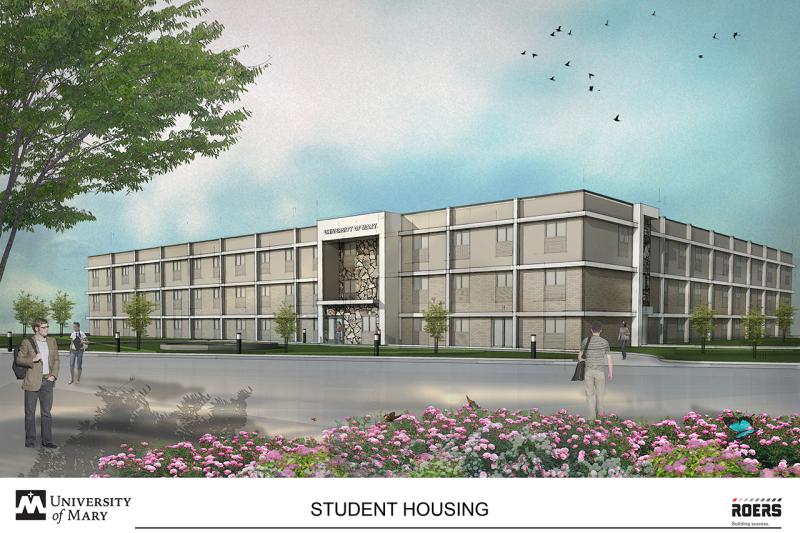 This first phase includes a new 276-bed residence hall currently being built just east of Welder Library nestled between Hillside Hall and Greg Butler Hall. Located next to Hegeholz Field to the west, earth is already being moved for a new two-level fieldhouse equipped with four basketball courts, a 200-meter track, tennis and racquetball courts, group fitness room, coaches' offices, locker rooms, wellness center, student lounge and more. Finally, in May 2016, construction will begin on a new two-story campus center that repurposes the current Field House and connects it to a renovated McDowell Activity Center (MAC). This 80,000-square- foot structure features a new Founders Hall with one of the grandest views in all of North Dakota overlooking the Missouri River Valley and accommodating over 600 dinner guests for corporate and private meetings, conferences and banquets. Students cross "Main Street" from Founders Hall into one of the country's only 24/7 dining centers. Other amenities include a book and retail store, individual conference rooms, student lounges, coffee shop, bank, clinic, Hall of Fame concourse and much more.
Cramer added that this initiative is all about the students, some of whom he's had the opportunity to work with as a public servant in Bismarck and on Capitol Hill.
"They come to the University of Mary from all over the world, whether they are 19 or 50 years old, drawn by a reputation for academic excellence, strong Christian, Catholic and Benedictine values and a foundational emphasis on service. It's our mission, it's our responsibility, it's our passion to give back to our future leaders a rich experience of community that forms their heart, inspires joy and is world-class."
The Butler family is a long time supporter of the University of Mary and believes strongly in its mission that is rooted in servant leadership. Heather Butler points to the far-reaching impact Mary is having in North Dakota and beyond its borders.
"I see the impression the University of Mary is having with our young people in the Catholic high schools; the life-changing influence the Rome and Peru campuses are having on students and what the students are doing to make the world a better place; and how this Christian stewardship is a foundation for the most well-rounded and most sought-after graduate who shines with radiance. The University of Mary is a great gift that offers something different, something greater. I, along with the Butler family, am honored to be part of its vision."
Marcel Breuer, the famed architect who in the 1950s, with guidance from the Sisters, designed the original campus buildings, chapels, Bell Tower landmark and whose work has been inspiration for building ever since, often referred to this place as the "Jewel on the Prairie." As leaders of this campaign, Cramer and Butler believe this endeavor will bring a new and greater Lumen Vitae, or "The Light of Life," to its students and the campus for generations to come.
Explore Topics