University of Mary in Bismarck Announces Dean's List for Spring Semester 2021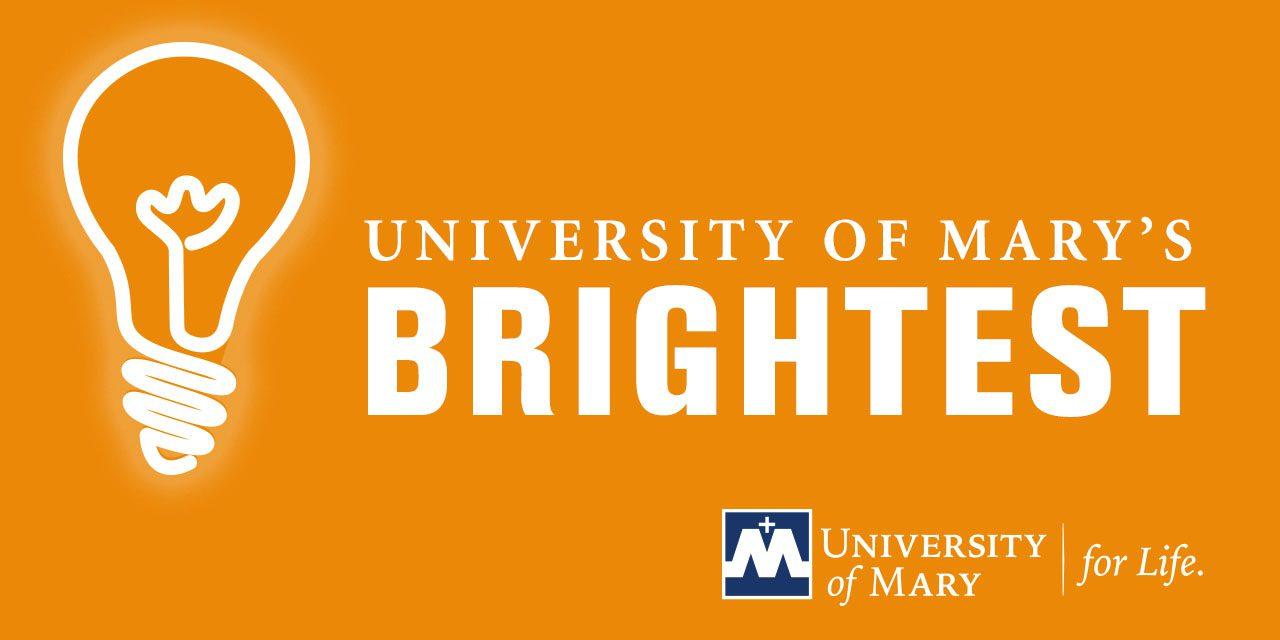 BISMARCK, ND — Area residents are among a record 872 students named to the 2021 Spring Semester Dean's List at the University of Mary, in Bismarck. This number includes students in Mary's undergraduate program and in adult education (University of Mary Online).
To qualify for the honor, traditional undergraduate students must earn a 3.50 or better grade point average while carrying at least 12 credit hours.
Students enrolled in the UMary Online program must earn a 3.50 or better grade point average while at a full-time adult learner status.
About the University of Mary 
True to its motto "lumen vitae"—The Light of Life—the University of Mary offers education for the whole of life through cutting-edge professional programs and graduate programs animated by moral courage and leadership in chosen professions and service to the community. A private, co-educational Catholic institution, the University of Mary welcomes students of all faiths and backgrounds.
A Christian, Catholic, Benedictine institution founded in 1959 by the Benedictine Sisters of Annunciation Monastery, Mary offers nearly 60 bachelor's, 15 master's, and five doctoral programs — in Business Administration, Education, Nursing Practice, Occupational Therapy and Physical Therapy. The 19-sport Athletic Department adheres to its Greatness Through Virtue mission under the governance of the National Collegiate Athletic Association (NCAA) and American Collegiate Hockey Association (ACHA) conferences. With more than 3,800 students, Mary has locations in North Dakota, Montana, Kansas, Arizona, Rome, Italy, as well as vibrant online offerings.
International
| First Name | Last Name | City | State | Country |
| --- | --- | --- | --- | --- |
| Devyn | Ritz | Edmonton | AB | CA |
| Brooke | de Jonge | Abbotsford | BC | CA |
| Eryn | de Jonge | Abbotsford | BC | CA |
| Nathan | Kolb | Surrey | BC | CA |
| Julia | Vanwynsberghe | Crystal City | MB | CA |
| Shaun | Hickey | Summerville | NB | CA |
| Mackenzie | Houston | Almonte | ON | CA |
| Nicole | Kramchynsky | Rosthern | SK | CA |
| Leonardo | Vecchi | Bergamo | FC | IT |
| Claire | Borot | Robert | FC | MQ |
| Victoria | Murillo Quiroga | Cancun Q Roo | FC | MX |
| Andrea | Peter | Kajang | | MY |
United States
| First Name | Last Name | City | State |
| --- | --- | --- | --- |
| Lucy | Bartholomew | APO | AE |
| Noelle | Flodin | Chugiak | AK |
| Jason | Fletcher | Benson | AZ |
| Adriana | Dyson | Gilbert | AZ |
| Daniel | Kittner | Gilbert | AZ |
| Clare | Shakal | Gilbert | AZ |
| Isaiah | Pittman | Glendale | AZ |
| Catherine | Haynes | Marana | AZ |
| Matthew | Kelley | Mesa | AZ |
| Hannah | Kipp | Mesa | AZ |
| Abigale | Loel | Phoenix | AZ |
| Thomas | Maschue | Phoenix | AZ |
| Rachel | Mulligan | Phoenix | AZ |
| Avery | Dome | Surprise | AZ |
| Samuel | Sequeira | Tucson | AZ |
| Sophia | Spence | Burbank | CA |
| Breena | DeLegge | El Cajon | CA |
| Martin | Nguyen | Elk Grove | CA |
| Sarah | Beveridge | Escondido | CA |
| Anna | O'Donnell | Escondido | CA |
| Dominic | Regli | Ferndale | CA |
| Shelisa | Guerrero | La Mirada | CA |
| Sarah | Dreisbach | Palm Desert | CA |
| Riley | Potthast | Paradise | CA |
| Alicia | McDaniel | Penn Valley | CA |
| Carol | Cunningham | Poway | CA |
| Gabriela | Spartz | Poway | CA |
| Conner | Inman | Riverside | CA |
| Justin | Ng | San Diego | CA |
| Patricia | Limpin | San Marcos | CA |
| Mark | Dever | San Pedro | CA |
| Sarah | Oppenheim | Torrance | CA |
| Molly | Clark | Turlock | CA |
| Abigail | Kalinowski | Vacaville | CA |
| Rachel | Sherman | Vallejo | CA |
| Alyssa | Clow | Vista | CA |
| Sean | Ford | Yountville | CA |
| David | Schadler | Arvada | CO |
| Conan | Hayton | Aurora | CO |
| Zelly | Moore | Broomfield | CO |
| Rachael | Saghi | Colorado Springs | CO |
| Clare | Wilmes | Colorado Springs | CO |
| Matthew | Cannella | Erie | CO |
| Michael | Hafenbredl | Hghlnds Ranch | CO |
| Annalysa | Morales | Hghlnds Ranch | CO |
| Kaitlyn | Hafenbredl | Highlands Ranch | CO |
| Emanuela | Contolini | Lakewood | CO |
| Natalie | Cleary | Littleton | CO |
| Mara | Dalton | Littleton | CO |
| Reisa | Dalton | Littleton | CO |
| Olivia | Roberts | Longmont | CO |
| James | Mason | Montrose | CO |
| Julia | Simonson | Wheat Ridge | CO |
| Reid | Shiland | Sherman | CT |
| Glenn | Jordan | Boynton Beach | FL |
| Peter | Collart | Covington | GA |
| Emma | Snider | Savannah | GA |
| Joseph | Monosmith | Ankeny | IA |
| Nicholas | Monosmith | Ankeny | IA |
| Ryan | Waller | Ankeny | IA |
| Kiley | Campbell | Muscatine | IA |
| Amanda | Doyle | Muscatine | IA |
| Matilda | Pugh | Sac City | IA |
| Madison | Rehder | Cottonwood | ID |
| Nicole | Rehder | Cottonwood | ID |
| Nicole | Koepl | Nezperce | ID |
| Louisa | Bresee | Post Falls | ID |
| Sidney | Corcoran | Amboy | IL |
| Clare | Siverts | Carol Stream | IL |
| Mary Claire | Talbot | Carol Stream | IL |
| Frances | Kennedy | Chicago | IL |
| Ricardo | Montoya | Cicero | IL |
| Jeffrey | Strong | Crystal Lake | IL |
| Timothy | McMahon | DeKalb | IL |
| Regina | McLain | Downers Grove | IL |
| Claire | Pikul | Downers Grove | IL |
| Elizabeth | Dust | Edwards | IL |
| Andrew | Cattapan | Elk Grove Vlg | IL |
| Zachary | King | Glendale Hts | IL |
| Abigail | Jones | Marengo | IL |
| Jennifer | De Salvo | Mt Prospect | IL |
| Olivia | Anderson | Nashville | IL |
| Noah | Scordato | Roscoe | IL |
| Grace | O'Donnell | Crown Point | IN |
| Julia | Conry | Dyer | IN |
| Lucy | Horlander | Indianapolis | IN |
| Mary | Horlander | Indianapolis | IN |
| Rory | Neary | Long Beach | IN |
| Sarah | Dudley | Markleville | IN |
| John Paul | Farrell | Westfield | IN |
| Alexander | Haug | Lawrence | KS |
| Haley | Luke | Topeka | KS |
| Christina | Hauge | Wichita | KS |
| Sydney | Menges | Wichita | KS |
| Ethan | Grimes | Lexington | KY |
| Zoe | Krauskopf | Louisville | KY |
| Blaine | Hamilton | Winchester | KY |
| Mikayla | Lindquist | Bossier City | LA |
| Charles | Ansardi | Mandeville | LA |
| Genevieve | Vavrus | Leonardtown | MD |
| Aiden | Gallic | Auburn | ME |
| Mary Therese | Howard | Bruce Xing | MI |
| Sarah | Jackson | Clare | MI |
| Laura | Hallfrisch | Gladstone | MI |
| Jacob | Andrews | Interlochen | MI |
| Kolbe | Raiche | Kingsford | MI |
| Jacinta | Kreiner | Marlette | MI |
| Brendan | Plunkett | Oxford | MI |
| Gabriel | Brooks | Petoskey | MI |
| Riley | Tanis | Silverwood | MI |
| Catherine | Nelson | Ada | MN |
| Wyatt | Lidberg | Albertville | MN |
| Emma | Thorp | Albertville | MN |
| Monica | Bute | Alden | MN |
| Ella | Grove | Alexandria | MN |
| Grace | Aho | Andover | MN |
| Jacinta | Loomis | Andover | MN |
| Jacob | Donnett | Annandale | MN |
| Isabelle | Ballalatak | Arlington | MN |
| Jenifer | Hostrup | Audubon | MN |
| Sarah | Bachmeier | Austin | MN |
| Jacob | Popp | Becker | MN |
| Logan | Nagorski | Big Lake | MN |
| Kaitlin | Kriefall | Blaine | MN |
| Madeleine | Boehne | Bloomington | MN |
| Zachary | Halpin | Bloomington | MN |
| Jenna | Pepka | Bloomington | MN |
| Christopher | Borash | Bowlus | MN |
| Kasidy | Chileen | Brooklyn Center | MN |
| John | Gagnon | Brooklyn Center | MN |
| Hannah | Miller | Browerville | MN |
| Rebekah | Baker | Buffalo | MN |
| Calvin | James | Buffalo | MN |
| Triston | Kosek | Buffalo | MN |
| Zachary | Marquette | Buffalo | MN |
| AnneMarie | Bittner | Burnsville | MN |
| John | Brickweg | Burnsville | MN |
| Andrew | King | Burnsville | MN |
| Maria | Nicklaus | Burnsville | MN |
| Darren | Wong | Burnsville | MN |
| Cooper | Olson | Champlin | MN |
| Grace | Streeter | Chanhassen | MN |
| Regan | Tollefson | Chanhassen | MN |
| Bailey | Harms | Chaska | MN |
| Maureen | Sullivan | Chisago City | MN |
| Brandon | Gill | Cold Spring | MN |
| Maria | Barbato | Coon Rapids | MN |
| Joseph | Buechele | Coon Rapids | MN |
| Matthew | Gunderson | Coon Rapids | MN |
| Joseph | McNeely | Coon Rapids | MN |
| James | Rotondo | Coon Rapids | MN |
| Kathryn | Stark | Coon Rapids | MN |
| Emily | Westrich | Corcoran | MN |
| Morgan | Coauette | Crookston | MN |
| Joseph | Lundgren Audi | Crystal | MN |
| Alexander | Mueller | Dayton | MN |
| Annie | Stangler | Deer River | MN |
| Benjamin | Griep | Delano | MN |
| Andrew | Merz | Delano | MN |
| Al | Fowler | Detroit Lakes | MN |
| Irelyn | Fowler | Detroit Lakes | MN |
| Lydia | Herbertz | Duluth | MN |
| Calvin | Ikens | Eagan | MN |
| Kloe | Wavra | East Grand Forks | MN |
| Vaughn | Deinhart | Eden Prairie | MN |
| Joseph | Fesenmaier | Edina | MN |
| Ava | Grimm | Elk River | MN |
| Jonah | Laundergan | Esko | MN |
| Jonathan | Hagen | Excelsior | MN |
| Aidan | Goblirsch | Farmington | MN |
| Grant | Manninen | Farmington | MN |
| Danica | Newburg | Farmington | MN |
| Matthew | Johnson | Fergus Falls | MN |
| Trey | Juran | Fergus Falls | MN |
| Margarethe | Longsdorf | Forest Lake | MN |
| Riley Mitchell | Longsdorf | Forest Lake | MN |
| | Hemmingsen | Fosston | MN |
| McKinsey | Rosendahl | Fosston | MN |
| Paige | Ziegler | Frazee | MN |
| Tanner | Eskro | Fridley | MN |
| James | Jurek | Fridley | MN |
| Matthew | Wysopal | Fridley | MN |
| Christine | Roers | Garfield | MN |
| Davin | Jarvela | Gilbert | MN |
| Molly | Koralewski | Glencoe | MN |
| Arianna | Erickson | Grand Rapids | MN |
| Thomas | Gutzmann | Ham Lake | MN |
| Jonathan | Prokop | Ham Lake | MN |
| Joshua | O'Meara | Harris | MN |
| Karissa | St Onge | Hillman | MN |
| Erin | Grogan | Hopkins | MN |
| Christine | Webster | Independence | MN |
| Mitchell | Dahl | Inver Grove Heights | MN |
| Anna | Michaud | Inver Grove Heights | MN |
| Rachael | McCallum | Isanti | MN |
| Regina | Zabinski | Isanti | MN |
| Jonathan | Draheim | Jordan | MN |
| Christian | Medick | Jordan | MN |
| Reece | English | Lakeville | MN |
| Amanda | Isabell | Lakeville | MN |
| Peter | Smith | Lakeville | MN |
| Joseph | Mochinski | Lester Prairie | MN |
| Jacob | Brezny | Lino Lakes | MN |
| Augustin | Wolf | Little Canada | MN |
| Natalee | Geerts | Long Lake | MN |
| Carolyn | Dinkel | Long Prairie | MN |
| Anne | Sauer | Long Prairie | MN |
| Elizabeth | Sauer | Long Prairie | MN |
| Anna | Schwab | Loretto | MN |
| Emma | Stierman | Mahtomedi | MN |
| John | Yapello | Mahtomedi | MN |
| Ryan | Kielty | Maple Grove | MN |
| Mary | Northenscold | Maple Lake | MN |
| Gabriella | Schafer | Maple Plain | MN |
| Ashlynn | Monnet | Marshall | MN |
| Emma | Schroeder | Marshall | MN |
| Kaia | Sueker | Marshall | MN |
| Brianne | Norrell | Meadowlands | MN |
| Catherine | Paquette | Mendota Heights | MN |
| John | Zimmerman | Mendota Hgts | MN |
| Jacob | Dalland | Minneapolis | MN |
| Madelaine | Heggestad | Minneapolis | MN |
| Matthew | Hrbacek | Minneapolis | MN |
| Michael | Hrbacek | Minneapolis | MN |
| Natalie | Bot | Minneota | MN |
| Paige | Welsh | Minneota | MN |
| Elizabeth | Favorite | Minnetonka | MN |
| Mary | Favorite | Minnetonka | MN |
| Sophia | Favorite | Minnetonka | MN |
| Juliana | Karels | Minnetonka | MN |
| Mitchell | Oehme | Minnetonka | MN |
| Heather | Bruley | Monticello | MN |
| Allana | Staryszak | Monticello | MN |
| Samuel | Dibble | Moorhead | MN |
| Alyssa | Haagenson | Moorhead | MN |
| Cassandra | Johnson | Moorhead | MN |
| Kayla | Johnson | Moorhead | MN |
| Andrea | Lee | Moorhead | MN |
| Courtni | Opp | Moorhead | MN |
| Jada | Schwindt | Moorhead | MN |
| Dawson | Strom | Moorhead | MN |
| Emily | Wilke | Moorhead | MN |
| Aaron | Davis | New Brighton | MN |
| Molly | Hogan | New Brighton | MN |
| Emily | Sullivan | New Prague | MN |
| James | Gillis | New Ulm | MN |
| Mary | Herzog | New Ulm | MN |
| Isaac | Roufs | New Ulm | MN |
| Mark | Schommer | New Ulm | MN |
| Elizabeth | Acheson | Northfield | MN |
| Grace | Acheson | Northfield | MN |
| Kylie | Anderson | Osakis | MN |
| Rebekkah | Boubin | Owatonna | MN |
| Anne | Corbett | Pierz | MN |
| Mary | Dunne | Plymouth | MN |
| John | Schindler | Plymouth | MN |
| Noah | Vroman | Plymouth | MN |
| Sarah | Zielinski | Plymouth | MN |
| Alexis | Duscher | Princeton | MN |
| Samuel | Meyer | Prior Lake | MN |
| David | Villafana | Richfield | MN |
| Pearl | LaCoursiere | Rl Falls | MN |
| Helen | Mcguire | Rochester | MN |
| Annamarie | Charmoli | Rogers | MN |
| Maria | McGrath | Rogers | MN |
| Molly | Hauf | Sabin | MN |
| Rachael | Neu | Saint Cloud | MN |
| Lindsay | Rohr | Saint Michael | MN |
| Thomas | Ruhland | Saint Michael | MN |
| Maria | Berns | Saint Paul | MN |
| Christopher | Dill | Saint Paul | MN |
| Megan | Anderson | Sartell | MN |
| Stephanie | Otremba | Sartell | MN |
| Alex | Kowski | Sauk Centre | MN |
| Beth | Middendorf | Sauk Centre | MN |
| Miranda | Sharp | Savage | MN |
| Chloe | Rosenthal | Scandia | MN |
| William | Lacina | Shakopee | MN |
| Thomas | Hinnenkamp | Shoreview | MN |
| Kira | DeMaris | Sleepy Eye | MN |
| Crystal | Portner | Sleepy Eye | MN |
| Andrea | Mettler | Spring Valley | MN |
| Justin | Hernandez | St Paul | MN |
| Lauren | McCann | St Paul | MN |
| Brandon | Schultz | St. Clair | MN |
| Angela | Molitor | St. Cloud | MN |
| Gabrielle | Nett | St. James | MN |
| Benjamin | Ahlbrecht | St. Louis Park | MN |
| Olivia | Salonek | St. Michael | MN |
| Cecelia | Romportl | Stillwater | MN |
| Sarah | Symalla | Stillwater | MN |
| Megan | Tollefson | Sunburg | MN |
| Collin | Prom | Swanville | MN |
| Cecilia | Rabaey | Taunton | MN |
| Claudia | Rabaey | Taunton | MN |
| Gavin | Olson | Tower | MN |
| Derek | Shoen | Truman | MN |
| Sophia | Flatley | Virginia | MN |
| Averi | Dahlberg | Waseca | MN |
| Michael | Dettloff | White Bear Lake | MN |
| Bethany | Rother | Woodbury | MN |
| Marshall | Tschida | Woodbury | MN |
| Madelyn | Jents | Wyoming | MN |
| Lacey | Bordeaux | Chesterfield | MO |
| Catherine | Galbraith | Jefferson Cty | MO |
| Sarah | Walker | St. Louis | MO |
| Macee | Hadley | Baker | MT |
| Shelby | Moore | Baker | MT |
| Elizabeth | Gilbertson | Belgrade | MT |
| Brianna | Hanson | Belgrade | MT |
| Madison | Bergthold | Billings | MT |
| Mark | Bjelland | Billings | MT |
| Cody | Brunner | Billings | MT |
| Kaylee | Kannegiesser | Billings | MT |
| Cole | Kitzenberg | Billings | MT |
| Reese | Lausen | Billings | MT |
| Jacob | Morgan | Billings | MT |
| Logan | Nelson | Billings | MT |
| Jacob | Pankratz | Billings | MT |
| Sarah | Pankratz | Billings | MT |
| Elizabeth | Ross | Billings | MT |
| Jay | Randall | Broadus | MT |
| Rebecca | Padgett | Browning | MT |
| Liam | Sommer | Butte | MT |
| Kelly | Danielson | Fairview | MT |
| Dylan | Elletson | Fairview | MT |
| Gregory | Winegart | Florence | MT |
| Teagan | Fossum | Glasgow | MT |
| Elizabeth | Page | Glasgow | MT |
| Bryn | Anderson | Great Falls | MT |
| Jessica | Byrne | Great Falls | MT |
| Tyler | Huston | Great Falls | MT |
| Elizabeth | Thompson | Great Falls | MT |
| Keenan | Athman | Hamilton | MT |
| Eric | Reed | Harlowton | MT |
| Hannah | Clark | Helena | MT |
| Anna | Hampton | Helena | MT |
| Sydney | Stevens | Laurel | MT |
| Brianna | Bean | Miles City | MT |
| Theresa | George | Park City | MT |
| Rachel | Henke | Park City | MT |
| Kayla | Hagan | Plentywood | MT |
| Shea | Roberts | Sidney | MT |
| Madeline | Snell | Thompson Falls | MT |
| Joshua | Wulfekuhle | Thompson Falls | MT |
| Isabella | Heidtman | Denver | NC |
| Daniel | Schuetz | Raleigh | NC |
| Maria | Yarsky | Salisbury | NC |
| Royce | Verkuehlen | Arvilla | ND |
| Collin | Martz | Ashley | ND |
| Caitlin | Molter | Ashley | ND |
| Sydnee | Steele | Beach | ND |
| Zackary | Bebee | Belfield | ND |
| Emily | Hlebechuk | Belfield | ND |
| Elena | Kordonowy | Belfield | ND |
| Hailey | Zwirner | Berlin | ND |
| Samantha | Zwirner | Berlin | ND |
| Kayleen | Alexander | Beulah | ND |
| Hannah | Baranick | Beulah | ND |
| Sydne | Horning | Beulah | ND |
| Skylar | Ackerman | Bismarck | ND |
| Kade | Amundson | Bismarck | ND |
| Isaac | Armstrong | Bismarck | ND |
| Devin | Beck | Bismarck | ND |
| Michael | Becker | Bismarck | ND |
| Paige | Billadeau | Bismarck | ND |
| Brooke | Binegar | Bismarck | ND |
| Izaiah | Bitz | Bismarck | ND |
| Joshua | Bitz | Bismarck | ND |
| William | Blewett | Bismarck | ND |
| Haley | Boeder | Bismarck | ND |
| Cassandra | Boehm | Bismarck | ND |
| Tyler | Boone | Bismarck | ND |
| Patrick | Burmeister | Bismarck | ND |
| Michaela | Casey | Bismarck | ND |
| Hannah | Churchill | Bismarck | ND |
| Mariah | Dahl | Bismarck | ND |
| Tasha | Dembo | Bismarck | ND |
| Olivia | Dickerson | Bismarck | ND |
| Erynn | Dunnigan | Bismarck | ND |
| Tonya | Dvorak | Bismarck | ND |
| Madeline | Easton | Bismarck | ND |
| Blake | Emmel | Bismarck | ND |
| Grace | Erickson | Bismarck | ND |
| Addison | Erling | Bismarck | ND |
| Tyler | Famias | Bismarck | ND |
| Danielle | Feser | Bismarck | ND |
| Noah | Fettig | Bismarck | ND |
| Megan | Fields | Bismarck | ND |
| Maria | Fleck | Bismarck | ND |
| Charles | Fofie | Bismarck | ND |
| Easton | Ford | Bismarck | ND |
| Adam | Fortney | Bismarck | ND |
| Sarah | Gellerman | Bismarck | ND |
| Olivia | German | Bismarck | ND |
| Taylor | Gerving | Bismarck | ND |
| Amber | Gibson | Bismarck | ND |
| Ty'Rese | Gibson | Bismarck | ND |
| Joseph | Golik | Bismarck | ND |
| Evan | Gowen | Bismarck | ND |
| Jane | Gowen | Bismarck | ND |
| Laiken | Grensteiner | Bismarck | ND |
| Joshua | Griffin | Bismarck | ND |
| Michael | Grossman | Bismarck | ND |
| Rachel | Halberg | Bismarck | ND |
| Christian | Hanson | Bismarck | ND |
| Mykenzie | Hanzel | Bismarck | ND |
| Sarah | Hegland | Bismarck | ND |
| Benjamin | Helget | Bismarck | ND |
| Kamryn | Hellman | Bismarck | ND |
| Emily | Helm | Bismarck | ND |
| Jason | Hoekstra | Bismarck | ND |
| Taylor | Hoekstra | Bismarck | ND |
| Hannah | Holtz | Bismarck | ND |
| Marena | Hoogland | Bismarck | ND |
| Allisyn | Hulst | Bismarck | ND |
| Steven | Hutzenbiler | Bismarck | ND |
| Sarah | Jangula | Bismarck | ND |
| Isabel | Jennen | Bismarck | ND |
| Danielle | Jensen | Bismarck | ND |
| Michaela | Kauk | Bismarck | ND |
| Shelby | Kauk | Bismarck | ND |
| Matthew | Kaylor | Bismarck | ND |
| Clara | Keirns | Bismarck | ND |
| Aidan | Kelly | Bismarck | ND |
| Liam | Kelly | Bismarck | ND |
| Taylyn | Kihle | Bismarck | ND |
| Kara | Klingenberg | Bismarck | ND |
| Ella | Konieczka | Bismarck | ND |
| Hannah | Kraiter | Bismarck | ND |
| Steven | Kraljic | Bismarck | ND |
| Jonah | Krebs | Bismarck | ND |
| Rylee | Kubischta | Bismarck | ND |
| Madison | Kurle | Bismarck | ND |
| Paige | Lang | Bismarck | ND |
| Josiah | Larson | Bismarck | ND |
| Keeliana | Lawson | Bismarck | ND |
| Benjamin | Lee | Bismarck | ND |
| Patrick | Litton | Bismarck | ND |
| Phillip | Litton | Bismarck | ND |
| Breanna | Madler | Bismarck | ND |
| Lexis | Martell | Bismarck | ND |
| Olivia | Martin | Bismarck | ND |
| Treyton | Mattern | Bismarck | ND |
| Cody | Mehlhoff | Bismarck | ND |
| Sarah | Mertz | Bismarck | ND |
| Shaylin | Messmer | Bismarck | ND |
| Madisyn | Mientek | Bismarck | ND |
| Luke | Miiller | Bismarck | ND |
| Kelsey | Mischel | Bismarck | ND |
| Rachel | Mischel | Bismarck | ND |
| Sydney | Monger | Bismarck | ND |
| Breanna | Moritz | Bismarck | ND |
| Shaylee | Moses | Bismarck | ND |
| Amy | Moylan | Bismarck | ND |
| Brooke | Mueller | Bismarck | ND |
| Sydney | Murphy | Bismarck | ND |
| Lisa | Neff | Bismarck | ND |
| Rachel | Neff | Bismarck | ND |
| Kristopher | Nicholson | Bismarck | ND |
| Benjamin | Niemuth | Bismarck | ND |
| Lashae | Nolz | Bismarck | ND |
| Monica | Northrop | Bismarck | ND |
| Hannah | Obrigewitch | Bismarck | ND |
| Lily | Obrigewitch | Bismarck | ND |
| Daysia | Oukrop | Bismarck | ND |
| Rose | Peliska | Bismarck | ND |
| Brooke | Pfaff | Bismarck | ND |
| Nicholas | Pfaff | Bismarck | ND |
| Destiny | Pfliiger | Bismarck | ND |
| Meghan | Rath | Bismarck | ND |
| Joshua | Reiner | Bismarck | ND |
| Erin | Remboldt | Bismarck | ND |
| Hannah | Richter | Bismarck | ND |
| Dana | Ritzke | Bismarck | ND |
| Thomas | Rumpza | Bismarck | ND |
| Morgan | Salwei | Bismarck | ND |
| Mark | Sammons | Bismarck | ND |
| Matthew | Sauer | Bismarck | ND |
| Noel | Scalzo | Bismarck | ND |
| Hanna | Schaible | Bismarck | ND |
| Anna | Schmid | Bismarck | ND |
| Samera | Schneider | Bismarck | ND |
| Derek | Schon | Bismarck | ND |
| Kayla | Schreiner | Bismarck | ND |
| Jessica | Schulte | Bismarck | ND |
| Jessica | Schultz | Bismarck | ND |
| Ally | Schwab | Bismarck | ND |
| Kameron | Selvig | Bismarck | ND |
| Sarah | Selzler | Bismarck | ND |
| Marriann | Senftner | Bismarck | ND |
| Madyson | Shafer | Bismarck | ND |
| Stephanie | Shepard | Bismarck | ND |
| Joshua | Sipes | Bismarck | ND |
| Grant | Skibicki | Bismarck | ND |
| Beau | Skurdal | Bismarck | ND |
| Dylan | Smith | Bismarck | ND |
| Deklan | Snider | Bismarck | ND |
| Sara | Stadick | Bismarck | ND |
| Madison | Steckler | Bismarck | ND |
| Carter | Steichen | Bismarck | ND |
| Jamie | Stoppler | Bismarck | ND |
| Mary | Storick | Bismarck | ND |
| Michael | Storick | Bismarck | ND |
| Lakyn | Stork | Bismarck | ND |
| Gabriel | Suda | Bismarck | ND |
| Lily | Suda | Bismarck | ND |
| Rogel Jan | Tare | Bismarck | ND |
| Frances | Taylor | Bismarck | ND |
| Grace | Telepak | Bismarck | ND |
| Kendall | Tibor | Bismarck | ND |
| Allyson | Treiber | Bismarck | ND |
| Mercedes | Trujillo – Hanson | Bismarck | ND |
| Natalie | Tufte | Bismarck | ND |
| Paige | Voegele | Bismarck | ND |
| Gabrielle | Volk | Bismarck | ND |
| Cole | Waletzko | Bismarck | ND |
| Jeffrey | Waletzko | Bismarck | ND |
| Kyla | Wanzek | Bismarck | ND |
| Christian | Weber | Bismarck | ND |
| Sarah | Wegner | Bismarck | ND |
| Taylor | Weidner | Bismarck | ND |
| Sydnie | Welch | Bismarck | ND |
| Trista | Wentz | Bismarck | ND |
| Abby | Westbee | Bismarck | ND |
| Allison | Wiedrich | Bismarck | ND |
| Bailey | Wilhelm | Bismarck | ND |
| Alex | Wilson | Bismarck | ND |
| Benjamin | Wilson | Bismarck | ND |
| Johnny | Witzke | Bismarck | ND |
| Paul | Witzke | Bismarck | ND |
| Alaina | Woock | Bismarck | ND |
| Grace | Worner | Bismarck | ND |
| Julia | Zeller | Bismarck | ND |
| Breanna | Blue | Bottineau | ND |
| Emily | Belland | Bowman | ND |
| Ashlynn | Dix | Bowman | ND |
| Taylor | Hestekin | Bowman | ND |
| Brooke | Peterson | Bowman | ND |
| Brittney | Pueppke | Buffalo | ND |
| Ashley | Hettervig | Buxton | ND |
| Katie | David | Cando | ND |
| Autumn | Bertch | Carson | ND |
| Cody | Ruscheinsky | Carson | ND |
| Isaiah | Maertens | Center | ND |
| Garrett | Mosbrucker | Center | ND |
| April | Mogard | Deering | ND |
| Alexis | Ternes | Devils Lake | ND |
| Alexis | Andres | Dickinson | ND |
| Rebecca | Brydl | Dickinson | ND |
| Morgan | Ehlis | Dickinson | ND |
| Clare | Heinen | Dickinson | ND |
| Emily | Herrin | Dickinson | ND |
| Eve | Heupel | Dickinson | ND |
| Nathaniel | Marsh | Dickinson | ND |
| Taylor | Nelson | Dickinson | ND |
| Heather | Pavlish | Dickinson | ND |
| Korie | Riely | Dickinson | ND |
| Tylla | Roshau | Dickinson | ND |
| Paloma | Saldana | Dickinson | ND |
| Sarah | Schaper | Dickinson | ND |
| Shanta | Zietz | Dickinson | ND |
| Grace | Buckeye | Edgeley | ND |
| Ashley | Revering | Edgeley | ND |
| Spencer | Gillund | Enderlin | ND |
| Andrew | Clark | Fargo | ND |
| Madaline | Cooper | Fargo | ND |
| Yasmina | Dokara | Fargo | ND |
| Casey | Gourde | Fargo | ND |
| Emma | Hochhalter | Fargo | ND |
| Abigail | Hoff | Fargo | ND |
| Claire | Madson | Fargo | ND |
| Megan | Manly | Fargo | ND |
| Benjamin | Noah | Fargo | ND |
| Lilly | Rivard | Fargo | ND |
| Madison | Schneider | Fargo | ND |
| Alexis | Wanner | Fargo | ND |
| Michael | Westall | Fargo | ND |
| Madison | Yonke | Fargo | ND |
| August | Mickelson | Forman | ND |
| Calli | Olson | Fort Ransom | ND |
| Cayli | Kolden | Garrison | ND |
| Paige | Lagge | Garrison | ND |
| Sarah | Lagge | Garrison | ND |
| Laura | Wolf | Glen Ullin | ND |
| Samantha | Martens | Grand Forks | ND |
| Cornelia | Enander | Grenora | ND |
| Kaitlyn | Gefroh | Hague | ND |
| Shyla | Haak | Hague | ND |
| Megan | Jangula | Hazelton | ND |
| Tia | Bornemann | Hazen | ND |
| Raquel | Doll | Hazen | ND |
| Makena | Heier | Hazen | ND |
| Elise | Hintz | Hazen | ND |
| Bethany | Leier | Hazen | ND |
| Matthew | Oestreich | Hazen | ND |
| Kaden | Sago | Hazen | ND |
| Hannah | Sailer | Hazen | ND |
| Zachary | Schmalenberger | Hebron | ND |
| Ryan | Woroniecki | Hebron | ND |
| Alonna | Narum | Horace | ND |
| Andrea | Smith | Horace | ND |
| Erica | Mitchell | Jamestown | ND |
| Nicholas | Mortenson | Jamestown | ND |
| Alexis | Smith | Jamestown | ND |
| Taylor | Schoemer | Kenmare | ND |
| Danielle | Benz | Killdeer | ND |
| Shawnee | Hansen | Killdeer | ND |
| Chelsey Faye | Morlock | Killdeer | ND |
| Sydney | Nathan | Kindred | ND |
| Callie | Thompson | Kintyre | ND |
| Sarah | Weigel | Kintyre | ND |
| Raquel | Bata | Langdon | ND |
| Natalia | Cruz | Lincoln | ND |
| Courtney | Dembrowski | Lincoln | ND |
| Mercedes | Flores | Lincoln | ND |
| Tatelyn | Houle | Lincoln | ND |
| Alex | Kaseman | Lincoln | ND |
| Alli | McCoy | Lincoln | ND |
| Megan | Ohlhauser | Lincoln | ND |
| Cadee | Ryckman | Lincoln | ND |
| Kayla | Stroh | Lincoln | ND |
| Tiarra | Bosch | Linton | ND |
| Elwin | Nieuwsma | Linton | ND |
| Easton | Andresen | Mandan | ND |
| Chase | Angermeier | Mandan | ND |
| Mckenna | Baer | Mandan | ND |
| Dylan | Binder | Mandan | ND |
| Shelby | Brekhus | Mandan | ND |
| Emily | Cicha | Mandan | ND |
| Breenna | Davidson | Mandan | ND |
| My Lynn | Duong | Mandan | ND |
| Kendra | Froelich | Mandan | ND |
| Anna | Frohlich | Mandan | ND |
| Hannah | Gardner | Mandan | ND |
| Elizabeth | Geiger | Mandan | ND |
| Olivia | Geiger | Mandan | ND |
| Kathryn | Goettle | Mandan | ND |
| Darci | Grunett | Mandan | ND |
| Brenna | Hammer | Mandan | ND |
| Hannah | Hanson | Mandan | ND |
| Alexander | Horner | Mandan | ND |
| Carly | Kottsick | Mandan | ND |
| Charles | Liffrig | Mandan | ND |
| Nicole | Maher | Mandan | ND |
| Grace | Renner | Mandan | ND |
| Gabriella | Rubio | Mandan | ND |
| Bethany | Sanda | Mandan | ND |
| Briona | Santovito | Mandan | ND |
| Ashlin | Schaefbauer | Mandan | ND |
| Lucas | Schlosser | Mandan | ND |
| Katelyn | Schmidt | Mandan | ND |
| Kyra | Schulz | Mandan | ND |
| Kiaya | Schwab | Mandan | ND |
| Kayli | Stanger | Mandan | ND |
| Briele | Vollmuth | Mandan | ND |
| Dillan | Kovash | Manning | ND |
| Eva | Lahlum | Marion | ND |
| Christina | Bingham | Max | ND |
| Emily | Klein | Max | ND |
| Haley | Zacher | Menoken | ND |
| Kali | Askvig | Minot | ND |
| Haley | Egeberg | Minot | ND |
| Alexandria | Elliott | Minot | ND |
| Bridget | Finley | Minot | ND |
| Abigail | Folk | Minot | ND |
| Elizabeth | Folk | Minot | ND |
| Marley | Foltz | Minot | ND |
| Jaeger | Lundeen | Minot | ND |
| Abbie | McKay | Minot | ND |
| Ashleigh | Rodgers | Minot | ND |
| Griffin | Schaeffer | Minot | ND |
| Maya | Wald | Minot | ND |
| Rylie | Webb | Minot | ND |
| Gabrielle | Weyrauch | Minot | ND |
| Crystal | Mills | Moffit | ND |
| Morgan | Hertz | Mott | ND |
| David | Hooge | Munich | ND |
| Paige | Ehlis | New England | ND |
| Abigail | Hintz | New Salem | ND |
| Annie | Koenig | Park River | ND |
| Kathryn | Visser | Prairie Rose | ND |
| Quinn | Mellmer | Reeder | ND |
| Melissa | Milliren | Reeder | ND |
| Shelby | Floberg | Richardton | ND |
| Mandy | Swain | Rolla | ND |
| Maria | Mack | Rugby | ND |
| Sierra | Ellingson | Saint Anthony | ND |
| Madison | Bartholomay | Sheldon | ND |
| Adam | Southam | Sherwood | ND |
| Emilee | Fergel | Shields | ND |
| Bayli | Krance | South Heart | ND |
| Kenadee | Kudrna | South Heart | ND |
| Margie | Silbernagel | South Heart | ND |
| Carlos | Gomez | Stanley | ND |
| Devin | Ternes | Stanton | ND |
| Jordan | Huizenga | Strasburg | ND |
| Alex | Scherr | Strasburg | ND |
| Annika | Bobb | Taylor | ND |
| Jacob | Thomsen | Thompson | ND |
| Mckenna | Wilson | Underwood | ND |
| Maria | Wirtz | Underwood | ND |
| Faith | Dockter | Valley City | ND |
| Timothy | Hillerud | Velva | ND |
| Emma | Passa | Velva | ND |
| Kailee | Klein | Wahpeton | ND |
| Emily | Sahl | Wahpeton | ND |
| Kariann | Sahl | Wahpeton | ND |
| Gemma | Campbell | Watford City | ND |
| Olivia | Gronos | Watford City | ND |
| Sidney | Aanenson | West Fargo | ND |
| Alan | Anderson | West Fargo | ND |
| Ryan | Larson | West Fargo | ND |
| Benjamin | Nelson | West Fargo | ND |
| Elizabeth | Kensok | Wheatland | ND |
| Jenna | Anderson | Williston | ND |
| Molly | Gathman | Williston | ND |
| Vanessa | Monsalve Wagner | Williston | ND |
| Kennon | Schmit | Williston | ND |
| Karlee | Arnold | Wilton | ND |
| Taylor | Bergquist | Wilton | ND |
| Lauren | Koski | Wing | ND |
| Tia | Horning | Zap | ND |
| Karissa | Rossow | Zeeland | ND |
| Sarah | Anderson | Bellevue | NE |
| Odalys | Montenegro Ramos | Grand Island | NE |
| Patricia | Tomjack | O'Neill | NE |
| Lucia | Kepler | Croydon | NH |
| Maria | Kepler | Croydon | NH |
| Cassidy | Grant | Washington | NH |
| Luke | Hasson | Sicklerville | NJ |
| Matthew | Hasson | Sicklerville | NJ |
| Olivia | Flure | Rio Rancho | NM |
| Mariah | Sanchez | Rio Rancho | NM |
| Brenna | Williams | Ely | NV |
| Francesca | Evaristo | Las Vegas | NV |
| Brannon | Flowers | Las Vegas | NV |
| Erin | Heindel | Las Vegas | NV |
| Jacob | Searles | Las Vegas | NV |
| Nathan | Liesen | Newark | OH |
| Audra | Tulipana | Inola | OK |
| Nicole | Eckhardt | Cornelius | OR |
| Samantha | Yazzolino | North Plains | OR |
| Nhu | Dang | Portland | OR |
| Miguel | Gonzalez | Salem | OR |
| Joseph | Amidon | Lancaster | PA |
| Margaret | Kuhar | Philadelphia | PA |
| Mary | Gutenkauf | Aberdeen | SD |
| Madeline | Orr | Aberdeen | SD |
| Megen | Keegan | Belle Fourche | SD |
| Jaci | Krebs | Belle Fourche | SD |
| Clare | Van Dover | Big Stone City | SD |
| Abby | Pechota | Colome | SD |
| Aden | Baumberger | Colton | SD |
| Hope | Simon | Crooks | SD |
| Dalton | Houska | Dell Rapids | SD |
| Ruby | Ritchie | Elk Point | SD |
| Hannah | Stroeder | Glenham | SD |
| Samuel | Loos | Harrisburg | SD |
| Taleigh | Adrian | Hermosa | SD |
| Gabe | Fanning | Martin | SD |
| Hailey | Boekelheide | Northville | SD |
| Mary | Wiebers | Owanka | SD |
| Logan | Mahoney | Parkston | SD |
| Autumn | Cassen | Piedmont | SD |
| Cole | Renner | Pollock | SD |
| Katherine | Achbach | Rapid City | SD |
| Megan | Achbach | Rapid City | SD |
| Teresa | Blote | Rapid City | SD |
| Maria | Bunkers | Rapid City | SD |
| Mary | Kinyon | Rapid City | SD |
| Anna | Mechaley | Rapid City | SD |
| Payton | Miller | Rapid City | SD |
| Laura | Petik | Rapid City | SD |
| Hayden | Von Wald | Selby | SD |
| Emma | Bakken | Sioux Falls | SD |
| Justin | Boone | Sioux Falls | SD |
| Erin | Claussen | Sioux Falls | SD |
| Quentin | Evers | Sioux Falls | SD |
| Anthony | Tibbetts | Sioux Falls | SD |
| Madisyn | Waltman | Sioux Falls | SD |
| Molly | Buchholz | Sturgis | SD |
| Reegin | Kehn | Sturgis | SD |
| Olivia | Linderman | Timber Lake | SD |
| Katie | Hauser | Yankton | SD |
| Antoinette | Hanning | Whites Creek | TN |
| Michaela | Vance | Bastrop | TX |
| James | Gilbert | Corpus Christi | TX |
| Timothy | Nye | Corpus Christi | TX |
| Monica | Rolling | Crowley | TX |
| Rachel | Smith | El Paso | TX |
| Erin | Gueco | Haslet | TX |
| Althea | Albana | Houston | TX |
| Michelle | Hodgson | Plano | TX |
| Alejandro | de la Maza | Spring | TX |
| Grace | Zezeus | Bristow | VA |
| Michael | Picha | Fairfax | VA |
| Marie | Sampson | Fredericksbrg | VA |
| Michael | Angsten | Manassas | VA |
| Maria | Willard | Purcellville | VA |
| Kenneth | Paulino | Shipman | VA |
| Wyatt | Parks | Stafford | VA |
| Jesse | Kaas | Graham | WA |
| Katherine | Zdunich | Longview | WA |
| Jehannah | Sollmann | Port Angeles | WA |
| Bonet | Henderson | Renton | WA |
| Elizabeth | Klein | Silverdale | WA |
| Kathryn | Davis | Tacoma | WA |
| Alaina | Zepp | Appleton | WI |
| Afton | Bartol | Beaver Dam | WI |
| Michael | Hein | Big Bend | WI |
| Joseph | Shakal | Bloomer | WI |
| Dominic | Miniatt | Cadott | WI |
| Gabriel | Andress | Colgate | WI |
| Maxwell | Bruss | De Pere | WI |
| Abigail | Dorn | Dousman | WI |
| Anna | Dorn | Dousman | WI |
| Emily | Dorn | Dousman | WI |
| Ariel | Kern | Eau Claire | WI |
| Megan | Schoenfelder | Eau Claire | WI |
| Sarah | Jacobs | Ellsworth | WI |
| Benedict | Gallagher | Evansville | WI |
| Jennifer | Hill | Frederic | WI |
| Jacob | Koepke | Freedom | WI |
| Cole | Cmejla | Glenwood City | WI |
| Angela | Van Hecke | Hartland | WI |
| Abigail | Lynch | Holcombe | WI |
| Grace | Gierke | Hudson | WI |
| Ian | Sande | Jefferson | WI |
| Madalyn | Scherwinski | Kenosha | WI |
| Teresa | Luke | Kohler | WI |
| Odunayo | Omojowo | La Crosse | WI |
| Anna | Boppart | La Valle | WI |
| Elizabeth | Schiedermayer | Madison | WI |
| Joseph | Frediani | Milwaukee | WI |
| Michael | Waddell | New Berlin | WI |
| Seth | Cushing | New Richmond | WI |
| Ashlyn | George | Oconomowoc | WI |
| Eleanor | Ioder | Oconomowoc | WI |
| Ellen | Moore | Oshkosh | WI |
| Olivier | Ndorimana | Oshkosh | WI |
| Caroline | Loe | Prescott | WI |
| Anna | Regnier | Prescott | WI |
| John | Regnier | Prescott | WI |
| Michael | Campion | River Falls | WI |
| Mary | Kolars | River Falls | WI |
| Abby | O'Malley | River Falls | WI |
| Lily | French | Siren | WI |
| Paul | French | Siren | WI |
| John | Nauertz | Spooner | WI |
| Mark | Nauertz | Spooner | WI |
| Alexis | Schneider | Stockbridge | WI |
| Mara | Pellatt Whitaker | Wausau | WI |
| Gabriel | Zimmer | West Bend | WI |
| David | Dachel | Wisc Rapids | WI |
| Noelle | Vigneri | Casper | WY |
| Brett | Thompson | Cheyenne | WY |
| Kyle | Cacho | Green River | WY |
| Alexander | Garber | Sheridan | WY |
| Grant | Ritterbusch | Sheridan | WY |
Explore Topics