University of Mary 62nd commencement ceremonies are April 29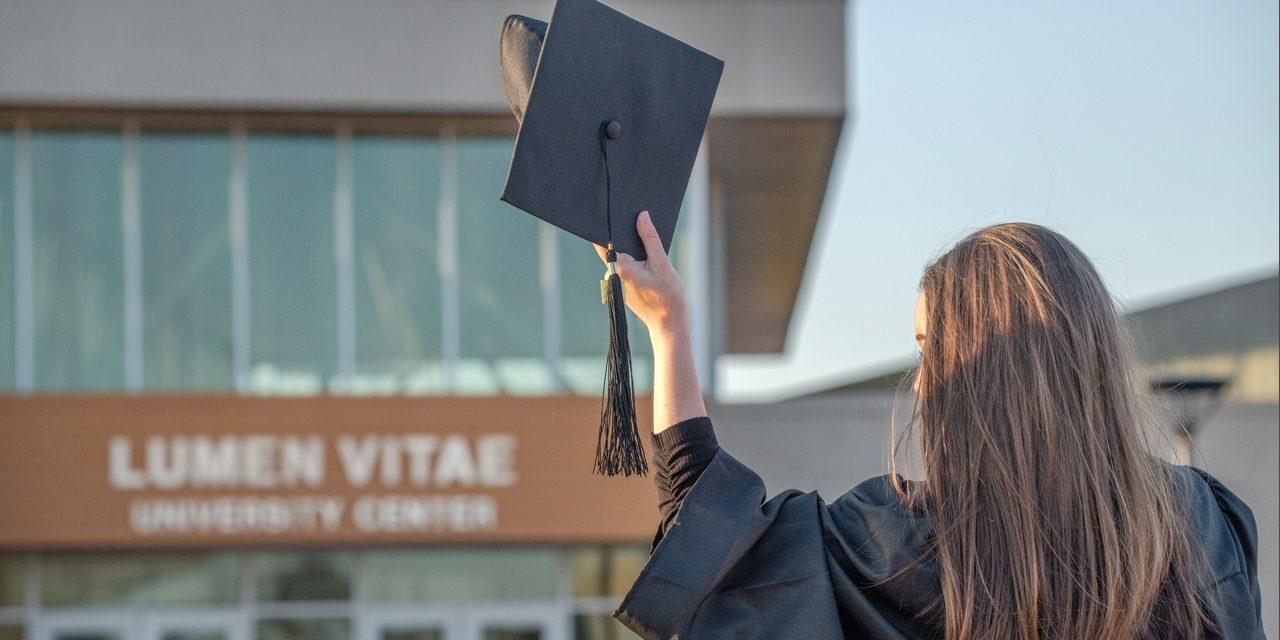 Harold Hamm to receive honorary doctorate degree, daughter, Shelly Lambertz, gives commencement speech.
BISMARCK, ND — On Saturday, April 29, the University of Mary will award degrees to 958 graduates at its 2023 commencement. The ceremony begins at 2:30 p.m. in the Bismarck Event Center, Seventh Street and Front Avenue, Bismarck.
Founded and sponsored by the Benedictine Sisters of Annunciation Monastery of Bismarck, the University of Mary will award 520 bachelor's degrees, 314 master's degrees and 124 doctoral degrees. These students come from 41 states representing 19 countries.
Sixty-nine received the summa cum laude designation, 93 earned magna cum laude designation and 112 students received the cum laude designation.
Additionally, 43 students have earned the Certified Schafer Leader designation from the Harold Schafer Emerging Leaders Academy, and 53 students are recognized as Year-Round Campus graduates for fulfilling their degree in 2.6 years.
Harold Hamm – Honorary Doctorate
Harold Hamm grew up on the humble Oklahoma prairie. That country was hotter than the Dakota plains but measured by the same values: you didn't lie, you didn't cheat, and everybody did their part. The youngest child of 13, Hamm was born in 1945 to cotton sharecroppers. They were poor, but to them, life was vast and expansive. Someone in need was almost always living with the Hamm family, and when they had something extra, they gave it away.
It was in those days that Hamm's eyes were opened to life's possibilities. He glimpsed a world bigger than himself, bigger than the hardships he was facing. So when saw that oil and gas development was booming in his neighborhood, his imagination took flight. Hamm wanted to be an oilman. He wanted to make a fuller life possible for his family and community. At 18, he took a job with an oilfield services contractor, cleaning tanks – the hardest work there was in the field. By 1967, at the age of 21, he'd built up enough credit to take out a $1,000 loan and start his own business. That was the beginning of Continental Resources. From this grassroots startup, Hamm built Continental into one of the top oil producers in the United States. Continental is also the largest leaseholder of the nation's premier oilfield, the Bakken of western North Dakota and eastern Montana.
Hamm co-founded and serves as Chairman of the Domestic Energy Producers Alliance. He's served as past Chairman and present board member of what is now the Petroleum Alliance of Oklahoma and was a founding member of the Oklahoma Energy Resources Board. In an effort to discover a cure for diabetes, he sponsored the founding of the Harold Hamm Diabetes Center, a world-renowned center of diabetes research. For his professional accomplishments, Hamm has received the Platts Global Energy Lifetime Achievement Award and the Horatio Alger Award. In 2012, TIME Magazine named him one of the "100 Most Influential People in the World." "...most influential" because Harold Hamm never fails to spot the long play. North Dakota's prairies, reminiscent as they are of the Oklahoma fields of his childhood, hold bright promise to him. Just like us, he's looking to serve needs in this region and well beyond it.
The University of Mary's Hamm School of Engineering forms future industry leaders who see a world much bigger than themselves, who want to make life fuller for the people they serve. The inspiration and generosity of Harold Hamm hold fast in our dreams for our students. Hamm's great pride is his family. His five children-"better people than me," he says-are each living proof of his conviction that the greatest measure of success is the success of those who come after you. With enduring gratitude for Harold Hamm's support, we at the University of Mary hope to confirm that conviction ourselves as our students, too, strive for greatness of heart, taking to their fields with vast and expansive hope, bringing light and life wherever they go.
Shelly Lambertz – Commencement Speaker
Continental Resources Executive Vice President, Chief Culture &
Administrative Officer
Shelly Lambertz currently serves as Executive Vice President, Chief Culture and Administrative Officer for Continental Resources in Oklahoma City. She has served on the Board of Directors since May 2018. Her leadership in the oil and gas industry recently earned her the recognition as one of the 25 Influential Women in Energy by Hart Energy.
Before joining Continental, Shelly served as the Chief Operating Officer at Hamm Capital, a family investment and advisory firm, from August 2011 to October 2018. Shelly also serves as Director of the Harold Hamm Foundation. From 1999 to 2005, she was the Executive Director of the YWCA in Enid, OK. Prior to that, Shelly was Director of Human Resources and Business Development Advisor for Hamm & Phillips Service Company.
She began her career working for the U.S. House of Representatives in Washington, D.C. serving in various positions including Office Manager for Congressman Mickey Edwards (OK), Legislative Assistant for the Leadership Office of Minority Leader Bob Michel (IL), and Deputy Chief of Staff for Frank Lucas (OK).
Shelly holds a bachelor's degree in business administration, with a minor in marketing, from Oklahoma State University. Shelly is actively involved in her community, serving on the boards of the Harold Hamm Diabetes Center at the University of Oklahoma, the Oklahoma State University Foundation, Dean McGee Eye Institute, Scott & Kim Verplank Foundation and the Oklahoma Foundation for Excellence.
She is a devoted member of St. John the Baptist Catholic Church where she serves on the Finance Board, is a Eucharistic Minister, and past chair of Women's Faith & Formation Programs.
Shelly and her husband Gant are dedicated parents to their two sons, Zach and Alex.
The 2023 University of Mary graduation ceremonies can be viewed through live streaming at: www.lifeatmary.com
—UMARY—
Anyone who wishes to learn more about Mary can do so at online.umary.edu, or by contacting an admissions representative at enroll@umary.edu, or by calling (701) 355-8030. The University of Mary is one of only 15 Recommended Cardinal Newman Society Residential Colleges and Universities in the US.
About the University of Mary: True to its motto "lumen vitae"—The Light of Life—the University of Mary offers education for the whole of life through cutting-edge professional programs and graduate programs animated by moral courage and leadership in chosen professions and service to the community. A private, co-educational Catholic institution, the University of Mary welcomes students of all faiths and backgrounds.
A Christian, Catholic, Benedictine institution founded in 1959 by the Benedictine Sisters of Annunciation Monastery, Mary offers nearly 60 bachelor's, 15 master's, and five doctoral programs—in Business Administration, Education, Nursing Practice, Occupational Therapy and Physical Therapy. The 19-sport Athletic Department adheres to its Greatness Through Virtue mission under the governance of the National Collegiate Athletic Association (NCAA) and American Collegiate Hockey Association (ACHA) conferences. With more than 3,800 students, Mary has locations in North Dakota, Montana, Arizona, Rome, Italy, as well as vibrant online offerings. For more information, visit www.umary.edu.
Explore Topics