University of Mary 61st Commencement Ceremonies are April 30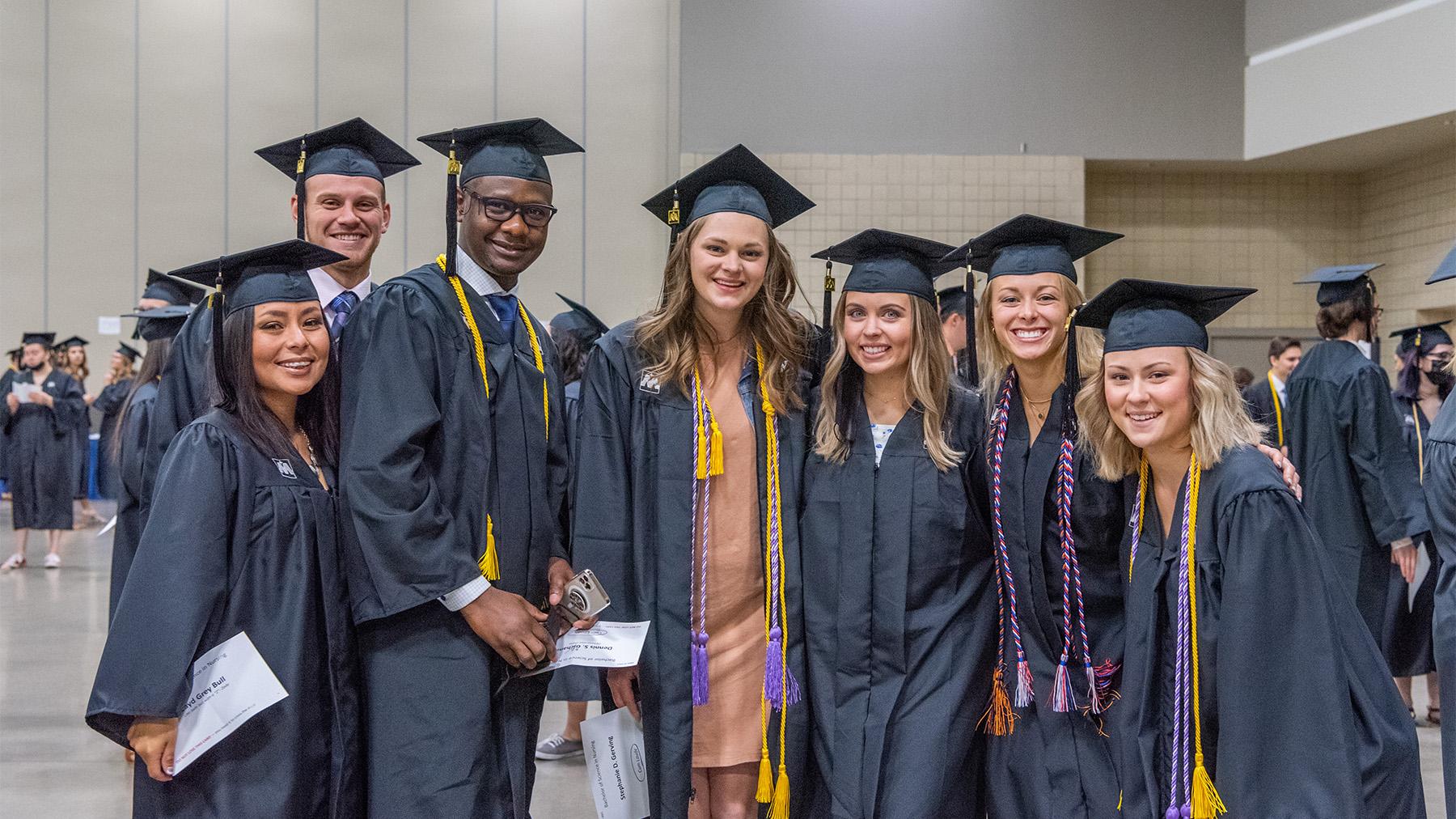 Steve and Eileen Scheel to receive honorary doctorate degrees
BISMARCK, ND — On Saturday, April 30, the University of Mary will award degrees to 1074 graduates at its 2022 commencement. The ceremony begins at 2:30 p.m. in the Bismarck Event Center, Seventh Street and Front Avenue, Bismarck.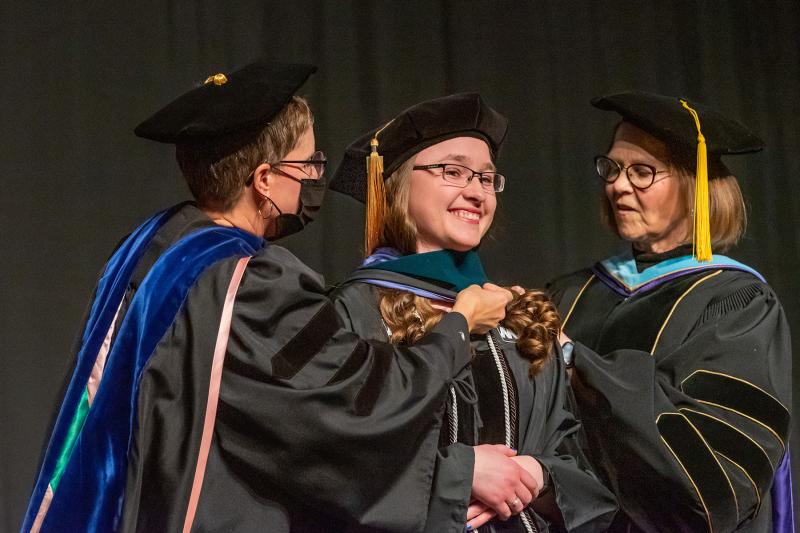 Founded and sponsored by the Benedictine Sisters of Annunciation Monastery of Bismarck, the University of Mary will award 567 bachelor's degrees, 361 master's degrees and 146 doctoral degrees. These students come from 48 states representing 16 countries.
Sixty-eight have received the summa cum laude designation, 82 earned magna cum laude designation and 124 students have received the cum laude designation. Additionally, 65 students have earned the Certified Schafer Leader designation from the Harold Schafer Emerging Leaders Academy, and 38 students are recognized as Year-Round Campus graduates for fulfilling their degree in 2.6 years. This is the first graduating class for the Master of Arts (MA) in Music.
The 2022 University of Mary graduation ceremony can be viewed through live streaming at: www.lifeatmary.com.
Honorary Doctorate Degree and Commencement Speaker
Steve Scheel was born and raised in Fargo and received degrees in U.S. history, economics, and political science from St. Olaf College. After graduating, he served in the United States Army from 1969 – 1971. He then joined SCHEELS, a five-generation family business, in 1972, and he managed SCHEELS stores in Fargo, Casselton, Moorhead, and Sioux Falls before taking over as President, CEO, and Chairman in 1989.
Under his leadership, SCHEELS was transformed into a sporting goods retailer and grew into one of the most successful franchises in the country, currently operating the 15 largest sporting goods stores in the U.S. Steve currently serves as Board Chair for SCHEELS, which now has over 7,000 associates and 27 stores in 13 states. For all of his outstanding service, Steve was awarded the Fargo Moorhead West Fargo Chamber Legacy Leader Award in 2020.
Steve has been married to Eileen for 25 years, and together they've been extraordinary partners to the University of Mary, leading the way in sponsoring the construction of the Crow's Nest Campus Restaurant at the heart of the Lumen Vitae University Center. Steve has also spoken to the campus community on topics related to leadership and business, as an exemplary servant leader and cherished friend.
Eileen Scheel is originally from Idaho, but she is a long-time community leader in North Dakota. She serves on the Board of Trustees for the Theodore Roosevelt Presidential Library Foundation, leading the Committee on Design and Architecture in the planning and construction efforts for the Library, and is a lifetime, honorary Trustee for the North Dakota State University Foundation. Her support was also crucial to starting a Friends of the Children chapter in Fargo, a national nonprofit that pairs children facing the greatest obstacles with a salaried, professional mentor for over 12 years. She has likewise helped to start several other chapters across the region.
Along with her husband, Eileen has also been instrumental in supporting organizations ranging from the United Way and Chamber of Commerce to Trinity and First Lutheran Church; from the Moorhead Healthy Community Initiative and Junior Achievement to the Legacy Children's Foundation and Jeremiah Project. She and Steve have helped to start Youth Entrepreneur and the Phoenix programs in North Dakota, too, in addition to supporting countless other civic and educational initiatives.
Eileen's friendship with the University of Mary began in her early service as a member of the Ancilla Club, a group begun under Sister Thomas Welder's presidency and responsible for cultural and fundraising events throughout the Bismarck community. She's been a treasured friend and advisor ever since.
Eileen and Steve have five adult children, 14 grandchildren, and live in Moorhead, MN.
About the University of Mary 
True to its motto "lumen vitae" — The Light of Life — the University of Mary offers education for the whole of life through cutting-edge professional programs and graduate programs animated by moral courage and leadership in chosen professions and service to the community. A private, co-educational Catholic institution, the University of Mary welcomes students of all faiths and backgrounds.
A Christian, Catholic, Benedictine institution founded in 1959 by the Benedictine Sisters of Annunciation Monastery, Mary offers nearly 60 bachelor's, 15 master's, and five doctoral programs — in business administration, education, nursing practice, occupational therapy, and physical therapy. The 19-sport Athletic Department adheres to its Greatness Through Virtue mission under the governance of the National Collegiate Athletic Association (NCAA) and American Collegiate Hockey Association (ACHA) conferences. With more than 3,800 students, Mary has locations in North Dakota, Montana, Arizona, and Rome, Italy, as well as vibrant online offerings.
Explore Topics