University of Mary 2023 Homecoming Royalty Announced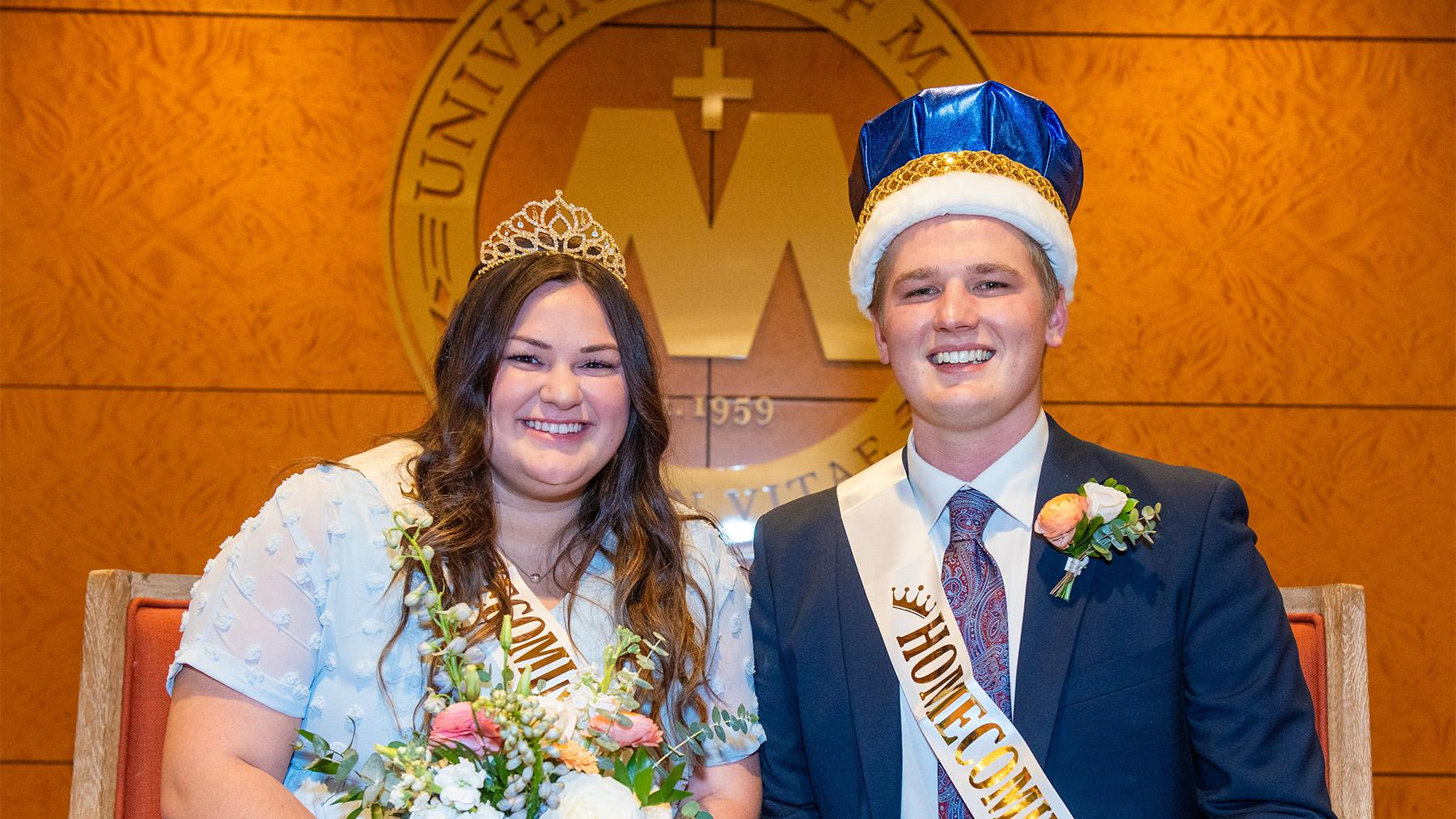 BISMARCK, ND — The University of Mary announced the selection of its 2023 Homecoming King and Queen and their court at coronation ceremonies held Wednesday, October 25, in Founders Hall of the Lumen Vitae University Center (LVUC) on campus. The event coincides with the annual Day of Service — the largest, single-day service event in North Dakota, where over 1,200 students, staff, and faculty from University of Mary disperse to organizations throughout Bismarck and Mandan, and campus sites in Rome, Italy and Arizona State University.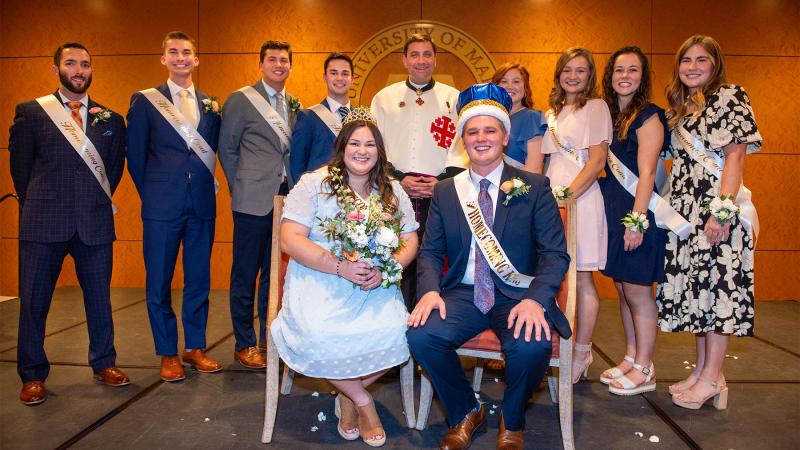 Homecoming King is Gabe Fanning. He is a Politics and Philosophy major who grew up on a cattle ranch near the small town of Martin, South Dakota. Fanning is so grateful for his time here at the University of Mary where he has met a great multitude of amazing, life-long friends. When he isn't spending time with friends chatting, playing games, or doing impressions, he is somewhere on campus procrastinating by chatting with random people. The University has afforded Fanning the opportunity to grow in his faith and service to others whether it was studying in Rome, serving on Student Government or Catholic Studies Student Leaders, or working under our beloved Chaplain ensuring beautiful liturgies on campus. 
Homecoming Queen is Payton Miller. Miller is from Rapid City, South Dakota. She will graduate this spring after double majoring in Psychology and Catholic Studies. Miller has been beyond grateful for the community she has encountered here at the University of Mary. She has been especially appreciative of the memories she has made while working on the Marauders Activities Committee and volunteering with University Ministries. As the 2022 Day of Service co-chair, she learned the importance of giving her life away in love and service to others. She is grateful that the relationships she made here are so strongly rooted in Christ and she knows they will last a lifetime. When she isn't studying, you can find Miller updating the MAC Instagram, listening to Taylor Swift, or spending time with her friends. 
Other student nominees for King and Queen included:  
Griffin Schaeffer is a Politics and Catholic Studies major from Minot, North Dakota. He is the son of Eric and Stacy Schaeffer and has three younger siblings. The University of Mary has awakened Schaeffer's imagination and has shown him the great gifts of life, leisure, love, and friendship. While the University of Mary has been transforming in so many ways, he is most thankful for the Catholic Studies Program and spending a semester in Rome. It was in Rome where he fell in love with art history thanks to his beloved professor. Because of this class and his time in Rome, Griffin hopes to pursue studies in art history. Schaeffer is a member of the Fraternity of the Blessed Pier Giorgio Frassati and loves welcoming his classmates to the Catholic Studies House. 
James Gillis is from New Ulm, Minnesota and will graduate in the spring with majors in Catholic Studies, English, and Theology. He is the son of Charles and Sarah Gillis, and the third of seven children. This past summer, he married his magnificent wife, Mckenna. He teaches part-time at School of the Holy Family in Mandan to students plumb full with enthusiasm for the great adventure that is life. Gillis is grateful to the University of Mary for teaching him the wonders of education, the value of friendship, and, most importantly, the beauty of living in service to others. He has a deep, abiding love for living as a servant of Truth and hopes to continue living as such in his pursuit of graduate studies in Theology. 
Gregory Winegart is from Florence, MT and will graduate in the spring with a Bachelor of Science in Nursing. He is the youngest of seven children and has many nieces and nephews, as well as one godson. A transfer to the University of Mary in the Fall of 2020, some of Winegart's favorite memories from his time here involve praying the rosary in the Grotto, participating in the Ungettable games, playing excessive amounts of ultimate frisbee, and growing in community as a resident assistant in Saint Joseph's Hall. Winegart has been blessed with amazing friendships through his friends in the nursing department and elsewhere that have helped him to grow in his Catholic Faith, and he hopes that he will one day be able to integrate these blessings into his life as a registered pediatric nurse after graduation. 
Dominic Regli is from Ferndale, California, and will graduate in April with his Bachelor of Science in Biochemistry. He is one of seven children and spent much of his childhood milking cows on his family's fifth-generation dairy farm. Looking to study in a rural setting with a Catholic foundation, Regli found the University of Mary and its prayerful presence on the prairie. During his time at the University of Mary, he has been able to go beyond the Harold Miller Center, especially through his roles as co-chair for the 2022 Day of Service and the 2022-2023 President of the Student Body. Regli hopes to attend medical school this upcoming fall in order to work towards practicing a surgical specialty and serving the medical needs of rural communities. 
Gianna Cooke is from Decatur, Texas and will graduate in April with her Bachelor of Science in Nursing. She grew up in Southern California, is the youngest of ten children, became an aunt at the age of five, and now has eighteen nieces and nephews. Her life at the University of Mary has been filled with joy, friendship, and wonderful growth. When she's not studying and spending time with her lovely friends, Cooke loves participating in various events on campus, singing for Coffee House, peer-leading, acting in the Musical Theater Troupe, performing with the theatre department, and playing in intramural sports. Though she is not sure what nursing specialty she will pursue, she is excited to take everything she has learned from the University of Mary about service, ethics, and the dignity of the human person and apply it to whatever field she enters. 
Francesca Evaristo is from Las Vegas, Nevada and will graduate with a Bachelor of Science in Nursing this spring. She has fallen in love with the beauty of the university and the life-giving community here. Evaristo is so grateful for the opportunities the university has given her to grow closer to the Lord and foster true and genuine friendships that will be with her for life. She is involved in the Gregorian Honors Program, is the co-director of publicity for the Nursing Student Association, and serves in music ministry for Exultate praise and worship. She was a peer leader to welcome the university's freshman class for three years and enjoys playing in the ultimate frisbee intramural league. Evaristo plans to start working as a registered nurse in the ER, but eventually wants to move to the Labor and Delivery Unit or NICU. 
Reisa Dalton is from Denver, Colorado and will graduate in the spring after double majoring in Psychology and Catholic studies. She is the middle child of five siblings. Perfectly wedged between her trendy teenage brothers and competent, knowledgeable older sisters, she happens to be a perfect blend of all these things. Dalton is filled with gratitude as she realizes how much this University has transformed her. She has adopted the Catholic Faith as her own and has made lifelong friends that call her to holiness each day. Dalton is very passionate about the pressing need for Catholic mental health professionals in our current culture and eventually plans to attend the University of Mary counseling program. You can find her in the library distracting those who are trying to study, asleep in the chapel, or at Chick- Fil- A on Wednesday nights. 
Grace O'Donnell is originally from Northwest Indiana and will graduate in the spring with a Bachelor of Science in Nursing. O'Donnell is overjoyed with her University of Mary experience and is honored to be involved as a FOCUS student missionary, President of the Nursing Student Association, peer leader, Eucharistic minister, and as the Student Nurse of the Year. The greatest lesson she has learned during her time at the University of Mary has been the meaning of authentic service and love. Her passion and zeal for nursing stems from her experience caring for her grandma and from her job as a nurse fellow in the Cardiac Catheterization Lab. O'Donnell and her fiancé, Gabriel, plan to return to Indiana after graduation where they will continue to prepare for their marriage in August.