University of Mary 2022 Homecoming Royalty Announced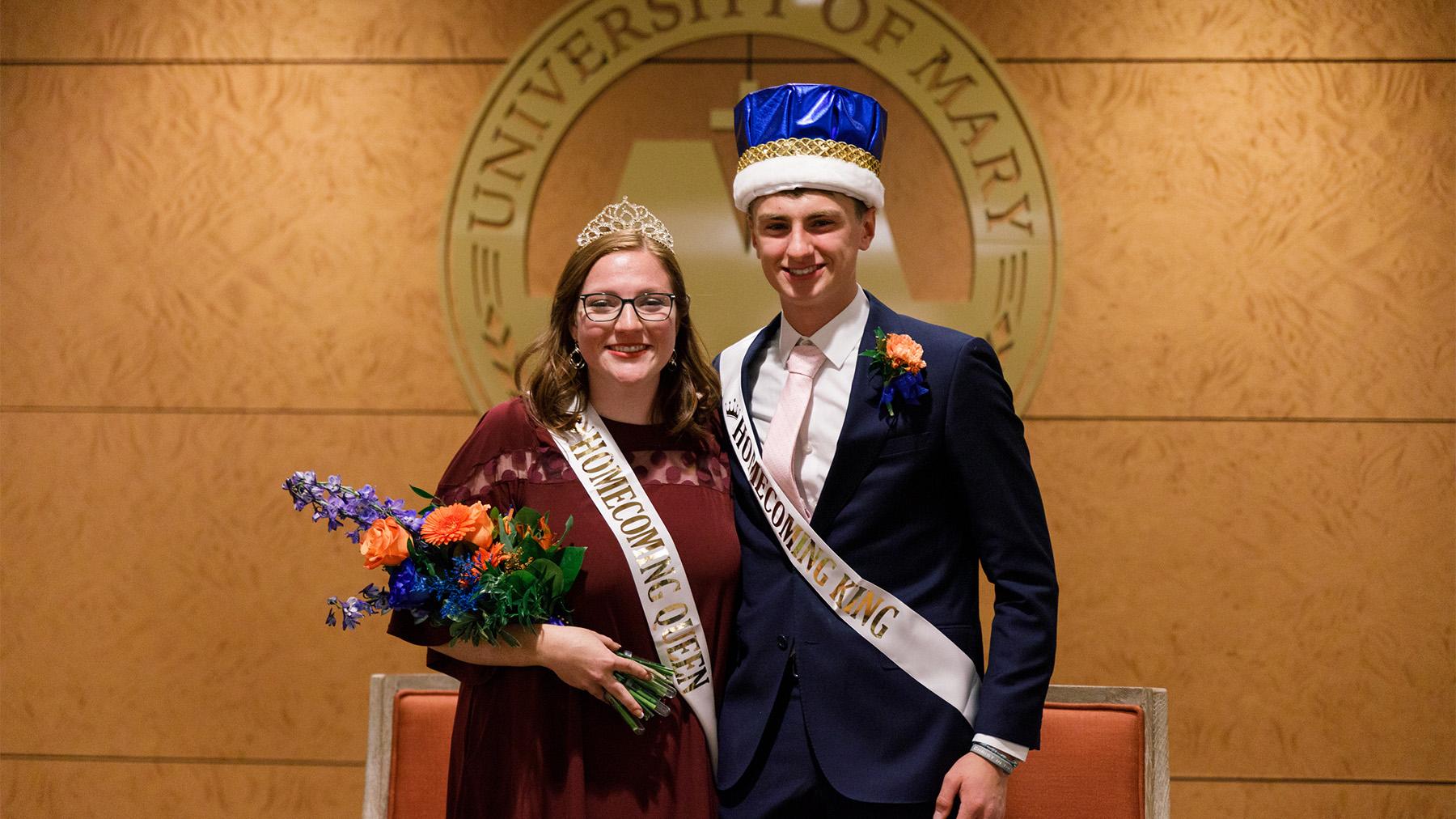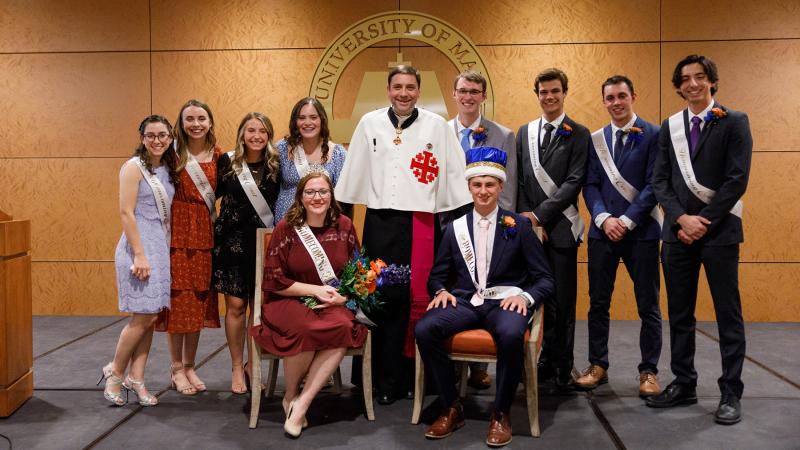 BISMARCK, ND — The University of Mary has announced the selection of its 2022 Homecoming King and Queen and their court at its coronation ceremonies held Wednesday, October 19, in Founders Hall of the Lumen Vitae University Center (LVUC) on campus. The event coincides with the annual Day of Service — the largest, single-day service event in North Dakota, where around 1,000 students, staff, and faculty from University of Mary disperse to organizations throughout Bismarck and Mandan.  
Homecoming King is Collin Prom. Prom is an exercise science major from Upsala, Minnesota. He has one older sister and loves hunting, running, and spending as much time as possible with friends and family. During his time at the University of Mary, Prom has had the privilege of connecting and building lifelong friendships with so many people. He feels incredibly blessed for all the amazing relationships and personal growth experienced at the University of Mary. After graduation, Prom hopes to serve the Lord well in some capacity and possibly curb his addiction to Lucky Charms and Cherry Coke.
Homecoming Queen is Sarah Pankratz. Pankratz is a music education and dramatic arts double major. She is from Billings, Montana, and is the sixth of eight children. Four of her siblings have attended the University of Mary. Pankratz loves being a student at the University of Mary because of the opportunities campus provides for community, friendship, service, and new experiences. Her favorite parts of the school year include being a Peer Leader and performing with her fellow students in various productions and concerts on campus. "This community has taught me how to be a confident leader and discover how my gifts and talents can be used to serve others," Pankratz said. For her, the future includes a few plays, three or four concerts, finals, and student teaching next fall. After that, the future holds adventures that are yet to be determined.
Other student nominees for King and Queen included: 
Jacob Dick is a business administration major from Buffalo, Minnesota, and is fifth out of seven siblings. Dick has always loved the University of Mary and his time here. "The simplicity of the campus has a beauty of its own but allows the beauty of the people living here to shine through," he says. He has been a resident assistant for the last three years and, in doing so, has had the opportunity to get to know many wonderful people on campus. Jacob is looking forward to graduating in the spring and living in Bismarck. He hopes to go into commercial real estate one day.
David Ruiz (known by many as Diaz) is a mechanical engineering major with a minor in math. He is from Loretto, Minnesota, and has lived in both Illinois and Alaska. He is the second oldest of four siblings. One of the biggest reasons Ruiz has come to love the University of Mary is the people. He loves wandering around the Crow's Nest talking to people he knows. You can often find him making a pocket cheesy run for his engineering friends, playing intramural frisbee, and sometimes at the hockey games if you're looking carefully. Embracing the core classes at the University of Mary changed his life, and he wants to thank Dr. Collins' Search for God class for starting him on the path to Catholicism. His new faith is something he couldn't imagine living without, and he loves hearing about peoples' lives and helping them when he can. Ruiz is simply enjoying the ride his senior year and is excited to see where the Lord takes him.
Kaden Sago is a computer information systems major with a minor in classical studies. He is from Hazen, North Dakota, and is the oldest of five children. Although Sago has changed paths a number of times since coming to the University of Mary, he has ended up being very active in the Catholic Men's House, University Ministry, and student government. He is deeply grateful to the university and its community for the friendships he has formed and for their example of authentic Catholic culture. Sago is not sure what next summer holds, but he has strong ties to the Bismarck area.
Daniel Savageau is from Alexandria, Minnesota, and will graduate this spring with a major in elementary education. He is the youngest of three kids and is an uncle to one. Savageau has grown to love the faith and religious aspect of the University of Mary. There have been so many opportunities, from spending time with FOCUS missionaries to attending sporting events, that have made it so fun to be at Mary. The relationships and connections from his time in college will carry with him throughout his life. Savageau has a passion for students and athletics with ambitions to become an athletic director one day. He hopes to be a teacher that influences others, just like his teachers have done for him.
Mara Dalton is a civil engineering major from Littleton, Colorado. She is the second of five children. Dalton has loved her time at the University of Mary for the community and formation that she has received. "The University of Mary has taught me not only the practical skills and knowledge for my future career, but also how to live a life of virtue in the service of others. My time here has been deeply transformational. I am so grateful for my experience and am confident in the ways it will propel me into the future." After graduation, Dalton plans to travel, move back to Colorado and work full-time at the land development firm where she interned for two years.
Jacinta Kreiner is a double major in psychology and theology from Marlette, which is a small town in eastern Michigan. She is the second youngest of 13 kids and has over 30 nieces and nephews. While Kreiner still is not sure exactly how she ended up at the University of Mary, it must have been a "God thing" because she has loved every minute of her time here. "I can't imagine becoming the person I am today and the person I want to be tomorrow without the formation, friendships, and experiences I've found at the University of Mary," Kreiner said. She is a third-year resident assistant and has spent a semester studying in Rome, both of which have been amazing and formative experiences. She is an avid coffee drinker, so no, it is never tea in her travel mug. Kreiner is looking forward to pursuing her master's degree in counseling in the fall after graduation. She hopes to practice counseling and wants to work supporting women experiencing crisis pregnancies.
Claire Madson is a business administration major with minors in Catholic studies and philosophy. She is from Fargo, North Dakota, and is the second oldest of six kids. At first Madson did not want to come to the University of Mary hoping to avoid following her older sister who attended before her. After visiting the university, she was stunned by the welcoming environment and flourishing community. Through her time in Rome, experience with University Ministry, and relationships with professors, she has grown in service to others and been formed spiritually and intellectually. Madson says, "I am forever grateful for everything that the University of Mary has given me and will take what I have received wherever I go." Madson looks forward to marrying her fiancé next summer and seeing where the Lord takes them. 
Abbie McKay is an English education major from Minot, North Dakota. She has one younger brother, and in her free time, she enjoys spending time with friends, attending Marauders sporting events, and beating people at Ms. Pac Man 2 at Chesterton's. Mckay's favorite thing about the University of Mary is how intentional people on this campus are. The professors, faculty, and staff all know the reason they are on this campus, and they all try their best to serve the students. McKay has especially enjoyed getting to know her professors and peers throughout the years. McKay is looking forward to the rest of the school year and the memories that will be made. And she is hoping to get her braces off soon.
Explore Topics