UMary's Proven Nursing Program Takes Dramatic Steps to Further Increase Graduate Preparedness and Combat Nationwide Shortage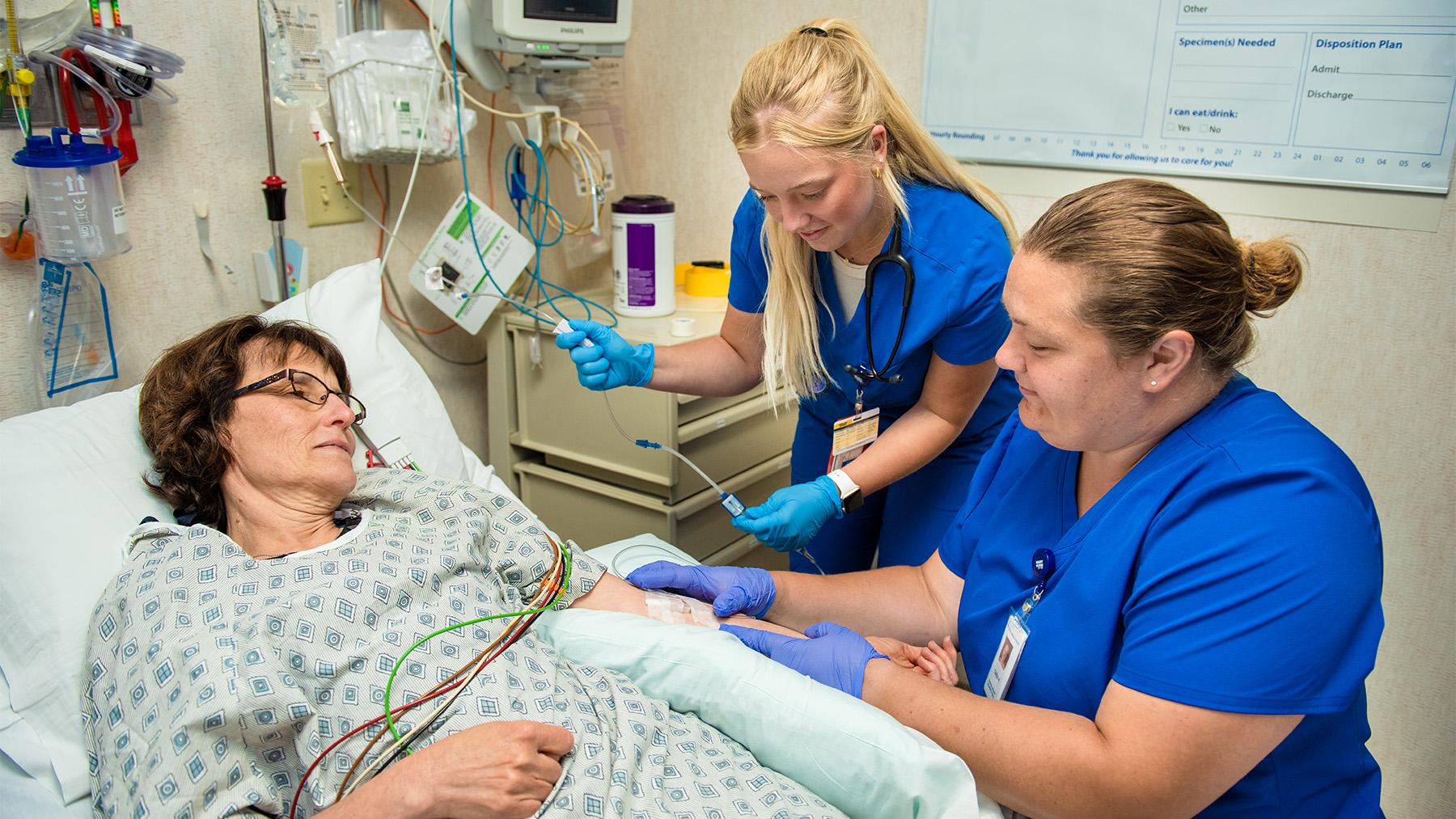 University launches new, tuition-free Nursing Academy for first-time freshmen students starting Fall Semester 2023.
BISMARCK, ND — The national nursing workforce shortage is upon us and only predicted to grow over the next decade. However, a second ominous trend is looming just below the surface. More than half of new nurses are involved in medication errors, patient falls, and failure-to-rescue incidents and as many as 30% of new nurses leave the workforce within the first year of graduating. Historically, academic nursing program quality has been measured on new graduate's first-time pass rates on the national licensure examination (NCLEX). However, greater attention is now being focused on new nurse preparedness.
"There are two undergirding points to this extra attention of new nurse preparedness. The nursing shortage and the nationally demonstrated academic-to-practice gap. Nationally, researchers and industry partners are highlighting that students can succeed academically and pass the NCLEX licensure examination, but when they get to the real world they are not prepared. Unfortunately, many therefore do not stay in the profession. The University of Mary has a long legacy of nursing excellence, and we continue to advance our programming to meet the changing needs of contemporary nursing students and health care environments," stated University of Mary Associate Dean of Nursing, Dr. Billie Madler. 
Madler points to alarming national statistics published by Joan Kavanagh and Christine Szweda called The Crisis in Competency: The Strategic and Ethical Imperative to Assessing New Graduate Nurses' Clinical Reasoning that assessed entry-level competency and practice readiness of newly graduated nurses. Since 2005, the statistics show a downward trend in workforce readiness: to include the current numbers indicating only less than 25% of new nurse graduates could demonstrate they're able to practice independently. 
Not resting on its laurels as the nation's No. 1 ranked nursing program three out of the last four years, the University of Mary is committing even more resources, so students and eventual graduates become the most well-prepared professionals and are retained to help stem the ever-increasing shortage trends. 
"Our faculty and university leadership has taken swift action to support the next generation of nursing education and to address the workforce shortage," added Madler. "We are launching a tuition-free Nursing Academy in the Fall 2023 Semester and implementing a new curriculum that will provide students with four-times the number of nursing simulation experiences, increase the number of hours in direct patient care experiences, and advance new graduate competency in clinical judgment skills. Our physical spaces are undergoing expansive renovations to support curricular endeavors. And last fall, we implemented a new and very important role, a Nursing Student Success Coach, to knit all these priorities together. The Nursing Student Success Coach is a nurse educator who assists prelicensure students with individual barriers related to their academic and social success in the nursing program through proactive outreach. The goal of this position is to enhance student achievement and well-being by ensuring every student has a pathway to success." 
As a University of Mary Marauders softball pitcher, junior nursing student, Emari Evans is used to tough, challenging battles on the diamond and welcomes every chance to compete against the toughest opponents: home run hitters, get-on-base slap hitters, and fast base stealers. However, Evans quickly learned that her biggest adversary in college wasn't someone wearing a different color jersey, but herself. 
"During my sophomore-one nursing block I was taking pathophysiology and pharmacology at once," recalled Evans. "I didn't want to take pharmacology during softball season due to how much study time and memorization would have to go into learning this content. This was also the first semester I was required to obtain a 75% test average on exams topass the class. After my initial exams, that's when I realized I needed help."  
But being the fierce competitor, quitting and giving up on college never became an option for Evans. Evans realized she needed to prepare for her classes and tests as if every day was gameday. That included practice, practice, hard work, and attention to detail — as if facing the cleanup hitter in the opposing team's lineup — and the need for good coaching. 
"Emari, like many students, came to me unsure of how to best study and manage her time with all the demands of academia," stated Sara Gebhardt, the newly established Nursing Student Success Coach at the University of Mary. "We worked a bit on time management, how to study, we practiced questions and how to 'think like a nurse.' I challenged her to know the 'why' behind a correct answer and an incorrect answer. We met almost weekly throughout the first semester and by the end of the semester, she had turned her scores around. Emari put in all the hard work and effort; I was just there to guide her."
So now, Evans has the benefit of two coaches — her softball coach teaching her the finer points of pitching strikes, and a new Nursing Student Success Coach for better performance in the classroom. But Evans isn't alone. Since the University of Mary started the position in the fall semester of 2022, Gebhardt has hosted hundreds of student meetings.
"The Nursing Student Success Coach role is very rewarding to me," added Gebhardt, who is also an assistant professor of nursing and has spent all 17 years of her academic career at Mary after a seven-year stint working in a neuro-general surgical unit. "When the fall semester was coming to an end, I commended Emari on her hard work and all that she had achieved. As an educator, there is nothing more rewarding than helping a student reach their goals. Seeing Emari, and others like her succeed, fuels my passion for education."
Most recently, the University of Mary launched its new tuition-free Nursing Academy beginning this fall through an innovative partnership with both and CHI St. Alexius Health and Sanford Health in Bismarck. Nursing Academy students earn their bachelor's degree in less than three years by taking advantage of University of Mary's one-of-a-kind Year-Round Campus model, enjoy an all-expense paid service-learning trip and pilgrimage to Italy, Germany and France, made possible through the support of generous donors. Nursing Academy students also benefit from personalized mentorship experiences and gain access to sought-after career opportunities. 
"So, it's not enough to just measure what students know on an exam, we need to measure what they can do and how they perform," added Madler responding to the Kavanagh and Szweda finding. "That's why we are renovating and expanding to have significantly more simulation; revising our curriculum to have more clinical hours; adding a Nursing Student Success Coach to help students with clinical reasoning and to think like a nurse. We want students who come to nursing to be successful, to be prepared, and to remain a nurse. So, we are going to produce more nurses. But we're not just going to produce more, we're going to produce some of the best nurses."
Nursing, like most health care professions, is a very demanding career that requires more than just high academic marks, but rigorous training. Just ask Evans, who would be the first to admit, like all sports, part of being a successful scholar-athlete is mastering both the mental and physical sides of the game. 
"I chose the University of Mary because of how prestigious the nursing program is, the caliber of nurses that have received their education at the university, and the fact that I am able to be a student athlete — pursuing my dream of becoming a nurse while getting to play college softball," explained Evans. "The University of Mary nursing program is filled with amazing people, our professors are truly some of the nicest, most understanding people I have ever met, and I believe that it is so important to be surrounded by a support system throughout nursing school and I am lucky enough to not only receive that support from my family but from the program itself. I have been blessed with two coaches who show so much support for both sides. One thing that sets the University of Mary apart from other universities is that all faculty are dedicated to working together and making accommodations when needed, which is what makes it possible to be a student athlete in the nursing program."
Evans, a Surprise, AZ, native, plans to fulfill one more dream and work as a pediatric nurse after successfully completing the nursing program at Mary in the next couple years.
—UMARY—
Anyone who wishes to learn more about Mary can do so at www.umary.edu or online.umary.edu, or by contacting an admissions representative at enroll@umary.edu, or by calling (701) 355-8030. The University of Mary is one of only 15 Recommended Cardinal Newman Society Residential Colleges and Universities in the US. 
About the University of Mary: True to its motto "lumen vitae"—The Light of Life—the University of Mary offers education for the whole of life through cutting-edge professional programs and graduate programs animated by moral courage and leadership in chosen professions and service to the community. A private, co-educational Catholic institution, the University of Mary welcomes students of all faiths and backgrounds.
A Christian, Catholic, Benedictine institution founded in 1959 by the Benedictine Sisters of Annunciation Monastery, Mary offers nearly 60 bachelor's, 15 master's, and five doctoral programs—in Business Administration, Education, Nursing Practice, Occupational Therapy and Physical Therapy. The 19-sport Athletic Department adheres to its Greatness Through Virtue mission under the governance of the National Collegiate Athletic Association (NCAA) and American Collegiate Hockey Association (ACHA) conferences. With more than 3,800 students, Mary has locations in North Dakota, Montana, Arizona, Rome, Italy, as well as vibrant online offerings.
Explore Topics