UMary Professor Receives North Dakota's Highest Nursing Honor, Named Outstanding Rural Educator of the Year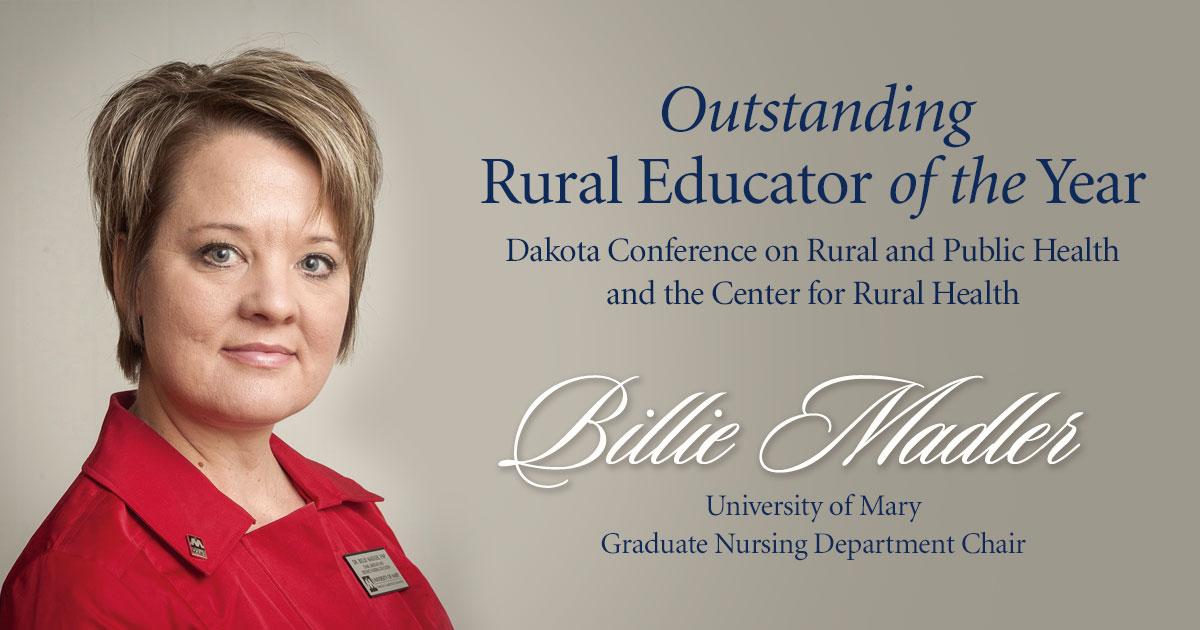 BISMARCK, ND — The Dakota Conference on Rural and Public Health and the Center for Rural Health located in Grand Forks, announced University of Mary's Graduate Nursing Department Chair, Dr. Billie Madler, as the 2020 recipient of the Outstanding Rural Educator and Mentor Award.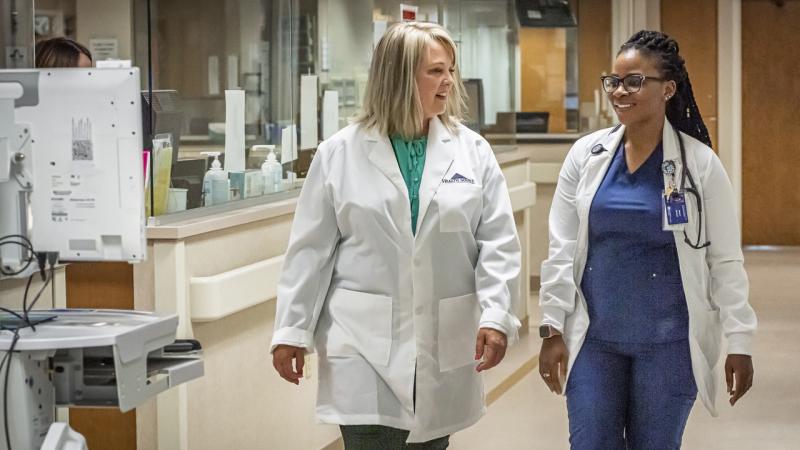 Dr. Billie Madler at the hospital with University of Mary graduate nursing student.
This award is presented to a professional who has made outstanding contributions to the education, development and placement of new health care professionals in rural North Dakota communities.
Madler's peers, leaders within North Dakota's health care profession, and former students who've gone on to care for people in rural communities, nominated her for this distinguished award. Many of Madler's students graduate from the University of Mary and continue their careers as nurse practitioners in underserved areas of North Dakota and other parts of America.
Jerri Jo Stramer and McKi Nuss are 2019 graduates of University of Mary's Doctorate of Nursing Practice program. With Madler as the chair, the two completed their evidence-based project entitled "Implementation of an Osteoporosis Screening Program in a Rural Primary Care Clinic" in Garrison, ND.
"Instead of working with a fully-staffed clinic with multiple specialties and many resources, Dr. Madler challenged us to meet the needs of our local rural community by developing a program that would make a positive lasting impact there," said the two alumni in their nomination letter. "Through our work with the clinic staff, and with the mentorship and guidance of Dr. Madler, we gained an appreciation and understanding of the importance of our role as a healthcare provider in a rural community. We learned to work with limited equipment and human resources. To foster opportunities to practice in a rural setting, Dr. Madler integrated a clinical program into our curriculum that sought out preceptors in rural health clinics and critical access hospitals  where students were assigned for clinical placement. She worked to prioritize rural needs by advocating for clinical rotation placement."
Madler has taken University of Mary's nursing program to new heights and created the highest standards for its students by becoming one of the top graduate nurse practitioner schools in the U.S. She spearheaded its new Doctorate of Nursing Practice (DNP) degree, and most recently, the program under her leadership earned the nation's No. 1 ranking from Intelligent.com for its rigorous on-campus intensives. The top mark for intensives is part of University of Mary's overall No. 22 national nurse practitioner ranking its graduate program received from Intellignet.com — the respected resource for online degree rankings.
North Dakota, like most states in the U.S., is experiencing a nurse practitioner shortage, especially in rural areas. Nationally, the shortage is expected to reach a critical stage by 2030. The Bureau of Labor Statistics (BLS) reports the demand for nurse practitioners is expected to increase 28 percent over the next few years, as they are increasingly used as part of primary care teams in hospitals, physicians' offices and clinics.
In 2016, Madler also became a distinguished Fellow of the American Association of Nurse Practitioners (FAANP). Fellows are charged with providing a vision and framework for future health practices and policies nationally and globally.
People interested in attending the awards banquet Thursday, June 4 should purchase tickets online.
Learn more about the robust menu of graduate nursing program options at the University of Mary by visiting online.umary.edu/Nursing.
Explore Topics