Thousands of North Dakotans to Benefit from Energy Transfer's $2 Million Donation for Workforce Development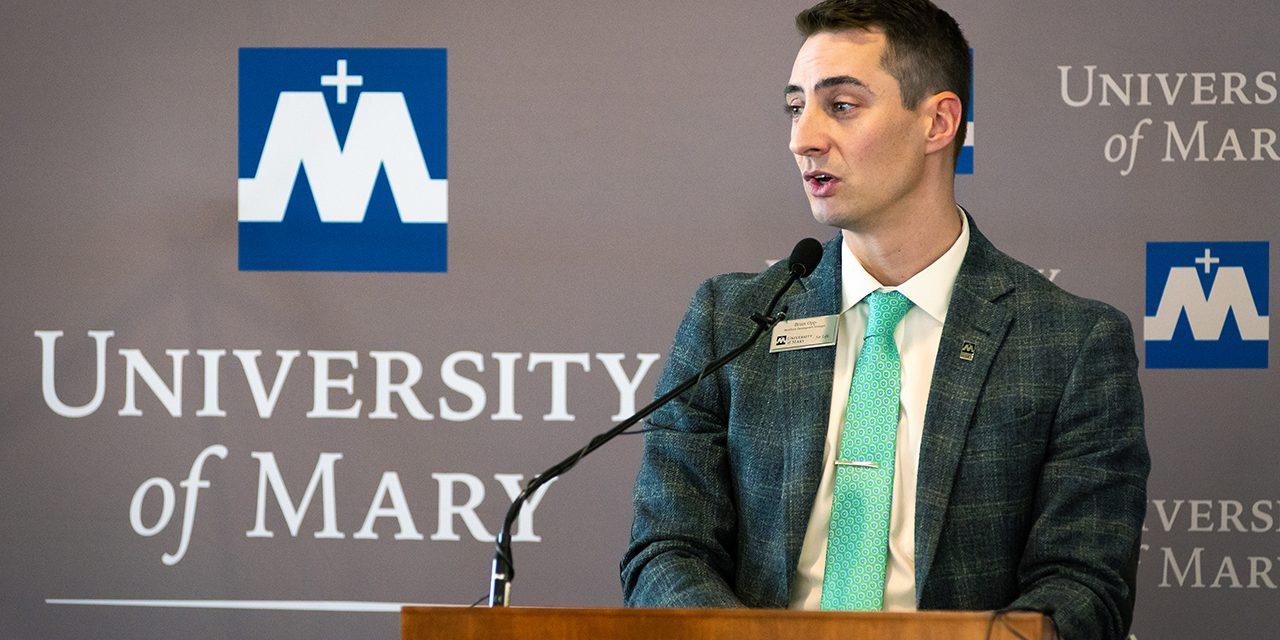 University of Mary, Energy Transfer, Greater North Dakota Chamber, employers, colleges and universities throughout the state collaborate for a better North Dakota.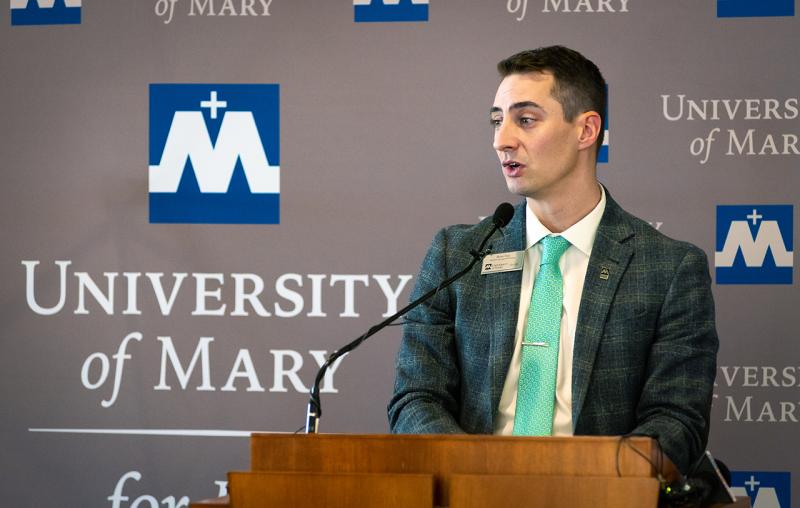 BISMARCK, ND—The Energy Transfer/Sunoco Foundation and Energy Transfer (collectively "Energy Transfer") presented the University of Mary with a $2 million check today, kicking off the university's new Workforce Development Initiative. The contribution is part of a $5 million donation from Energy Transfer that was announced last April, of which $3 million went to the University of Mary's new School of Engineering.
The goal of the Workforce Development Initiative is to bridge the communication gap between educational providers and industry leadership, with the ultimate objective of developing a curriculum that will lead to job creation for North Dakotans. The University of Mary is leading the program, building on the focus and leadership of Governor Doug Burgum, the great work of the state of North Dakota, and the generosity of Energy Transfer's $2 million gift.
The University of Mary is collaborating with marketing leaders, employers, higher education facilities, and the Greater North Dakota Chamber to conduct research among a minimum of 50 employers across the state, to determine how and where higher education can best serve workforce needs.
Once the research is concluded, which is expected to be completed in the late spring of 2019, the university will analyze the data and engage content-area experts to develop a curriculum—awarded on a part-time basis—that matches industry needs of the moment.
This gift has allowed the University of Mary to hire three full-time positions, carefully tailored to meet the unique demands that workforce development in North Dakota require: a Workforce Development Strategist who specializes in assessing and clarifying workforce needs through all available sources; a Senior Curriculum Design Specialist for Workforce Development to coordinate closely with the Workforce Development Strategist crafting tailored academic programming that meets demonstrated needs; and Project Manager for Workforce Development to manage projects and assuring successful completion and coordinating with other university departments.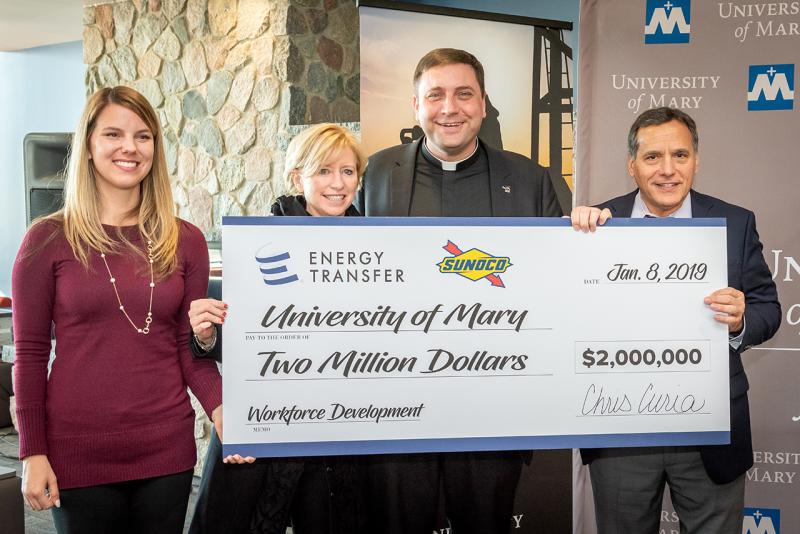 "We are very excited for the continued economic growth in North Dakota, what it means for its citizens, and how this program will help connect more people with the many employment opportunities in North Dakota," stated Chris Curia, Executive Vice President and Chief Human Resources Officer, Energy Transfer. "Our hope is that this program successfully retains North Dakota's residents, its employers and employees, while at the same time making the state an attractive destination for those seeking new employment. We are confident and pleased the University of Mary has agreed to steward this initiative."
The University of Mary and its founders, the Benedictine Sisters of Annunciation Monastery, have been pioneers of workforce development for quite some time. Since the college opened its doors in 1959, the University of Mary has identified—or even anticipated—workforce needs, and responded by developing appropriate academic programs to meet those needs. In fact, one of the first programs at Mary was designed for working nurses, who would soon need advanced credentialing to maintain their licensure.
Since that time, the University of Mary has worked in partnership with many industry leaders, other colleges and universities, and even entire communities, such as Watford City, to create programs specifically designed for working adults. These customized programs often shared two goals: developing news skills in prospective or newly hired employees, and assisting in the retention of talented professionals by investing in their professional development.
"Today, we are deeply humbled by the continued generosity of Energy Transfer and extremely proud to help lead the effort of meeting the workforce challenges facing North Dakota," said University of Mary President Monsignor James Shea. "We recognize that current workforce demand is fierce, and there's a workforce shortage in our great state of North Dakota that is clearly a real and significant problem—perhaps even at a crisis level.  The University of Mary is firmly committed to addressing the workforce shortage in North Dakota and the region. Critically, the university's commitment to its Christian, Catholic and Benedictine mission and identity insist that any academic program accomplish more than mere professional credentialing or skill development. Our approach hearkens back to the original purpose of university education and demands that we prepare leaders in the service of truth."
The Workforce Development Initiative offices will be headquartered in the lower–level of the Benedictine Center for Servant Leadership building on campus.
This donation by Energy Transfer brings University of Mary's record-setting three-phased Vision 2030 Capital Campaign total to nearly $94 million—only $2 million shy of its Phase I goal of $96 million. When the campaign is completed in 12 years, it will have raised a total of $272 million. With over 250,000 square feet of new space created on campus within the last two years, Vision 2030 is part of a continued effort and mission to better serve the needs of this region and beyond.
About the University of Mary
True to its motto "lumen vitae"—the Light of Life—the University of Mary offers education for the whole of life through cutting-edge professional programs grounded in a solid liberal arts tradition.
A Christian, Catholic, Benedictine institution founded in 1959 by the Benedictine Sisters of Annunciation Monastery, Mary offers over 60 undergraduate degrees, 14 master's degrees, and four doctoral programs in Occupational Therapy, Education, Nursing Practice and Physical Therapy. With over 3,600 students, Mary has locations in North Dakota, Minnesota, Montana, Arizona, Rome and Milan, Italy and Arequipa, Peru as well as vibrant online offerings. For more information, visit www.umary.edu. 
Explore Topics