Students, Faculty and Staff Ready to Serve Community for Ninth Annual Day of Service Event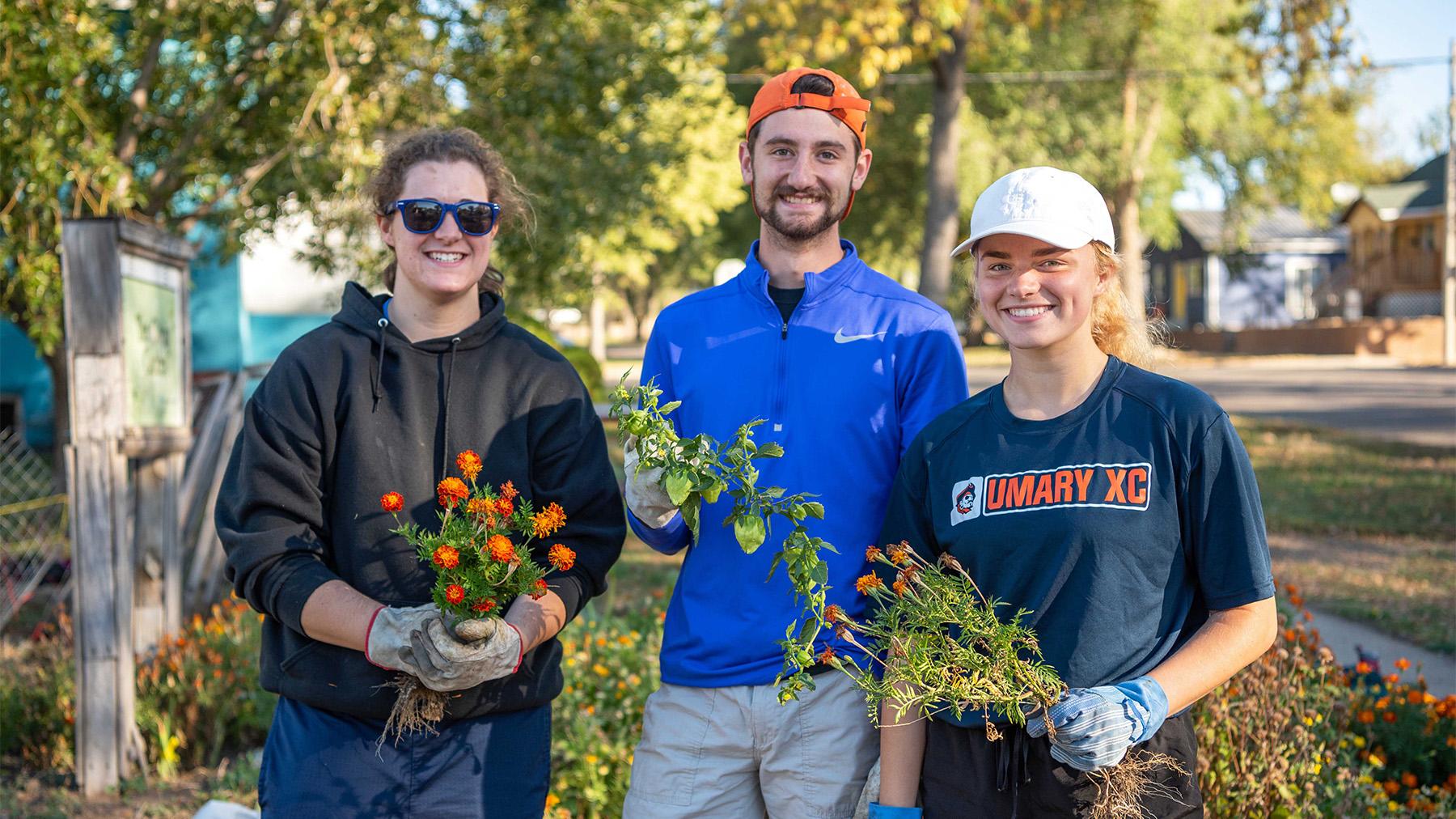 Wednesday, October 19, 2022, Day of Service
BISMARCK, ND —The annual Day of Service is the largest, single-day service event in North Dakota, where over 1,000 students, staff, and faculty from University of Mary disperse to organizations throughout Bismarck and Mandan.
Classes are canceled for this student-organized and -run event so they can come together with professors and administration to serve others by giving of their time and talents. It's an opportunity for everyone to join in fellowship to build new relationships and community.
As part of the ongoing Vision 2030 Campaign, University of Mary's student body recommitted itself to becoming servant leaders of moral courage, providing a culture grounded in service, fostering a great capacity to pour themselves out in loving service to others. The new, campus-wide Day of Service campaign that began in 2014 answers that pledge and strengthens every student's commitment and understanding that each were made for more.
The event begins on campus at 8 a.m. in the Starion Living Room, located in the lower level of the Lumen Vitae University Center, with a candlelight procession into the McDowell Activity Center (MAC) for an All-School Mass and Day of Service Commissioning. Breakfast will follow in the lower level of The Crow's Nest Restaurant before students and faculty begin their service projects between 10 a.m. and noon, and 1 p.m. until 3 p.m.
Many entities across Bismarck-Mandan have been impacted over the years as the annual Day of Service has grown to this massive undertaking. It's amazing what hundreds of helping hands can do in a day's time. The number of tasks that have been tackled by the University of Mary Day of Service volunteers since it began nine years ago are staggering and run the gamut: shoveling tons of debris at an empty school in Mandan; database entry at a grade school, installing fence at a state park; zoo cleanup; apple picking for a world apple bobbing record; tree wrapping to protect from winter critters; cleaned ditches from campus to the Capitol; ecumenical cleanup at Trinity Lutheran, and prepared meals for those underserved, to name just a handful. There isn't much they haven't done or can't do.
Serving others is a big part of the University of Mary's mission since being founded in 1959 by the Benedictine Sisters of Annunciation Monastery.
Anyone who wishes to learn more about undergraduate or graduate programs can do so at www.umary.edu, or online.umary.edu, respectively, or by contacting an admissions representative at enroll@umary.edu, or by calling (701) 355-8030. The University of Mary is one of only 15 Recommended Cardinal Newman Society Residential Colleges and Universities in the US.
About the University of Mary: True to its motto "lumen vitae"—The Light of Life—the University of Mary offers education for the whole of life through cutting-edge professional programs and graduate programs animated by moral courage and leadership in chosen professions and service to the community. A private, co-educational Catholic institution, the University of Mary welcomes students of all faiths and backgrounds.
A Christian, Catholic, Benedictine institution founded in 1959 by the Benedictine Sisters of Annunciation Monastery, Mary offers nearly 60 bachelor's, 15 master's, and five doctoral programs—in Business Administration, Education, Nursing Practice, Occupational Therapy and Physical Therapy. The 19-sport Athletic Department adheres to its Greatness Through Virtue mission under the governance of the National Collegiate Athletic Association (NCAA) and American Collegiate Hockey Association (ACHA) conferences. With more than 3,800 students, Mary has locations in North Dakota, Montana, Arizona, Rome, Italy, as well as vibrant online offerings. For more information, visit www.umary.edu.
Explore Topics